Howdy folks!  Happy Friday and cheers to the weekend.  I wanted to pop in today and give you some really great, easy ideas on how to make a party backdrop.
I feel like there's nothing that ties a party together than a centralized focal area that has a great backdrop.  I'm sure you can feel intimidated when you search for something like that on Pinterest.  But I'm here to tell you there are a ton of ways to make a really amazing party backdrop that's really easy.  Let's get started!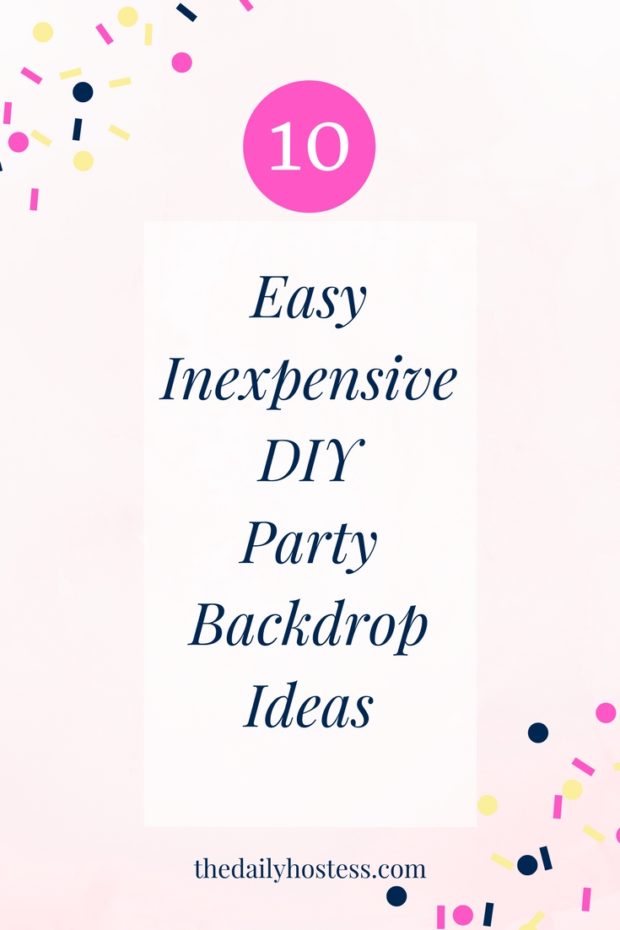 10 Easy DIY Party Backdrop Ideas
1. Wall of Balloons
If you were around during my series on balloons, then you know how versatile they can be.  I love the idea of using balloons as a backdrop and making them into a wall.  You can do that by tying their strings at different lengths or just taping them to the wall.  These glue dots work best if you plan on taping them to the wall or each other.
2. Shower Curtains
After the most recent baby shower I planned, I fell in love with using shower curtains as a quick and easy backdrop.  I used some command hooks to hold mine up.  Here are a few shower curtains that would be so cute as party backdrops.

Three of them are from the same company, they have the cutest designs. *Affiliate Links used above
3. Flowers
I love a good large paper flower and use them for a lot of different parties.  They add so much dimension and interest to a party.  The tutorial above uses foam as a backing which I think it pretty clever.  The best way to make a statement with a flower backdrop is by using a large number of them.
4. Crepe Paper Garlands
I've made these large fringed garlands several times for different parties.  You can see them here and here.  They are pretty quick to make and cover a large area.  I love the color combination of the ones in the picture above.
5. Tassel Garland
Tassel garlands have been all the rage for awhile now and you can find a bazillion tutorials on how to make them on Pinterest.  For a backdrop though, I love the idea of layering each garland over another to make a bigger statement.
6. Pinwheels
Paper pinwheels are another easy, inexpensive, way to make a large party backdrop.  Layering them over one another in a range of colors that match your party theme looks awesome.  You can typically buy packs of pinwheels at party stores for not very much, so just a few different packs and you'll be in business.
7. Wrapping Paper
This one is so easy, just find a wrapping paper that ties into your party theme and tape it to the wall behind a dessert table, gift table, or food buffet.  One thing to use and your done!  You could always add other things to it, but it's great by itself too.
8. Paper Plates
Probably one of the easiest backdrops you could ever do is to use paper plates.  I'm over here, like why didn't i think of that?  So easy to just tape them up, and so cheap to make a big statement with them.  Love all of these bright colors!
9. Cups on a String
Another way to make your party backdrop tie into your party is to make a wall hanging out of paper cups.  The picture below is just for inspiration.  It's a similar concept but using a string of lights.
To make a cup backdrop without the lights, just poke a hole in the bottom of your themed cups, run a string through the hole and then tie a knot in the string on the inside of the cup.  Tie the cups at different lengths to add dimension and interest.
10. Letters
I'm loving the new trend of letter balloons, but they are kind of expensive.  So if you want a cheaper alternative, try inexpensive block letters from a craft store to spell out a fun phrase that ties into your party.  Or you could even just make your own out of cardboard or fun scrapbook paper.  The key with a letter backdrop is the bigger the better!
I hope you feel inspired to add a large focal point to your next party with one of these easy DIY party backdrops.  Using a little creativity and supplies you already have on hand for your party is all you need to amp up your party backdrop.
Have a great weekend friends, come back next week as we start to gear up for St. Patrick's day, Easter, and all things Spring!