Well hello again old friend!  It's been awhile (read like three weeks) since I've posted, yikes!  I've been traveling practically every weekend this month and it's just so hard to get back into the swing of things when you're constantly packing, unpacking, and doing laundry.   I've wanted to post about our fall mantle for awhile since the first day of fall is this Saturday.  Although from the temperatures outside lately you wouldn't know it.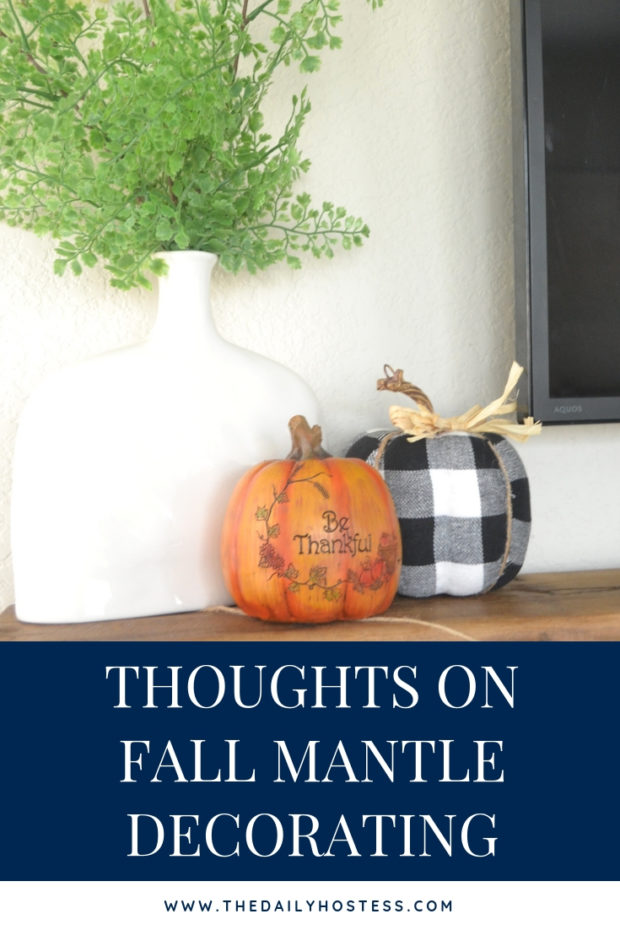 I think another reason I've been so delayed in writing and posting anything is a lack of creativity.  Or motivation.  Or both.  It's hard to see all of the over the top fall posts on Instagram and Pinterest and not go into comparison mode.  I also prefer using what I have and not buying a bunch of extra stuff to decorate with.
I knew I needed to start getting things ready for fall around here so I could photograph them and post about it.  But I didn't have much motivation.  It's funny how just one thing can really change your mindset about finding the motivation to start though.
The Story of What Sparked Me to Start My Fall Mantle
So a couple of weeks ago I was at Wal-Mart getting a couple of random things. It's actually pretty rare for me to be in the store.  Praise Jesus for grocery pick-up when you have two little kids, right?!
So there I am wondering around the aisles from one side of the store to the other because of course I needed cheese and a hand held mirror.  Totally random and of course on the opposite sides of the store.  As I was walking towards the inevitably under-manned check out lanes I'm looking around trying to think if we need anything else and I spot them.
I see the exact thing I need to jump start my fall decorating.
It's noticeable contrast caught my eye.
So I quickly diverted my cart to get closer and check it out.
As I got up to them they were exactly what I thought I saw from the distance, but better.
Black and white buffalo check pumpkins with a natural stem and a raffia bow.
Who knew I needed them in my life?  I sure didn't but they instantly got me excited and motivated for fall decorating.  To be honest, the entire fall section did.  There was so much black and white with pops of deep orange and cranberry colors.  I hadn't really ever tried decorating for fall with black and white.
So I bought those little black and white buffalo check pumpkins and decided this is what I'm going to center my fall decorating around this year.  And you know what happened?
I brought those pumpkins home, and they sat.  For another solid week.
Isn't it funny how in the moment you can be so excited but once you're back to everyday routine the excitement wears off?
One Small Step Forward Is all The Motivation You Need
So finally, this week I had a couple minutes to start putting those little pumpkins to use.  I started by adding them to my fall mantle.  Just that one small step launched me into action.  It was like a waterfall of activity, motivation, and creativity.  So much that I was almost late to an appointment because I was in the grove decorating everything, snapping photos, moving stuff around, and taking more pictures.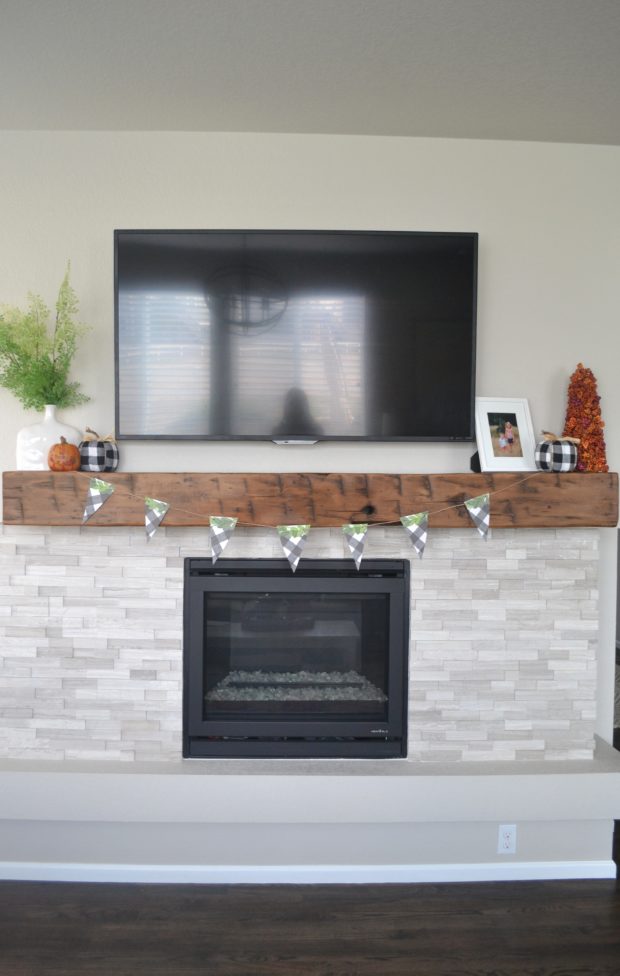 Thankfully that small step got my mantle decorated for fall, the entire living room decorated, and work towards updating the front porch for fall too.  All of those things will be on the blog soon too.
The funny thing is that the black and white of those little pumpkins opened my eyes to be on the lookout for other things around my house and at stores to use to decorate with.
I found perfectly matching paper placemats that I used to make the black and white banner on my mantle.  They also serve as intended on my dining room table.  Black and white bowls from around the house because a focal point for my decorating too.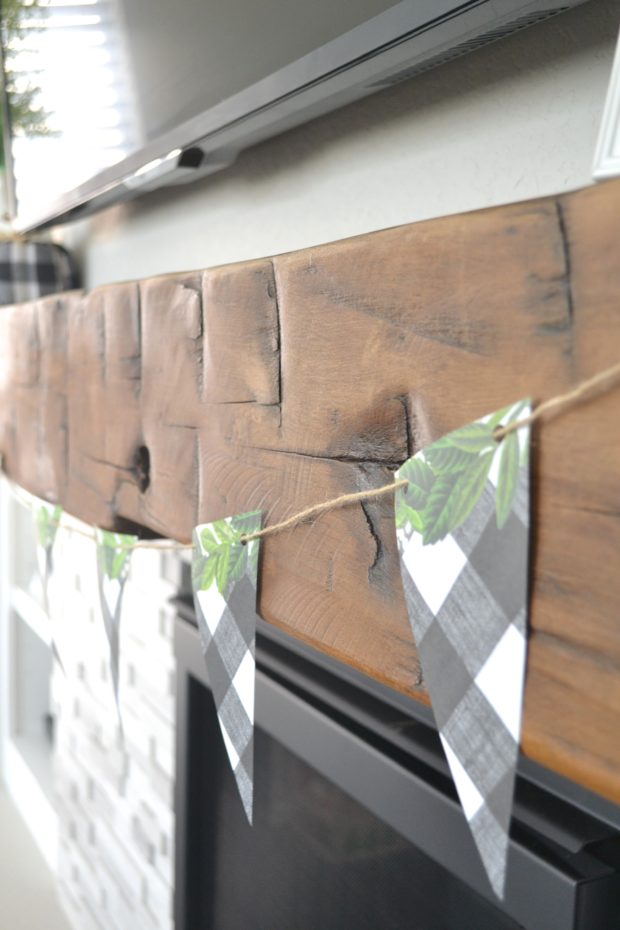 Mixing in white photo frames, with natural, neutral tones and a couple pops of typical fall colors really brought my fall mantle together.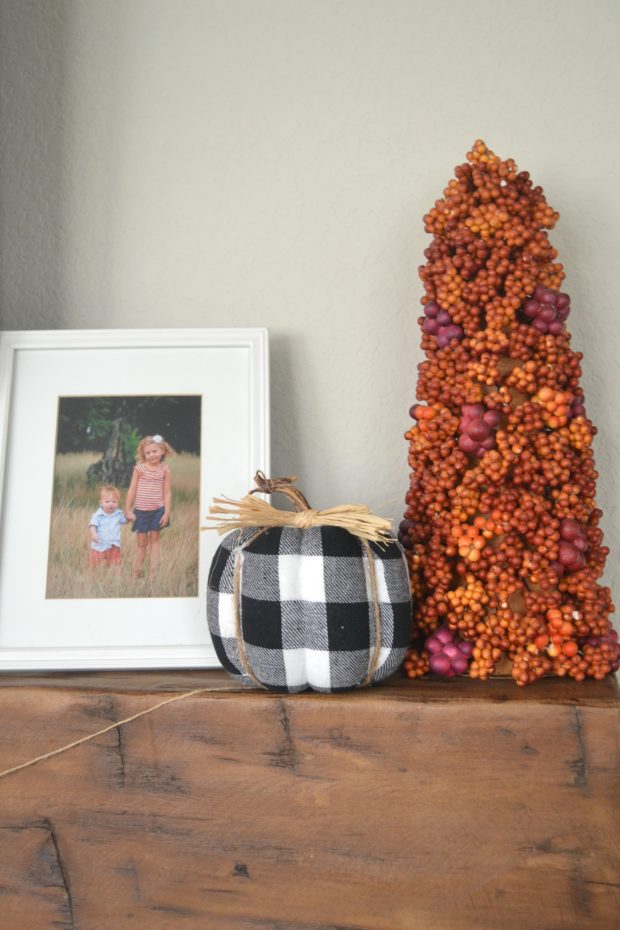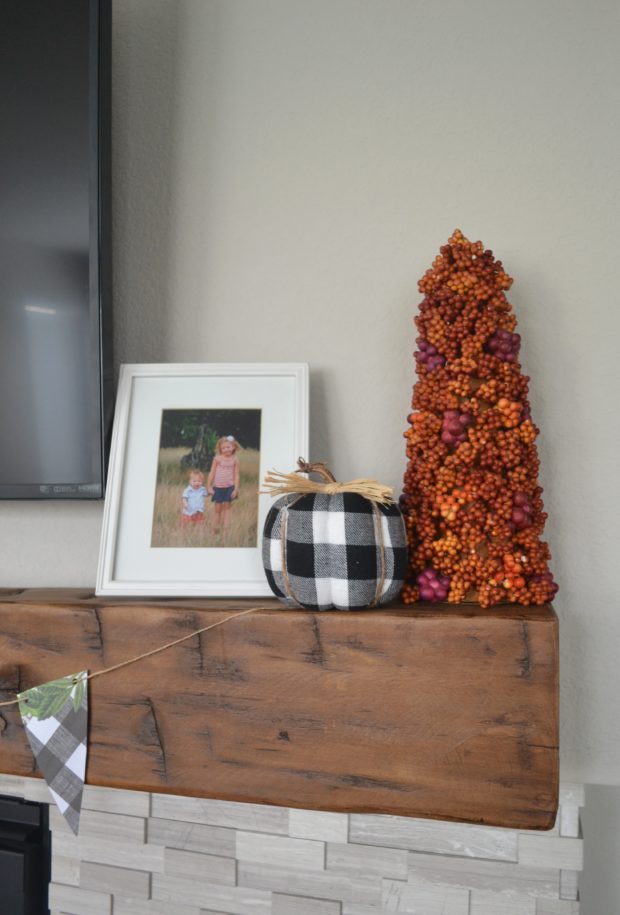 Reimagining this color scheme allowed me to reimagine what I already had.  I turned this white with navy blue vase around so all you see is the white side.  Now it fits perfectly with my fall mantle color scheme.
 I'd love to get some live eucalyptus leaves to put in this vase.  To me they are the perfect fall greenery.  I will probably wait a bit so I can enjoy them a little longer though.  Plus, you can never have too many reminders to be thankful!  I'm certainly thankful for taking a small step of action to be ready for the season.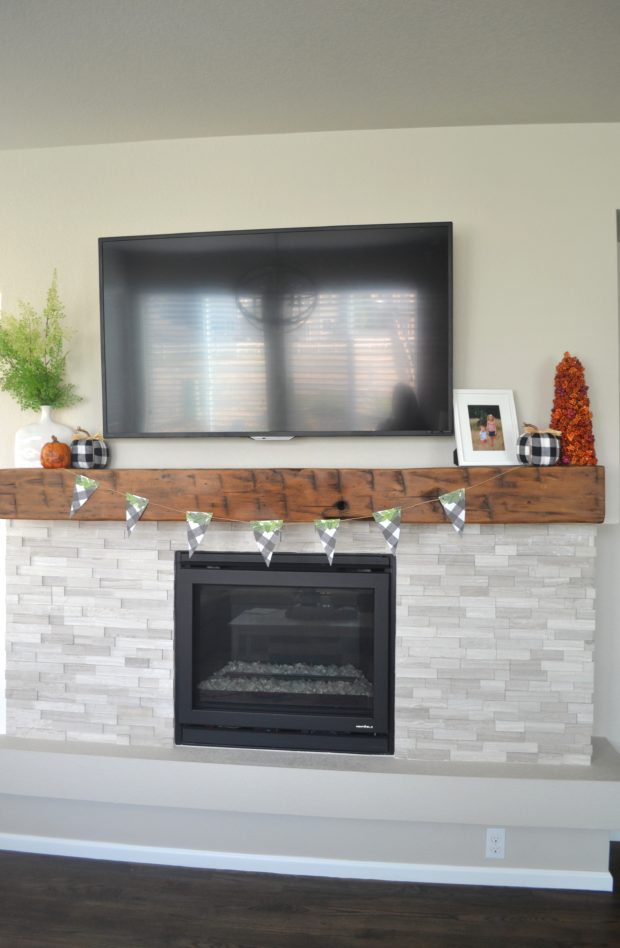 What small step can you take today towards that thing that you've been putting off?  Just like my little pumpkins, there is something that will give you the motivation for productivity.