Happy Friyay!  I hope you're pumped for the weekend. I've got a busy one ahead of me with parties, conferences, work, and a cold, cold, Sunday.  Definitely NOT looking forward to sub 30 degree weather 🙁
Because it's Friday, I wanted to start a fun series called TDH Friday Five!  Search for it on Instagram with the hashtag #tdhfridayfive Mostly though, I kept coming up with these ideas for blog posts, but they were all too short for a "real" blog post.  So I thought, these are good ideas and I want to share them. They just needed to go into a series so there's some sort of theme to them.  And TDH Friday Five was born!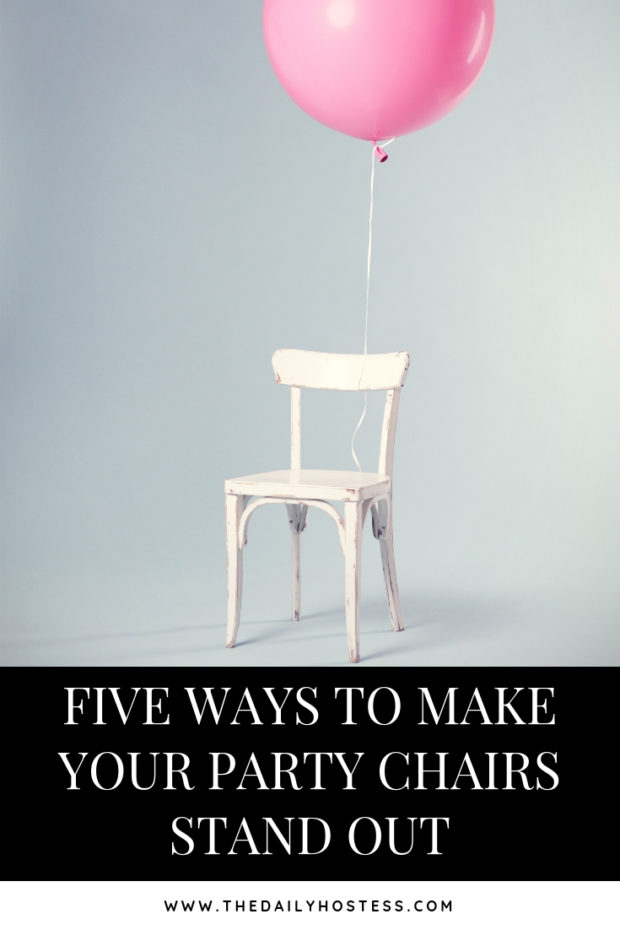 This series is a quick list of five things. That's it.  All kinds of different categories, but five things.  It could be five tips one week, five fun party themes another week, or five super cool party finds.  I hope you like it and that it gives you a quick burst of inspiration for your next party.
Ready to start?  Here we go!
TDH Friday Five: Party Chairs
You know something that gets overlooked so much at parties and gatherings?  You guessed it, the chairs!
I'm guilty of this too.  I spend a lot of time worried about how the table is going to look for a dinner party, and totally overlook the chairs.  Chairs seem to be pretty standard.  But they don't have to be at your next party.  Here are five ways to make them stand out.
1. Tie Ribbon to the Chair
Such a fun and whimsical way to decorate your chair.  Add ribbon to the back of the chair in party coordinated colors by tying it on.  If you have a fabric chair try using some straight pins to attach the ribbon.
2. Add a Sign or Banner to the Chair
If a party is in honor of someone this is a great way to make just their chair stand out.  This is seen a lot at weddings for the Bride and Groom.  But I say it doesn't have to stop there.  Use this idea to honor the mom to be at a baby shower, the bride at a bridal shower, or the birthday boy or girl.
3. Add Garlands to the Chair
Garlands are so versatile.  I love them for all kinds of party decor, so why not add them to the back of a chair?  Paper pennants would be so cute at a circus themed party.  A garland of flowers would be perfect for a Mother's Day brunch.  So many ways to use them!
4. Use Pillowcases on a Chair
You know what you have already in your house that you can use to make your chairs stand out?  Pillowcases.  Yep, just throw them over the back of your chairs to make them stand out.  Get a fun pattern that coordinates with your party or plain pillowcases and dress them up with ribbon or flowers.  The great part is that you can use them again as a pillow case on your bed.  I love multi-use party decor!
Here are some great pillow case options.
5. Add a Great Pillow to a Chair
This one is kind of a no brainer.  However, I love the idea of using a bunch of pillows, like one on every chair. This will make the chairs and seating area stand out at your party.
Here are some fun pillows I love, here, here, and here.
Does this list of five things make you rethink how you'll jazz up your chairs the next time you have a party?  There are a couple on this list that I've been wanting to try.  I may just make them work for a couple of upcoming things.