Can you believe it's July already? This summer is flying by.  But since it's July, it's time for 4th of July festivities!  This is the second year that our block is throwing a block party for the holiday.  It should be a great time, and this year the kids are doing a bike parade!  That should be fun to watch!
If you're planning on taking it easy this year for the 4th, then this snack tray is the perfect way to watch the fireworks!  This festive little set up doesn't take much work but totally allows you to munch while celebrating our independence.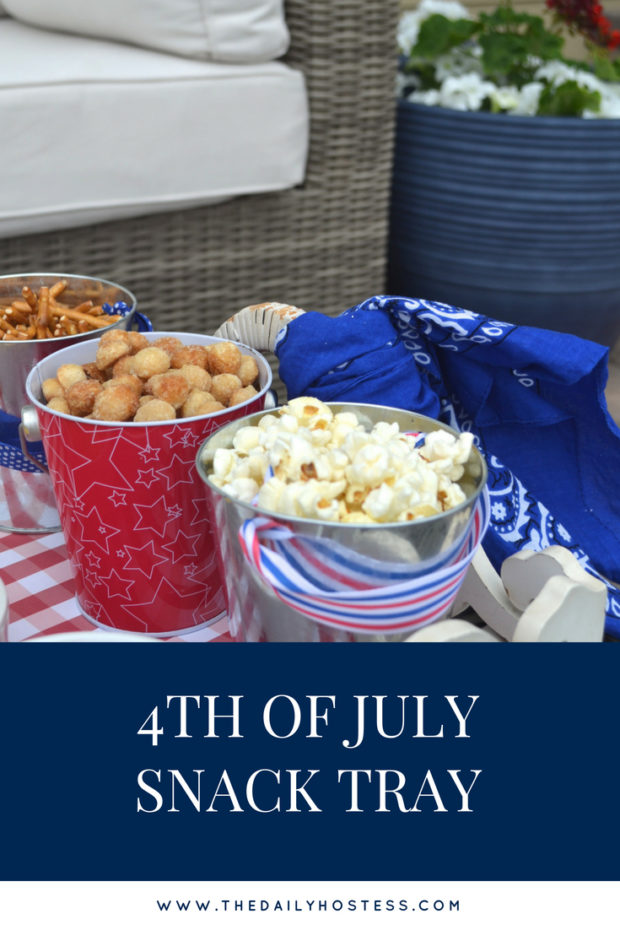 When sitting down to write this post I almost thought this is silly.  This idea is so simple I don't need to write about it.  But then I realized that's the whole reason I write this blog, to inspire small ways to celebrate every little thing.  So why not celebrate snack time, or a festive display for food on the 4th of July, or a way to present smores?
So that's why today's blog may be short, I had to share it anyway.  I hope it encourages you to take a few extra minutes to make something look nice while celebrating with others.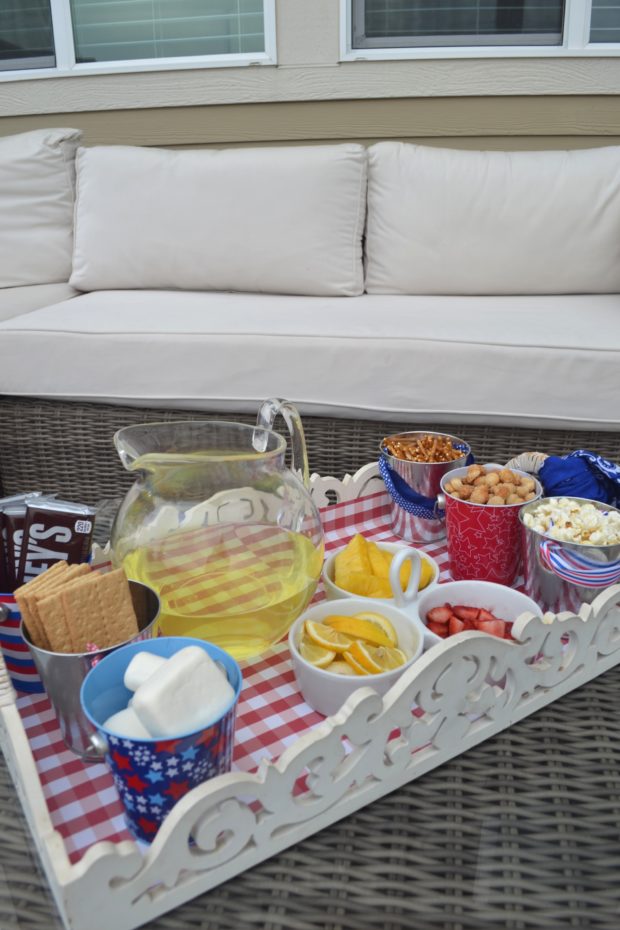 To make this snack tray I found whatever I had that was red, white, and blue, and mixed it all together. I bought these little metal tins from the Target dollar spot a few years ago and they work so well for so many things.  They are a perfect size for snacks, but they make fun vases too. The dollar spot is a great place to get some seasonal or holiday decor inexpensively.
Snack Tray Food Ideas
I lined the bottom of the tray with some red gingham placemats from this party.  I made a salty and a sweet side of the tray and included some refreshing lemonade with garnishes.
Fun lemonade garnishes could be:
Fruit
Cucumbers and mint
Frozen flowers or herb ice cubes
Striped or festive straws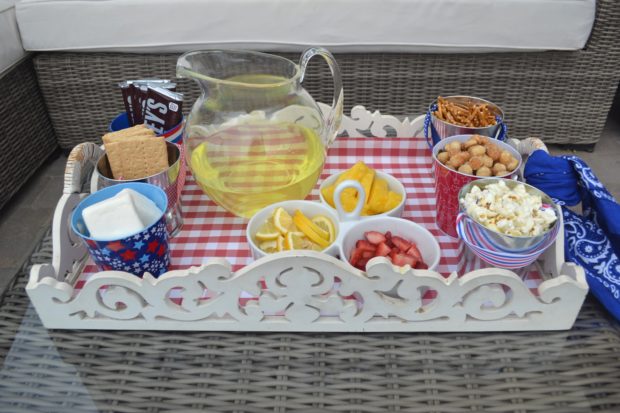 I just put out what we had on hand, pretzels, popcorn, and roasted nuts.  Other salty snack options could be:
Chips
Chex Mix
Trail Mix
Veggie chips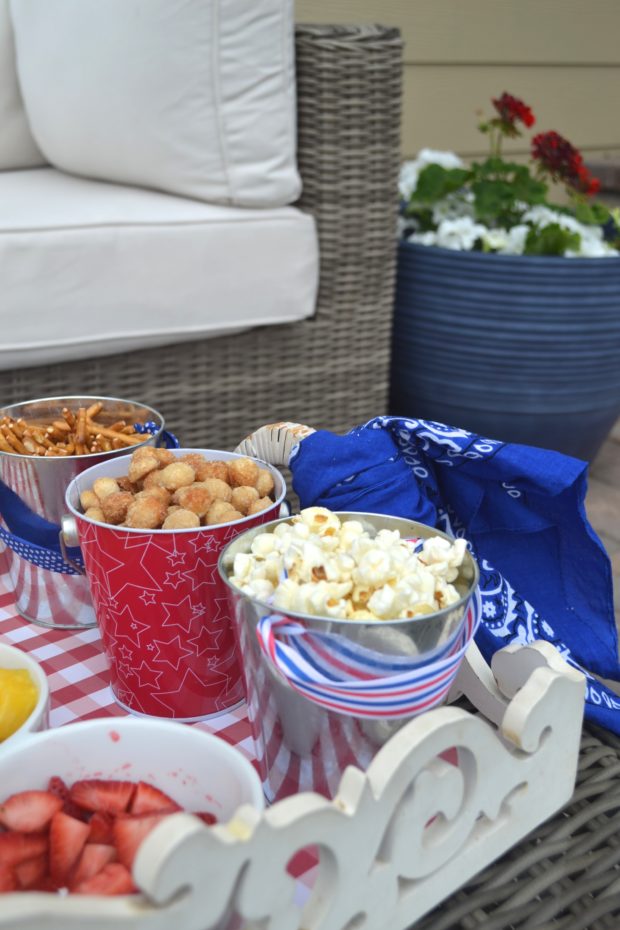 For the sweet side, I used our ever present s'mores ingredients.  We always have them in our pantry.  Other sweet snack options could be:
Puppy Chow
Candy
Fruit Kebobs
Granola
Snack Tray Display Ideas
What I love about doing a display on a tray like this is that it's so versatile.  This kind of display can work for snacks, but also would be a nice way to display condiments for a burger bar.  Or try it for toppings at an ice cream social.
It's also super portable.  Perfect for setting up on a food buffet, but then transporting outside when it's time to watch the fireworks.  This is also a great way to make sure guests at your party are enjoying all the snacks, because you can just walk them around to each of them.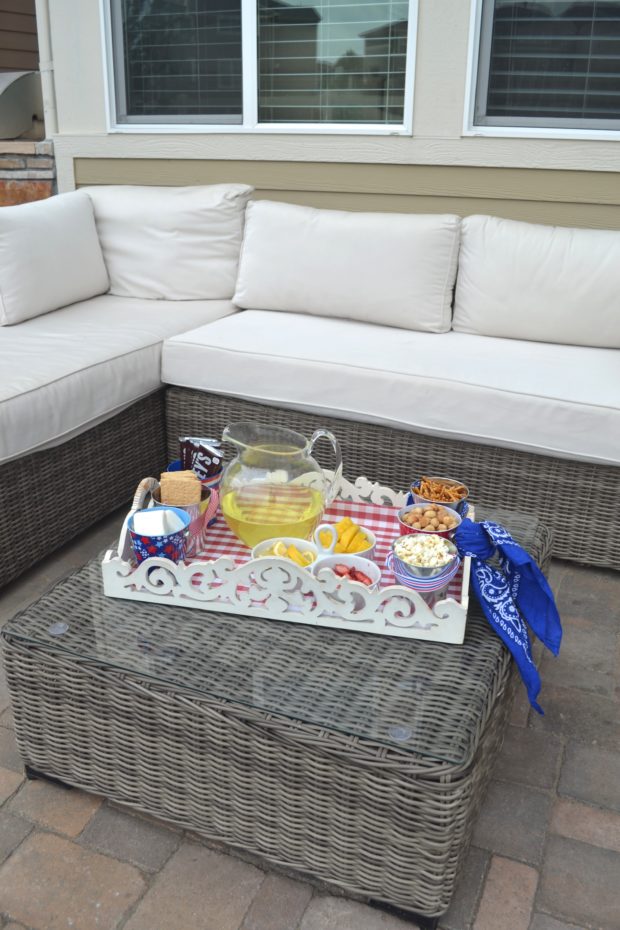 And lastly, putting a mini buffet like this together just goes to show that you don't need a lot of space to entertain.  You could have your entire food buffet contained in one tray for a small gathering.  So not having the space is no excuse in my mind not to invite people into your home.  I once hosted a gift exchange in my dorm room.  Complete with a hot cocoa bar and dessert, so it can be done in small spaces.
I will say that that gift exchange in college was in my early days of entertaining so it wasn't anything to write home about, but we created memories!  And I used crushed up candy canes to decorate the cookie platters, so I was trying, hehe.
I hope this encourages you to make a simple celebration more festive by adding in some red, white, and blue.  Just take your snacks out of their normal packaging and put them in a cute little container and you'll be well on your way.
I hope you have a safe, festive, and fun Independence Day!