It's GIVEAWAY day!  Time to get your FREE printable party pack because you all worked so hard to get my Facebook page to 200 likes!  Thanks so much for helping me.  You even surpassed my goal and we now have 209 likes!  Now let's see how fast we can get to 300!!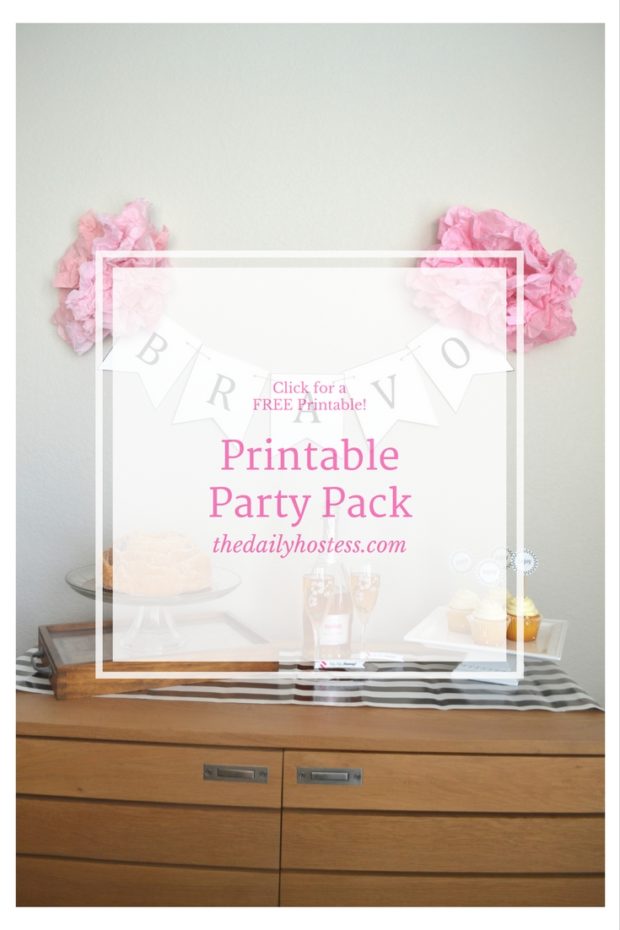 I've made three fun things for you to celebrate with, a printable banner, food labels, and drink labels.  All you have to do is click the link below to download whatever printables you need, then print them onto cardstock or your paper of choice, cut them out, and they are ready to go.  I'll show you how I put them to use below, but they would make great additions for a baby shower, graduation party, or housewarming party too.  The options are endless, because they are so interchangeable.
CLICK HERE TO DOWNLOAD YOUR PRINTABLE PARTY PACK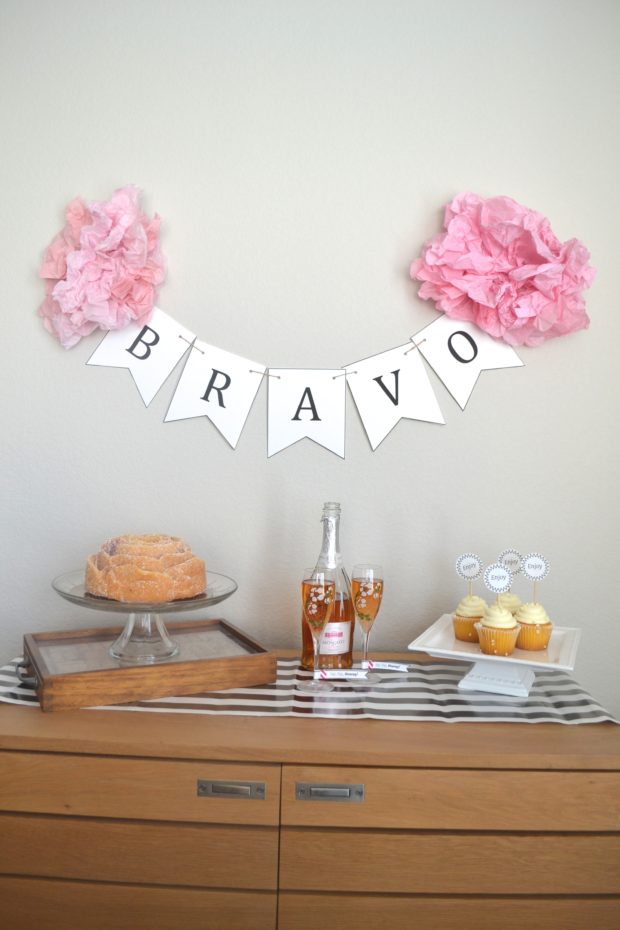 I set up my bar as a little dessert display and used the printables to say "Bravo" for a job well done with my Facebook challenge.  I printed out the banner, drink and food labels, then used a scrap piece of wrapping paper and tissue paper poms to set up this little black, white, and pink celebration.  It only took me a few minutes to get it all set up, which just goes to show that you don't need to spend a ton of time to make your party festive.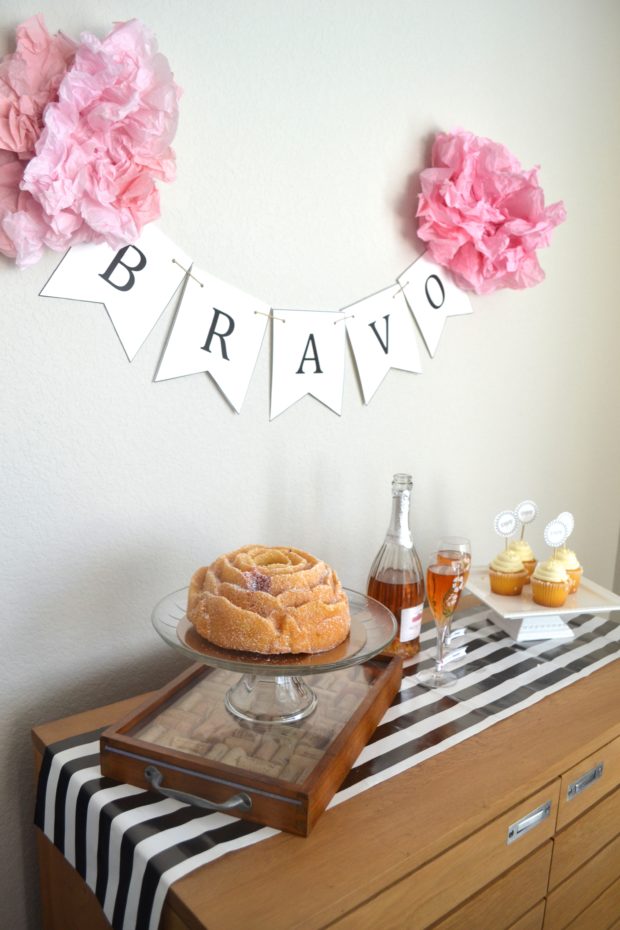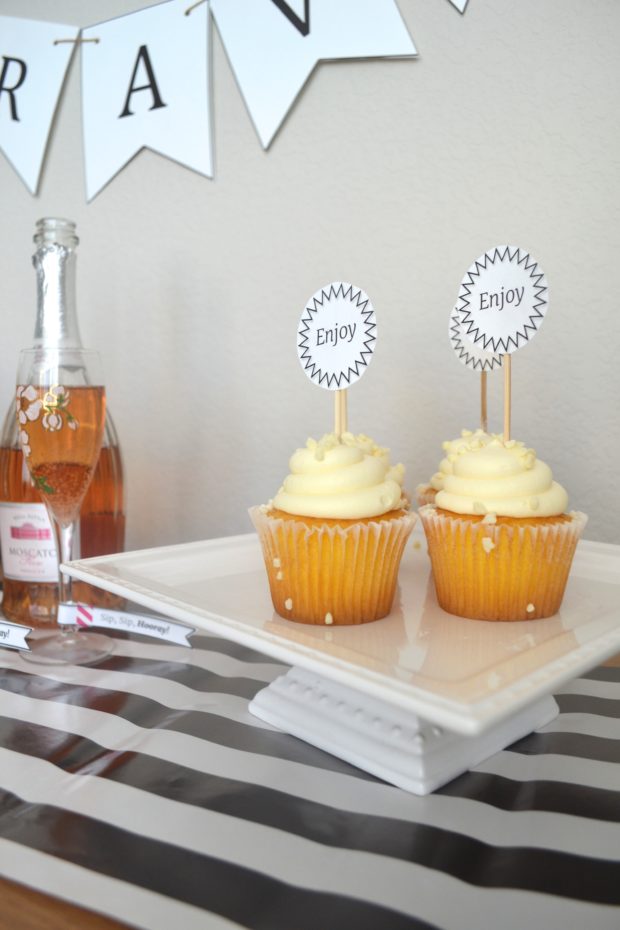 I used the food labels in some cute vanilla cupcakes, but they would also work for so many other things.  You could use them as skewers for meatballs, or add the labels to the end of a kabob with grilled veggies or a caprese salad.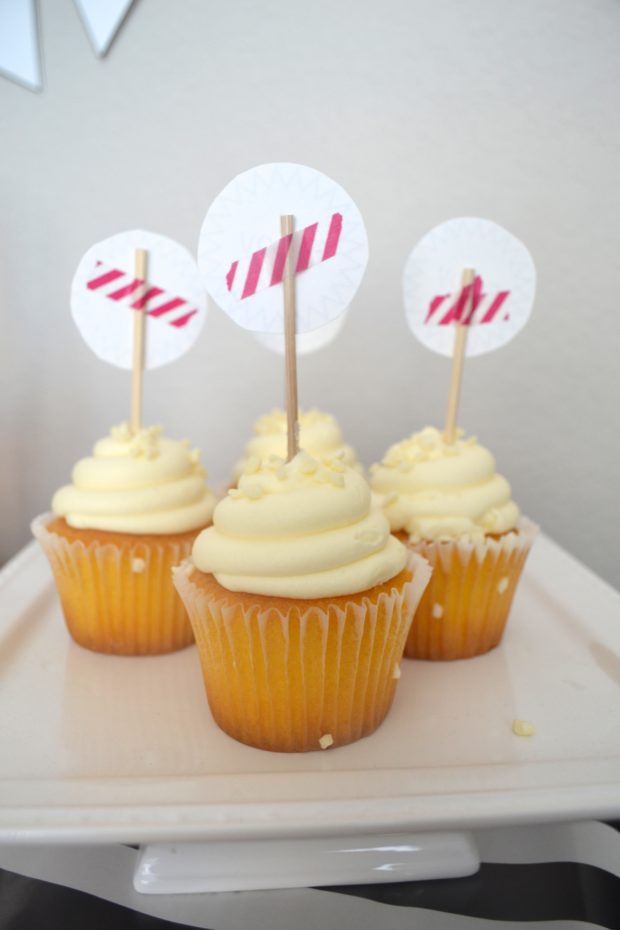 To make the food labels just add the labels to some wooden skewers with a little washi tape.  To keep with the color scheme I used some striped pink washi tape.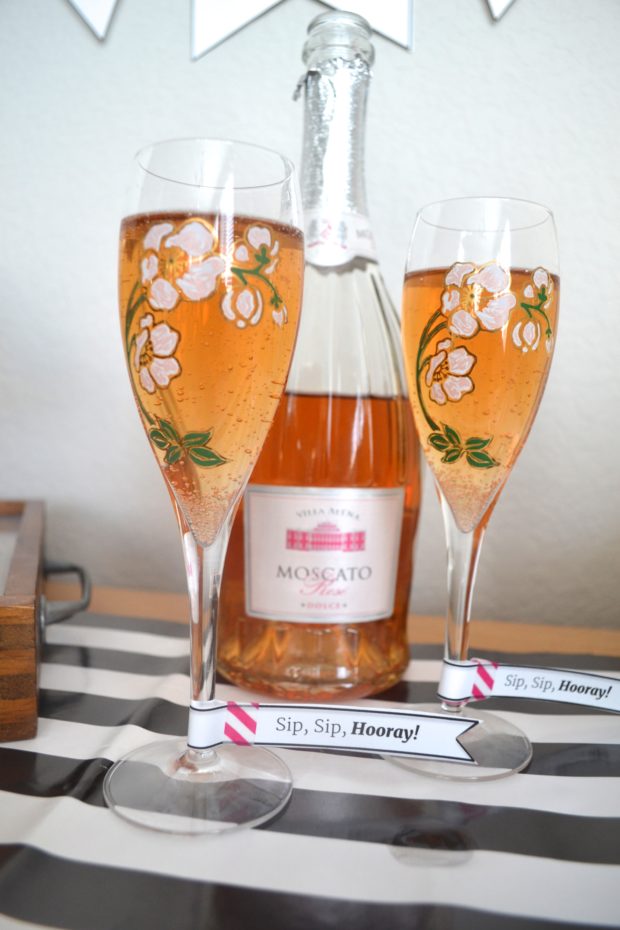 How cute are these "Sip, Sip, Hooray!" drink labels?  Here I used them on the bottom of champagne flutes, but you could also use them as labels on straws, or add your guests' names to the back of the labels.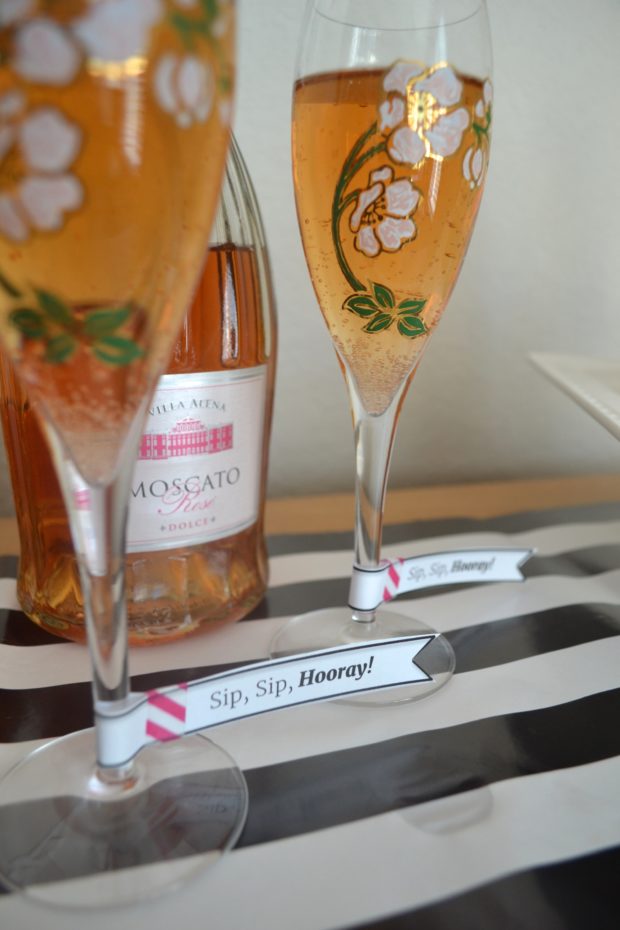 I printed these labels out on regular computer paper so it was easier to wrap the paper around the glass stem.  To attach them, again I just used a little bit of washi tape to hold the paper in place after wrapping it around the stem.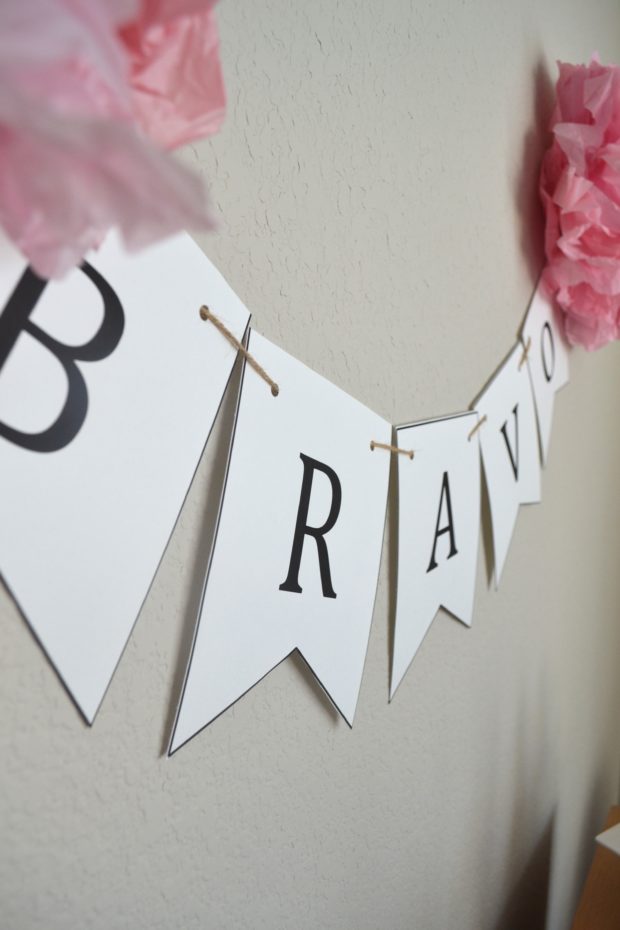 For the banner, you can download whatever combinations of letters you need, print, cut, then punch a couple holes in the top to string them up.  I love using thin twine for stringing banners, it just works so well and typically blends right in so you don't even notice it.  To temporarily attach the banner to my wall, I used some poster putty. Just be sure to use enough putty for the weight of your banner so it doesn't fall down in the middle of your party.
CLICK HERE TO DOWNLOAD YOUR PRINTABLE PARTY PACK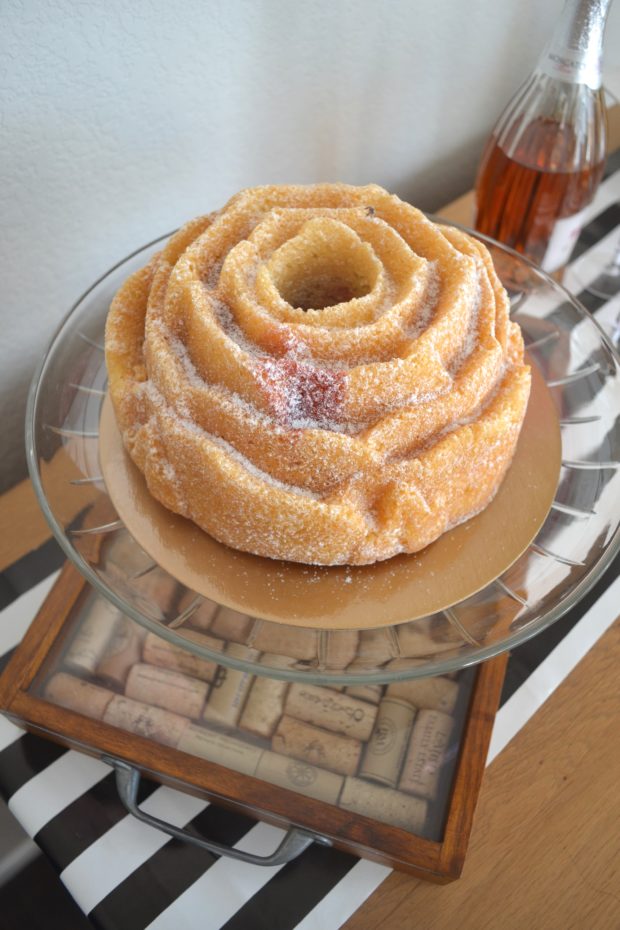 I had to get a close up of this cake because it is just too pretty not to share!  I guess depending on how you look at it, being a party blogger is kind of rough because I almost always have cake and champagne in my house, and I'm not going to let it go to waste!  Luckily, this weekend I'm celebrating a friend's milestone birthday, so we will put this cake to use!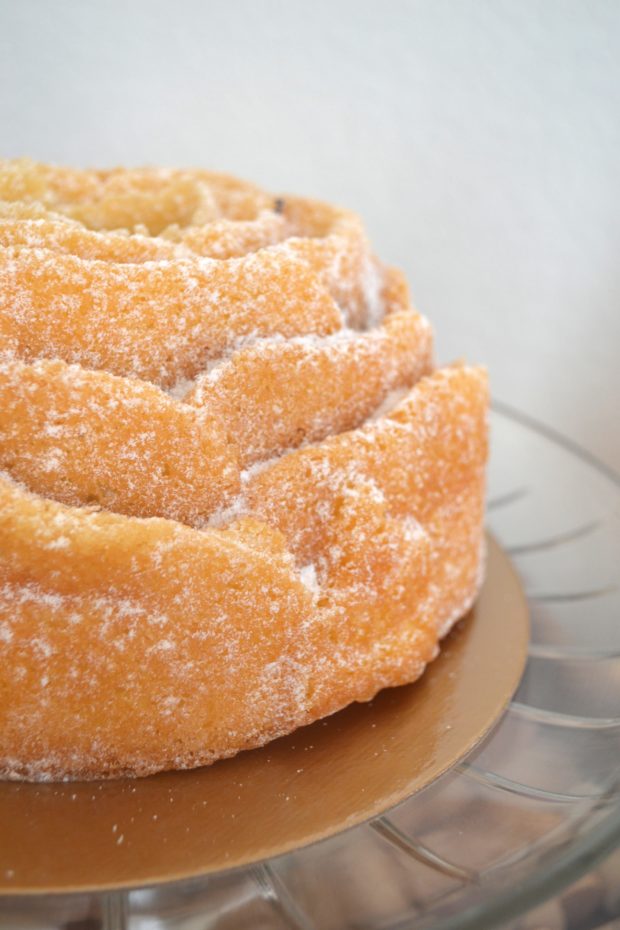 There are so many uses for this versatile party pack, use it for a birthday party, welcome home sign, or even for a Mother's Day brunch.  Guys, if you're reading, your wife, mom, lady in your life will be so impressed that you took the extra few minutes to make Mother's Day (it's this Sunday!) even more special by stringing up an "I love you Mom" banner, or plopping an "Enjoy" food label into her pancakes.  You'll totally score some extra brownie points.
CLICK HERE TO DOWNLOAD YOUR PRINTABLE PARTY PACK
Also, don't forget to go to my Rodan and Fields website to complete the solution tool to figure out what your skin needs and be entered into a drawing for a mini facial!  Today is the last day to do so.  Be sure to enter your email address in so the results will be sent directly to your email.  It only takes a few minutes, promise!
Have a great weekend, enjoy Mother's Day, the Kentucky Derby, and anything else you plan to celebrate!  Be sure to come back next week for the final reveal of my shared office and playroom in the One Room Challenge, I'll be working to finish it up this weekend!