Today is the second part of a series on themed bar carts.  Earlier this week I showed you a Fall Bar Cart and today I'm getting spooky and dressing my bar cart up for Halloween.  Don't be scared, it's not too spooky.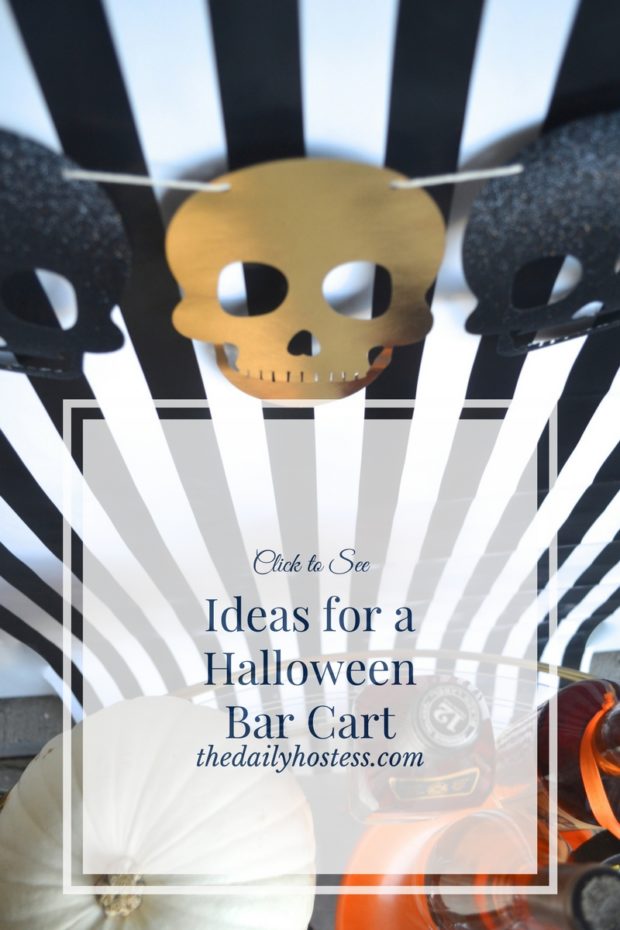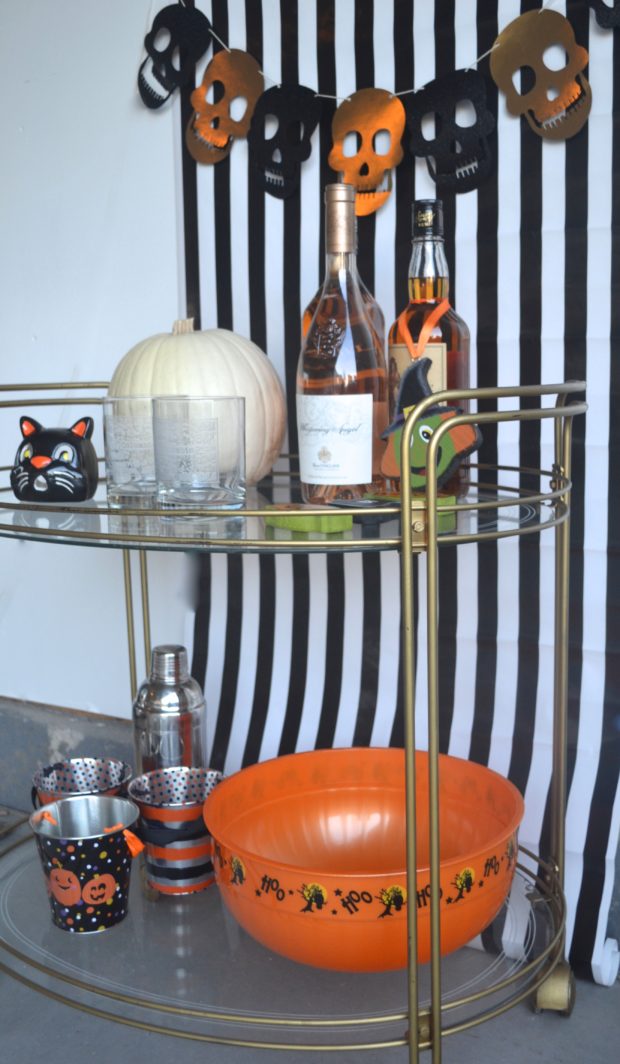 As you can see, all I did to turn my Fall Bart Cart into a Halloween Bar Cart  was just change out a few accessories.  Instead of fall colors of gold, orange, and red, I went with a black, white, and gold theme.  Again, I used some wrapping paper for a backdrop.  Wrapping paper is just so versatile, and my favorite places to pick some up are Hobby Lobby and Marshall's.
Hobby Lobby has a pretty large selection and with a 40% off coupon, it's very reasonably priced.  Marshall's (or TJMaxx) always has fun patterns and designs and usually for around $2.99 a roll.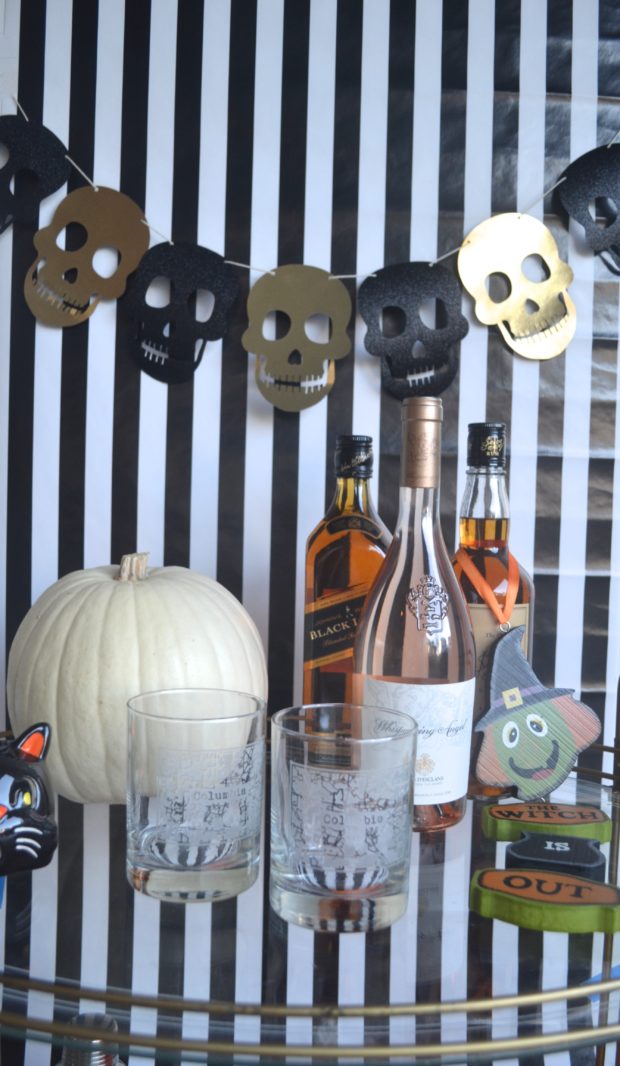 Instead of copper mugs and Moscow mules, try a stronger cocktail for Halloween.  Adding these skull ice molds really makes your drink on theme.  I purchased the skull banner at Marshall's and just knew it would look perfect for this display.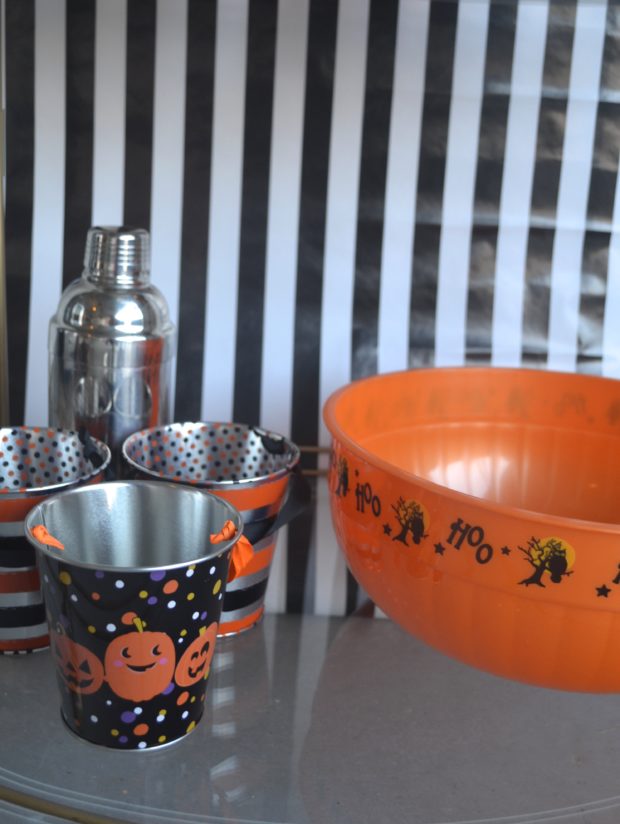 On the bottom shelf of my bar cart I added our candy bowl, pre-candy filling.  Let's be honest, once the candy is in the bowl, it might not make it to the trick-or-treaters.  If you have a problem keeping your hands out of the candy bowl, then my tip is to buy a candy that you don't like.  Hopefully it will keep you from snagging a piece here and there.
I also got these little tins at the Target dollar spot.  I have several of these tins in a variety of holiday themes.  They are pretty versatile, so I knew I'd be able to use them somehow.  I would totally use them for drink garnishes, like lemons, limes, and herbs for this Halloween drink station.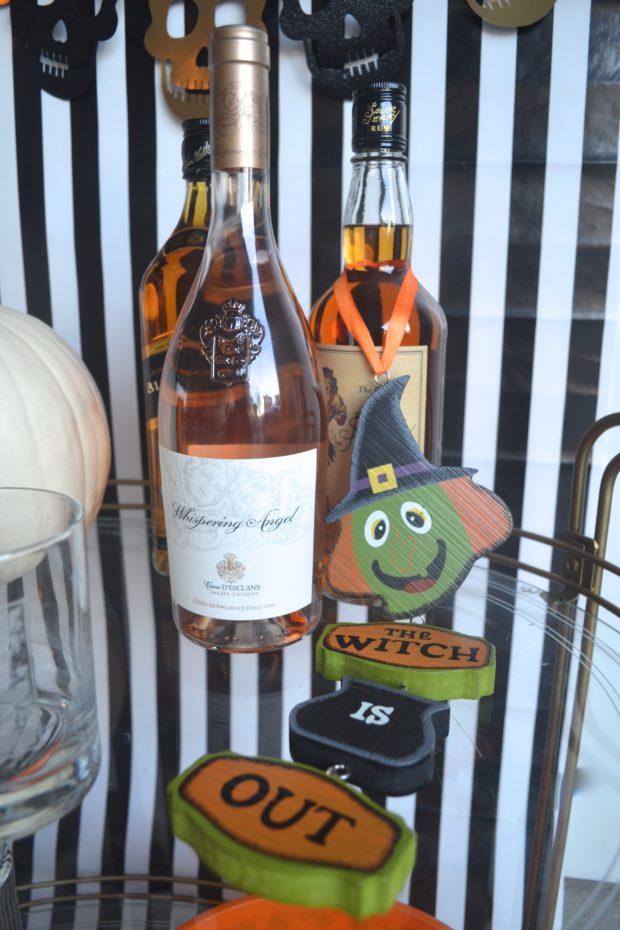 I also added a few Halloween accessories that came in our Boo Basket, like this witch sign.  Have you heard of Boo Baskets?  Our neighborhood is doing them like crazy.  It's where one person puts a Halloween basket together with a fun note and leaves it on the porch of a neighbor with instructions to spread the boo's to two more neighbors.  Then those neighbors do it and so on and so on.  Typically a sign is included to post on your front door or window so everyone can see whether or not you got boo-ed.  It's fun to walk through the neighborhood and see how the boo's have spread.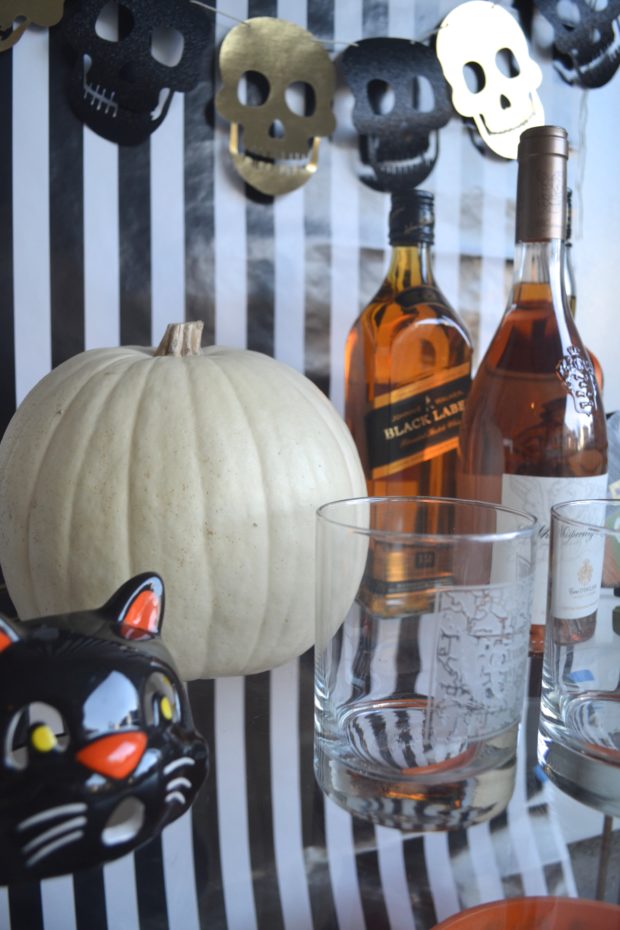 I love the idea of putting the bar cart on your front porch on Halloween and passing out drinks along with your candy.  I'm sure adults will love a stiff drink on Halloween, but even passing out bottled water, juice boxes, or cups of punch is a great idea.  Just be sure to check with your local laws on distributing alcohol as it may be illegal to do from your front porch.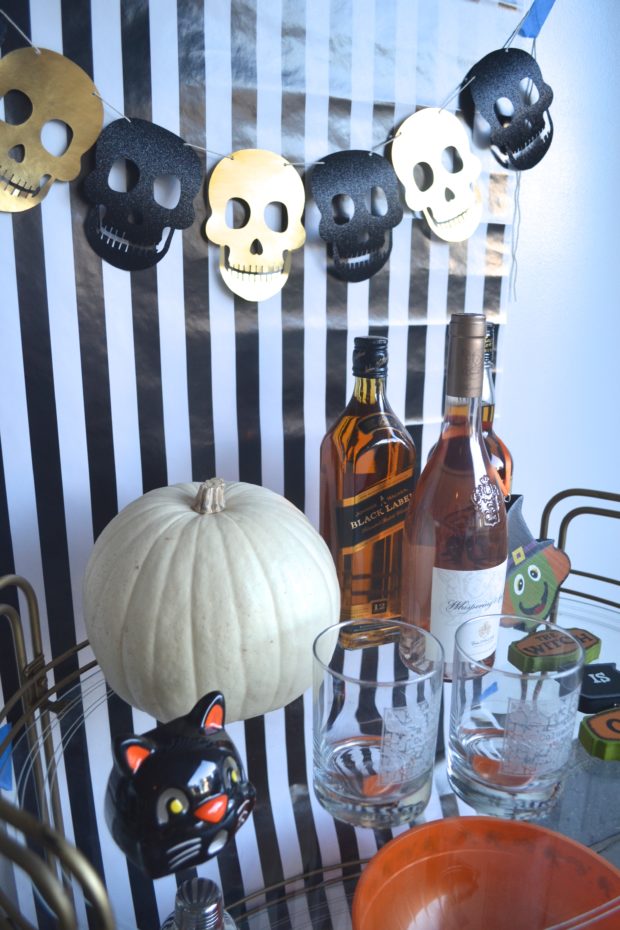 That wraps up this week's bar cart series.  One bar cart for fall and one for Halloween.  A great idea would be to start with the Halloween bar cart then transition it to the fall bar cart.  That way you could serve Thanksgiving cocktails straight from your fall bar cart.  There's just so many ways and events a bar cart comes in handy!  Which did you like best?