It's the season of holiday parties and with all of those parties comes the need to give a hostess gift.  It's a pretty amazing thing to open up your home to others and invite them in, so giving your hostess a little gift is a great idea to show your appreciation.
I've put together a great list of hostess gift ideas for your today.  They are all perfect for anyone that likes to throw a party and celebrate.  All different price ranges and from all different retailers, so you're sure to find something that will work.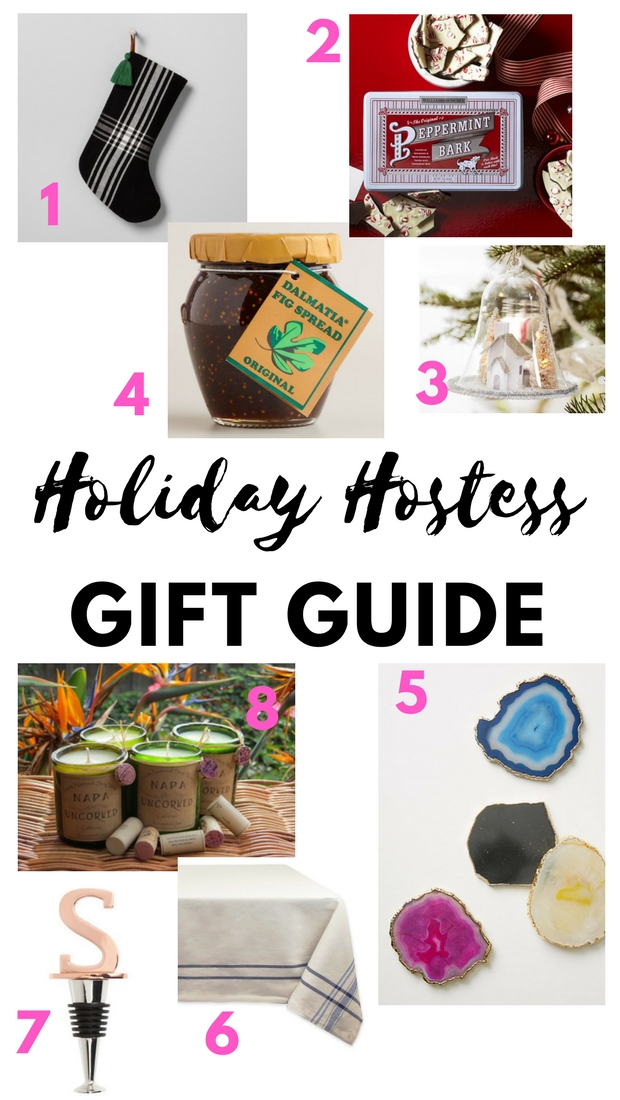 1// Try bringing the typical bottle of wine wrapped up in a fun Christmas stocking.  I love this one from the Hearth and Hand by Magnolia collection at Target.  I mean, what don't I like about their stuff.  Surprisingly, I haven't even stepped in a Target to look at it all yet!
Anyway, pop your bottle of wine into the stocking and tie a ribbon around the top and boom, gift done!
2// A bit unusual, but this jam makes a great hostess gift.  All the hostess has to do is add a little goat cheese to a crostini and drop a bit of this fig spread on top for a perfect and quick appetizer. Bonus that the jam comes in a two pack so you're able to gift it twice!
3// Peppermint bark is a classic Christmas candy.  This one from Williams Sonoma is already packaged in a fun throwback tin.  Just add a bow and you're set!
4// Agate is all the rage right now, and these make really fun coasters.  I love the variety of colors and how irregular they are.
5// Instead of just bringing a bottle of wine to the party, bring a candle in a recycled bottle of wine.  Such a fun twist on the typical hostess gift.  You're also being environmentally conscious with these recycled bottles and soy wax candles.
6// I just love this ornament.  What better way to tell your hostess thanks for opening up your home than with an adorable home ornament.  It's perfect for Christmas!
7// I'm sure you'll be doing some eating around a table at any party you go to this time of year.  Bring your hostess a great tablecloth that they'll be able to use for all of their parties or even just a Tuesday night dinner.
8// It's almost a given that your hostess will receive a bottle of wine as a gift from someone attending the party.  To go along with that gift give a fun wine stopper.  These initial wine stoppers make it even more personalized.
I hope these ideas make picking something up for your hostess much easier or are at least a jumping off point for you to come up with something really clever on your own.