Do you ever feel like the state of your house is the reason you don't invite people over?  I know we've all read articles online about how true friends don't care what your house looks like, and I totally agree.  But sometimes, it just makes you feel better and more prepared to have guests when your house isn't a disaster area.
A few weeks ago we invited some friends over for a little happy hour at the last minute.  Before they arrived, my husband and I went around a did a few things to kind of clean up and get ready for them.  Afterwards I realized, that it only took a few minutes to feel like our house was presentable and clean.
Now, it's your turn! I'm giving you a checklist to get your house ready for guests in five minutes or less and stop not inviting people over because of your mess!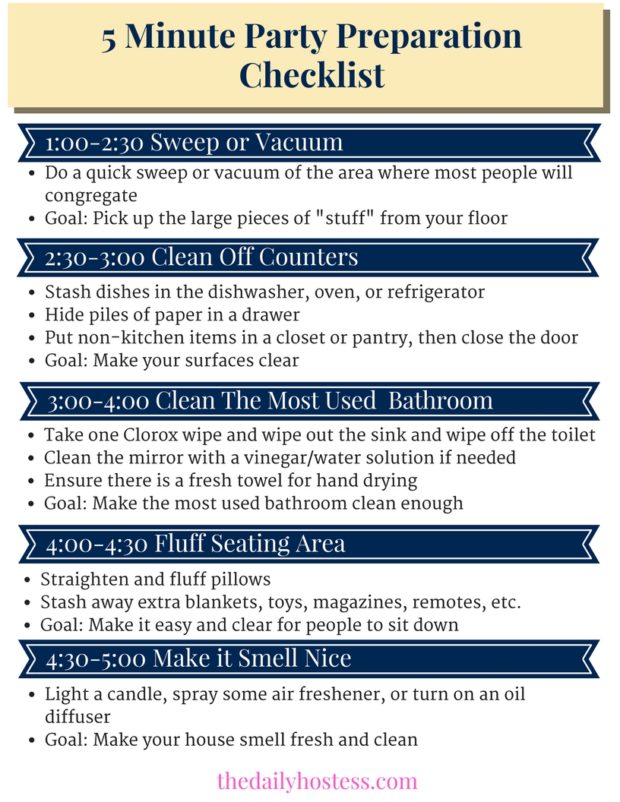 It's pretty simple really, you just need to do a few things and only focus on the areas where your guests are going to be.  Most of the time guests tend to stay downstairs in the main living areas if you have a two story house, only use one bathroom, and typically congregate where the food is.  Knowing this there are really only about three places that you'll have to tidy; your living room or seating area, the kitchen or wherever the food is, and the most used bathroom.  Don't waste your time with the rest of it because your friends and guests won't notice and probably won't care.
First, I like to make sure my floors are clean.  We have hardwood floors and a messy toddler, so there are usually always crumbs visible.  I love my Dyson cordless stick vacuum.  It makes cleaning the floors quick and easy.  If you don't have a Dyson, just use a broom.  Spend about a minute to two minutes doing a really quick sweep of your floors, making sure to just pick up all of the big stuff.  This is not a deep clean.
Next, take about 30 seconds to clean your counters off.  Because our house is such an open plan, the kitchen and it's counters are always visible.  So it's really important to put dishes away, stash piles of mail and paper into a drawer, or for bigger items put them in the pantry and close the door.  If you don't have time to do a bunch of dishes, one of my best tips is to use the dishwasher as a storage area.  Just shove them all in there quickly and close the door.  You can always go back later and clean your dishes.  It's the fastest way to make sure your sink is clean.
Then, it's time to clean the most used bathroom.  I'm sure cleaning the bathroom is not appealing to most, but I promise this way is so quick.  Grab one disinfecting wipe and clean in the following order. Wipe the light switch, then the sink handles, around the sink, inside the sink, then the outside of the toilet, and lastly the toilet seat and the toilet bowl rim.  Cleaning this way keeps the least amount of germs on the most touched things.  I promise it will only take 30 seconds to clean a bathroom using these instructions.
Onto the seating area, or where your guests will congregate.  Maybe that's the dining room table, the living room couch, or on a patio.  Either way, you just want to make sure your seating area is picked up, fluffed, and ready for your friends' behinds.  I typically make sure to fluff pillows, put blankets away, and move anything that may be in the way (i.e. toddler toys).  We're trying to be fast here so if you have a bunch of stuff to put away, throw it all in a basket that's hidden, in a closet, or run it all upstairs where guests' aren't going to go.
Lastly, it only takes a few seconds to make sure your house smells nice.  All you have to do is light a candle, spray an air freshener, turn on an oil diffuser, or recharge some potpourri by giving it a quick stir.
Following the checklist, you should be able to do all of this in about 5 minutes.  It's just enough time to get everything done once your friends or family text and say they are on their way.
Download your checklist by clicking on the image above or here.  Print it out and stash it somewhere handy to refer to all season long.
What are your go to things to do when you have guests coming over?