I recently asked my Facebook followers what they needed help with when it came to hosting a summer bbq.  An overwhelming number of people wanted help with how to keep bugs away while enjoying your bbq outdoors.
This response kind of surprised me. Since living in Colorado I don't feel like we have too many bugs, so it's not usually a concern for me.  However, I thought I'd help to tackle this problem and give you all some great outdoor summer bbq tips for keeping the bugs away.
I did a little research and came up with six ideas on how to keep the bugs away from you, your food, and the area of your bbq.
6 Ways to Keep Bugs Away from your Summer BBQ
1. Make a DIY Bug Spray
I tend to stray away from the typical aerosol bug spray and sunscreen because of a lot of toxic ingredients.  The good news is it's easy to make your own versions that are just as effective.  We use Young Living essential oils and they make some great ingredients to make your own bug spray.
Here's a simple recipe to try:
50 ml witch hazel
50 ml water
10 drops peppermint
15 drops citronella
10 drops lemongrass
10 drops tea tree
Just mix them all up in a spray bottle and you're set.
This is a great blend to spray on yourself.  But I love the idea of spraying it on your outdoor furniture as well.  The strong scent of the oils will help to keep the bugs away.
2. Herbs will Deter the Bugs
Another way to keep the bugs away from the area of your bar-b-que is by planting or using herbs.  The smell of the herbs detracts the bugs.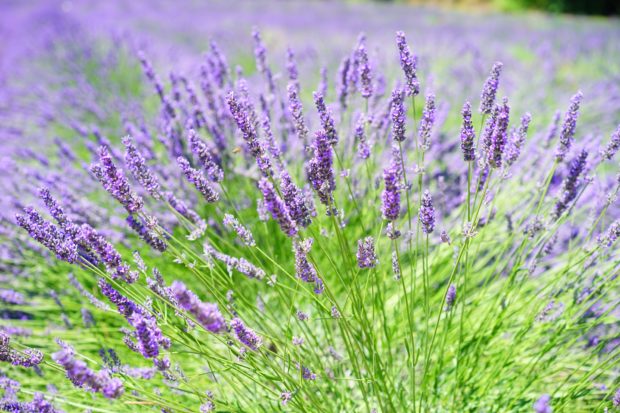 If you already have an herb garden, try incorporating it into the decor of  your summer bbq.  Or if you have a mobile herb garden in pots or jars, move them to the area where people and food will be to deter the bugs.
Some great herbs to help deter the bugs are: lavender, basil, lemongrass, and lemon thyme.  These would all make great decor around your food platters or on your food buffet.
3. Keep Bugs Out of Your Food with Containers
I love the idea of re-purposing a large drink dispenser as a food container.  The best part about using them is that they have a lid.  The lid will keep bugs from flying right into and landing on your food.
Try putting salads, slaw, fruit, or any other cold side dish in a large drink dispenser and pop the lid on top.
4. Food Covers are Great at Keeping Bugs Away
For the items that can't go into a large jar, use a food cover to place over the entire platter or dish.  This method may not be foolproof, but it will help keep some bugs away.
I really like using these large food covers because they fold up and are easy to store when you're not using them.
5. Cover Your Drink Too
Food isn't the only thing that attracts bugs, but sweet drinks do as well.
I vividly remember dealing with this when I was younger.  I was drinking a soda outdoors at an event when I was about 12 and took a drink of my soda. Before I swallowed I felt something odd in my mouth.  I spit my drink out and low and behold but a bee had flown into my soda and was just swimming around in my mouth.  Thank goodness it didn't sting me and I'm not allergic, but can you imagine if I were?
So, all that to say to cover your drink!
Adding a colorful muffin liner to your straw is a great way to cover any glass, can, or bottle.  Plus it will help you distinguish whose glass is whose.
Or you can buy these mason jars that have lids that allow a straw to go through the lid.
6. Cover the Trash Can
Another place that draws bugs is the trash can.  Half eaten food, sweet drink containers, and lots of smells makes this area a bugs dream.
The two biggest pieces of advice I can give you on this topic is to keep the trash can in a location further away from where people are congregating.  Not only to help keep the bugs away, but also because your guests probably don't want to smell that either.
Also, use a trash can with a lid.  Doing so will help to keep the smells in and the bugs away.  Plus, when the lid no longer closes you know it's time to empty the trash!
I hope some of these tips were useful in getting you prepared to have a bug free summer bbq this summer.  If all else fails, there is always the option to have your bar-b-que indoors too, haha!

*Affiliate links used throughout this post.  By clicking on the links I may make a small commission from your purchase with no additional cost to you.