Happy Friday friends!  I hope this is the start of a fun filled or relaxing holiday weekend for you.  What are your plans for Labor Day? I'm sure at some point there will be food involved.  And I have a great idea for a Labor Day party appetizer for you today.
Because Labor Day is always celebrated on the first Monday of September all of the items on this charcuterie board are in season in the month of September.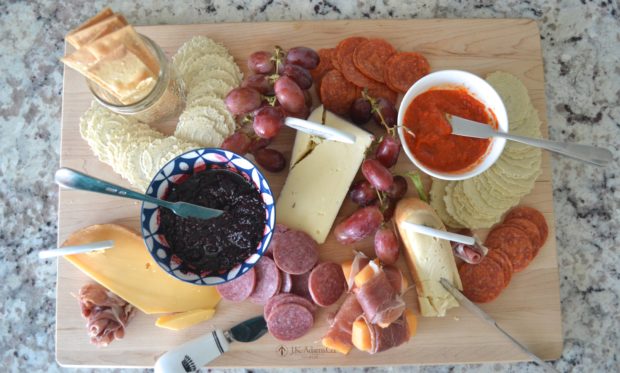 A quick google search and I found out that blackberries, cantaloupe, and red peppers are all in season this month.  So I focused my charcuterie board around those items.  And cheese of course!
I composed the board of three distinctly flavored cheeses,.  An aged Gouda, Merlot bellavitano, and a chaumis which is a soft cow's milk cheese.  I also added in several different flavors of crackers like rosemary, cracked pepper, and sea salt.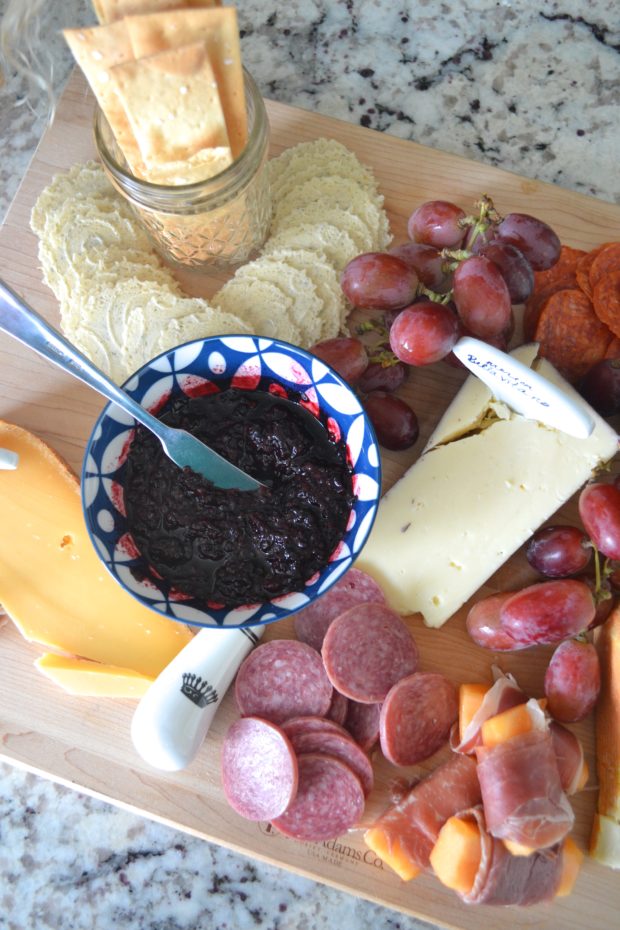 For the savory component to the board I used prosciutto, salami, and pepperoni, along with a roasted red pepper spread that I made.  I'll provide the recipe , just keep reading.
The red peppers were extra sweet because they're in season right now.
Roasted Red Pepper Spread Recipe
I didn't get too many pictures of this recipe, but it's pretty easy not to mess up if you read through the directions below.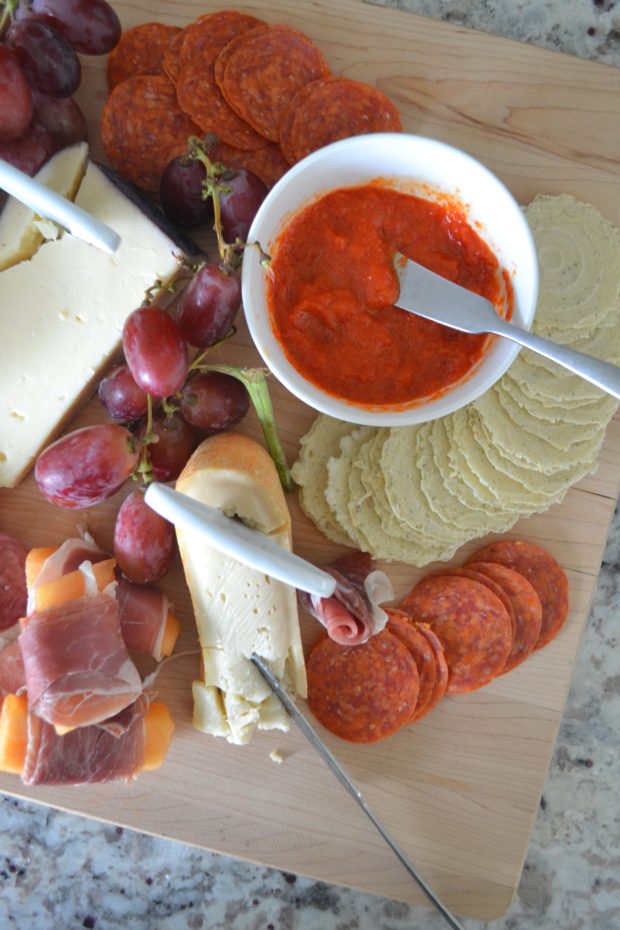 Ingredients:
Red Pepper, I used one, but you can use more for a bigger batch of spread
Salt to taste
Pepper to taste
Olive Oil to taste
Directions:
Preheat oven to 350 degrees
Place your whole red pepper right on the oven rack and roast it for about 20 minutes or until you see the skin turning black and blistering
Once the pepper is roasted, remove it from the oven, and I love this hack, place it in a zip top bag for about 10 minutes.  This will steam it to make removing the skin easier.
Take pepper out of bag and peel the skin off.
Chop up the pepper, removing the stem and seeds.
Place chopped up pepper in a food processor or blender.  Blend until chunky.
Once blended place the spread in a pot with salt, pepper, and olive oil.
Let that simmer for a few minutes until all the flavors are blended together.  Just keep tasting it and adding any additional seasonings if you like.
Ta-da, your done!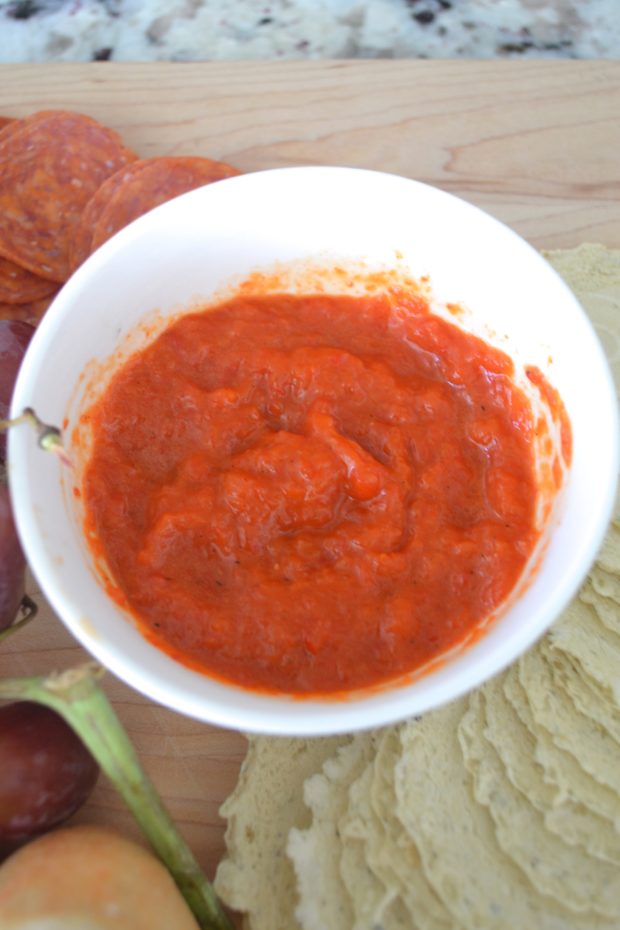 As you can tell, I'm not super exact when I cook, so my directions and recipes aren't either.  The good thing is with only four ingredients you can't mess this one up too badly.
This spread is great on a bold savory cheese.  It's also good on chicken, beef, or pork so if you have leftovers use it as a sauce the next time you cook dinner.  If you use it during a dinner party, your guests will be so impressed.
Blackberry Balsamic Jam Recipe
If you want to go one step further and incorporate another seasonal ingredient in your Labor Day charcuterie, try making this blackberry balsamic jam recipe.  It's even easier than the red pepper recipe above.
Ingredients:
Blackberries, I used one 5 oz. container
2 Tbsp balsamic vinegar
2 Tbsp sugar
Directions:
Put all the ingredients in a pot on medium low heat.
Occasionally stir and kind of mash up the blackberries.
Once the blackberries are mashed up and cooked down to a chutney consistency reduce the heat to a low simmer, stirring occasionally.
Let simmer for about 10 minutes.
Ta-da!  You're done!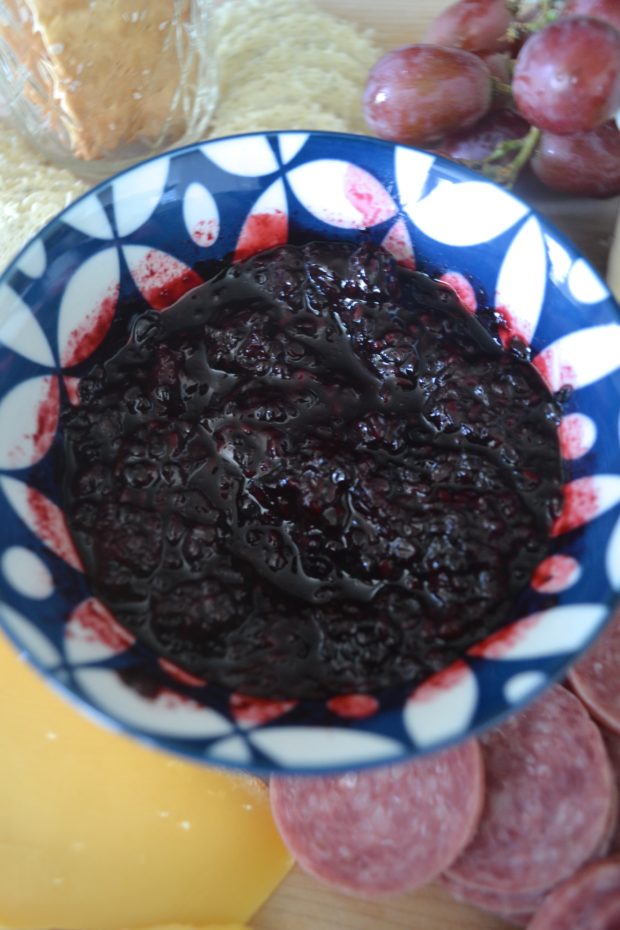 I recommend tasting the jam throughout cooking it to see if you need to adjust any of the ingredients.  I didn't really measure when I made mine and it definitely could have used a little more balsamic.
This jam is great with cheese and crackers, but I could totally see this on some warm biscuits, yum!  Or even as a filling in a cake for someone that wants a little bit of a different flavor.
These two spreads really amped up the seasonal aspect of this charcuterie board.
I also used cantaloupe on my board because it's another September seasonal fruit.  I wrapped it in prosciutto and stacked it up.  The combination is very tasty.
I hope you're inspired to try some September seasonal produce, make a charcuterie appetizer, or whip up a new jam from reading this post.  It's not hard to put in the little bit of effort any of these ideas take to make an extra special dish for Labor Day this weekend.
And this is how I know this child is mine.  He's obsessed with cheese!  Well basically any food.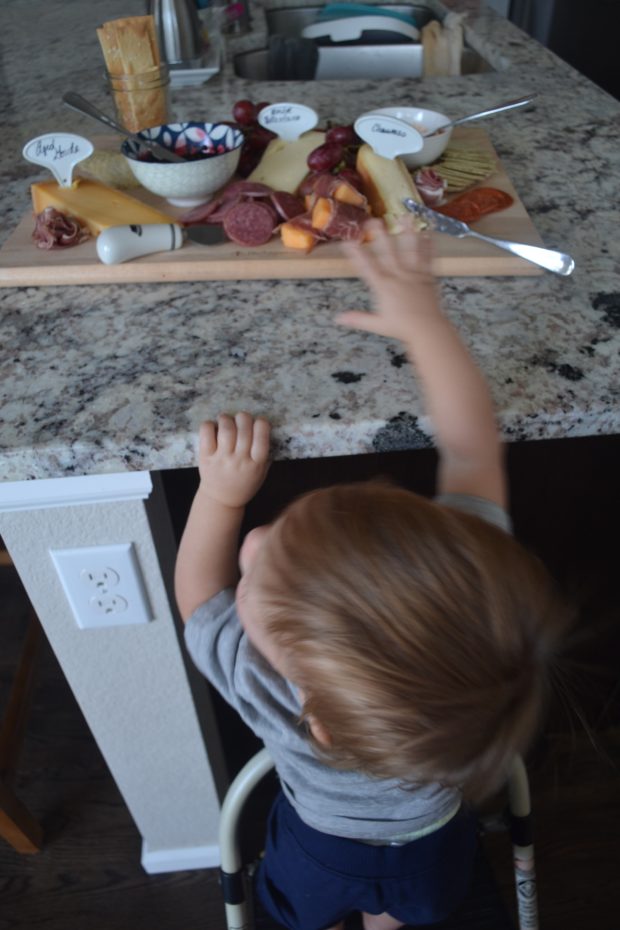 Happy Labor Day, if you make either of these recipes let me know by tagging me on Instagram, Facebook, or commenting on this post.  I'd love to hear what you thought of them!