Can I be honest?  Halloween is not my favorite holiday.  I'm just not that into it.  I'm not sure why because I love a theme party and celebrating.
Because I'm not that into Halloween, I always feel rushed when it comes to costumes and decorations.  #procrastinatorsunite
I don't own a ton of Halloween decorations and costumes always feel like a lot of work.  So if you aren't into Halloween or wait until that last minute like I do, today's post is perfect for you.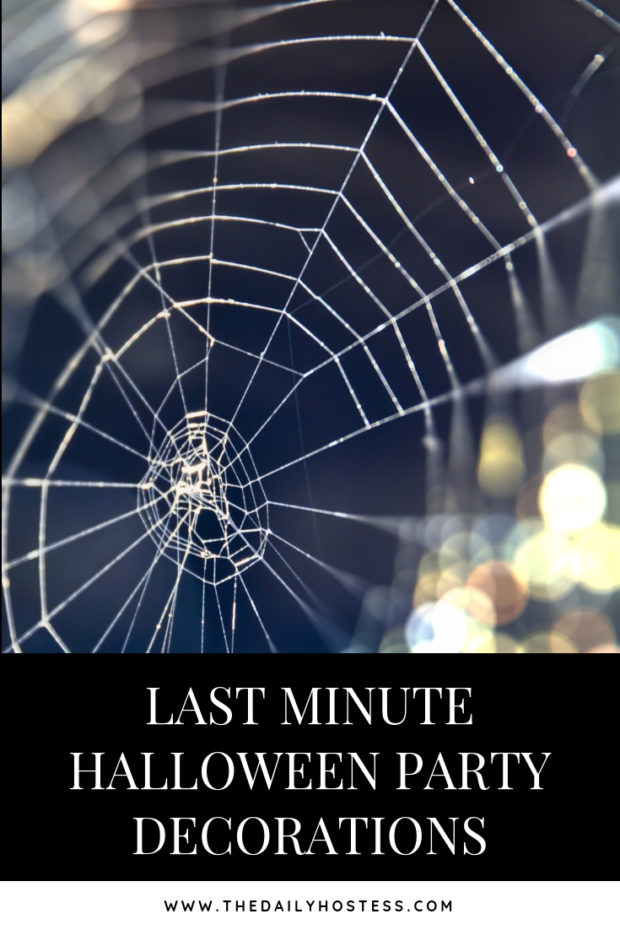 I've rounded up everything you need to decorate for Halloween.  It's all from one place, and you'll have it in two days.  That's right, all of this is from Amazon and can be at your house two days from now.   Just in time for Halloween parties this weekend and the big trick or treating night next week.
As far as costumes go, I'll have you covered with last minute costumes on Friday, so be sure to check back then.
Last Minute Halloween Decorations for the Outdoors
I'm never one to decorate my house for Halloween very much.  I mostly just decorate for fall.  But I can see how it would be fun to welcome your guests with something spooky before a Halloween party.
We have a large area above our garage that we usually decorate with a giant wreath at Christmas, but maybe we can use this giant spider up there for Halloween.
I think this giant spiderweb would be super spooky for trick-or-treaters to have to walk under to get to your front door for candy.  Maybe try to figure out a way to place it over your sidewalk or front steps so they have to walk or stand under it and the giant spider with glowing eyes.
Last Minute Halloween Decorations for Inside
For the inside of your house, you don't need much to show your Halloween spirit.  Let your guests' costumes be the decor!

Thankfully, Amazon has the perfect bundle of Halloween decorations.

These would be perfect for your food buffet, mantle, or a dessert backdrop.  My biggest suggestion would be to keep them grouped together to make a bigger, spookier, impact.

Even make your food on theme with these Halloween food toothpicks.

This mantle scarf would be great on your mantle or even as a tablecloth on your food buffet.

You know what the best part of all of these decorations?

You could get all of this together, to your house in two days, thanks to Amazon Prime for around $50.00!

That's a great deal for last minute Halloween decorations you can use to decorate an entire party inside and outside.

Feel free to shop my affiliate links below or under the pictures above.

Are you more inspired to decorate for Halloween now?  Are you in the spooky spirit?  I know that knowing I could get a party completely decorated for around $50.00 makes me want to throw a party!!

If you're not inspired to throw a Halloween party, maybe doing a fun trick on others is more your style.  Check out my boo basket printables here.  All my other Halloween posts are here, and here.

Be sure to come back Friday for fun last minute Halloween costumes too!