Howdy, did you enjoy the fun color combos I talked about earlier this week?  Today's post however was brought on by something that happened at our Easter brunch.  Keep reading for the full story below.
5 Ways to Make Serving Water Pretty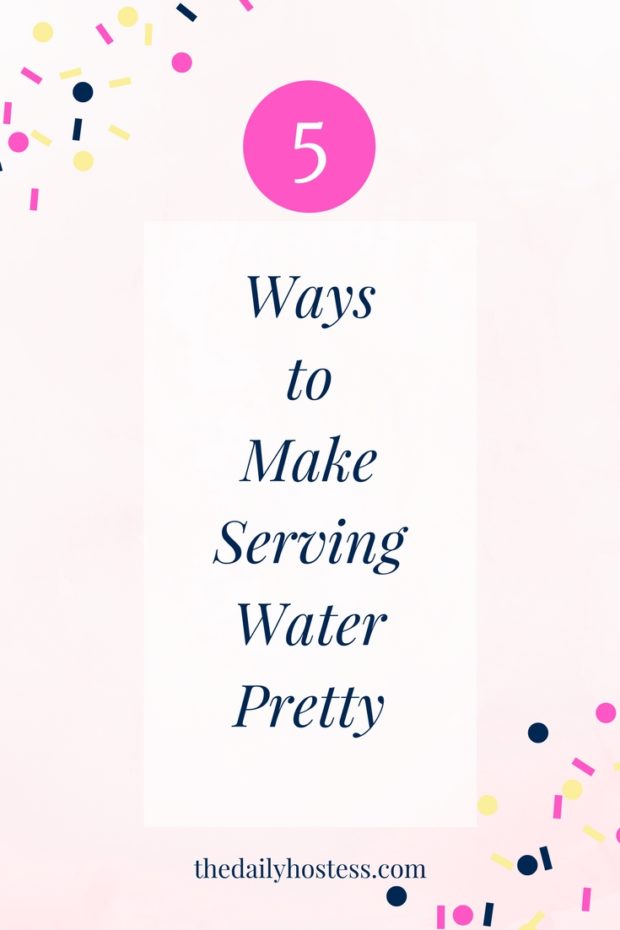 At brunch on Easter we were running a bit behind getting all the food ready and set up, thanks to a late night at church the night before.  I didn't have time to add any tasty or pretty things to our water dispenser and it just looked so bland.  I quickly cut up a lemon and threw it in because that's all I had on hand.  Mostly though I couldn't handle having an empty looking water container.
So today I wanted to share a few ideas on how to dress up serving water at a party.  It's a basic necessity to have at any party, but making it pretty might encourage guests to stay even more hydrated.
1. Use Dispensers
This is the main way I serve water at any of my own parties.  I have a great glass dispenser and stand that I got several years ago that still works wonderfully.  However, I don't just fill it with water and call it good.  I like to add things to the dispenser to flavor the water or make it look prettier.
There are a ton of water additions that taste great and look pretty.  Any of these work great:
lemon and cucumber
strawberries, blackberries, raspberries
cucumber and mint
orange and lemon
lemon and lime
mint and lime
It's also really easy to dress up your water dispenser with fun signs, ribbon, or party decor.  Love the bandana on the dispenser below at a cowgirl party.
2. Pre-mixed Mason Jars
Serving individual glasses of water is great, but pre-mixing them in individual mason jars is even better.  They look so cute with the lids, plus they're spill proof.  That makes them great for kids parties, especially these plastic mason jars.
3. Pitchers or Carafes
I recently used my collection of carafes to serve water and thought "why hadn't I done this before?"  I mean I use them for mimosa bars all the time, just not to serve water.  It was such an easy way to keep a reserve of water on the table to refill glasses when needed.
I have open top carafes, but getting some of these would be a great way to serve water at the table.
4. Dressed Up Water Bottles
Water bottles are an easy way to keep party guests hydrated, but they aren't that pretty to look at.  There are a ton of places to make custom labels for your water bottles, but that seems like a waste of time in my opinion.
I'd rather set up or display the bottles in a prettier way.  Grouping a large amount of like items together is always an impressive way to display something and that's no different for water bottles.
I love the idea of grouping water bottles together in interesting containers like buckets, crates, suitcases, or troughs.
5. Water Glasses
Serving water in traditional glasses isn't totally out of style, but there are fun ways to do it.  I love using a collection of party coordinated colored water glasses instead of clear glass.  They can make a big impact and help bring in the color scheme of your party.
Try renting glasses from a party rental company instead of having to buy and store a bunch of glasses you may not use regularly.  But if you want to buy some, I love these, these, and these.
With any of these pretty water alternatives it's a great idea to dress up the ice too.  You can never go wrong with adding fruit or flowers to ice cubes, or even glitter.  Just be sure to not put ice cubes in drinks with things that aren't edible.  Love this ice mold I made for the holidays with a bundt pan, fruit and herbs.  It looked beautiful in our punch bowl.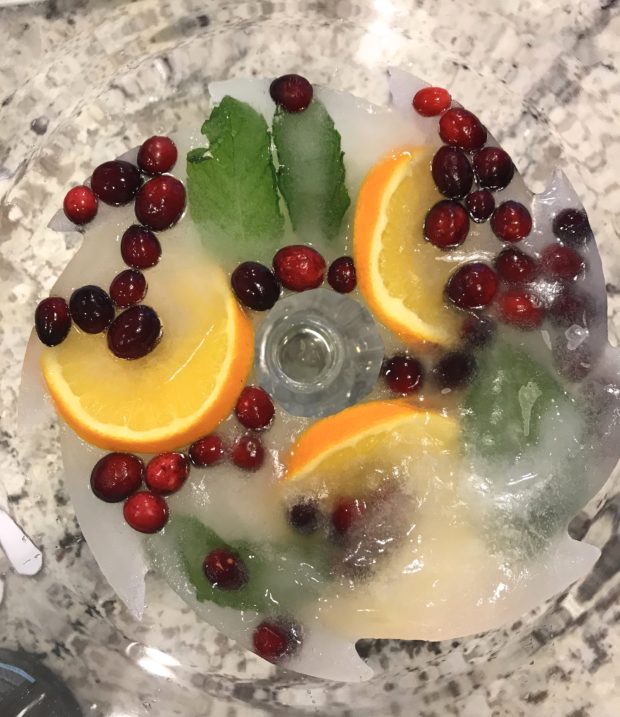 I hope some of these ideas give you inspiration to use at your next party.  Like I said before serving water is necessary, but making it look pretty is almost as important.  Here's to no more bland water containers!