Thanks for all the love on the Halloween Boo Basket ideas earlier this week.  It's such a fun thing to do throughout your neighborhood this time of year.  Today, I'm showing you a long overdue home update.  Specifically the changes that have happened in our Master Bedroom.  You can see what the room looked like when we first moved in about a year and a half ago here.  And what it looked like a month after moving in here.
Wow, that was fun to reminise and see what everything use to look like.  Going back through those posts also made me realize I owe you guys a bunch of updates!  I'll get to work on those.  First up though is our Master Bedroom.
We've definitely used a lot of what we already had to complete this room.  Our furniture and most of the wall decor was used in our previous house and just repurposed here.  However, we have added several new fun things to make it our own.
Here's what this part of the room looked like before.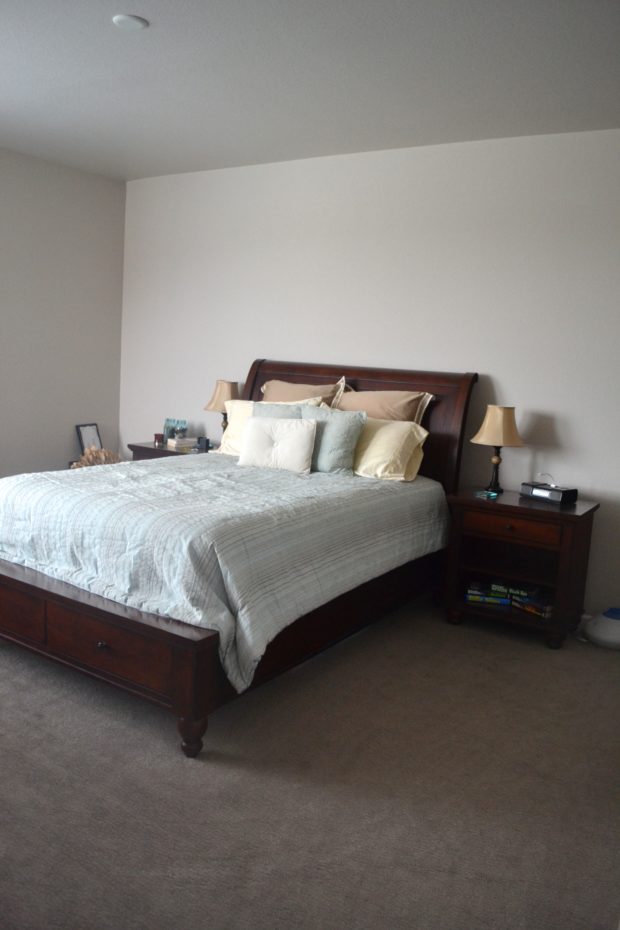 And here it is now.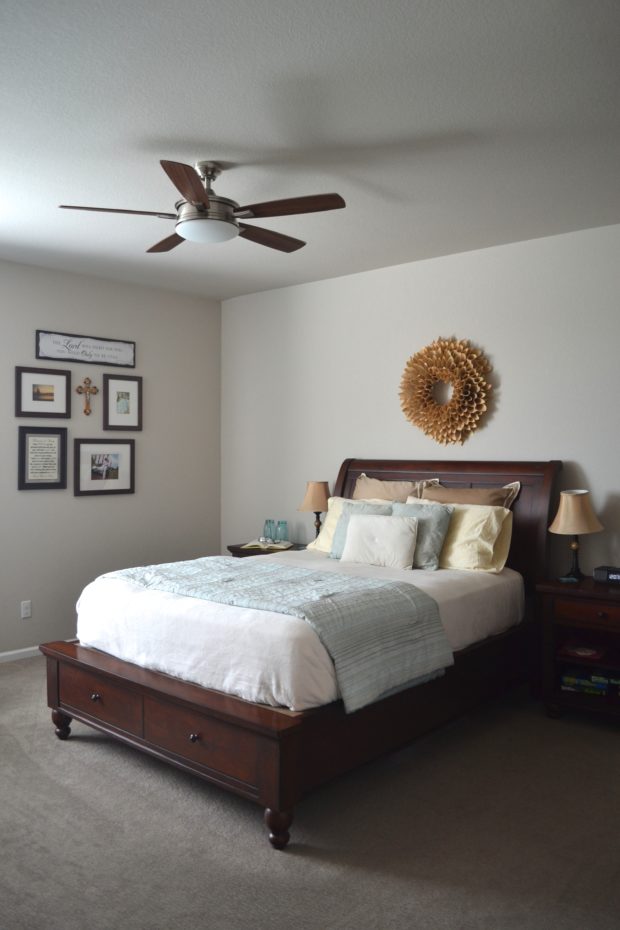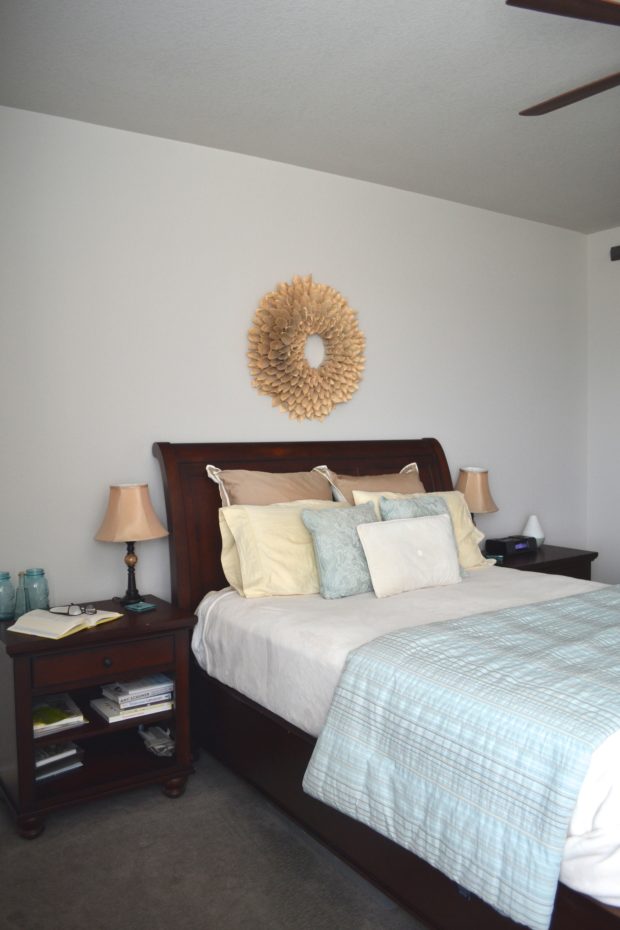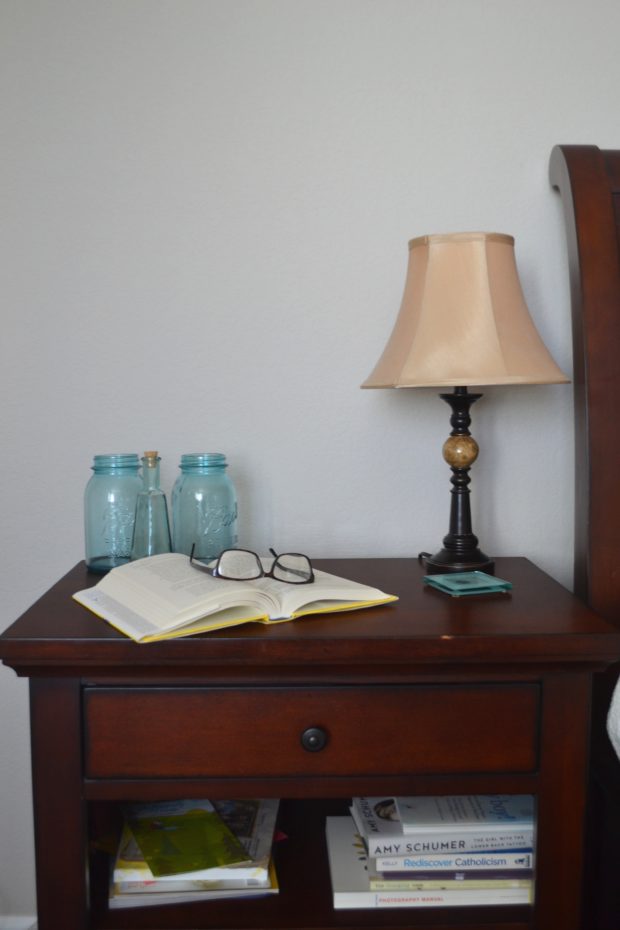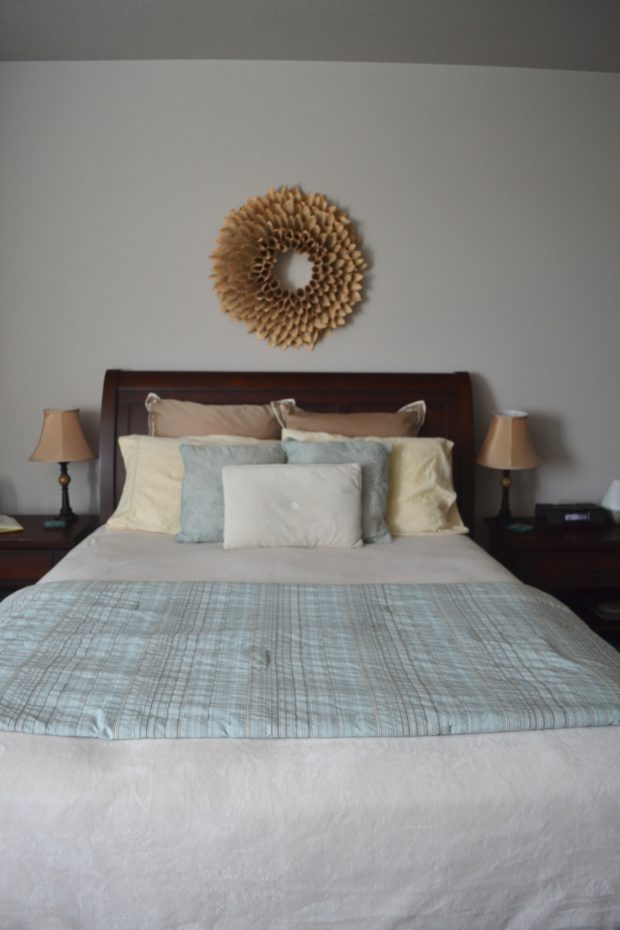 Not a lot different but we've gotten things up on the walls.  You know how rooms are never really done?  Well I'd love to get some more substantial lamps for our nightstands.  Or ideally, I'd like to get two small dressers to use as nightstands.  The current nightstands will move to the guest room whenever we get those dressers.  I'm wanting a more collected look and less matchy matchy.
Across from the foot of the bed is this side of the room before.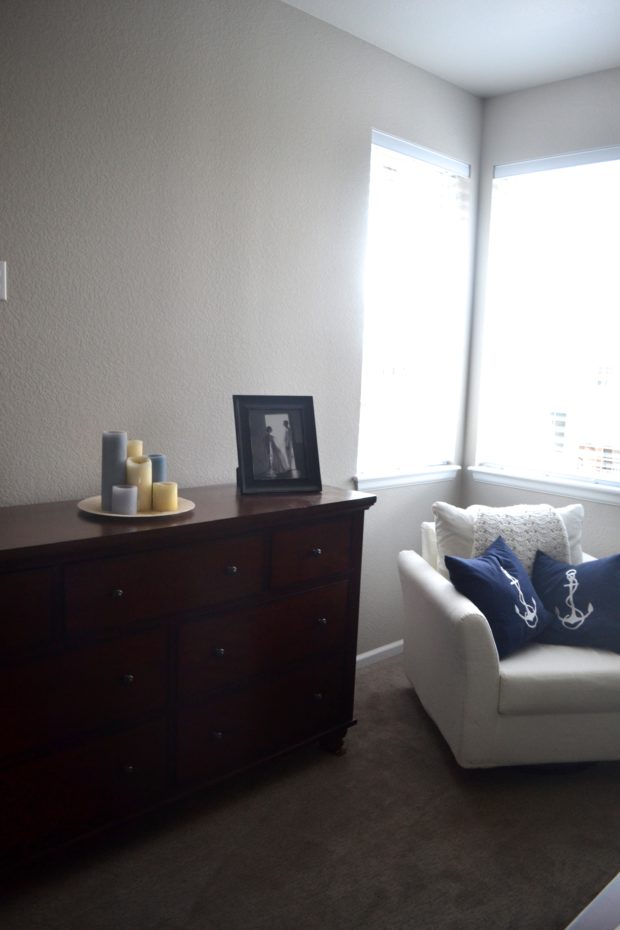 And now here is how it looks.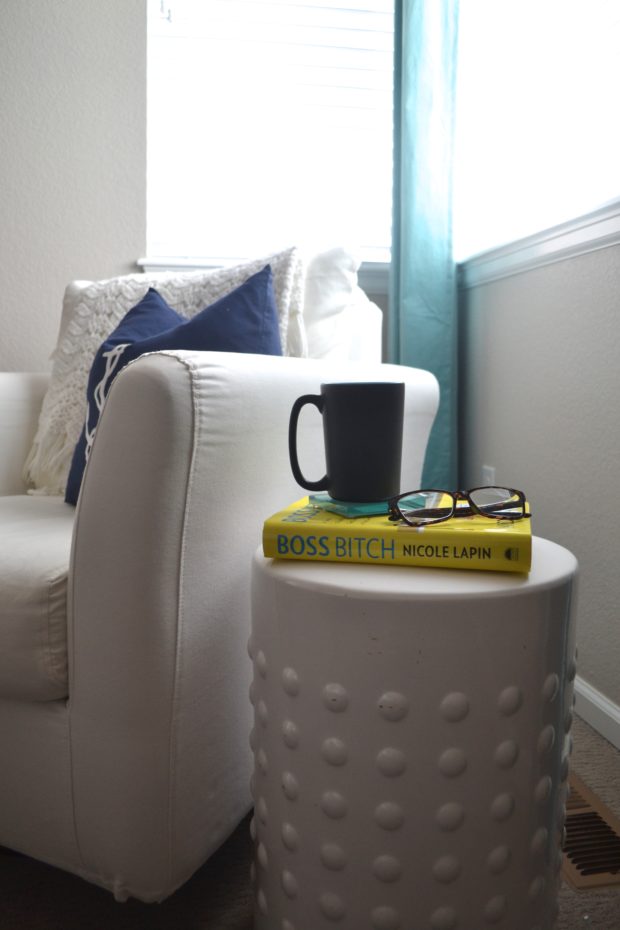 I feel like a grown up because we have curtains, haha!  Isn't it funny the things that make us feel like adults or like we have our lives together? I have a friend that says if her car is clean she feels like her life is on track.
The curtains are from Ikea, because they are the only reasonable place to get super long curtains that aren't a million dollars.  I love our tall ceilings, but our windows are so high that I have to get 100″ or more curtains to cover them.
I've also realized that I kind of hate the window placements in our house. Don't get me wrong I love how many we have and all of the natural light.  However, the design of having all of our windows in the corner of the room makes curtain hanging difficult.
Now here is the other side of the room with the biggest update of all!
Another project completed while my Father-in-Law was here, was this massive barn door.  Our house was built without a door from the bedroom to the master bathroom, and while I can sleep through my husband showering in the morning, it's not ideal.  Plus, the door is such a statement piece, not just functional.
I'm so impressed with how it turned out! They followed this tutorial and adjusted quite a few things based on the size and orientation of our doorway.  We purchased all of the hardware to hang the door and the handles at Home Depot.  Surprisingly, the door track hardware wasn't as expensive as I thought it would be.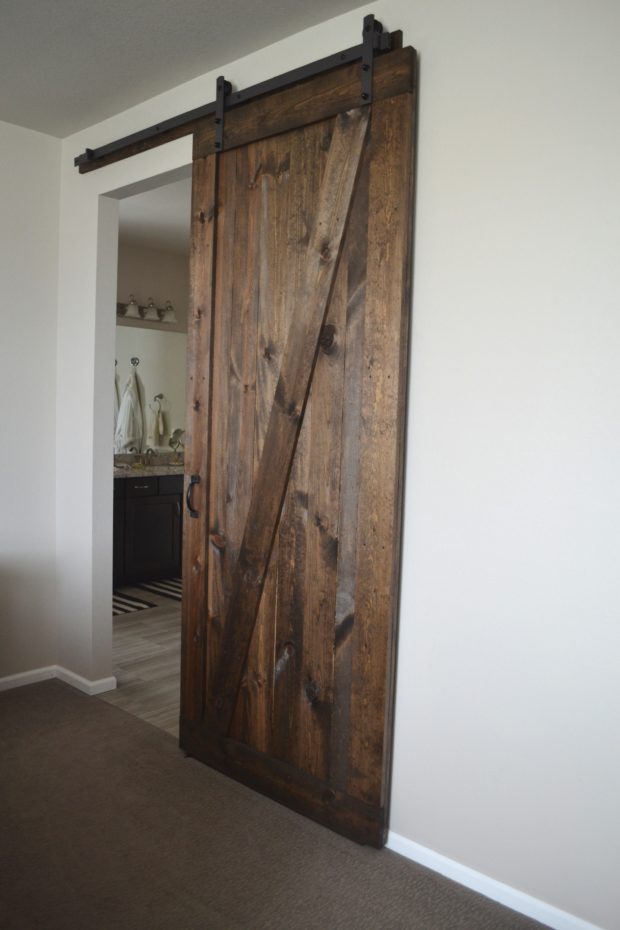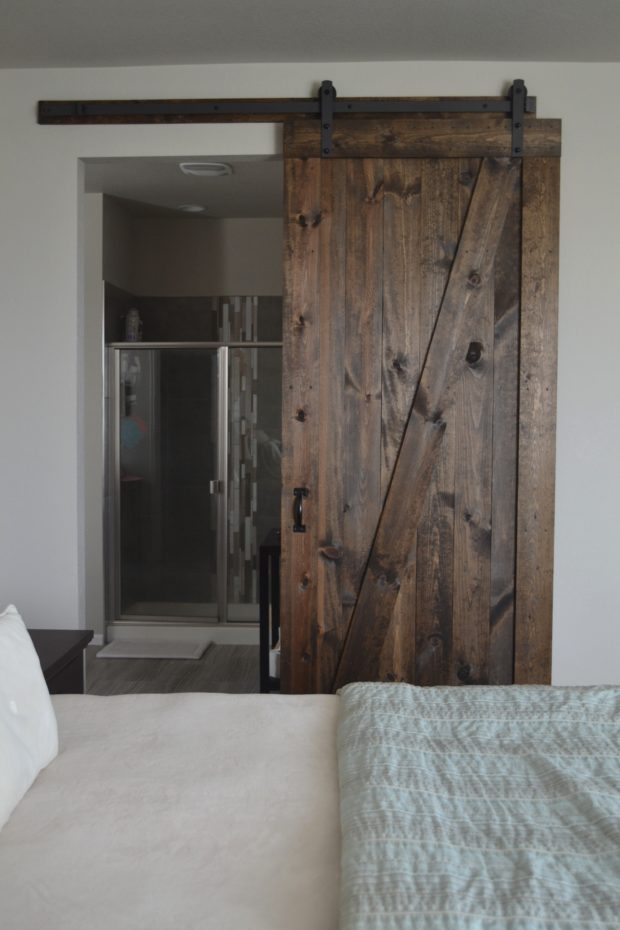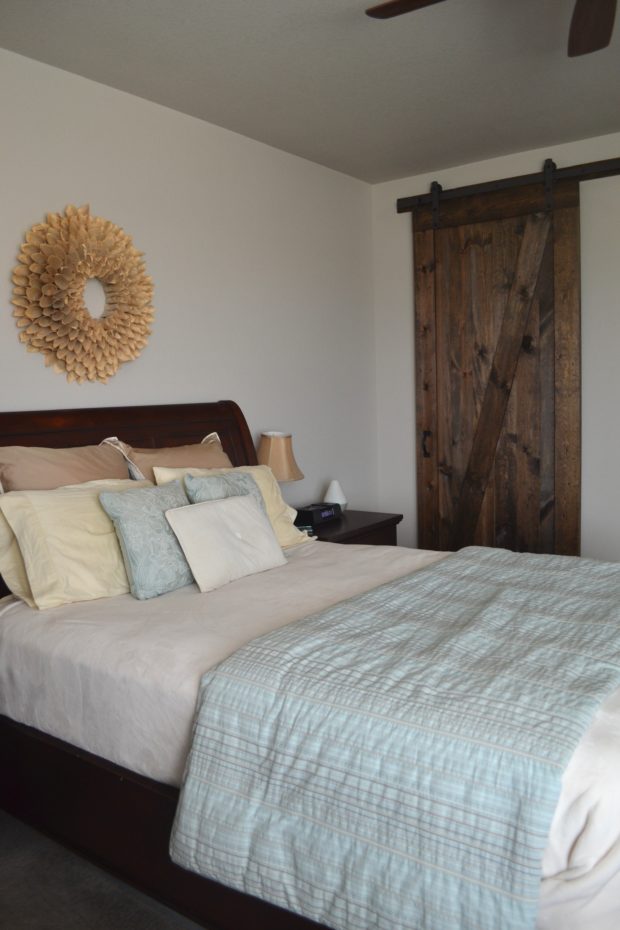 So that's the state of the master bedroom at this point.  Like I said, I would love to still update a few things, but I'm pretty happy with where it's at at this point.
What's your favorite part?  I hope you have a great weekend, and I'm excited to see you back here next week.  I had a real photographer come to my house to take pictures for the posts next week!  They turned out so good, I can't wait for you to see them!

Check out a ton more style at Feathering My Empty Nest and the Share your Style link party.  Click here to check it all out!