It's already the beginning of another month.  Can you believe it?  We're almost half way through the year, time is just flying!  Today is another party round up, this time featuring all the parties to celebrate the month of May.  It's such a fun time of the year moving into summer, graduations, and the end of the school year.  Let's party!
First up, is the 5th of May or Cinco de Mayo.  A day that's often mistaken for Mexico's Independence Day, but is really a celebration of the Mexican Army's victory over the French during the Battle of Pueblo.  In the US, it's really just a celebration of Mexican and American culture.
I've recently started following a few people on Instagram that have been posting so much Cinco de Mayo inspiration it's hard to overlook, so I had to check out their full blog post and I love what they've come up with for this special day.
This first party is kind of typical in it's color scheme for Cinco de Mayo, but I love the addition of the cactus.  I mean those margarita glasses with cactus are too cute!  I also love that this party is totally doable with just some simple colored tablecloths and tassels.
On to another cactus theme, this pink and green cactus themed Cinco de Mayo party is so pretty.  I love the unexpected color scheme and the little cactus party favors.
If you're not tired of margaritas, chips, and dip, then get ready to party again the very next day.  May 6th is the Kentucky Derby.  What a great reason to throw a party?  It's a chance to get dressed up, wear a fun hat, and drink too many mint juleps.  I attended a Derby party last year, and get to do it again this year.  I'm really looking forward to it and the cupcakes.
I love Celebrations At Home take on doing a Derby party and the fact that her blog post gives you step by step ways to host your own party.  Plus, there are recipes, decor ideas, drink ideas, and favors for your guests to take home.
Who doesn't love a party filled with red roses?
May 14th is an important day for pretty much everyone.  It's Mother's Day!  I love the idea of hosting your mom, grandma, mother-in-law, aunts, and anyone else that has been a mother to you, for an in home spa party.  Let's be real, spas are great, but man they are expensive!  By whipping up a few homemade spa treatments or asking everyone to bring their favorite you'll save a ton of money but still have a great time.
Pretty Mayhem does a great job of setting up a Spa Bar with treatments and typical spa snacks.  Plus the decor is simple and calming, just like a spa should be.  Spending quality time with the best women in your life pampering each other sounds like the perfect Mother's Day.
After all of that fun, it's the unofficial start of summer with Memorial Day on May 29th.  Memorial Day just isn't complete without a backyard bar-b-que and lots of red, white, and blue.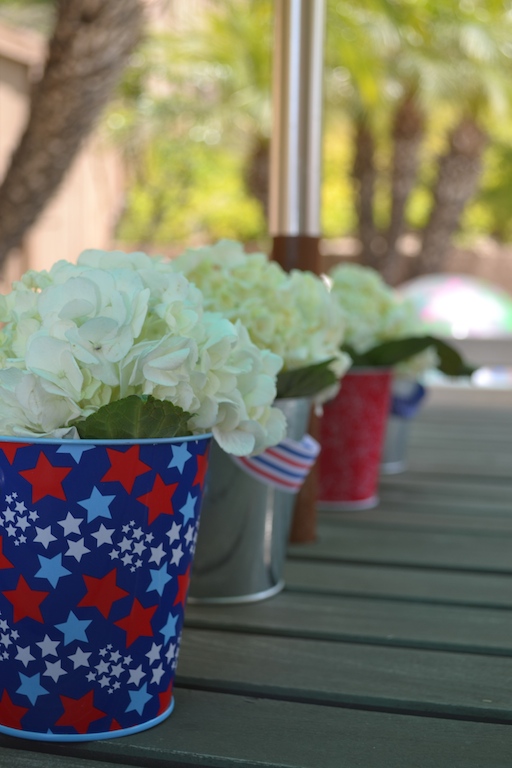 A bar-b-que with fun lawn games like bocce ball, giant Jenga, or Cornhole, is just the thing to celebrate Memorial Day.
Lastly, May's birthstone is emerald, so I did a quick search on emerald themed parties, and literally fell in love with the one that I found.  This birthday party is over the top amazing!
There are so many things I love about this party.  The giant emerald balloons with tassel strings, an overabundance of lush green foliage as centerpieces, emerald glassware, and did you see the food buffets?  They were absolutely amazing!  This would be a great theme for anyone celebrating a birthday in May.  I also love the idea of using it for a 40th over the hill birthday because of all the black in the color scheme.  You have to click on the link above and check out all of the party pics.
That's the end of our party round up this month.  What are you looking forward to celebrating?