Recently a good friend of mine sent me an email asking for recipe ideas to share with her group of friends as a way to help everyone get out of a dinner time rut.  In the email, she called me out about how I meal plan and that I've "got all of my s*** together" because I meal plan.  I don't know if I'd go that far, but it did spur the idea to share my meal planning secrets with all of you.
So here are a few tips to help with meal planning and how I typically create a meal plan that lasts almost three weeks!  Plus, you'll get a great meal planning calendar for yourself.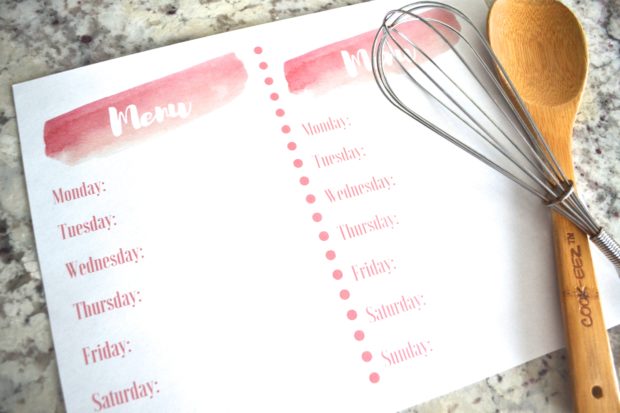 First, I start by writing out a calendar for two weeks (bonus! Just download the one I made for you at the bottom of this post!), only planning dinners.  Then I start to fill in dinner ideas on various days.  I get a lot of dinner inspiration from Pinterest, see all of my dinner ideas here. I also ask my husband if he has any requests and he usually provides an idea or two.  Then I fill in what's left with past dinners that were a big hit.
A couple tips, first, plan meals that are produce heavy towards the beginning of your two week meal plan.  This way you can use the produce before it goes bad.
I always leave one to two days empty.  Something usually comes up that fills up dinner for a night, or we'll do leftovers.
Keep in mind days when you'll be getting home late, or have events going on at night to plan simple and quick dinners.
I tape up my meal plan on the inside of my spice cabinet.  I also leave a pen in the cabinet as well.  It's an easy spot to check in the morning to see if I need to set anything out.  That pen helps me cross off what we've already eaten for dinner. I also adjust the dinners throughout the week if I need to move something around.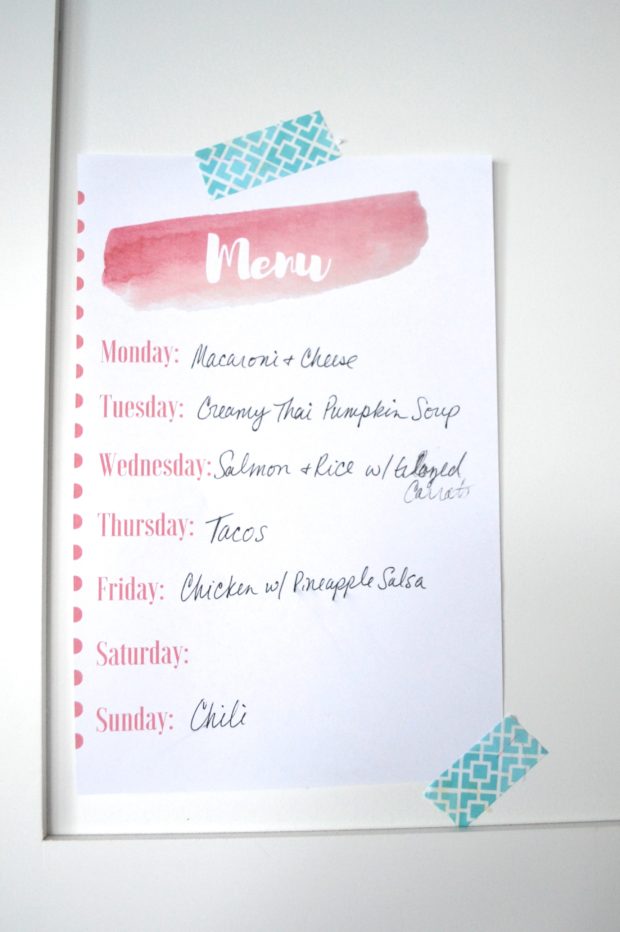 I try to end my two week meal plan on a Monday or Tuesday because that's when I tend to grocery shop.  So whatever day works best for you, start your meal plan and end it about two weeks after that.  Once you do it once, you'll stick to that rotation.
Now, after I've written out my meals for two weeks, I start my grocery list.  I go through my meal plan dinner by dinner and add whatever ingredients I don't have to my grocery list.
My biggest tip for grocery lists is to categorize your list.  I made one here for Thanksgiving that you can download and use.  It helps so much when you're trying to get through the grocery store because everything you need in one section of the grocery store is in one place on your list.
Recently I've started ordering my groceries online and just picking them up at the curb at the grocery store.  I've found that it saves so much time and money.  No randomly throwing things in the cart that aren't on your list.  Plus, grocery shopping with a toddler is NOT fun.  I do find however, that when ordering groceries I tend to not get things that I need. Mostly because I'm not reminded I need them while passing by them in the store.
If you dread dinner time, or dinner time is always chaotic try giving this meal planning thing a chance.  Doing so will help to organize that feeling of uncertainty around dinner time.  I love knowing I have an idea of what to make for dinner.  It's also a bonus that I already have all of the ingredients at home.
I hope this FREE meal planning calendar will help you on your way to feeling like a dinner time guru!  Click here to download your meal planning calendar!
Have a great weekend! Let me know in the comments if you have any other meal planning tips. I'd love to incorporate them into what I already do.