There are a few things that are always in stock in my craft cabinet and party supply bin.  I'm going over my top five must have party decor items today.  The best part is you probably already have these at home.  If you don't already have them they are very inexpensive to purchase.
1. Tissue Paper
The easiest supply to make a variety of party decor from is tissue paper.  It is very inexpensive, but can be made into so many things you really get your money's worth.  Or if you're like me, you save tissue paper from every gift you get and then you have a free supply of tissue paper.
My favorite way to use tissue paper for party decor is to make tissue paper tassel garlands.  There are about a million tutorials on Pinterest, but this one is really easy to follow.  I've used these kinds of garlands for everything from birthdays to baby showers.  I even reused them as home decor in our playroom.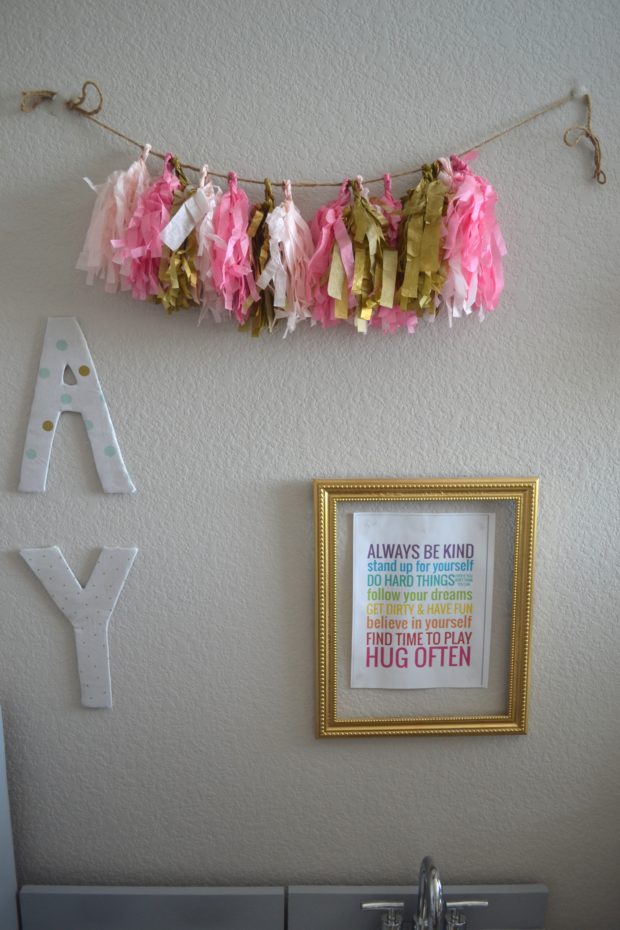 It's nice that the garlands pack up and store well too.  Just bundle them up with all of the tassels in the same direction and you can use them again and again.
Another easy way to use tissue paper as party decor is to make tissue paper poms.  Or you can use tissue paper to make large paper flowers as decor.  Again, with either of these decor items scrunching them up to store away is simple and it doesn't matter if it gets wrinkled.
2. Crepe Paper
Another really inexpensive party decor item that can be used in so many different ways is crepe paper.  Until recently I strayed away from using it, but there are so many ways to dress it up.
If you're using standard sized crepe paper try using this tutorial from Made Everyday with Dana to make ruffled streamers.  I recently took a little sewing class from my neighbor and think I'm minimally skilled enough to try these myself.  How hard could it be to sew a straight line?  The colors and ruffles are so cute.  I love the idea of packaging it up and sending it for a birthday gift!
If you don't want to bust out a sewing machine to dress up crepe paper, using it as a large installation or backdrop is much easier and makes a big impact.
I also like using this wider and thicker crepe paper to make fringed garland as a back drop like I did for our gender reveal party.
3. Wrapping Paper
Another multi-purpose party decor item is wrapping paper.  Obviously it's used to wrap party gifts.  But I love to use it in so many other ways.  It's the perfect table runner or backdrop. See how I use wrapping paper in all of these past parties.  I also think it's a great idea to wrap boxes in coordinating paper to use throughout your party as height variations on a buffet table or sitting out as decor.
4.  Vases and Vessels
This category is so broad because so many different kinds of vessels can be used as party decor.  I love using little buckets to hold flatware and napkins on a buffet table.  Obviously vases are great for floral arrangements.  But thinking outside the box is great too.
Try using a crate as a centerpiece or to hold party favors.  This old whiskey crate was a big part of the Bourbon and BBQ themed birthday party I hosted for my husband.
5. Twine
Now, you need something to hold up all of these simple party decor items.  Twine of all sizes is my go to when I need to string a garland or tie a bow around a package.  I use a variety of twine.  Rustic burlap twine for heavier projects, red and white baker's twine for things in the kitchen, and a thinner white twine for all kinds of decor.
There you have it five must have party decor items that you probably already have at home.  Do you have any of these lying around you could whip into a fun garland or banner to celebrate it being the weekend? I hope you have a great weekend, see you back here next week!