Well, the time has finally already come for the big One Room Challenge reveal!  Six weeks to transform one room, what an experience!  I participated in the One Room Challenge to complete the office and playroom that my daughter and I share.  It's a space for her to play, imagine, create, and grow, but I wanted to get a little work done while she's doing that so I made part of the room my office.  The One Room Challenge has definitely helped me to make some decisions but more importantly given me the motivation to get a room done in a relatively short amount of time.  There is nothing like a deadline and a promise to blog readers that gets your butt in gear.
I won't bore you with too many details, and just show you all of the pictures.  If you want to see where the room started and how it's progressed over the course of six weeks click here for Week 1, Week 2, Week 3, Week 4, and Week 5.  Now onto the reveal and what you've all been waiting for!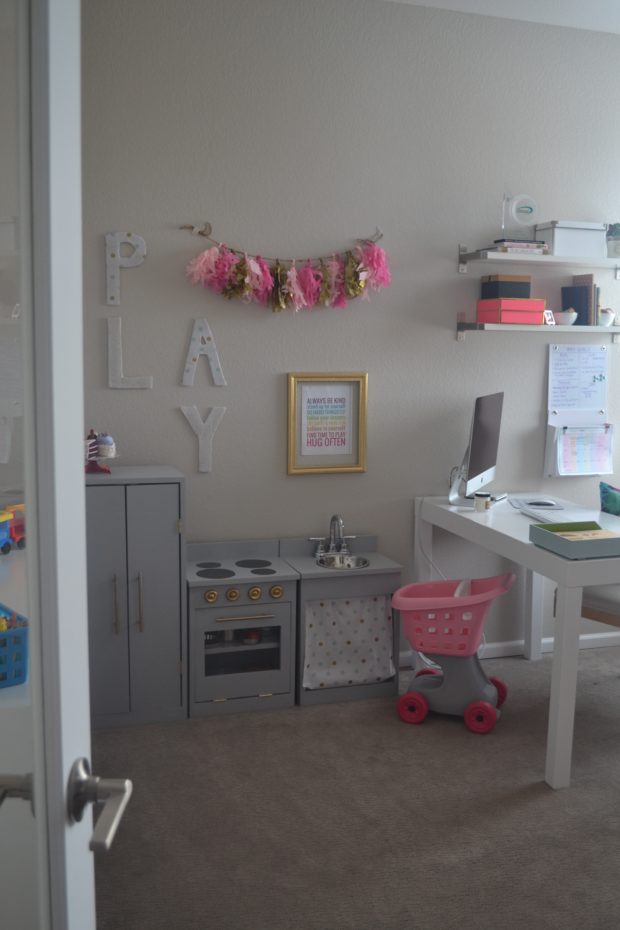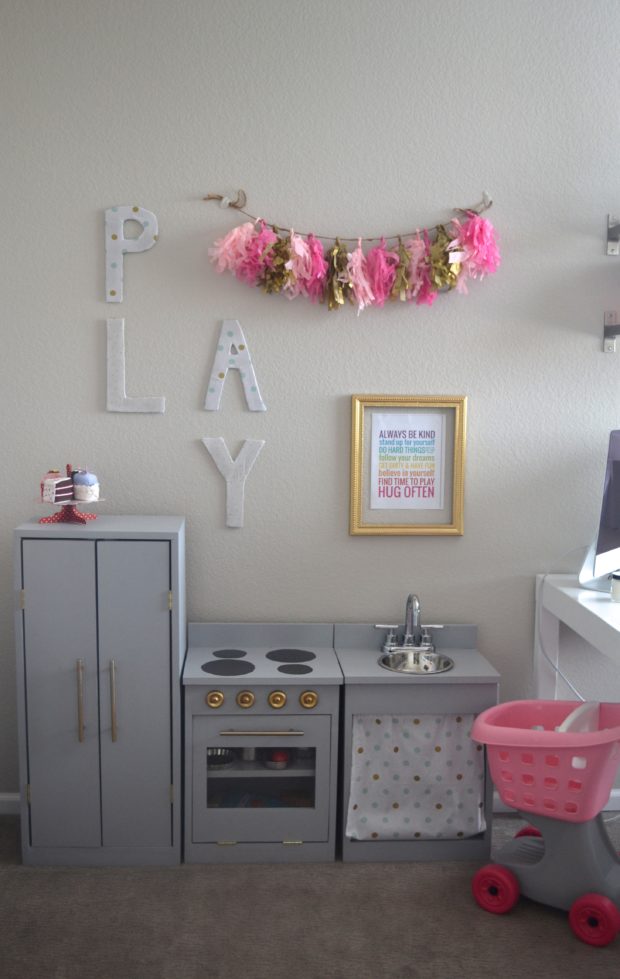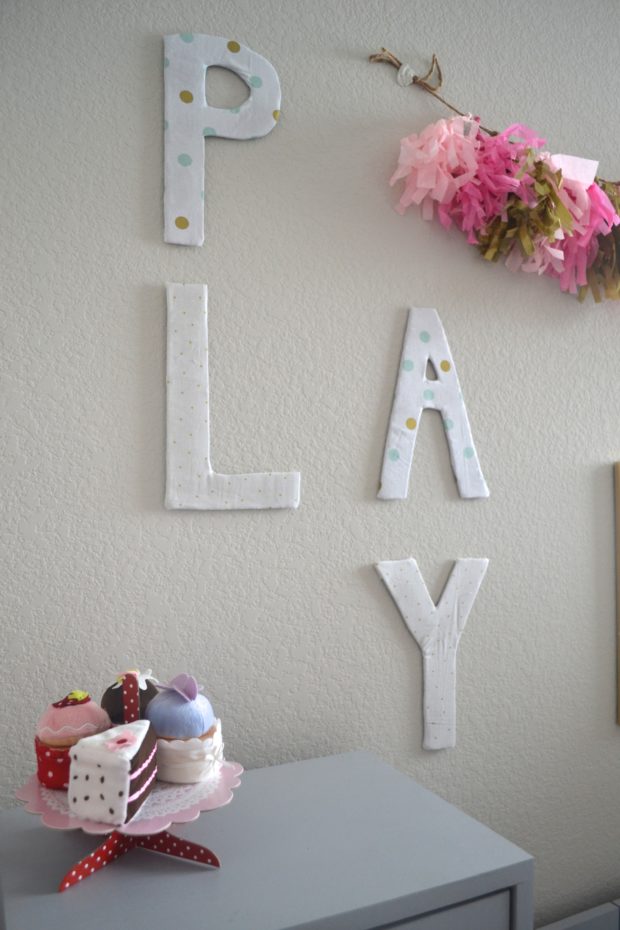 I made the "PLAY" letters out of cardboard then covered them with fabric that was left over from other places in the room.  It was pretty quick and it definitely adds some fun.  The tassel garland was used for my daughter's first birthday and love that I can use it again in the room where she is going to learn and grow so much.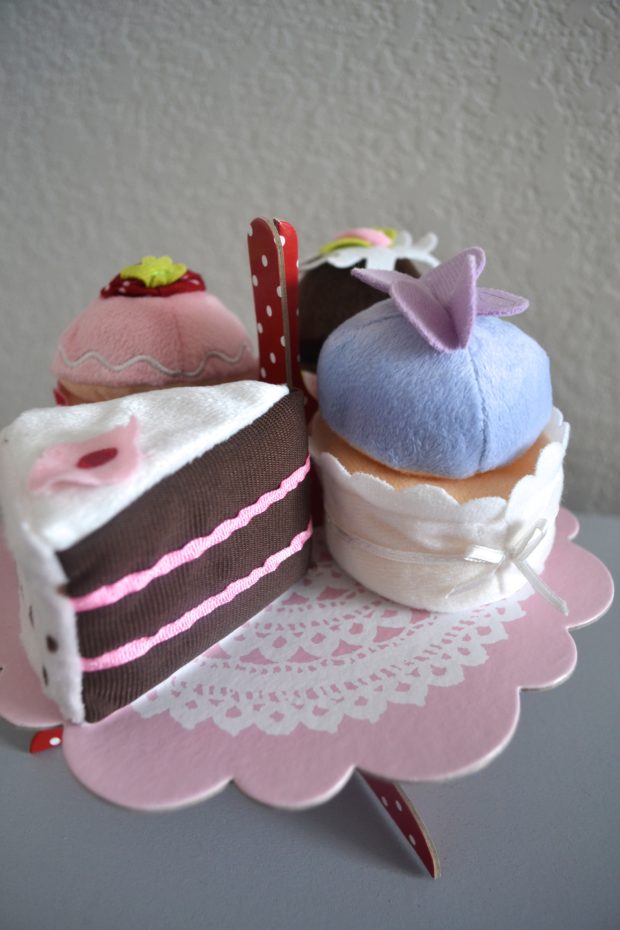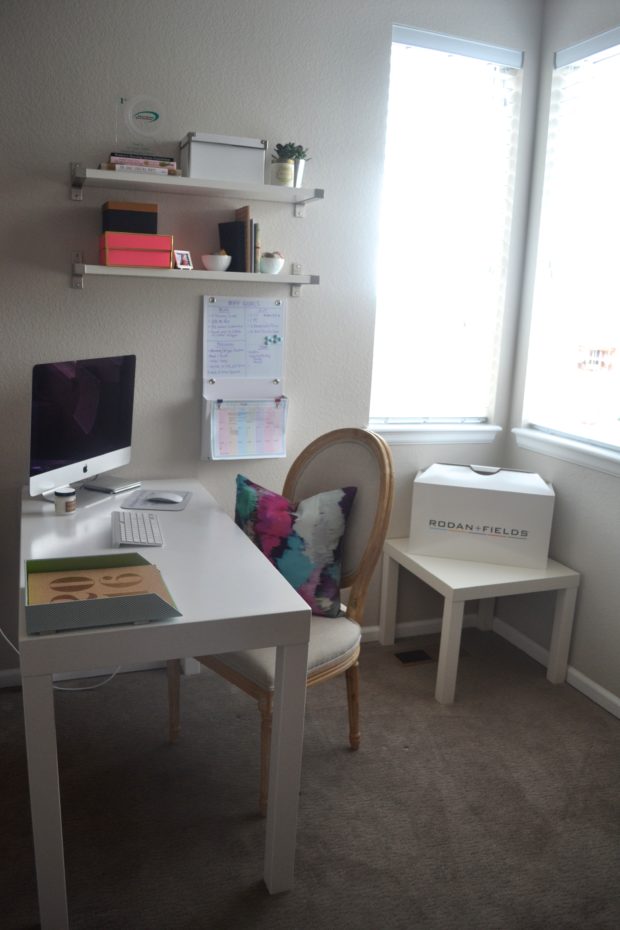 My desk area is a great place to work because I get to watch my daughter playing, everything I need is right within reach thanks to those floating shelves, and I have an area to hide papers and write down goals.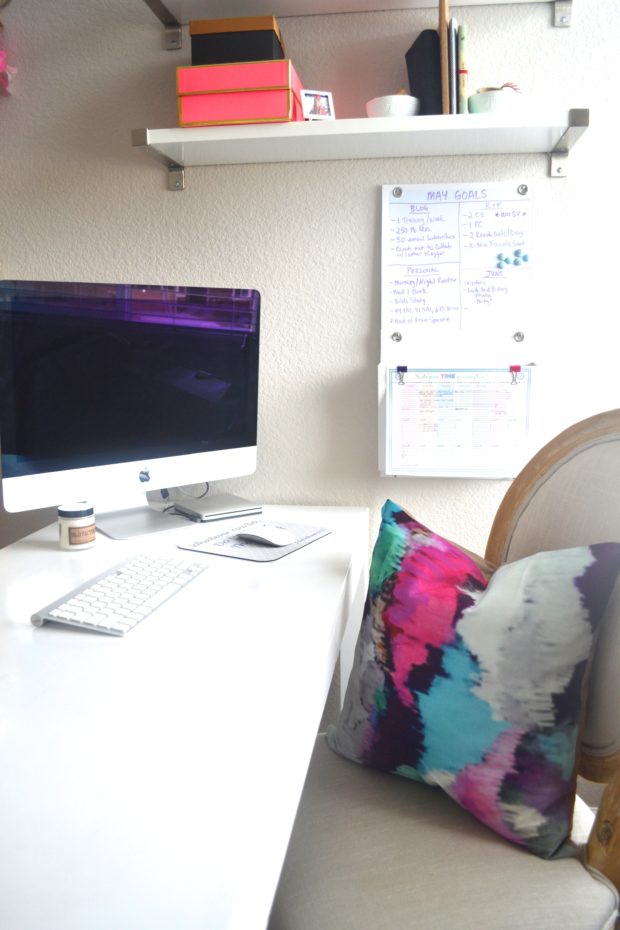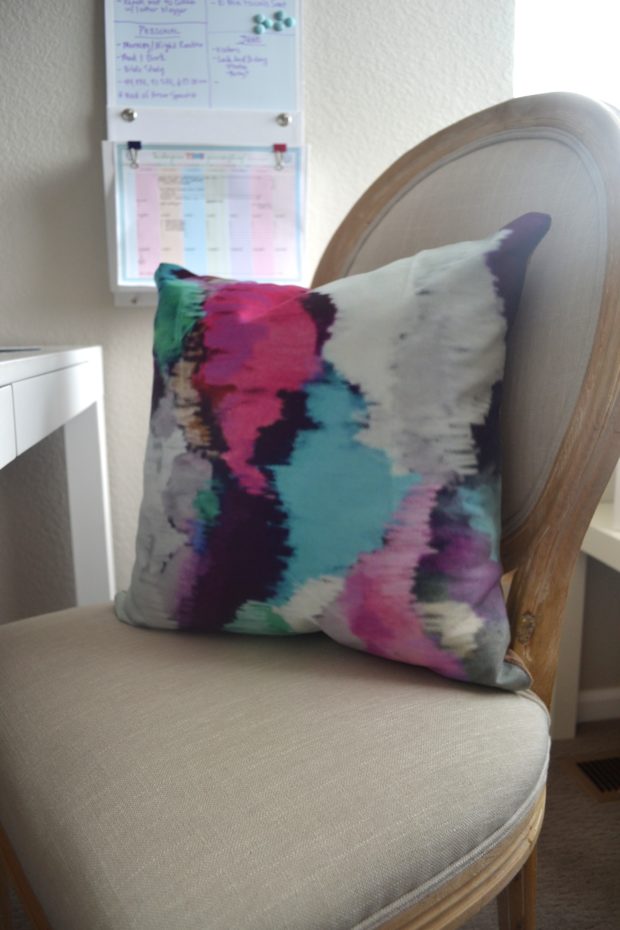 Here is a close up of the pillow that everyone seems to love.  The computer doesn't do it's colors justice.  It's so pretty and fluffy!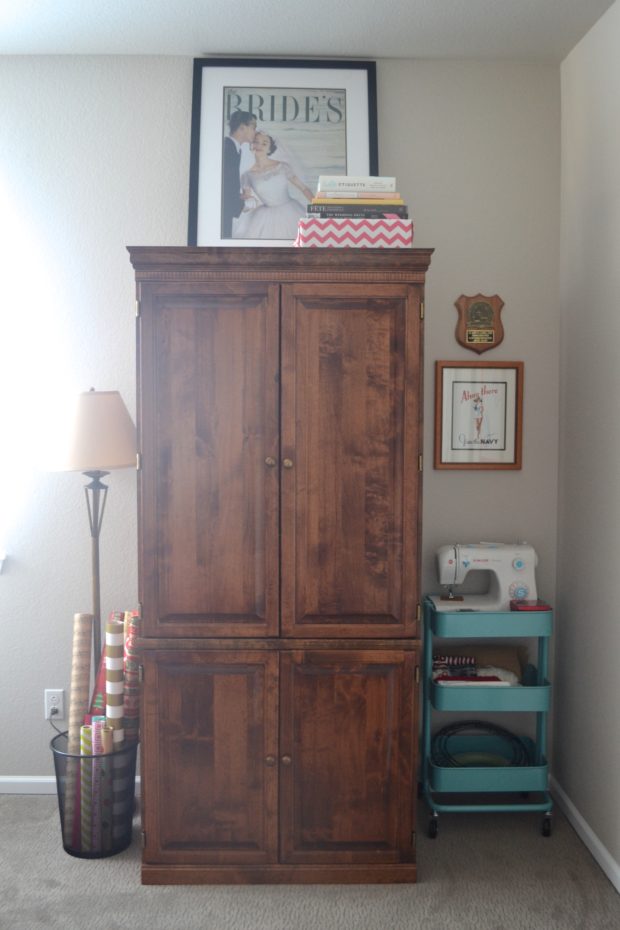 The armoire is amazing, it hides all of my craft supplies, wrapping paper, work files, camera equipment, and so much more!  I'm absolutely in love with the turquoise cart from IKEA.  It's the perfect size and fits my sewing machine exactly.  It's a great little rolling cart I can move around when I want to work on my sewing skills.  I guess since my sewing machine is finally out of the box, I better learn how to use it!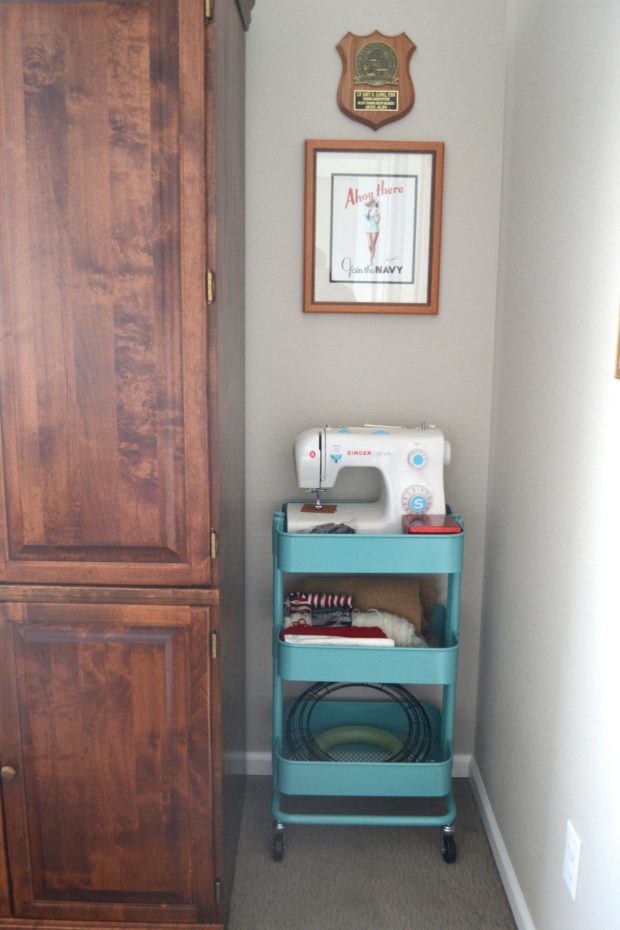 I had to put some of my Navy plagues in here, I can't forget about that part of my life, and this was a great place to incorporate it.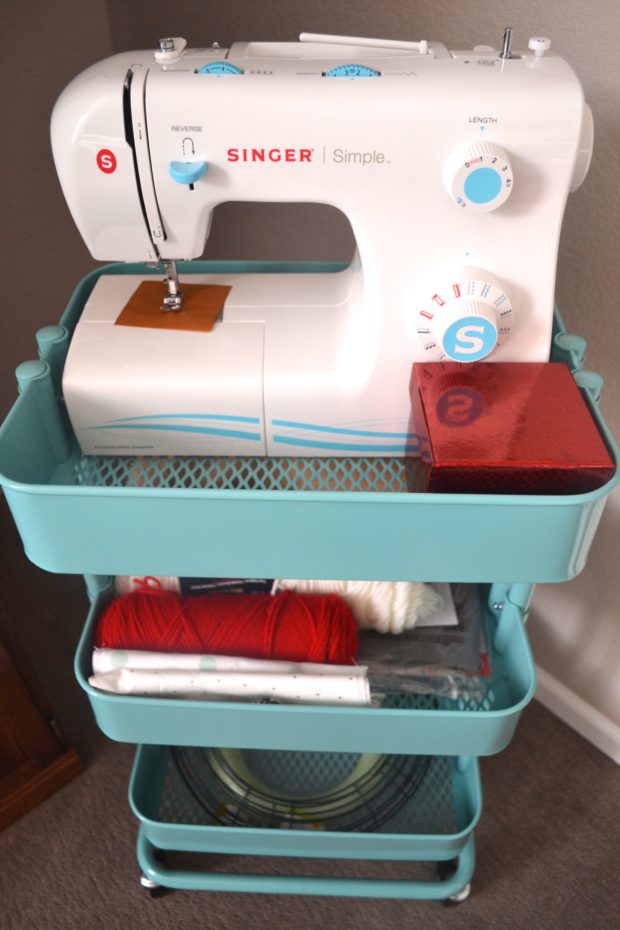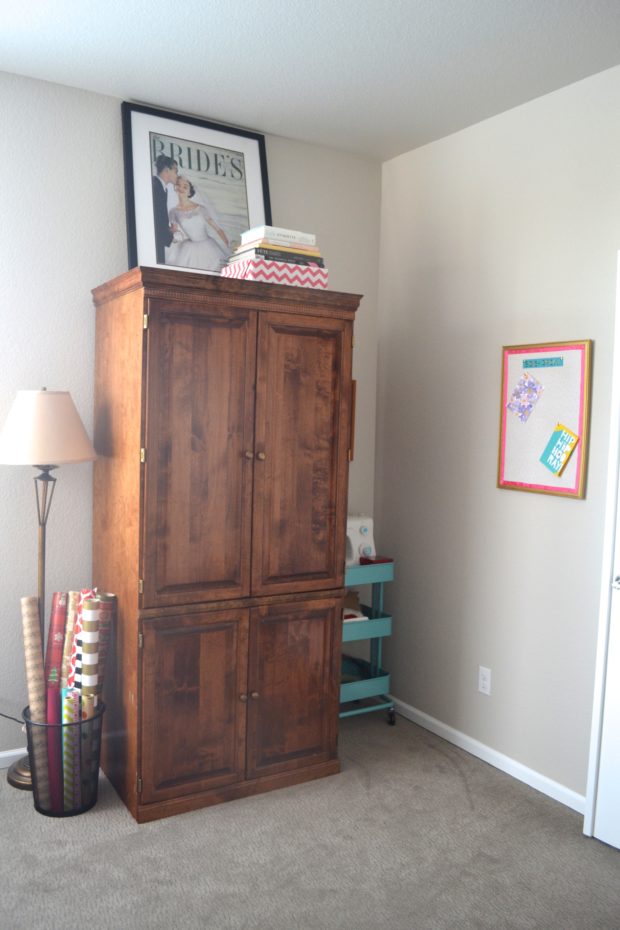 My DIY fabric covered bulletin board has come in handy to pin up reminders, invitations, and cards.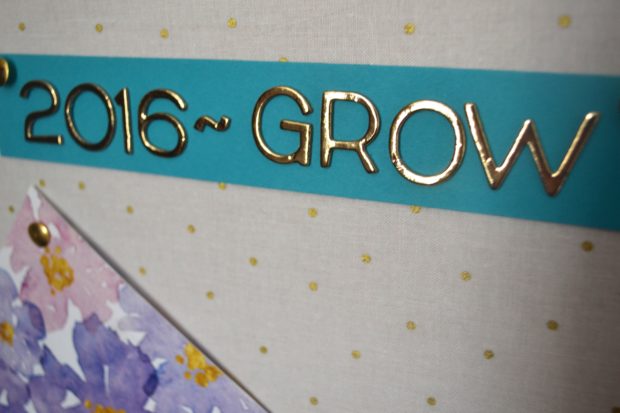 I've chosen a word of the year as a reminder of what I want to accomplish this year.  Kind of like a resolution but one word that will sum up the whole year.  I chose the word grow because there are numerous aspects of my life that I want to grow in, personal, professional, and spiritual.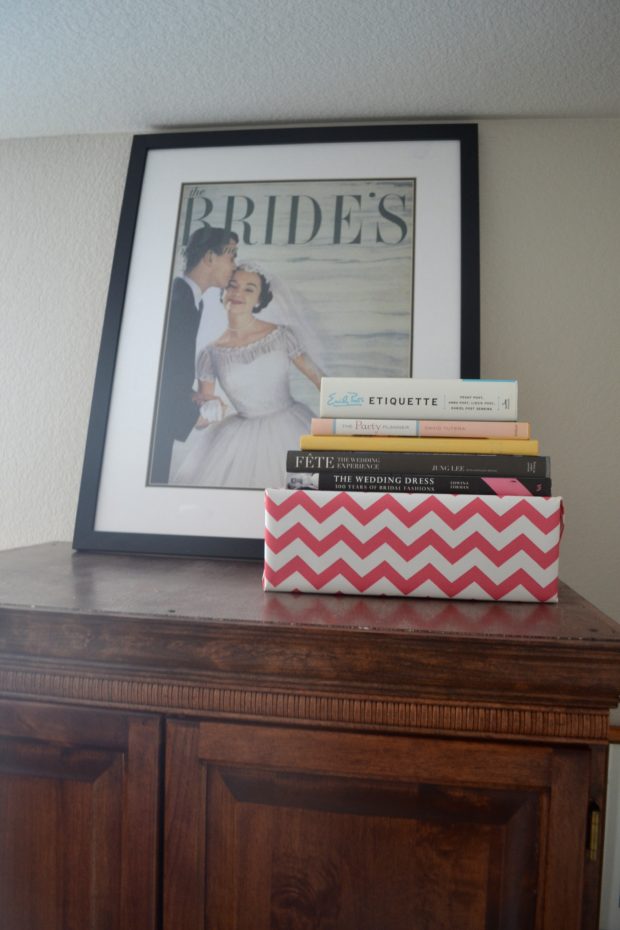 I also added a piece of art to the top of the armoire that I've had for a long time just waiting to be used.  This office is the perfect place for it, along with several wedding and party planning books.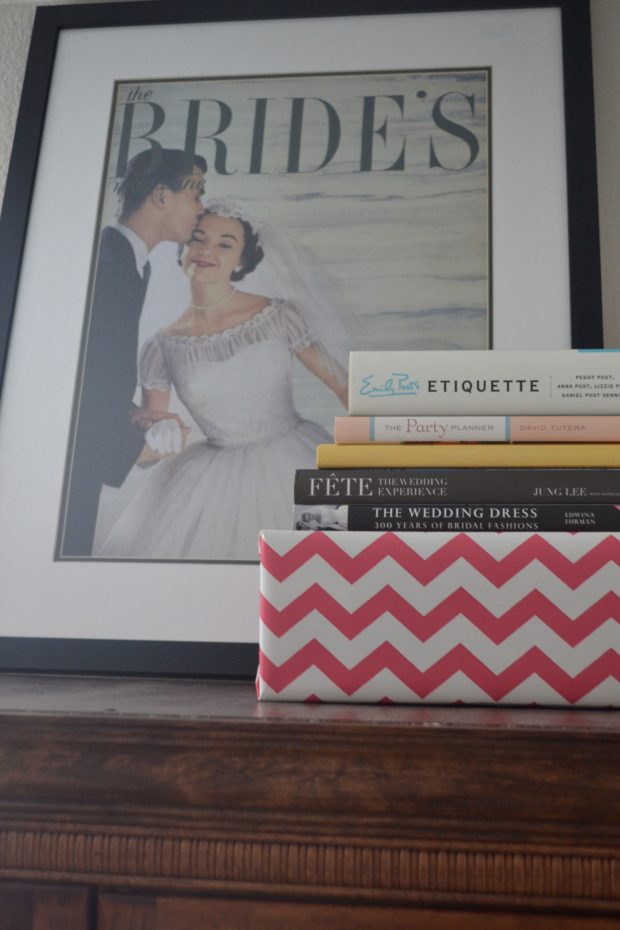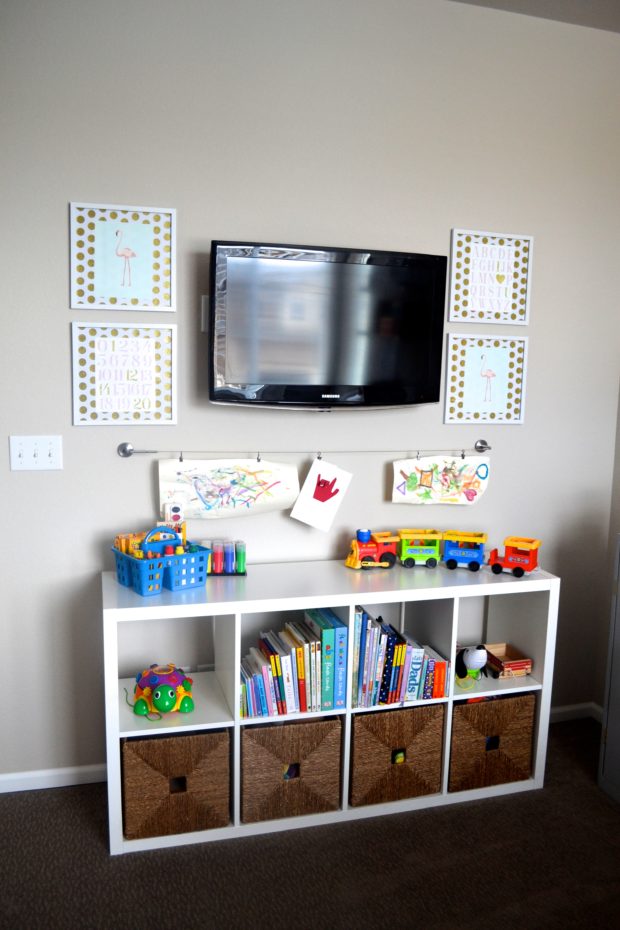 The TV wall is all about my daughter.  She has all of her toys and books right within reach.  Plus, there is a great place to display any art she makes.  If you follow me on Instagram you'll know that I'm super proud of myself for hanging the wire display all by myself.  No husband supervising, and I used wire cutters and power tools.  I pretty much felt like I could build a house after hanging that, not really, but kind of.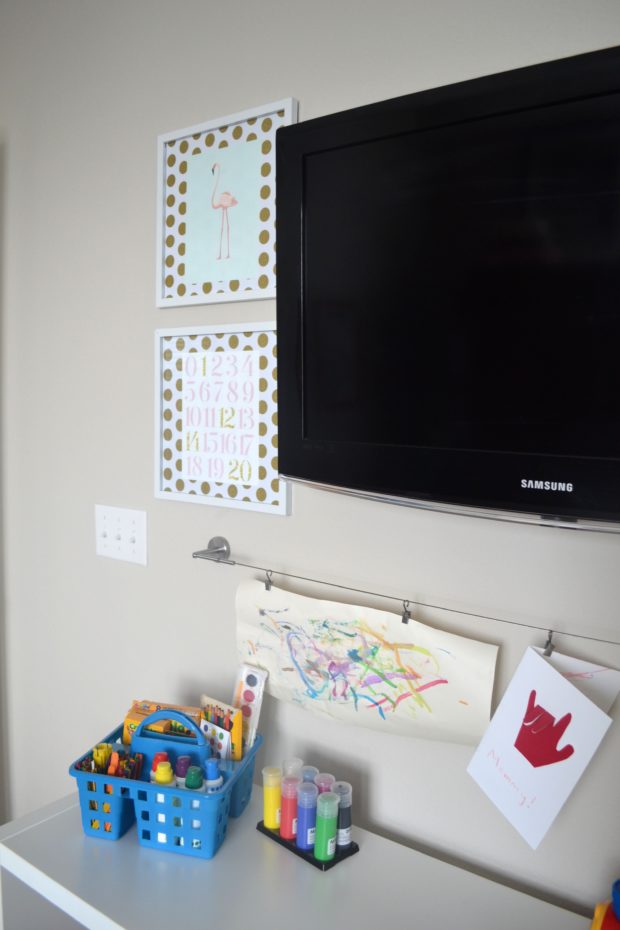 All of her art supplies are out for easy access although they might be moving so I don't end up with a toddler trying to repaint the walls.  If she'd stop growing she wouldn't be able to reach them, but I don't think that's going to happen.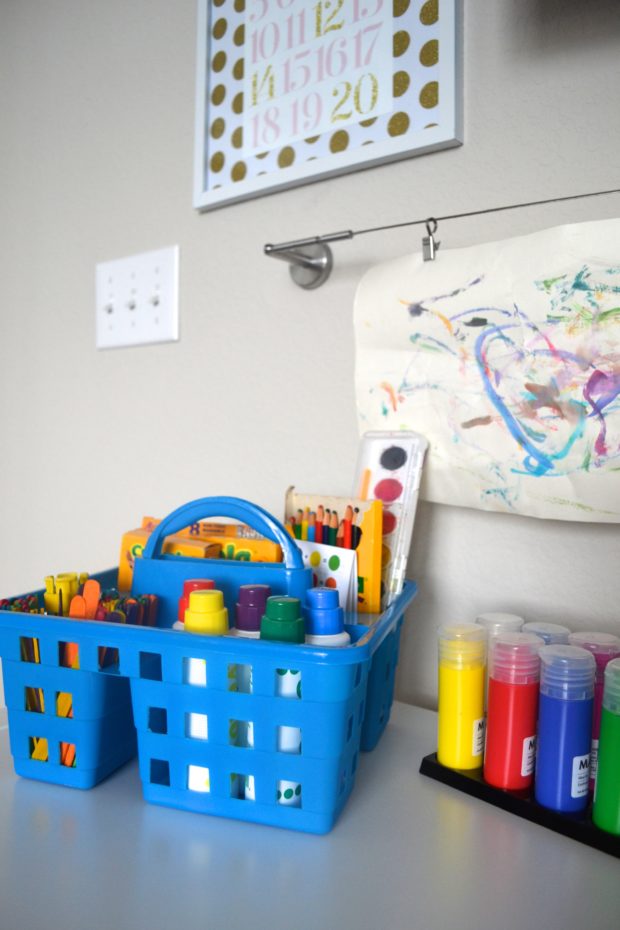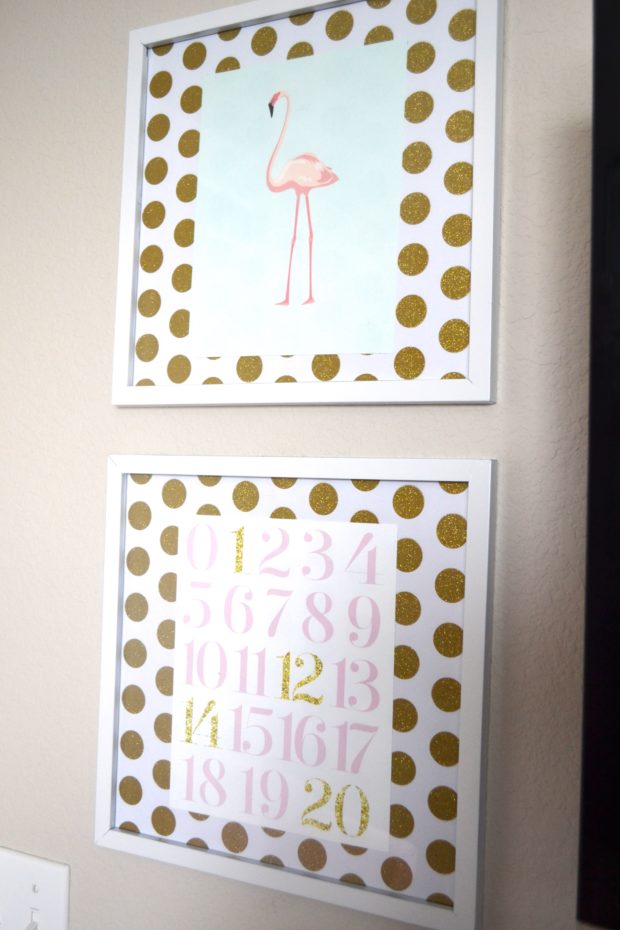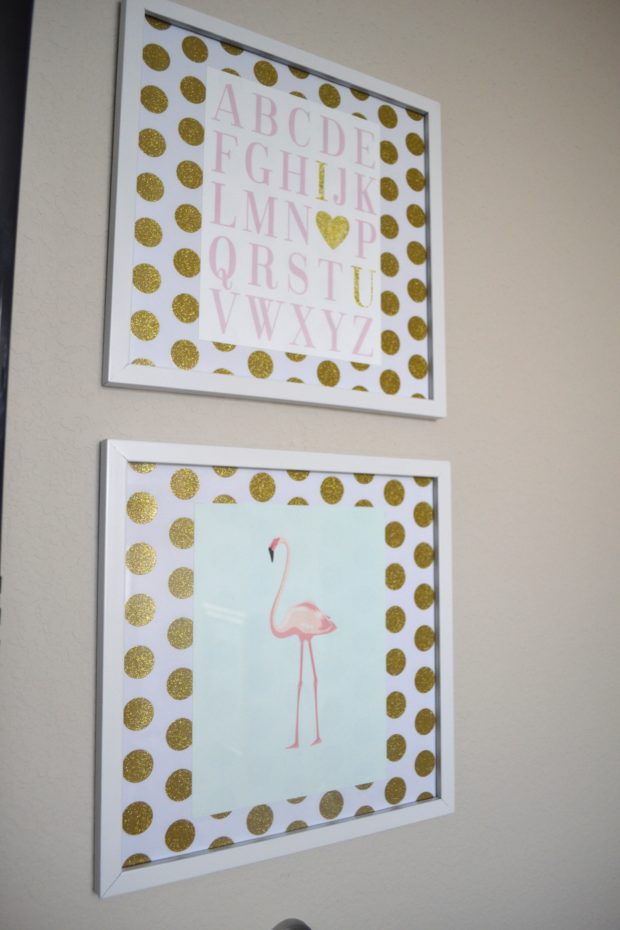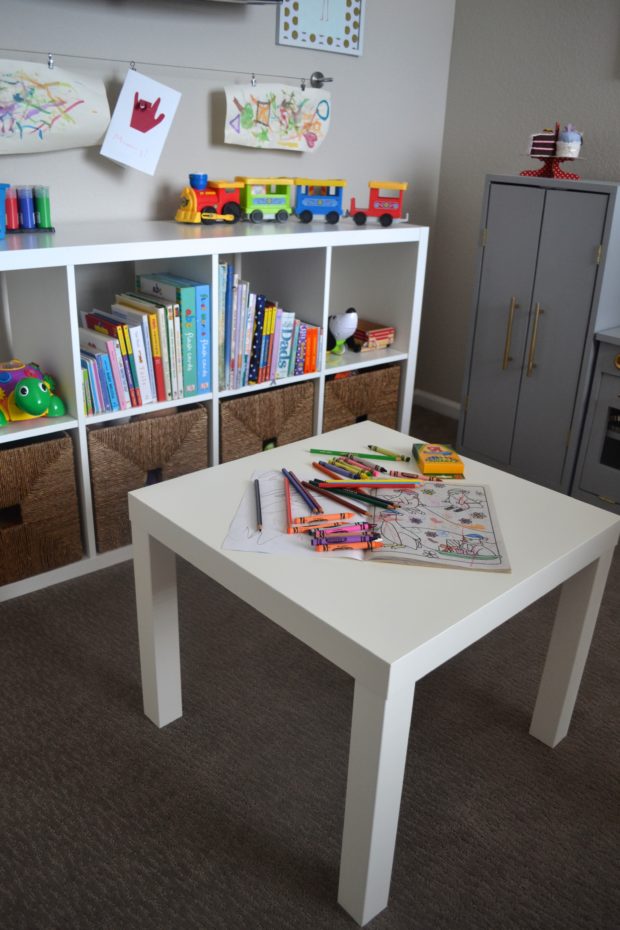 I also purchased this small table from IKEA for art and craft projects.  It's the perfect height for my daughter and it's lightweight so I can just move it out whenever we need it and put it back out of the way when we're done.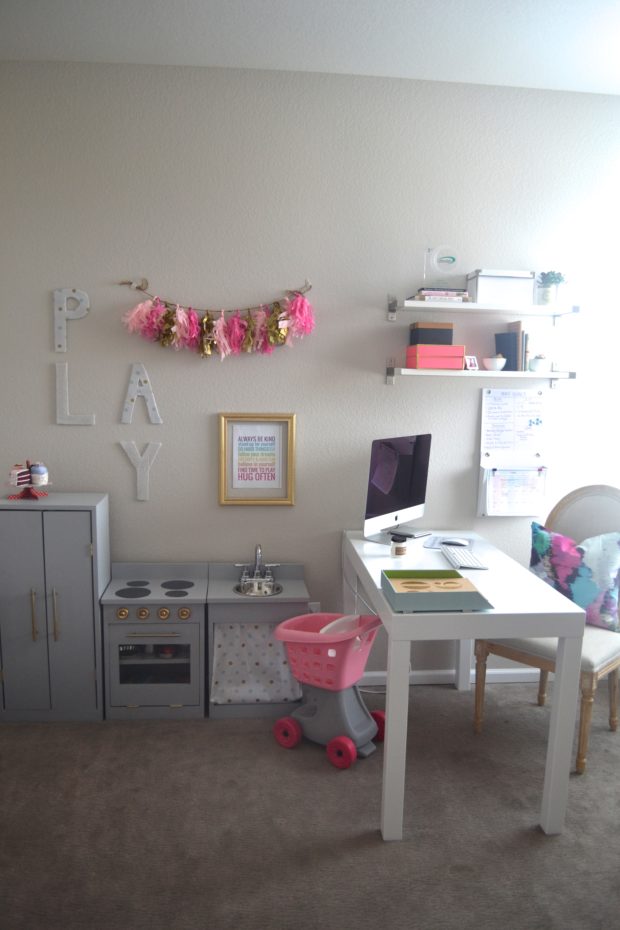 This room has been fun to work on because it's a place I get to share with my daughter, get my #bosslady on, and make totally mine.  It's also been challenging with furniture placement and the time frame to get it done.  I'm glad that I participated in the One Room Challenge and so grateful to Linda at Calling It Home for hosting an awesome challenge.
Well that's the final reveal, what do you think?  Would you want to play and work here?  Thanks for your support and encouragement to keep going to get this done.  Now on to the other 4,397 rooms in our new house to finish!