The simplest answer to the title question of this post is to have a baby.  Specifically have a baby with a husband who can't sit still for too long. Within the two weeks after having our new baby three major house projects got completed.  Whohoo!  I'm going to show you how we created more space and storage in our garage by making a garage mudroom.
The first thing that was done, thanks to my husband and Father-in-law, was putting up hanging storage shelves above the garage door.  These allowed us to get a lot of things off the floor and make room for a new mud room area.
Once things were a little more cleared out, work got started on the garage mudroom area.  I used a variety of inspiration pictures from Pinterest to create a seating area, shoe storage, and a place to quickly put coats. Another main reason for our garage mudroom, especially since we have one inside also, is to keep the winter nastiness outside.  I don't want wet snow, dirty snow, or frozen snow in my house.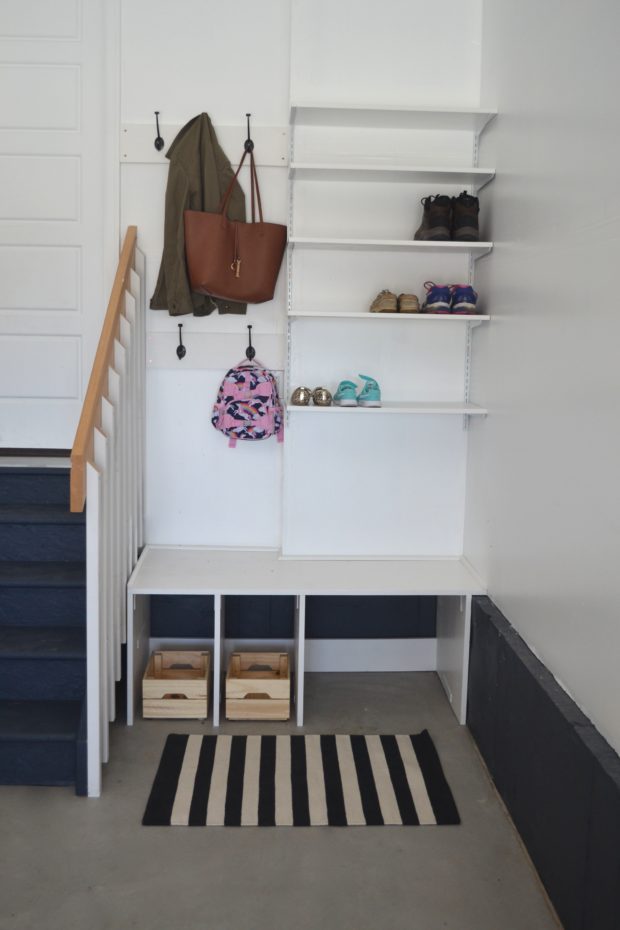 We used some adjustable shelves for shoe storage.  The best part is that we can move the shelves to fit whatever types of shoes we're wearing for the season.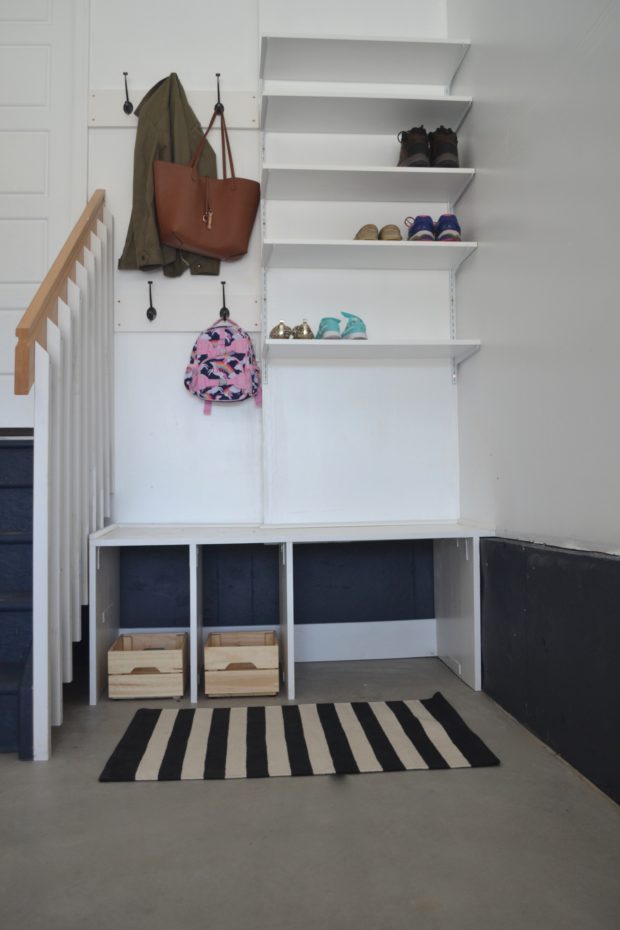 The bench is completely custom with my husband and Father-in-law practically making a puzzle to fill in the awkward space next to the stairs.  It's great to have a place to sit down to be able to put shoes and boots on and off.  The cubbies underneath give us a space to put those random things that collect in places like this.  I also plan to put a boot tray in the larger cubby to contain that winter nastiness I talked about before.  A cozy rug dresses up the space as well.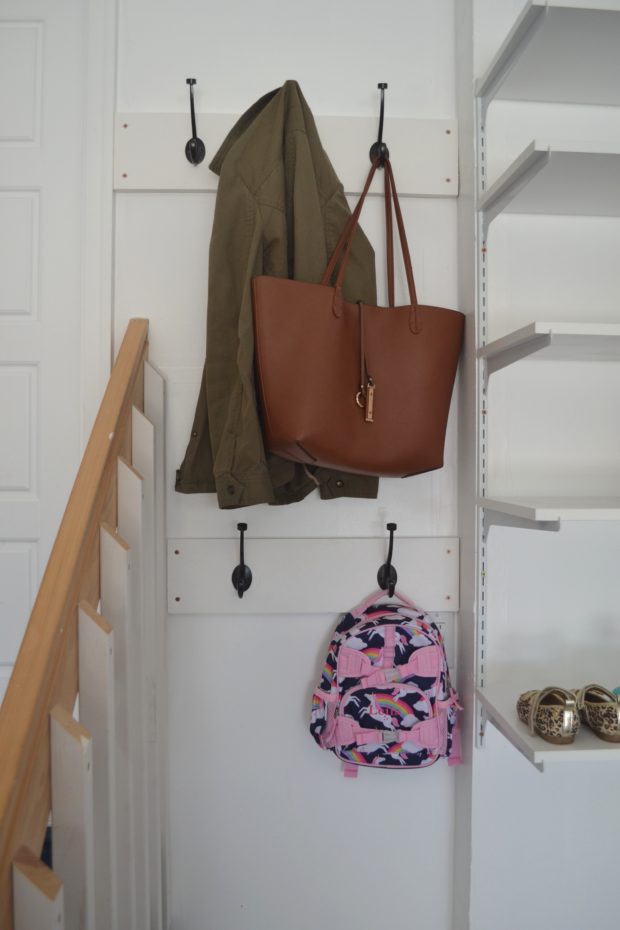 I think my favorite part of the garage mudroom are the hooks.  I love how the black, chunky hooks pop off the white wall.  Surprisingly we found the hooks at Home Depot.  We were able to use some leftover wood and added the hooks onto them.  They are at the perfect height to throw your coat over as you're going up the stairs into the house.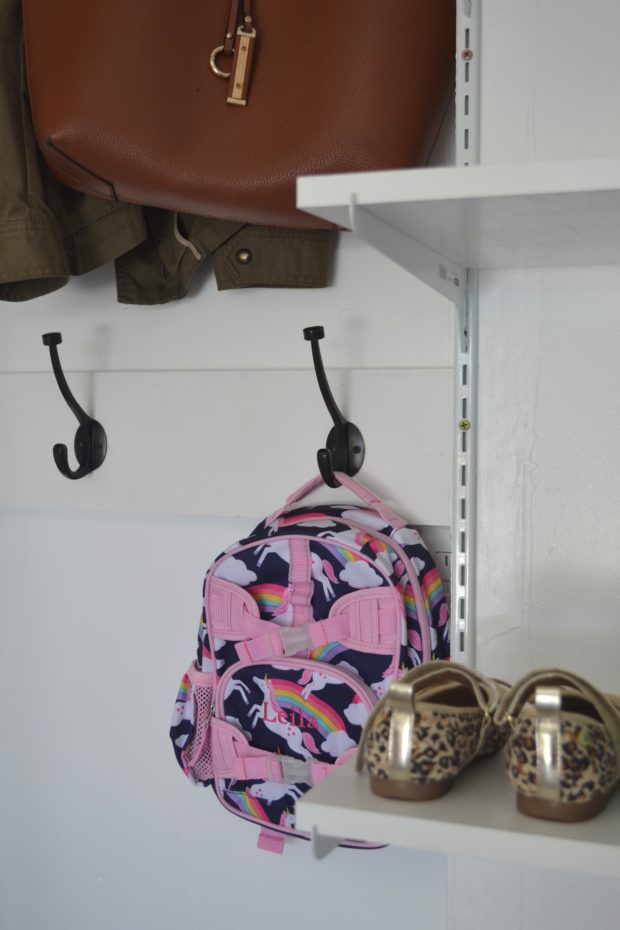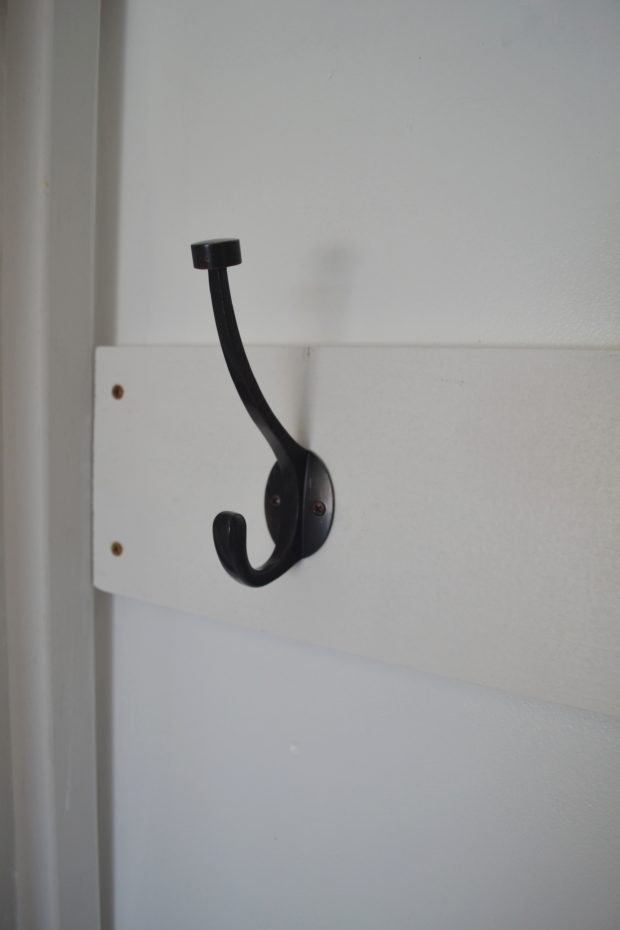 There are still a few things I may add to the garage mudroom to dress it up and make it cozier.  I'm thinking a pillow or two might make the bench even better.  Is it weird to have throw pillows in your garage?  I need to get that boot tray and figure out exactly what is going in the bins under the bench.  Labeling those bins will make it much more likely that they'll be used appropriately.
This project also spurred the repainting of all the concrete skirting in the garage and the stairs into the house.  It looks so much cleaner and crisper now.  Plus, I won't have to worry about the dark colored stairs looking dirty.  Now to figure out what color to paint the door.  I want something dark that will help to camouflage dirt, but black isn't going to work with the stair color.  Maybe a fun color like a dark teal?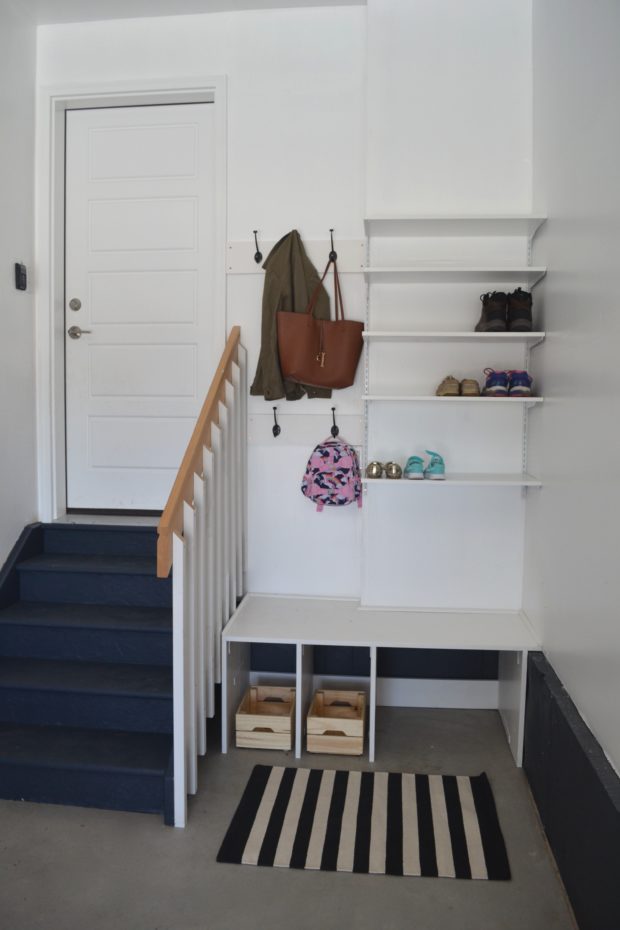 I'm so grateful that the project got done and I'm anxious to see how we put it to use this winter.  Three cheers for my husband and Father-in-law working so hard to get it done while I was in baby-ville.  Stay tuned because the other project they completed will be in an updated room tour of our Master bedroom.  It's a good one, so you don't want to miss that.