First and foremost, I'm going to apologize for how badly lit these photos are.  When you're taking pictures in a closet with no natural light, it's hard.  So this is the best I could do, thanks for understanding.
When we moved into this house, I knew right away that our master bedroom closet was going to be so much more functional than what we had in the past.  It's big enough for all of our clothes, shoes, and accessories, with a little room to spare.  I was so excited to build a kind of boutique/dressing room in our closet.  It started with using bookshelves for shoe display, and now I've finally organized my jewelry too.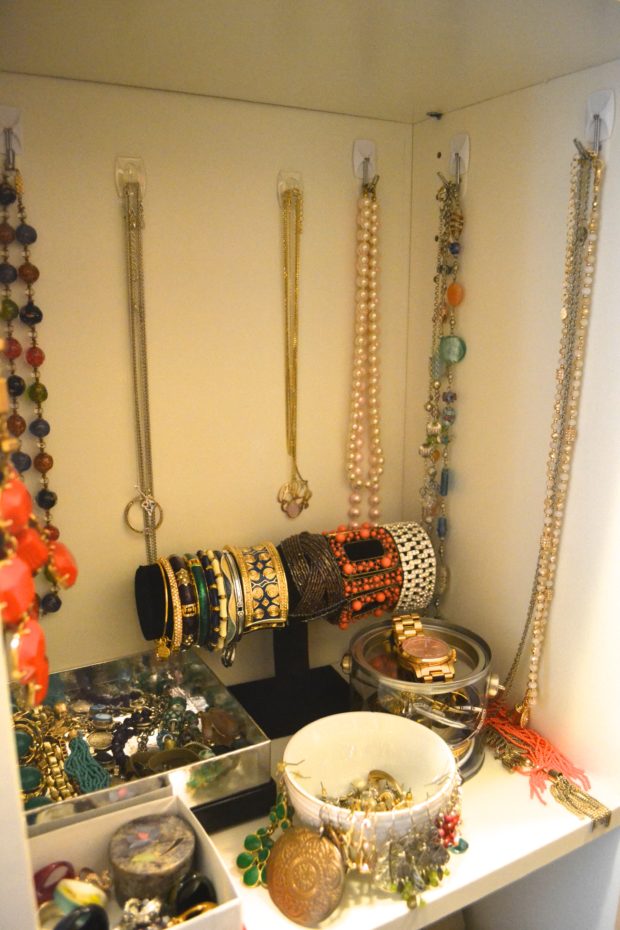 I have two sets of billy bookcases as shoe display, and I dedicated one shelf entirely to jewelry.  Up until recently I had been using a flat jewelry organizer that was too big to fit on the shelf.  It worked great in a drawer before, but it just wasn't working in the new closet.  Plus, it became a place where I would just toss my things and there wasn't really much organizing happening.
I decided to ditch the flat organizer and get my jewelry up and out so it could breath and I could see it all.  I love how using the vertical space of the cubby opened up the shelf to display bracelets, earrings, and rings.
To hang the necklaces I used a combination of 3M Command hooks.  Some are clear plastic, while others have larger hooks.  I wanted a variety of hook sizes to accommodate the variety of necklace sizes.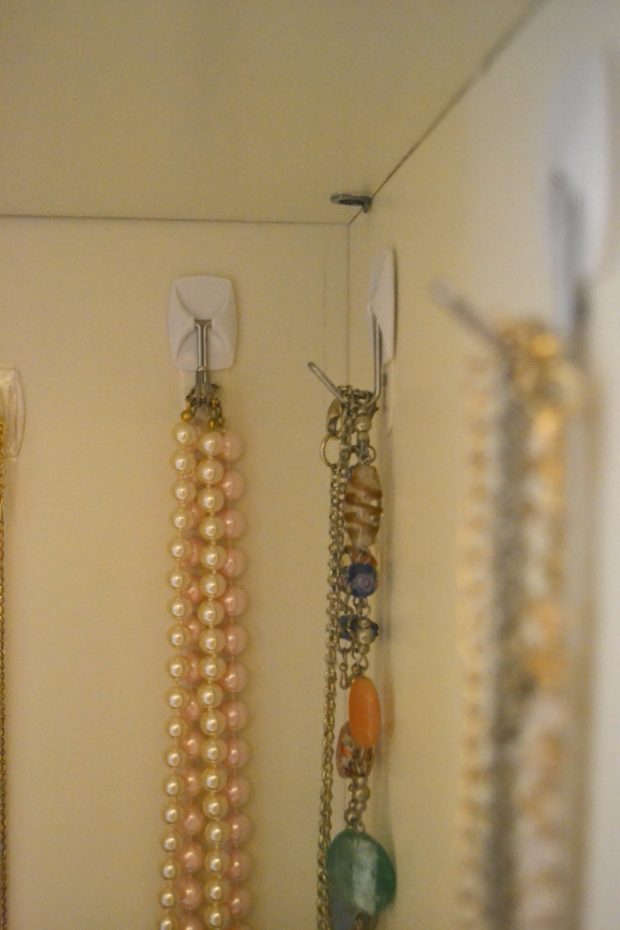 I also purchased this bracelet holder to make sure I had easy access, and a pretty display of most of my bracelets.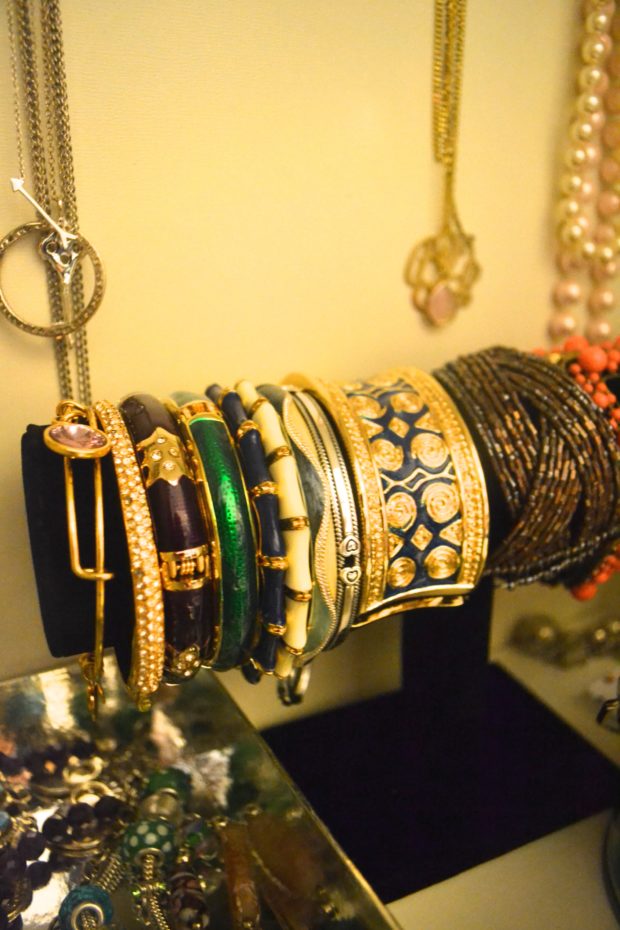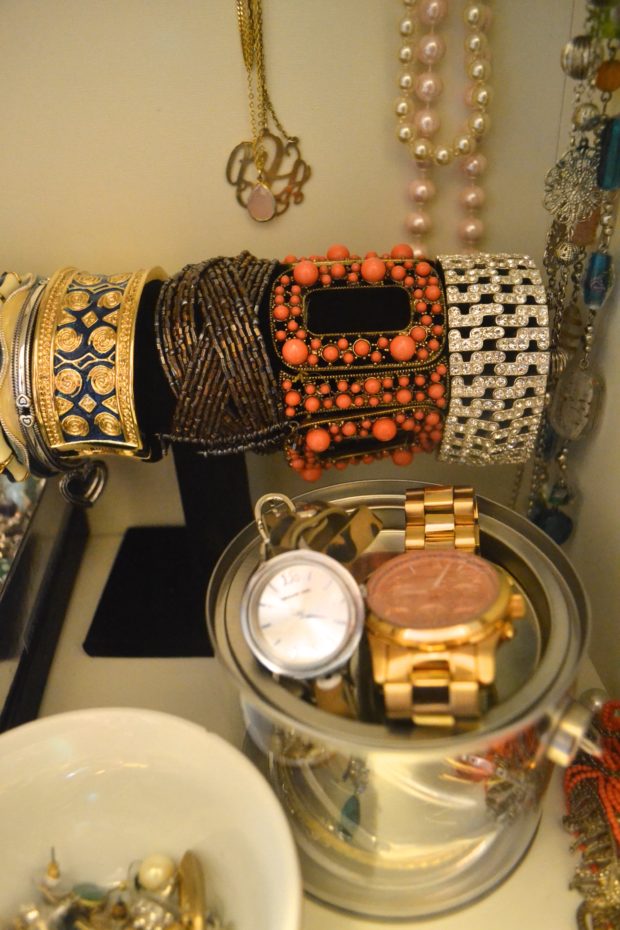 I put my less used bracelets in the little paint can container that my watches are sitting on.  I'm hoping after a few months, maybe a few seasons, I'll be able to figure out what pieces I don't wear and be able to purge a lot.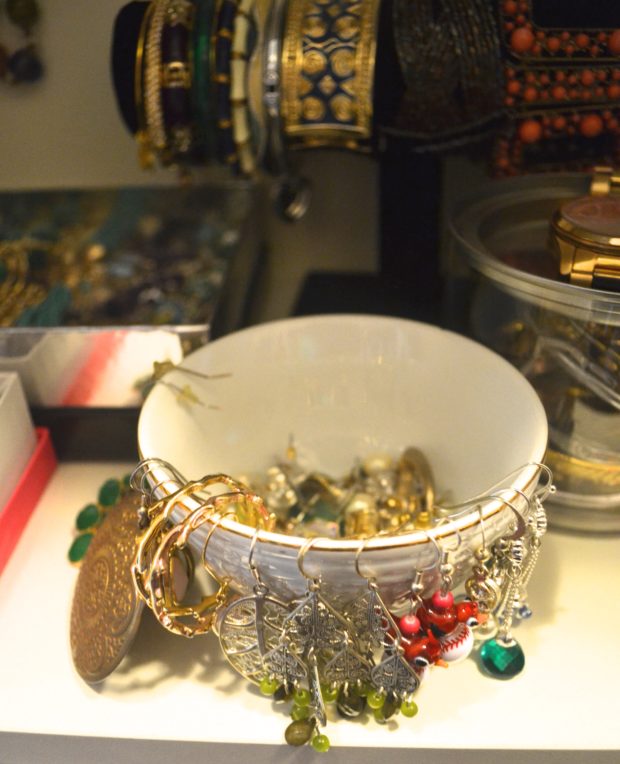 A  cute little dish holds my earrings.  I hung the dangling earrings on the rim of the dish and placed all of my stud earrings inside.  I love that I can see so many more earrings this way rather than them all laying in a flat container.  The inside of the dish is kind of a mess of earrings. It takes me awhile to find what I'm looking for.  So, I'll have to keep looking for a way to display those as I wear stud earrings almost daily.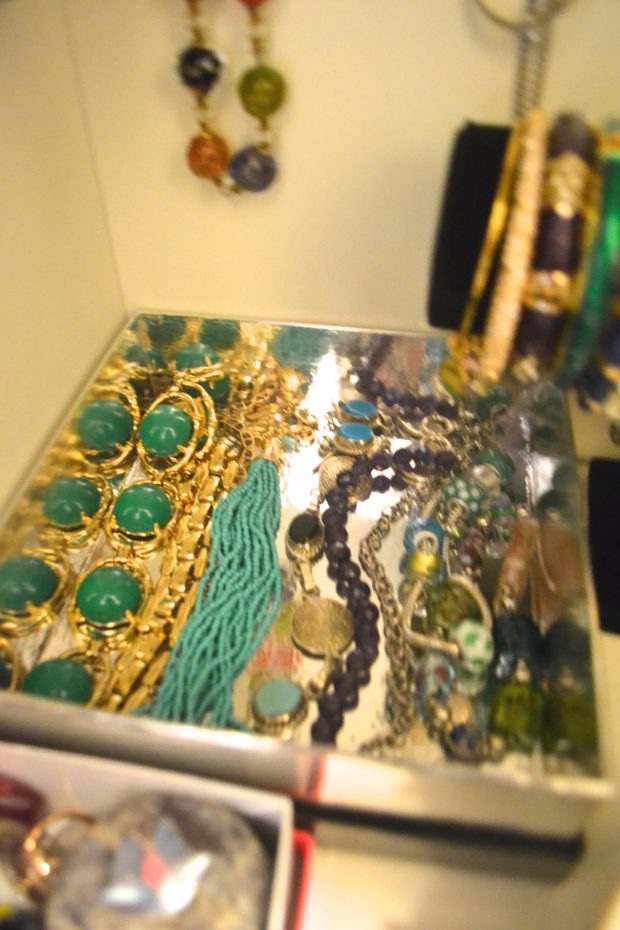 I had some jewelry boxes that I used to corral bracelets that couldn't fit on my bracelet holder, and all of my rings.
Overall, I'm loving this set up.  Mostly because I can see all of my jewelry now.  After having a child that likes to pull and grab at jewelry, I've gotten out of the habit of wearing more than a pair a stud earrings.  Now that I can see everything out in the open, I've been trying to step up my jewelry game and incorporate more pieces into my every day looks.
What do you think?  Do you like looking at all of your jewelry, or do you like it tucked away in a drawer or cabinet.  Oh, and I'd love advice and ideas on easy ways to display stud earrings.  I want to just reach in and grab them, and not have to take the backs off them to get to them.  Is that super picky?
I hope you have a great weekend.  We're attending two weddings this weekend and I'm excited to see how the couples are celebrating.  One wedding is at the top of a mountain and the other is at a mansion!  Don't worry, I'll take lots of photos and be sure to show you all of the fun details.  Be sure to come back tomorrow for a Saturday Simple Celebrations post.  It's been a lifetime since I've done one of those.