Happy Monday!  How was your weekend?  Ours was spent fairly lazily around the house and that is A-ok with me!  Did you see last week's bakery gift ideas?  Today is more gifts! This time for the hostess.
I have two gift guides for you today.  One for the person who likes to host. And one for your party host.  Hostess gifts for all!
Holiday Gift Guide for the Person Who Loves to Host
For this gift guide I basically thought about all the things that I love when I host and found the best ones to share with you.  Most of these things I use every single time I host a party or get together.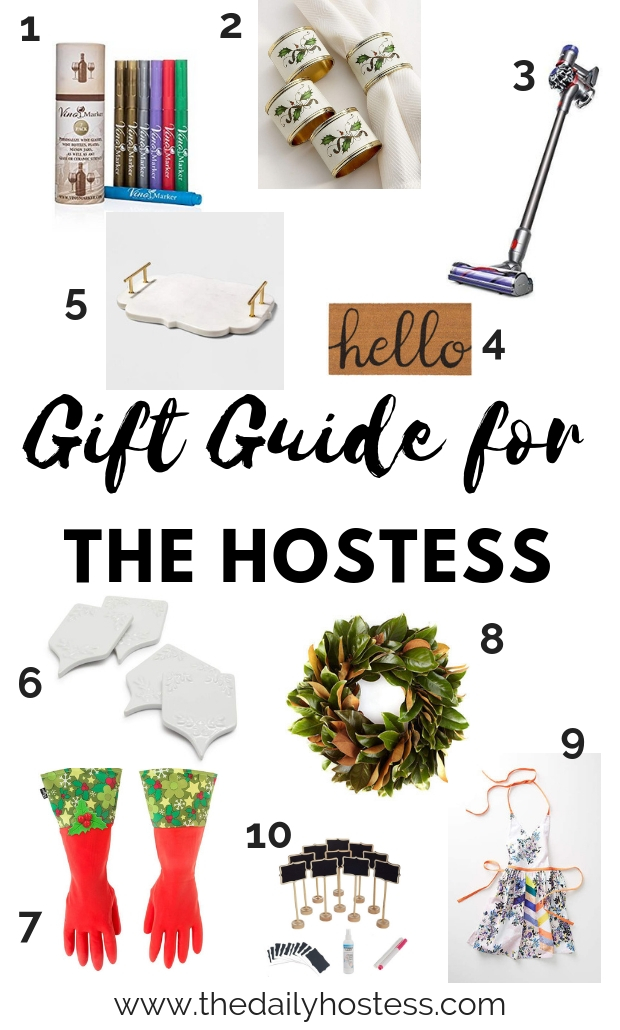 1// Wine Markers– This is a great inexpensive gift to give someone who has dinner parties regularly or just likes wine.  Label the glasses with fun colors.  And it comes in a gift box!
2// Napkin Rings– Holiday themed napkin rings is a great idea for the person in your life that always has a table set and ready to gather people.
3// Dyson Vacuum– I am OBSESSED with my Dyson stick vacuum.  I literally use it multiple times a day.  It's the perfect way to do a quick clean up before guests come over.
4// Door Mat– What better way to say welcome to my home than a fun door mat.  Such an unexpected but perfect gift for the host that's always welcoming people into their home.
5// Marble Serving Tray– Such a versatile serving piece.  Use it as a cheese board, to serve drinks on, or as home decor.
6// Cheese Markers– I love cheese, and I love a charcuterie!  Cheese labels get regular use around here with the number of cheese boards I put together.
7// Dish Gloves– After every party there are bound to be dishes to do.  So, protect your hands with some fun dish gloves.  My winter hands are so thankful I started using these.
8// Wreath– A wreath, especially a live one, is a beautiful gift for your hostess loving friend to show that all are welcome.
9// Apron– Anyone who loves to host probably does a fair amount of cooking and an apron is such an easy way to keep their party attire spotless while preparing for the party.  I have several Anthropology aprons and love them all.
10// Food Labels– Confession: I never get around to labeling the food at my parties.  I always leave it to be the last thing and run out of time.  These ready made labels might make actually labeling my food a reality.
Holiday Hostess Gifts
Now, you are bound to go to several holiday parties this year and you'll have to take a hostess gift.  I talked about great ideas here, but put together a list of some awesome ideas below too.
These are all pretty unique so you'll be gifting something that's not just another bottle of wine.  Although, wine is always a good idea 😉
I even know several of the business owners that make these, so I highly recommend you use some of these ideas for the next party you're going to.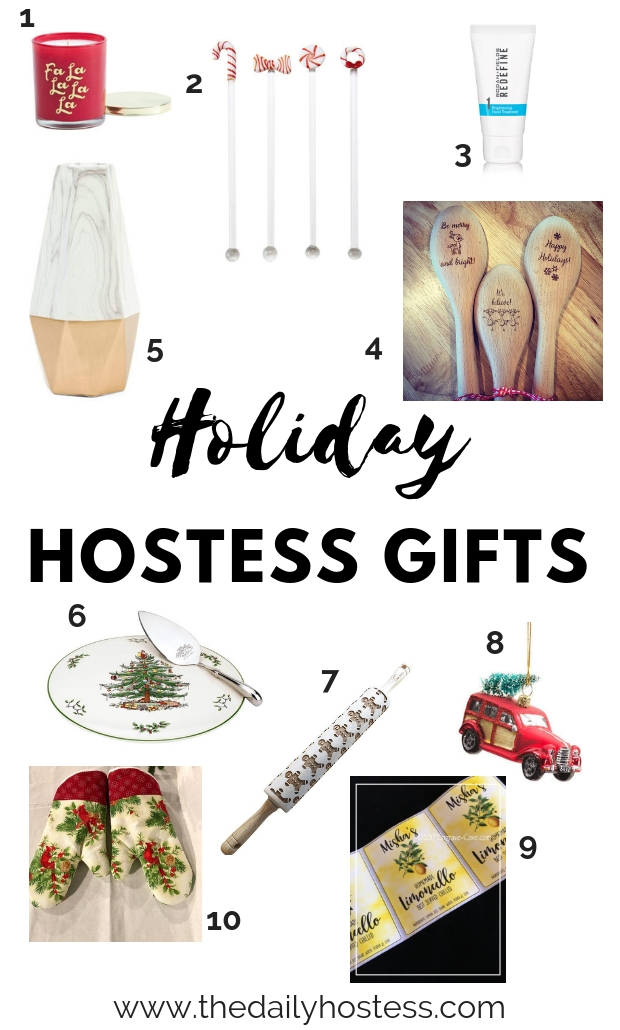 1// Candle– Always a go to hostess gift.  A holiday theme is perfect this time of year!
2// Swizzle Sticks– A fun and festive way for your host to dress up the drinks they're serving.
3// Hand Cream– You know how I said up above about the host inevitably having to do dishes after the party?  Well, get them this amazing hand cream to keep their hands soft after all of that party clean up.
4// Engraved Wooden Spoons– How adorable are these holiday themed wooden spoons?  Such a fun hostess gift that is also super functional.  These are super affordable too!
5// Vase– You can't go wrong with bringing flowers to your party host. But putting them in a vase they can use after the party is a real keepsake.
6// Holiday Serving Plate– I love the idea of bringing your dish on a serving plate you can then gift to the host.  If you don't want to spend as much on this Spode design, just buy a pack of themed paper plates and put all your cookies or fudge on the top plate and wrap them up that way.
7// Gingerbread Rolling Pin– Want to give a super unique gift?  Bring your host this gingerbread cut out rolling pin.  They'll feel so fancy when they use it, and all they have to do is roll!
8// Ornament– It's Christmas, so an ornament is a perfect hostess gift.
9// Custom Wine Labels– A bottle of wine is an easy go to hostess gift, but provide that bottle of wine with one of your custom labels to stand out amongst the wine crowd.
10// Oven Mitts– Holiday baking is everywhere right now.  How about giving your host a set of handmade oven mitts to help with all of their baking?  Super functional hostess gift.
Did you find something you'd love to gift to someone that loves to host?  Or find your next party hostess gift?
I would personally love to receive any of these, so I'm sure they'll be a big hit the next time you need to gift one.

*Affiliate links used above.  Thank you for supporting the blog by purchasing through these links.  All opinions and gift ideas are my own and things I'd recommend to anyone!