Happy Friday friends!  I hope everyone had a great Fourth of July and have since recovered.  Today I'm giving you all the details on my daughter's third birthday.  We hosted a picnic themed birthday party and it was so fun!  You'll get to see lots of picnic ideas, picnic food, and fun!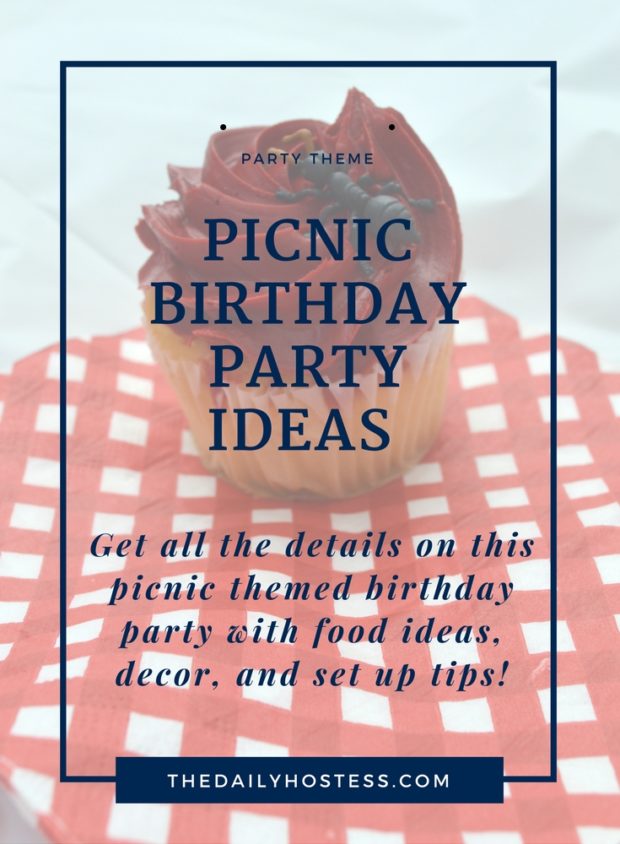 We hosted the party at the park in our neighborhood.  It had been super hot all week and then randomly we had a really cool, windy day.  It was kind of a blessing because I didn't have to worry about keeping cupcakes and food cold on a hot summer day.
The kids all played at the playground for awhile and worked up an appetite.  It helped to bring some outdoor toys to the park.  Things like buckets, shovels, and balls kept them entertained.
Picnic Food
To keep all the food together and individually packaged for the moms and kids, I picked up some great cardboard lunch boxes from Hobby Lobby.  I also got some chalkboard labels from my local party supply store to label all the boxes.  This is a great way to keep special dietary restrictions separate, and no fighting over who gets what.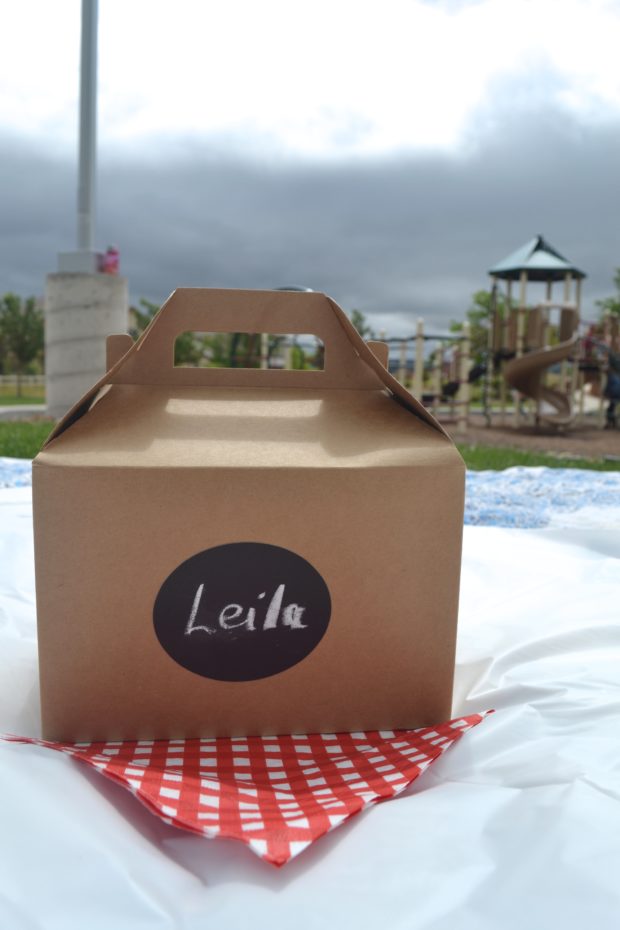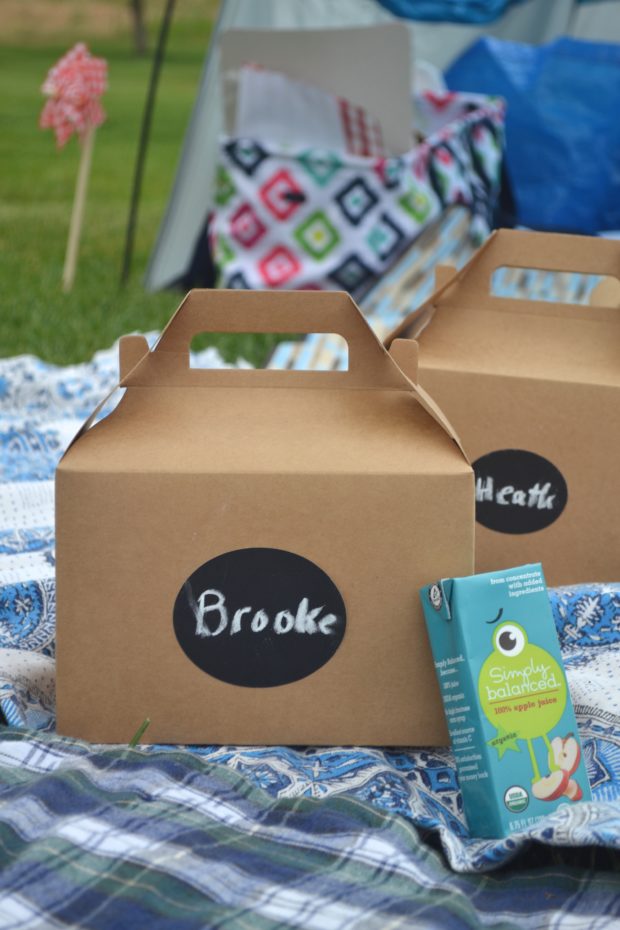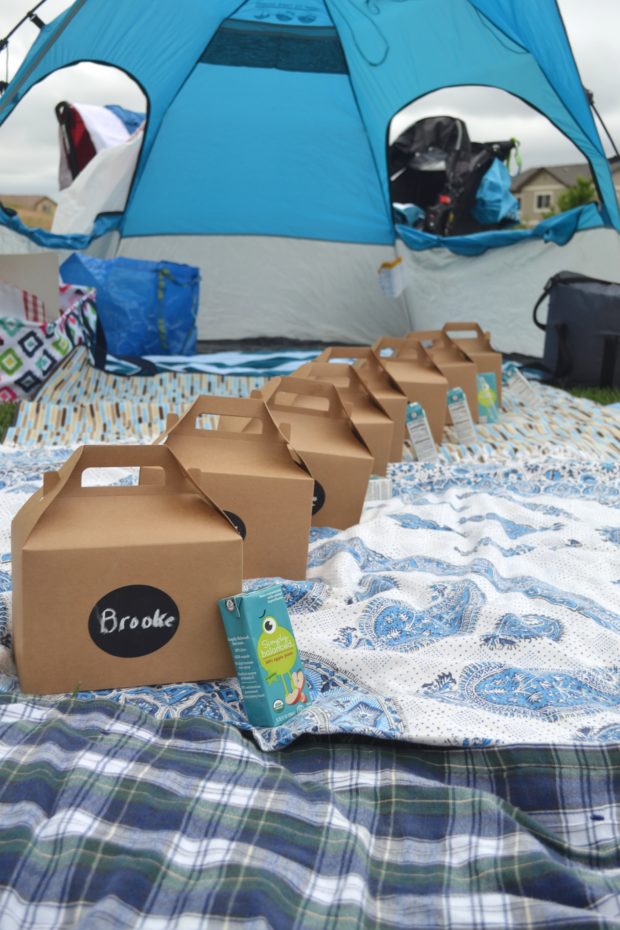 For the kiddos lunch, I tried to keep the menu pretty kid friendly with Chick-fil-A nuggets, baby carrots, chips, and a picnic staple watermelon.  I was able to prepare all of the food the night before and kept in the refrigerator. The morning of the party was pretty relaxed since all I  had to do was load up the lunch boxes and get everything to the park.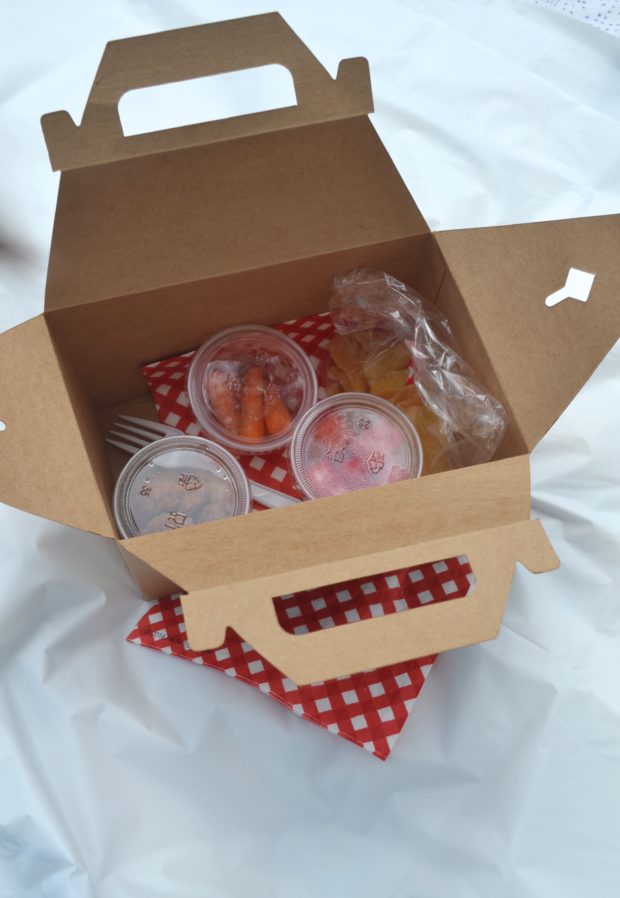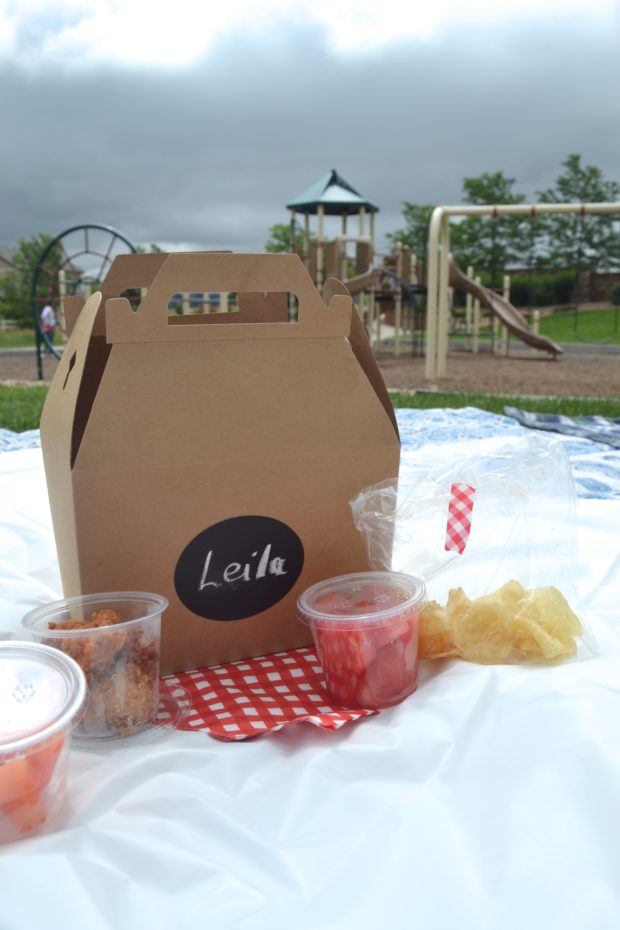 The little plastic cups pictured above were great to keep all the food separated.  I also just about fell down when I spotted that red gingham washi tape at the dollar spot at Target.  All the other red gingham decor and party gear was from Hobby Lobby.  It was on clearance, so that was even better!
For the moms, I tried to keep the menu similar, but felt like we needed something a little more grown up than chicken nuggets.  Although, Chick-fil-A nuggets are pretty delicious.  I made a large baguette sandwich and was able to slice it up into equal portions for all the adults.  It's a great way to make one big meal to feed everyone.  All you have to do is make one big sandwich on any loaf of bread you enjoy, then cut up into however many portions you need.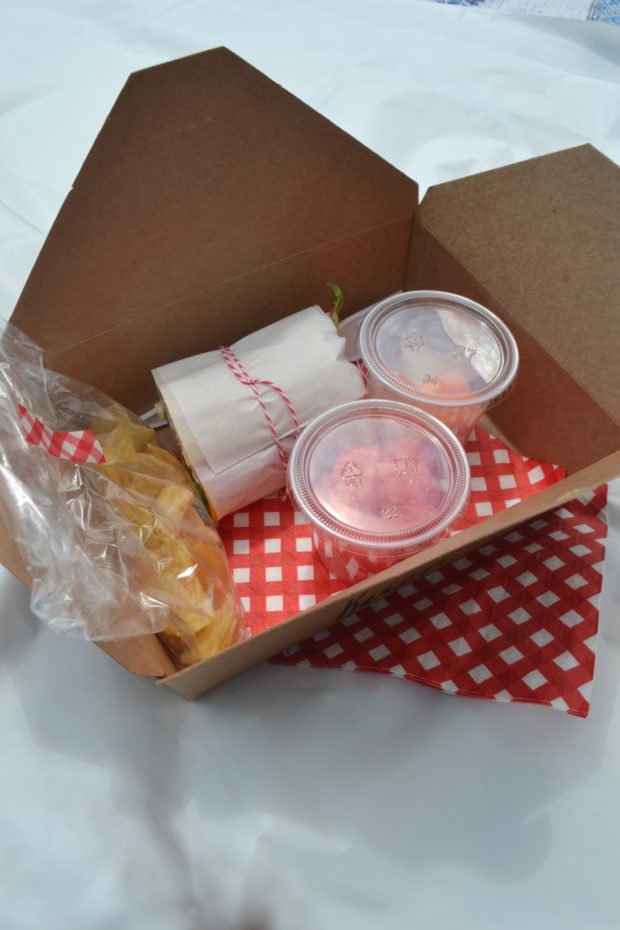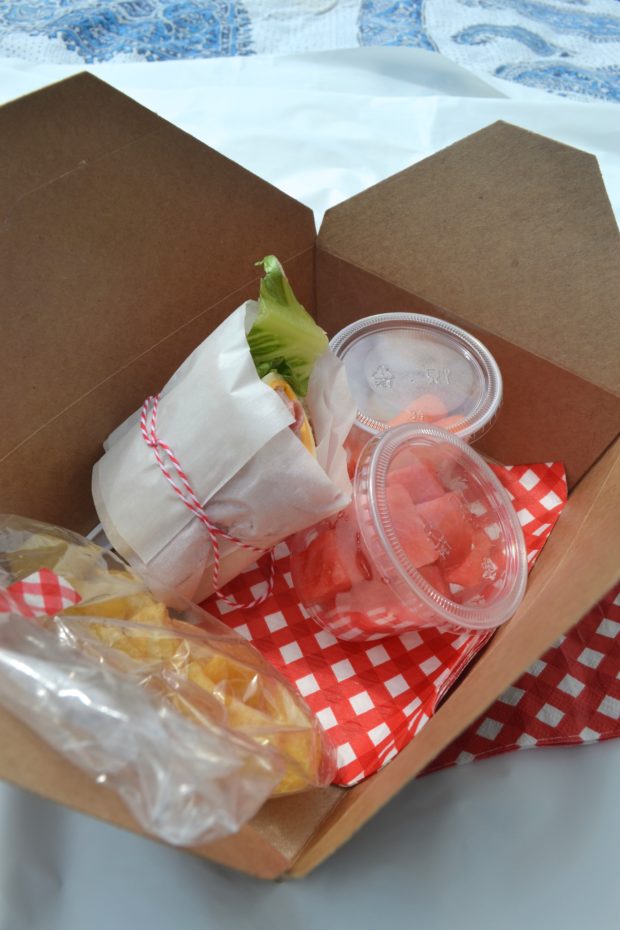 I wrapped up the sandwich portions in parchment paper to hold all the sandwich fixings inside, then tied it with red and white twine.
It seemed like everyone enjoyed their picnic lunch and were full enough to carry them through until dinner.
For dessert and to celebrate the birthday girl, I ordered cupcakes from my local Safeway store.  If you live near a Safeway, I highly recommend getting cupcakes from their bakery.  The icing is delicious, the cake is always moist, and a dozen cupcakes are only $6.99.  You can't beat the price for what you get.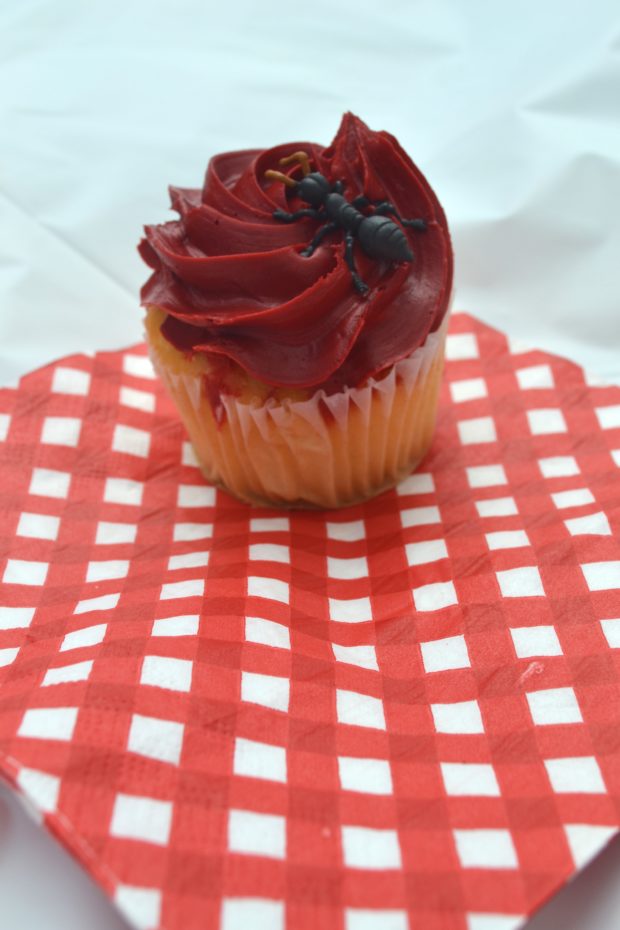 To dress up the cupcakes, I found these small rubber ants at a local farm store for about .50 cents a piece.  It was the perfect little decoration to add to the picnic themed birthday party.  It was also nice that it didn't take a whole lot to just plop these onto the tops of the cupcakes.
Note to self though, never order red icing on a cupcake again!  The kids were a mess after eating these, haha!
Picnic Birthday Party Set Up
As far as setting up the picnic, it was a pretty easy way to throw a party.  All you really need to do is throw down a bunch of blankets.  Thankfully, everyone that came also brought a blanket so we had plenty.  I also had a small pop up tent because I was expecting blazing sun.  It ended up serving as a semi-private potty station for all of our potty training toddlers.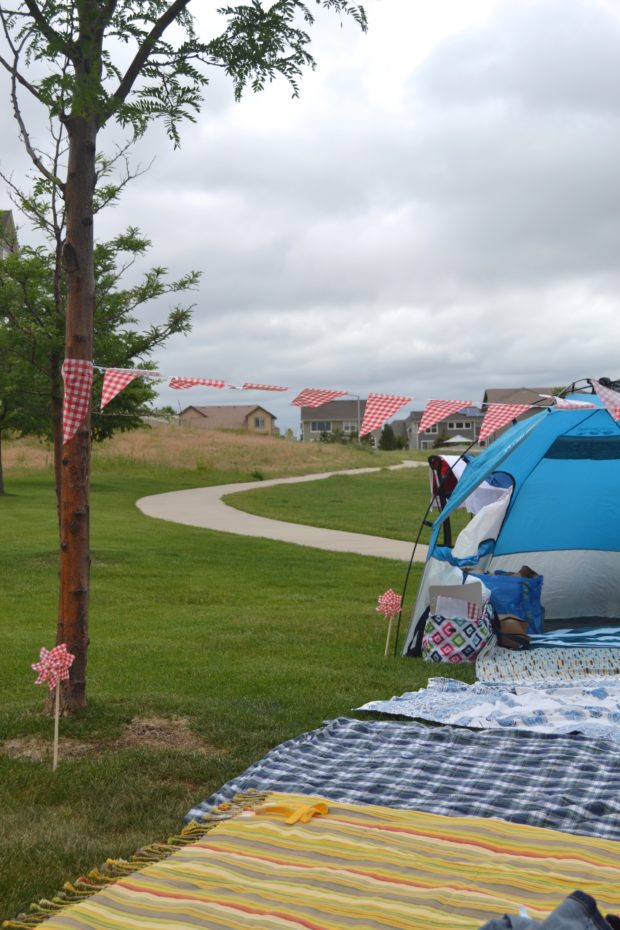 I used some more red gingham pinwheels and banner party supplies from Hobby Lobby to denote our picnic area.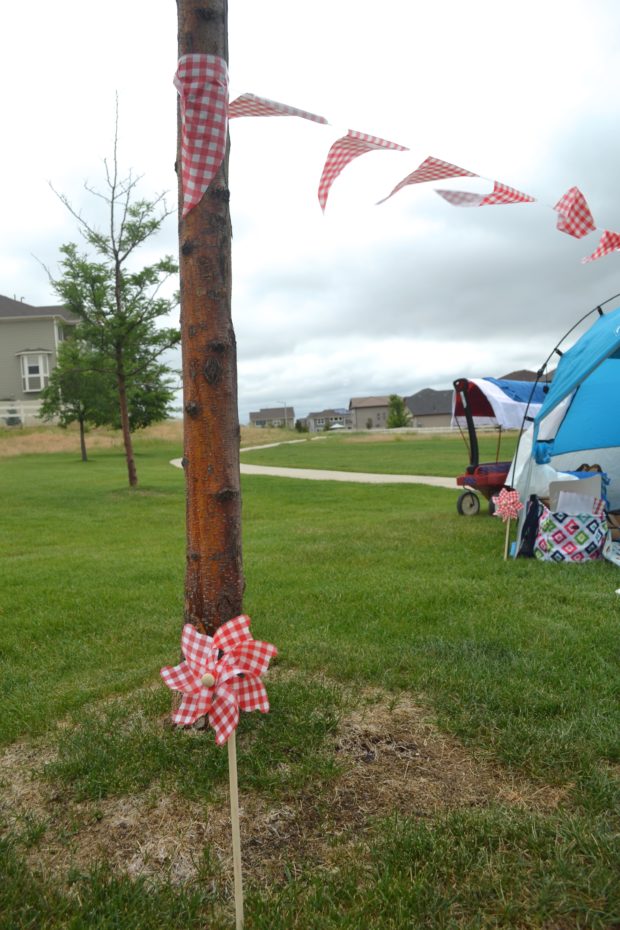 Hosting a picnic themed birthday was pretty easy.  I highly recommend it if you are in need of an easy party on a small budget, or for a last minute party.  Other picnic ideas could be to have a theme, like a sandwich themed picnic party where everyone brings their favorite sandwich to share.  A wine themed picnic party with wine and cheeses sounds amazing! A picnic themed party is a great way to make the normal pot luck a little more interesting too.
I was pleased with how our picnic themed birthday party turned out. Most importantly, I think my three year old enjoyed it.  She likes to throw blankets down on the floor at home all the time to have a picnic.  This seemed was the perfect way to do a quick and easy party for her.  I had planned on not doing much for her birthday this year, but am glad I put in a little effort and did something special!
I hope you all have a great weekend and maybe get outside to enjoy a picnic!