Hey friends!  I haven't been around much this week because I always have a hard time going from working on the weekend to getting blogging done.  I've forgiven myself for not getting things done and am back on track with this Pinkalicious party today.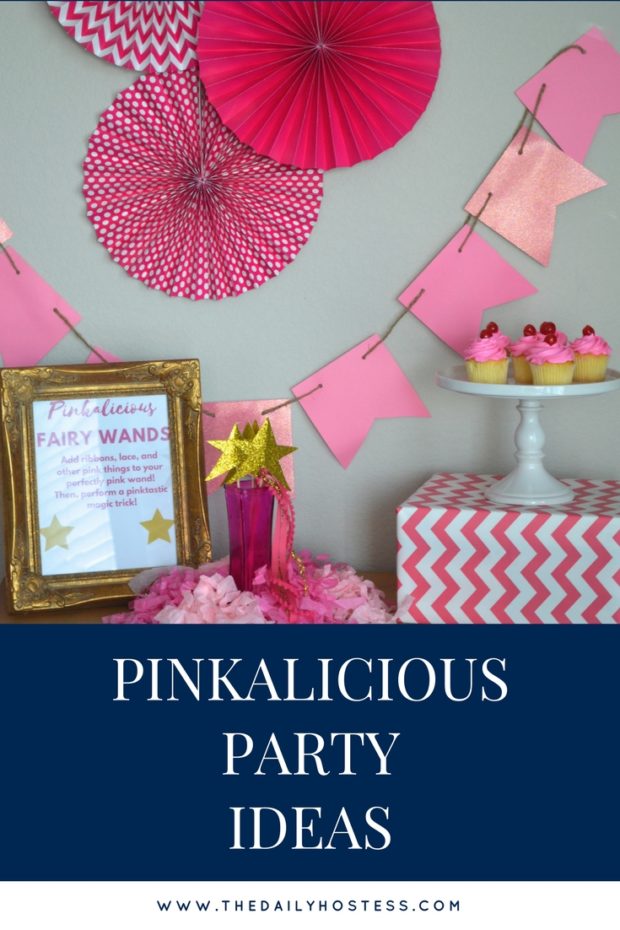 My daughter received her first Pinkalicious book from her cousin about a year ago and has loved them ever since.  But now that Pinkalicious was made into a TV show on PBS, it's even more the rage at my house.
Although her upcoming birthday party already has a theme, I couldn't pass up celebrating her love of reading and throwing a little Pinkalicious party for her.   It's a great idea to use a book theme for a kids party.  There are a ton of party ideas you can pull right from the pages.
We set up all things pink and of course treated ourselves to cupcakes.  Decorating for this party was a breeze because we had so many pink things already.  This is yet another reason I love color coordinated party decor because you can use it again and again.  No plastic, themed, one use party decorations here!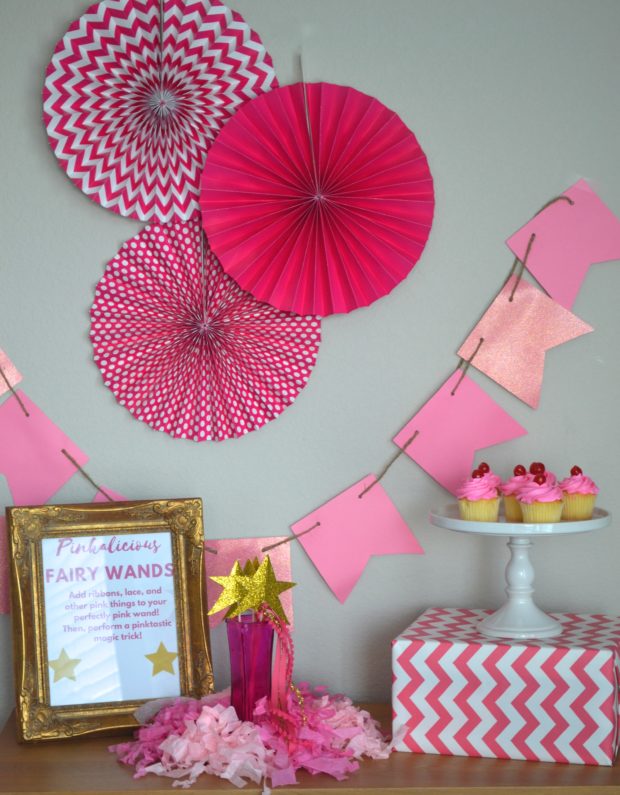 We used a combination of pink pinwheels, banners, and pink tissue tassels.  Another great way to DIY easy party decor is to wrap up boxes with party coordinated wrapping paper.  Plus, the box adds height to any dessert or gift table.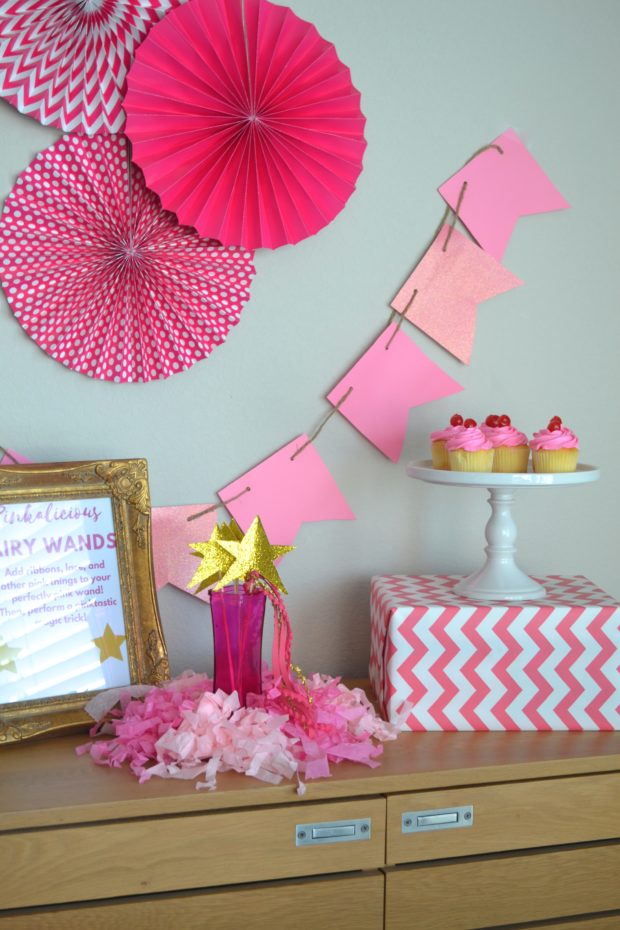 To keep the kids busy during the party I decided to have them make Pinkalicious fairy wands.  I cut out gold glitter stars and just attached them to skewer sticks from the kitchen.  Then I let my daughter tie on all sorts of pink and gold ribbon and trim.
This is super easy craft to let kids do by themselves.  It's not messy and it will help them work on their fine motor skills tying the ribbon around the sticks.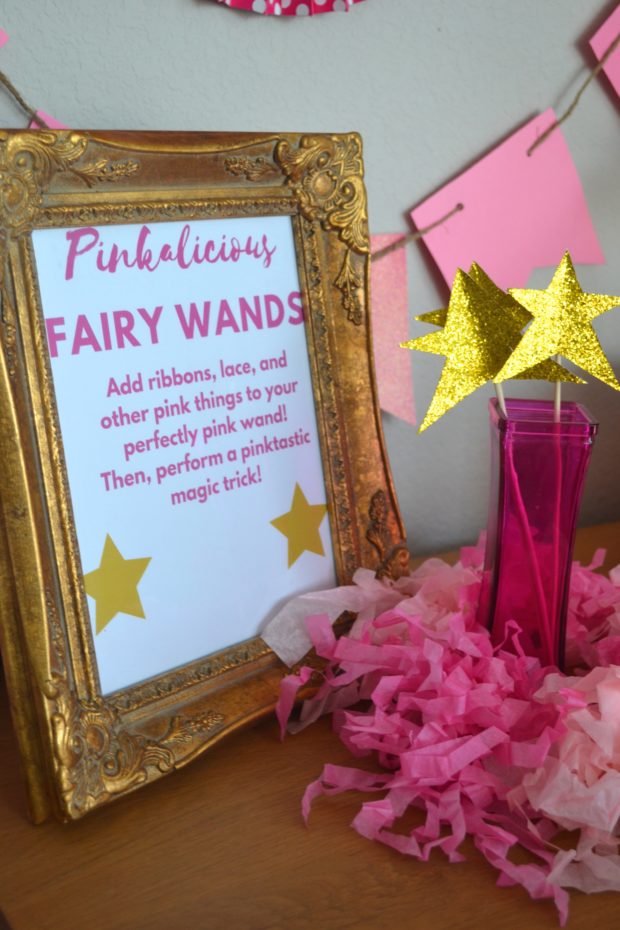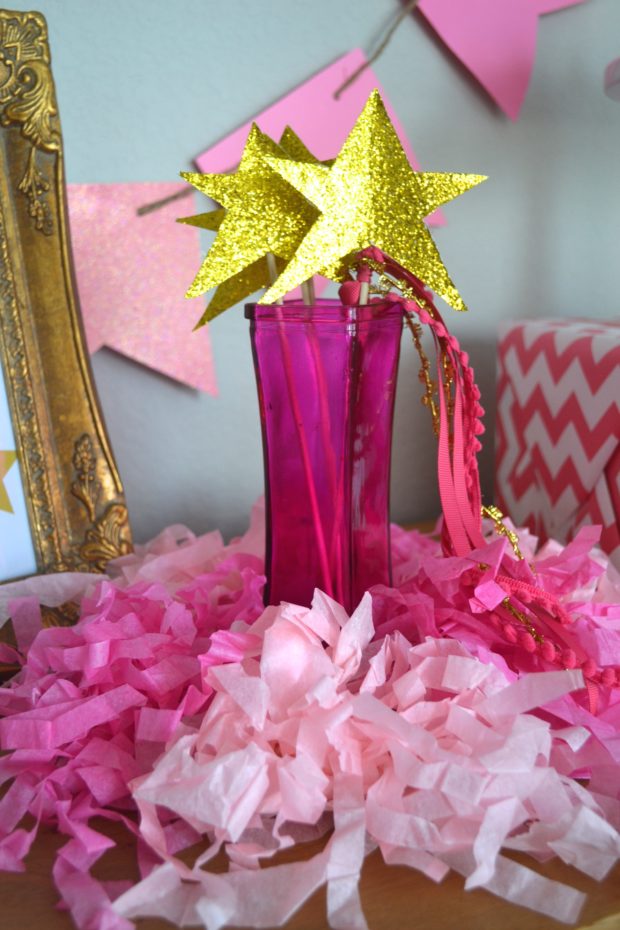 These wands also make great party favors.  My daughter has been playing with it for the last couple of days.  It's always a win in my book when the party favor lasts longer than the day of the party.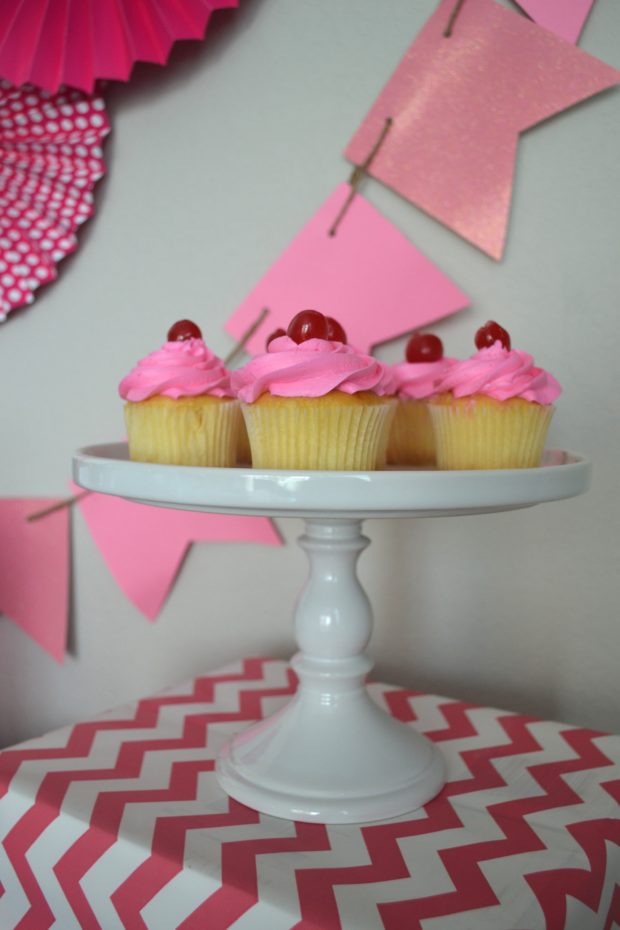 We couldn't have a Pinkalicious party without the pink cupcakes!  These simple cupcakes came from Safeway, and I will tell you they are the best value for your money.  I was able to get 6 cupcakes for only $4.00!!!  You can't beat those prices.  Then I added a cherry on top from cherries I already had on hand.
The cupcakes were the only things I purchased for this party.  I will take a $4 party any day.  And if I'm spending that little, there is no excuse not to celebrate all the time!
Pinkalicious Party Ideas
I also wanted to provide you with a ton of other ideas you could use at your own Pinkalicious party.
Have a short storytime and read a Pinkalicious
Make fairy wands
Make and decorate crowns like Pinkalicious wears
If you're having a winter party, you can read the Pinkalicious ice skating book and have your party goers paint with ice
Play pin the cherry on the cupcake
If the kids are older, have them decorate or even bake their own pink cupcakes
Ask all of your guests to wear pink
This was a fun (and cheap) little party to put together that brought a smile to this little girl's face.  And that's all that matters really, right?
I hope you are inspired to maybe read some of these books, watch the show, or even just to go buy some $4.00 cupcakes!  Be sure to come back next week to see all of my Cinco de Mayo inspiration and ideas!