Welcome back from the weekend!  I hope you were able to celebrate something!  My husband had a big birthday and it was a lot of fun setting up his party!  You'll get to see it soon.  Today though I'm trying out something I saw on Pinterest.  You can tell me if you think it was a success or fail.
I recently saw some super cute glitter ice cubes on Pinterest and wanted to give them a try myself.  See the inspiration photo here. I'll be showing you how I made mine, tips, tricks, and ways to make it better.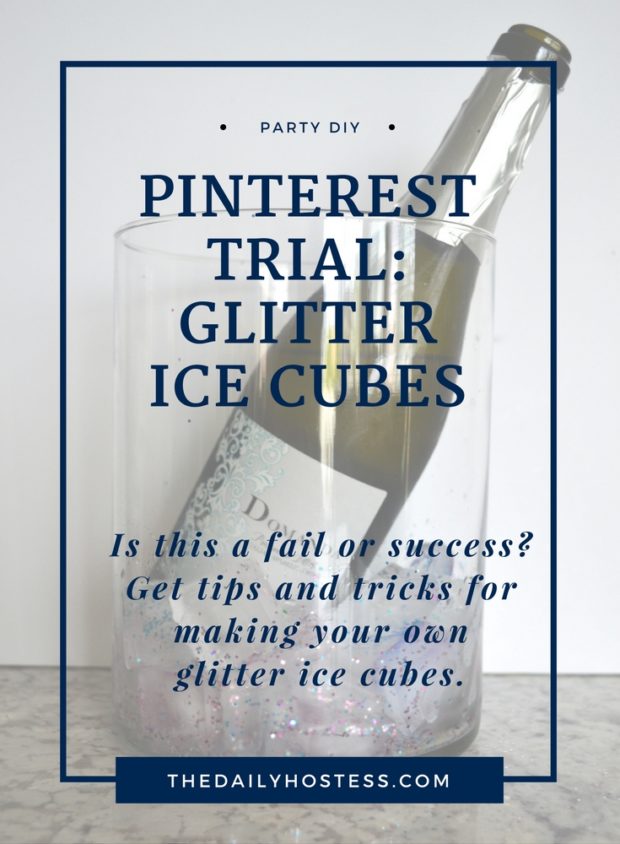 Supplies Needed for Glitter Ice Cubes
Distilled water
Chunky glitter
Ice Cube Trays
Small cup with a spout (not pictured)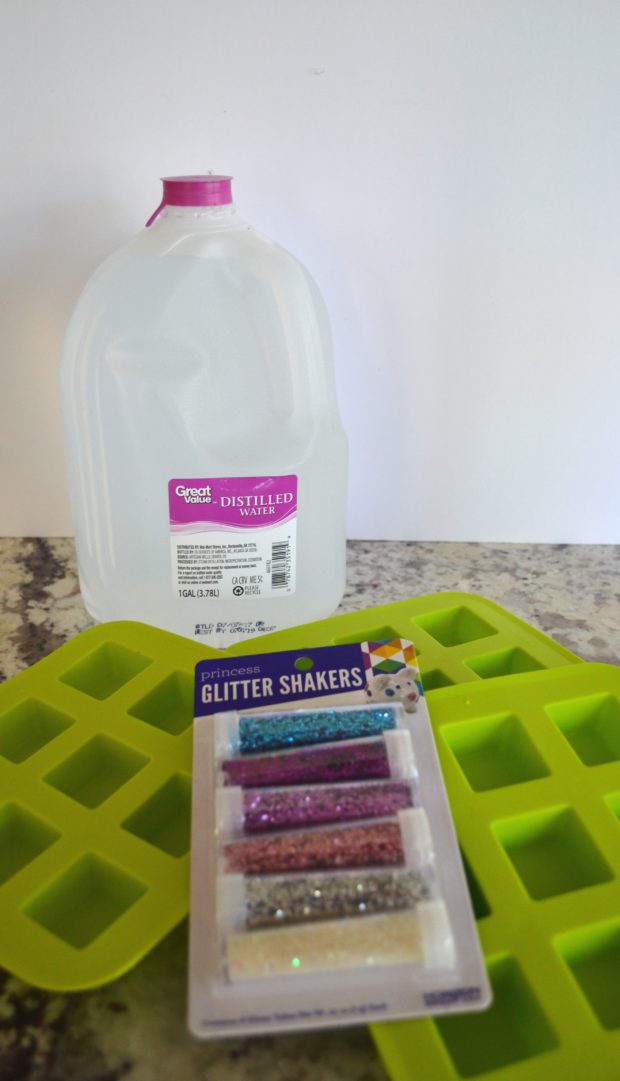 You only need a few things to make these glitter ice cubes which is nice.  The distilled water is supposed to give you clearer ice cubes.  That helps the glitter stand out, but I didn't notice much of a difference in my ice cubes versus regular water.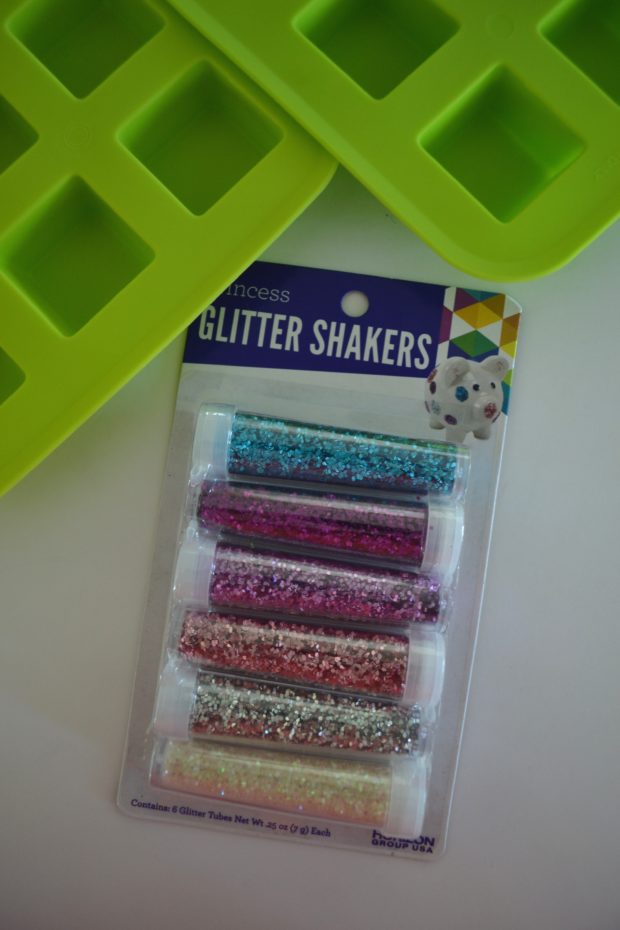 I would recommend getting the chunkiest glitter you can find.  Fine, small glitter won't show up as well in the ice cubes.  My glitter was on the smaller size, but all I could find in a pinch.
Glitter Ice Cube Instructions
This DIY can't really get any easier.  Just fill your ice cube trays with glitter.  I enlisted my three year old assistant and surprisingly didn't have a huge mess to clean up afterwards.
Another tip I have is to make sure you put quite a bit of glitter in each ice cube.  The more you use, the more it will show up, especially if you are using smaller glitter.  Also, use glitter that is fairly pigmented.  Lighter colors won't show up as well.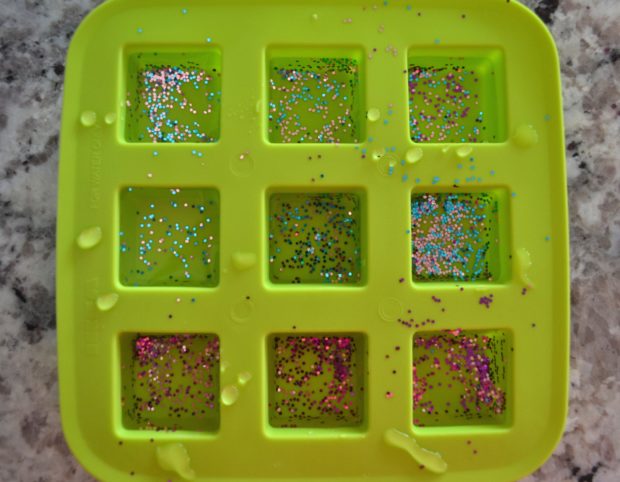 Once you've filled your cubes with glitter, carefully fill with distilled water.  This is where a measuring cup or something similar with a spout comes in very handy.
I'd also recommend stirring your glitter around in the ice cube trays.  Otherwise the glitter just kind of sits in the bottom of the tray.  Or you could try filling with water first, then adding the glitter.
Next, pop them in the freezer until they're frozen.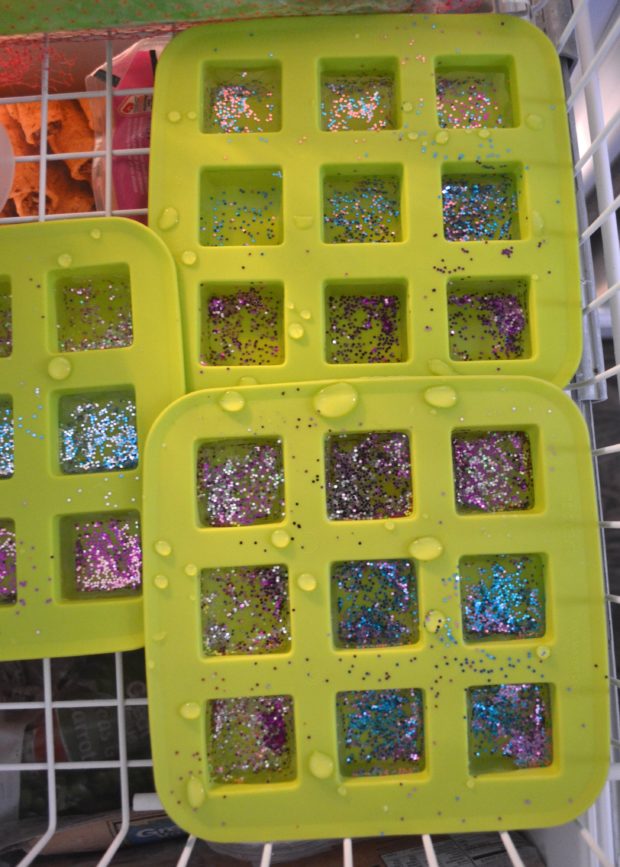 Disregard my messy freezer!  Once they're frozen pop the cubes out of the trays and using them to decorate an ice bucket.  Be sure not to use them in drinks because it's not safe to drink distilled water or glitter.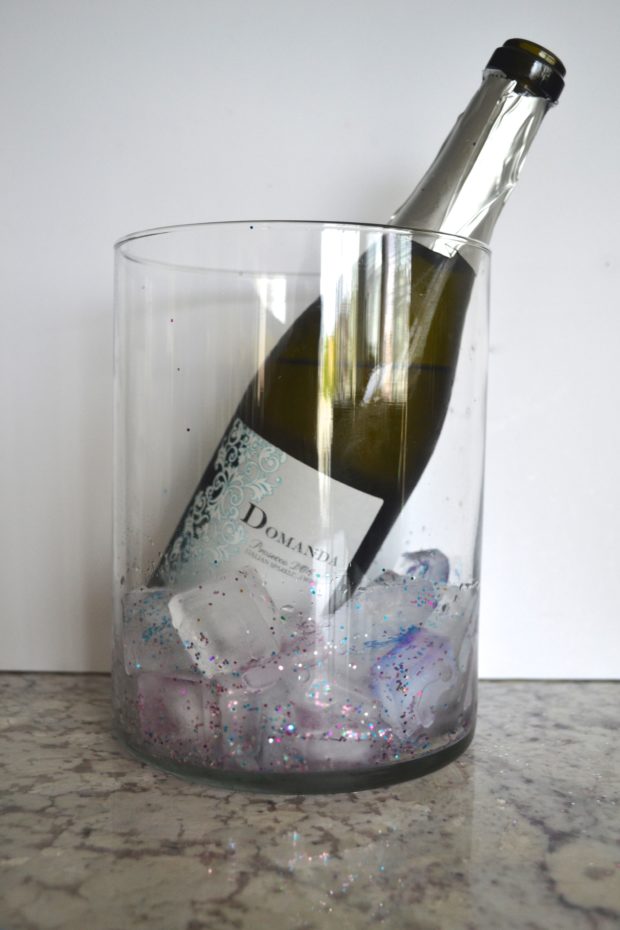 I used my glitter ice cubes in a clear vase to dress up a bottle of champagne.  There are so many ways to use these though.  I love the pink and blue glitter we used because it would be perfect for a gender reveal party.  Surprise a new mom with a bucket of glitter ice cubes and a celebratory bottle of champagne after the birth of a baby.  I know I'd love some champagne after 9+ months of no drinking, haha!
Mix up the colors of glitter to coordinate with whatever kind of party you're hosting.  It would be so cool to make a ton of them to fill a cooler or trough where beverages are located.  Your party guests will think it's so fun!
Glitter Ice Cube Tips
The more glitter the better!
The bigger glitter the better!
Make more ice cubes than you think you'll need
Stir glitter into the water
Don't use them in drinks!
So do you think this was a fail or a success?  Overall I was happy with how they turned out given it was so easy to make them.  Do you see yourself making glitter ice cubes for one of your parties?  Be sure to follow me on Pinterest to see a ton of party related pins and inspiration.