The start of our summer included a trip home to see family and attend my best friend's wedding, it was a great way to kick off summer!  While home, I got to attend a party hosted by my sister-in-law.  It was a great party with lots of great food and so beautifully decorated I just had to share it with all of you.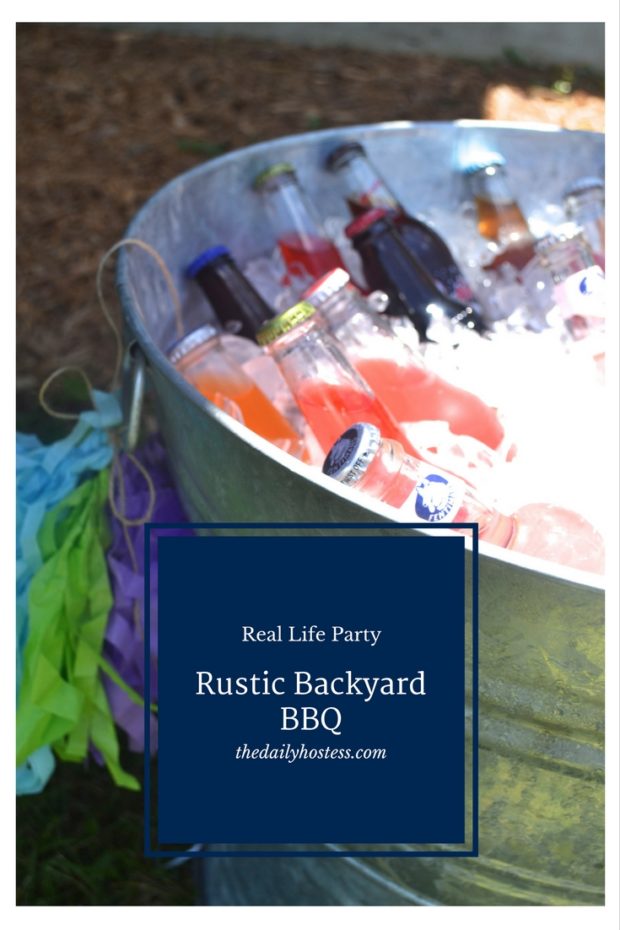 My sister-in-law and I are basically the same person when it comes to entertaining, she loves to do it and she loves to make everything extra pretty.  If you put us together to throw a party you can bet it's going to be the best looking party around!  She has the best eye at finding amazing pieces at thrift stores, yard sales, and in the middle of random fields.  One of her awesome finds was the centerpiece for the entire party.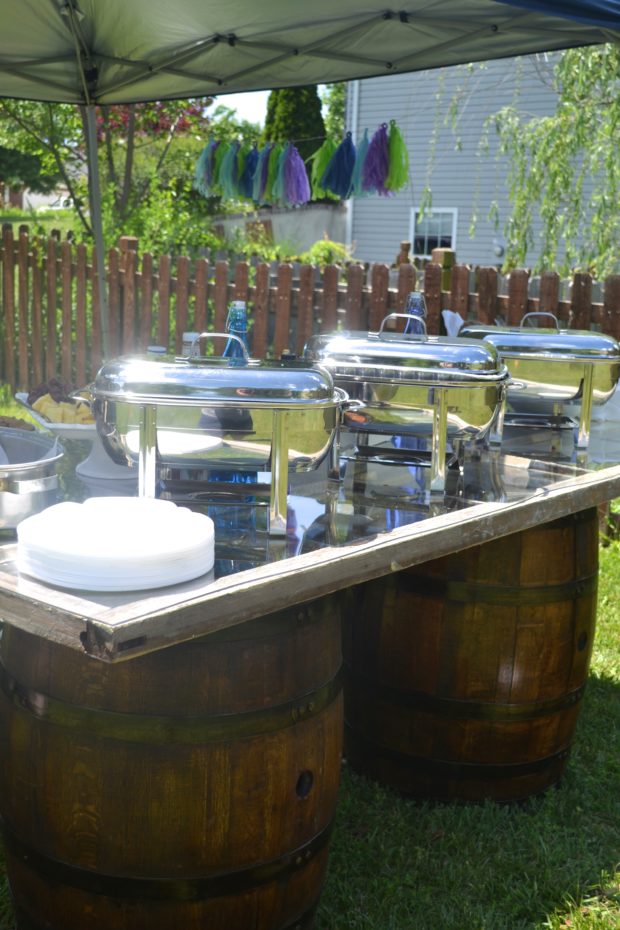 She used an old door that she found lying in the middle of a field as her buffet station.  Genius!  After cleaning it up and sanding it down, she perched it on top of two lovely, versatile wine barrels.  To make the buffet a smooth counter top, she added a piece of plexiglas on top of the door.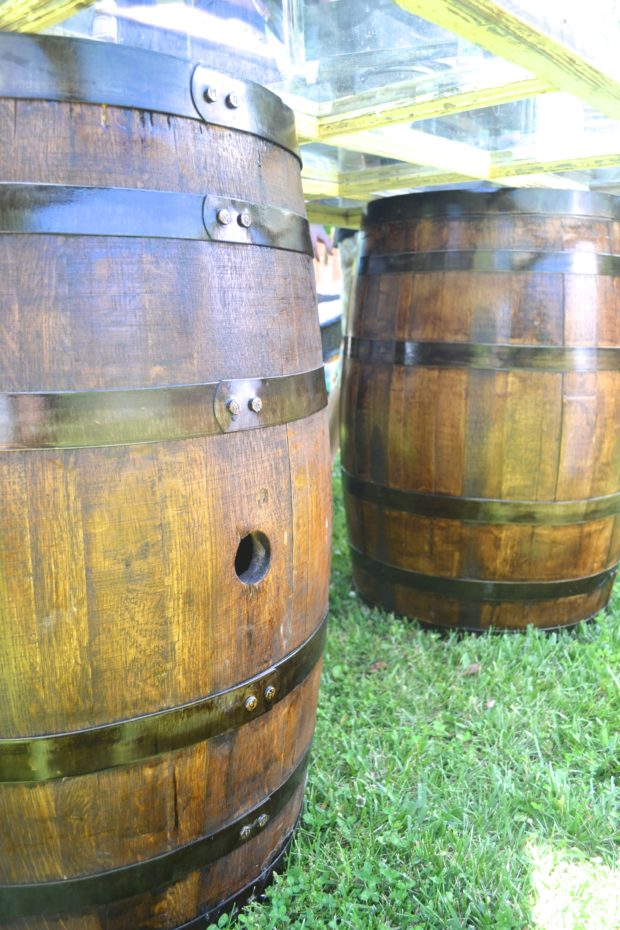 If you can get your hands on a pair of wine or whiskey barrels, do it!  They work for so many things.  Use them as a buffet station just like this, or cocktail tables at a wine themed party, as a gift table, and even as a flower planter on a patio.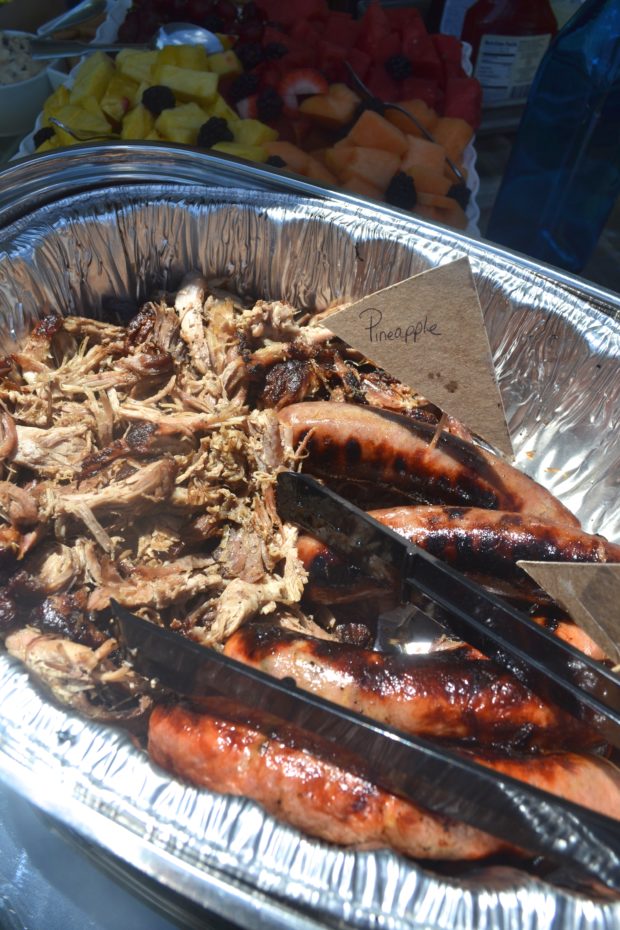 Labeling food is a must, especially if something isn't exactly what it looks like.  Those look like bratwursts, but they were pineapple and jalapeno flavored bratwursts.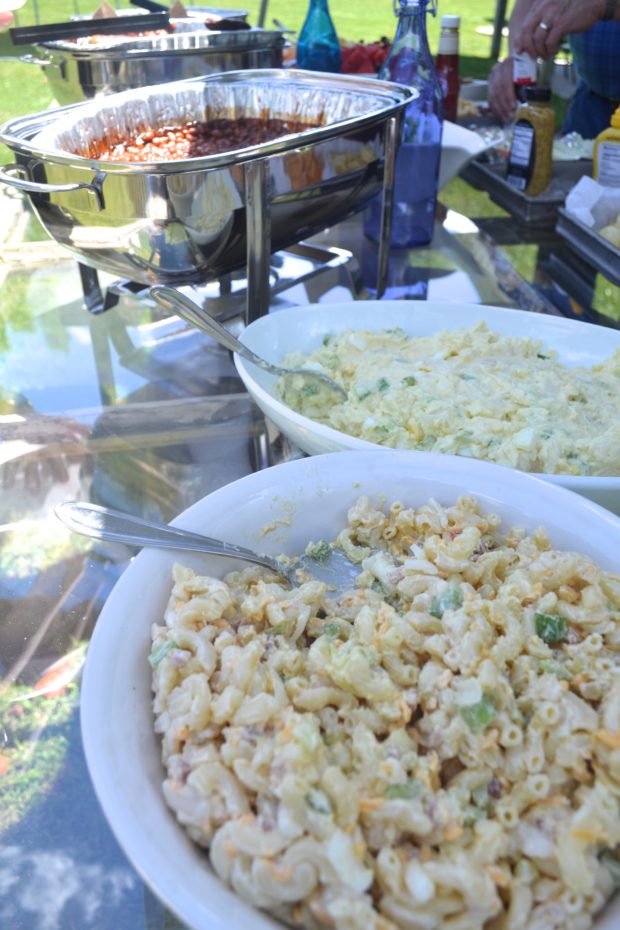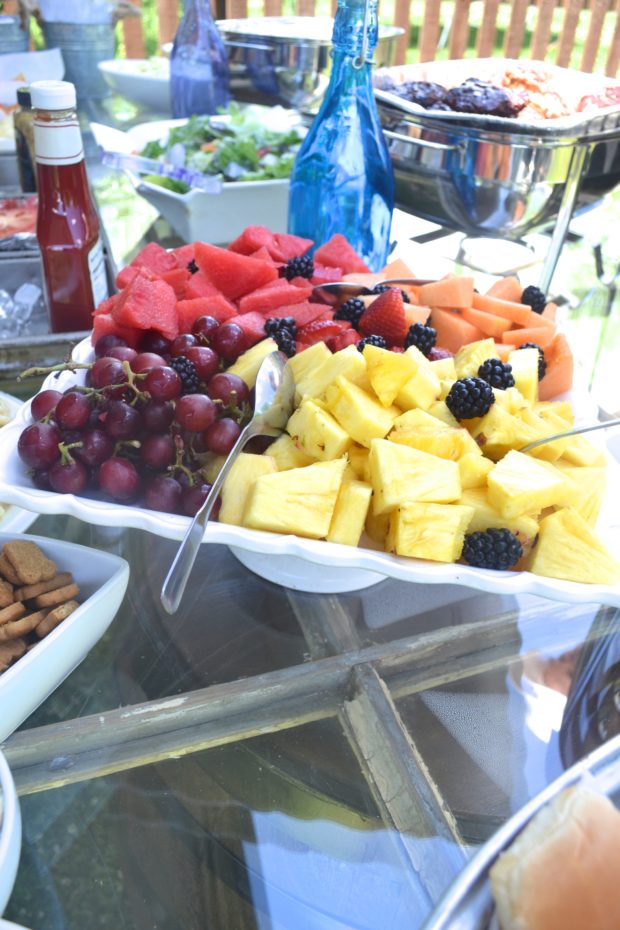 My sister-in-law, the former produce manager at a large grocery store, always has the best fruit, fruit salad, and fruit displays.  They always look great, but taste even better.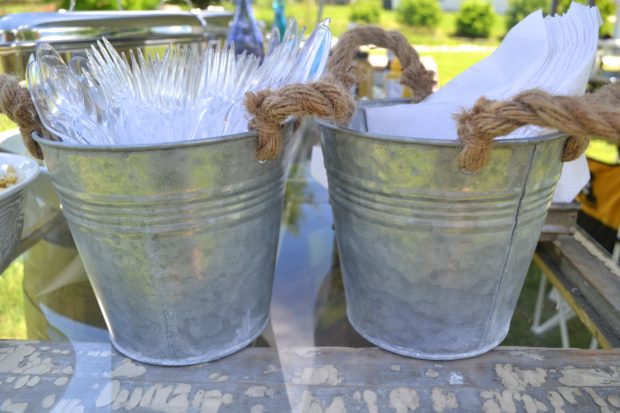 I loved her use of galvanized buckets to keep the rustic theme throughout the party.  These cute little buckets were the perfect size for napkins and cutlery.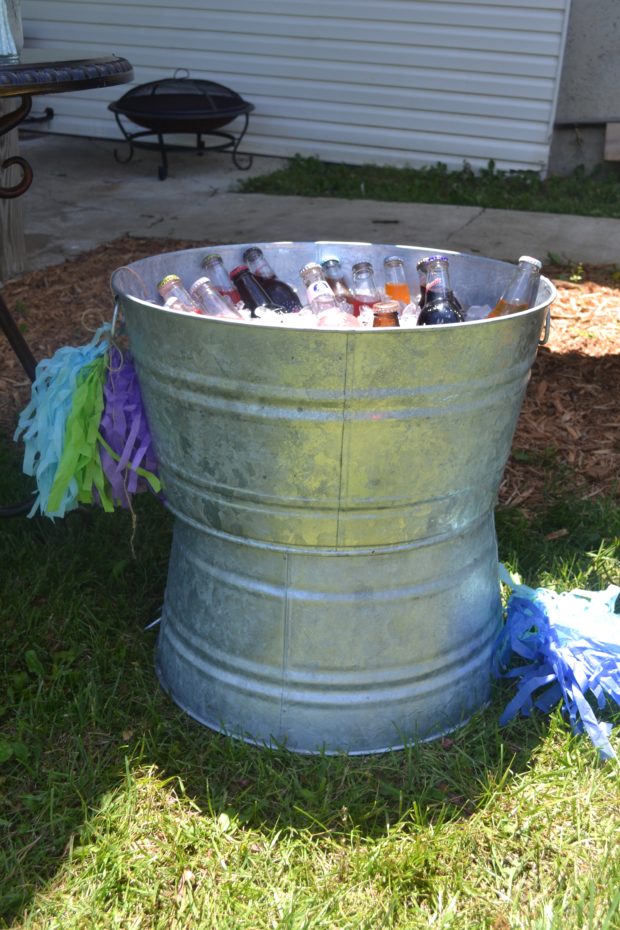 Galvanized tubs were also used to hold drinks.  The host purchased them at a farm/feed store, which just goes to show you that sometimes you need to think outside the box on where to get party supplies.  I thought it was really smart to use two tubs stacked to raise the drinks up, but she had also planned on having the bottom tub next to the drinks so party goers could recycle their drink bottles.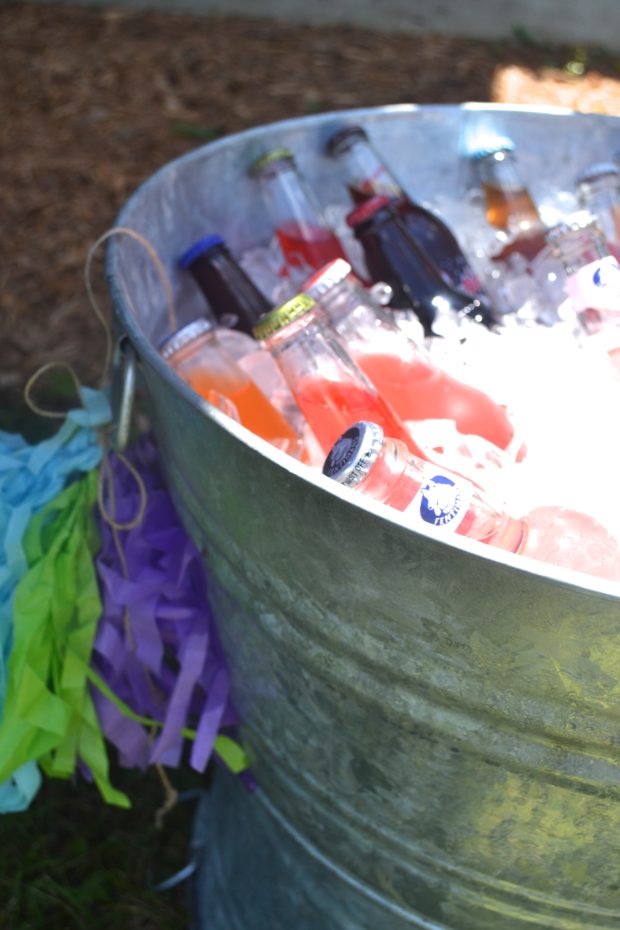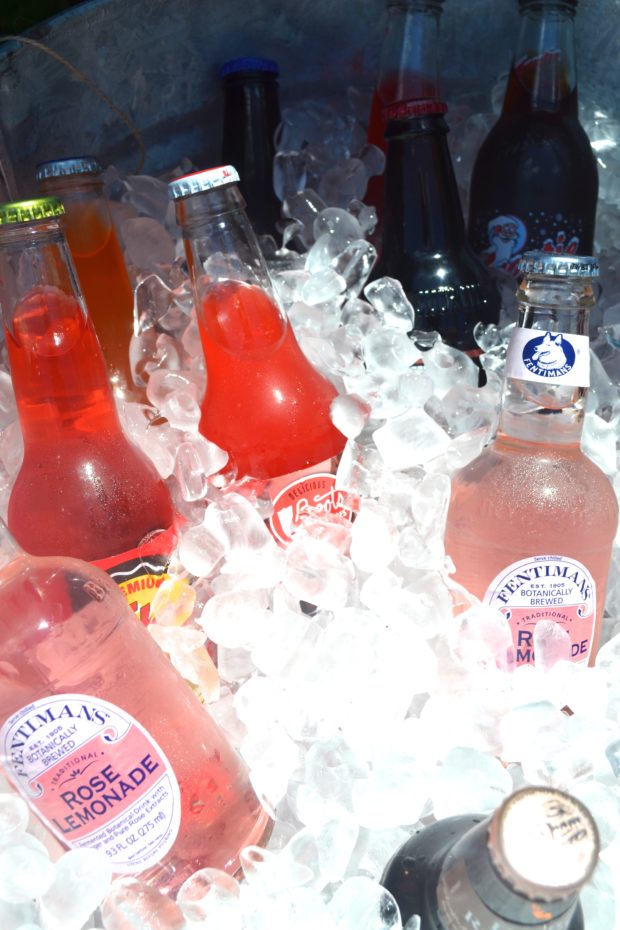 Using vintage looking glass soda bottles helped carry the rustic theme throughout the party.  Plus there were some really fun flavors mixed in there.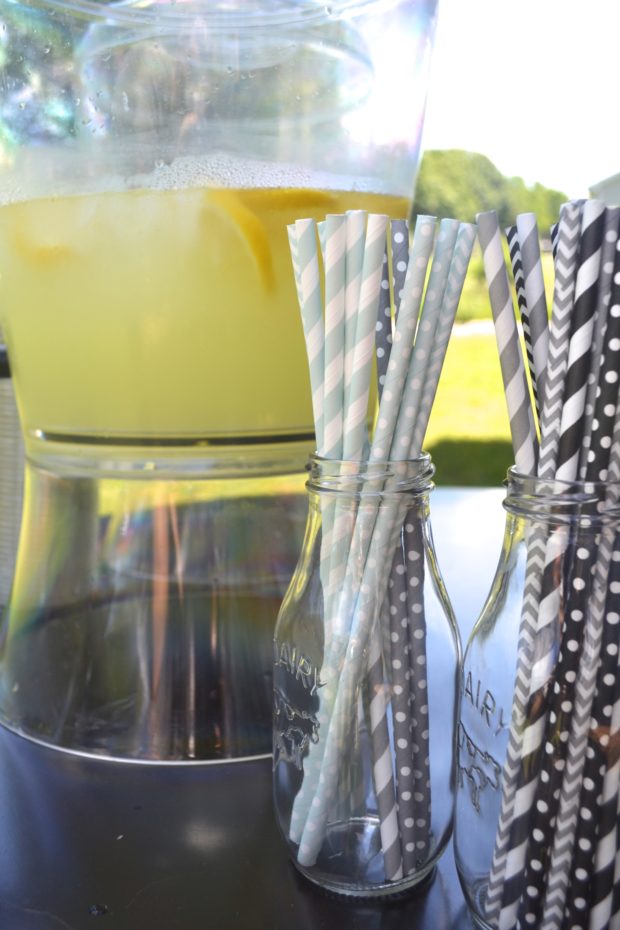 For those not interested in the fun soda options, there was also a drink station set up with lemonade and tea.  Using two small milk glasses to hold the straws was really cute.  I actually found some small milk bottles recently at Dollar Tree of all places.  You can bet that I loaded up on them because they can be used for so many things, and they were only $1.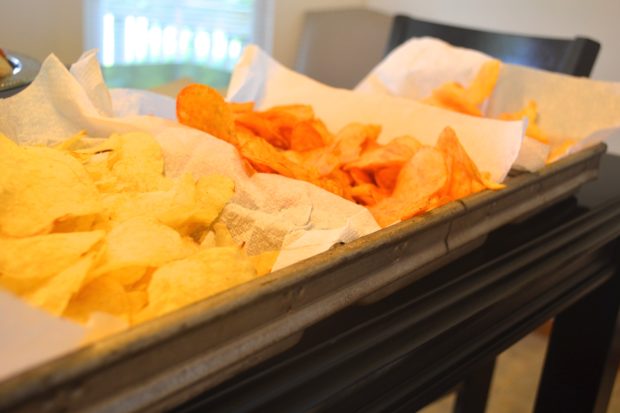 Another great find was this three section galvanized tray my sister-in-law found at a thrift store for only $8!  It was perfect to hold chips and condiments.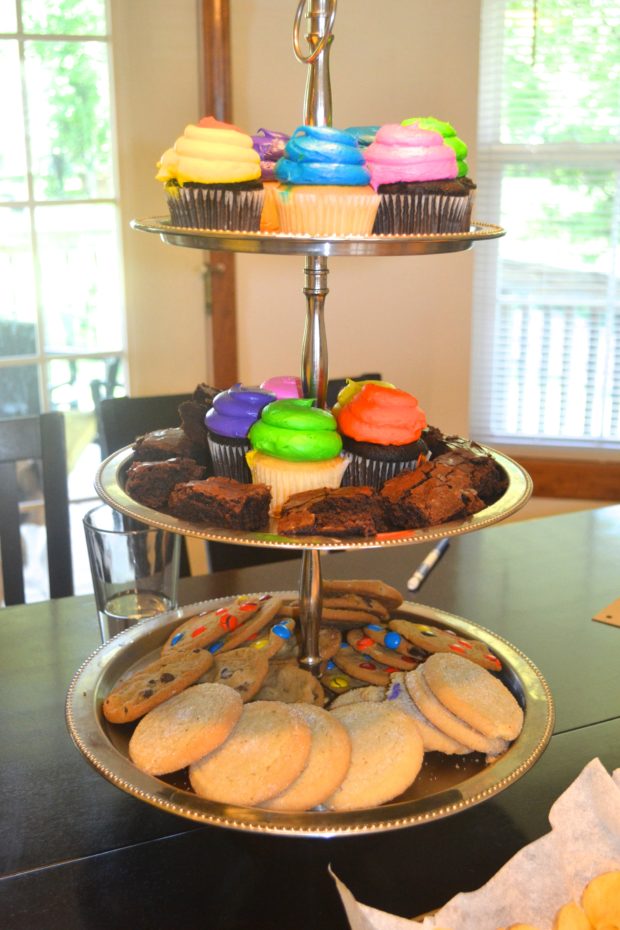 I can't forget dessert!  I can personally attest that those brownies were amazing!  If you do plan on having desserts that could melt in the sun, be sure to keep them indoors or a cool area until right before you plan to serve them.
So what did you think of this rustic backyard bbq?  Don't you just love all of the thrifted, found, and gathered pieces that took the decor to the next level?  Which was your favorite, the galvanized tubs, or the vintage door?

Also linked up with: Decor to Adore