Do you hate fighting the crowds at restaurants on Valentine's Day?  Why not stay home and have just as great of an experience while being comfortable and in peace.
Or maybe you just want to do something really special for your spouse or partner.
I'm offering everything you need for an unforgettable date night at home.
Chose from four customized Valentine's Day date night packages that include everything you need to set a beautiful table and have a romantic dinner.
Table linens, floral centerpieces, candles, place settings, and glassware are included along with a diagram to help visualize how to set everything up.
I've thought of everything to make the process stress free.  Just follow the included diagram to set a beautiful table.
Cook your own delicious dinner at home.  Choose between black and bleu steaks or raspberry glazed chicken for dinner.  Everything is prepped, you just have to follow the easy 15 minute recipe and dinner will be on the table.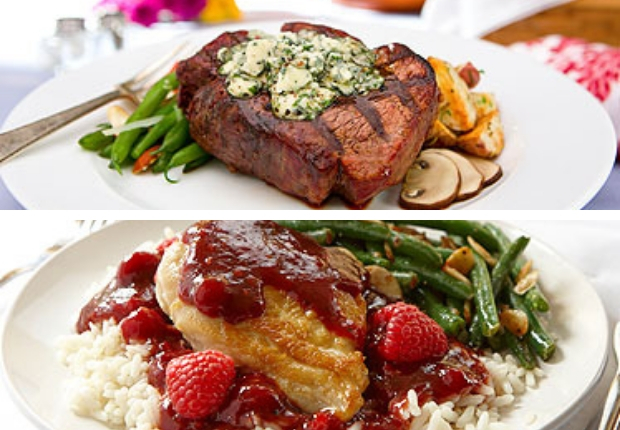 Want dessert too?  Perfect! Valentine's isn't complete without a chocolate treat.  Chocolate covered strawberries are included in each date night package.
Here's all the information about what's included in each package.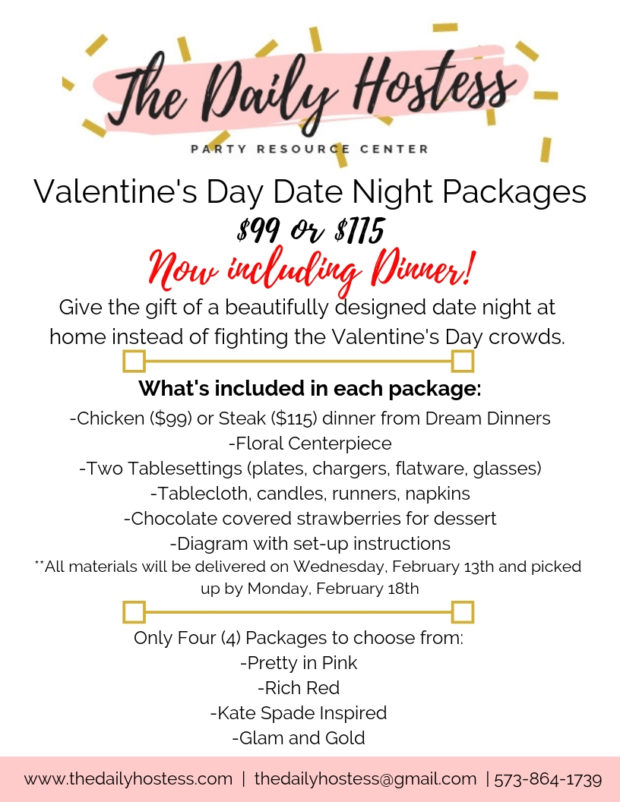 To order choose from one of the four packages below and call 573-864-1739 or email thedailyhostess@gmail.com to place your order.  But hurry there are only one of each of the packages and once they are purchased they'll be gone!
Pretty in Pink Date Night Package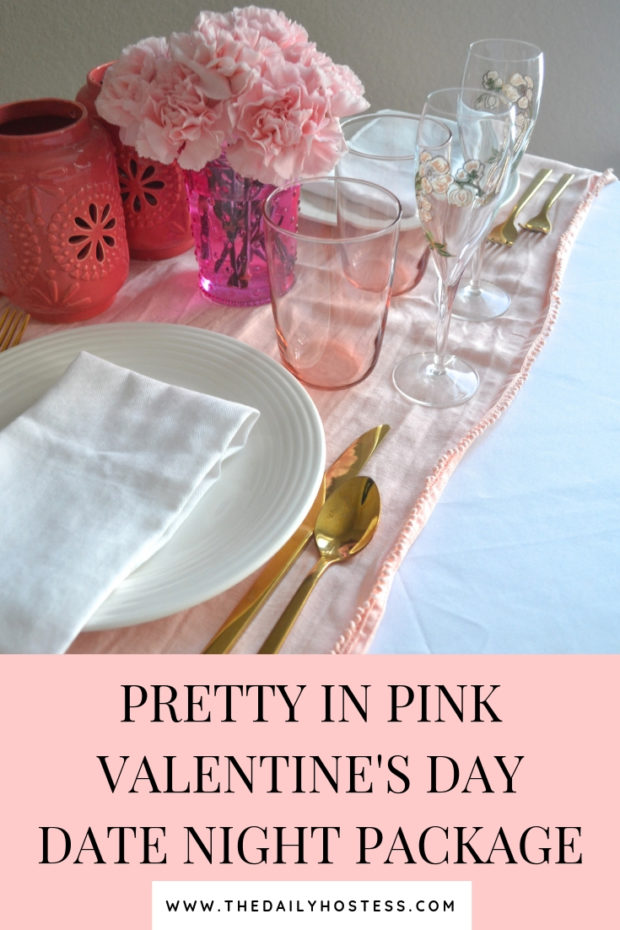 Enjoy the sweetness of a pink tablescape for Valentine's Day.
White and pink table linens with pink glassware are accented by a full pink floral centerpiece*.
*flowers will differ at the time of purchase
Rich Red Valentine's Day Date Night Package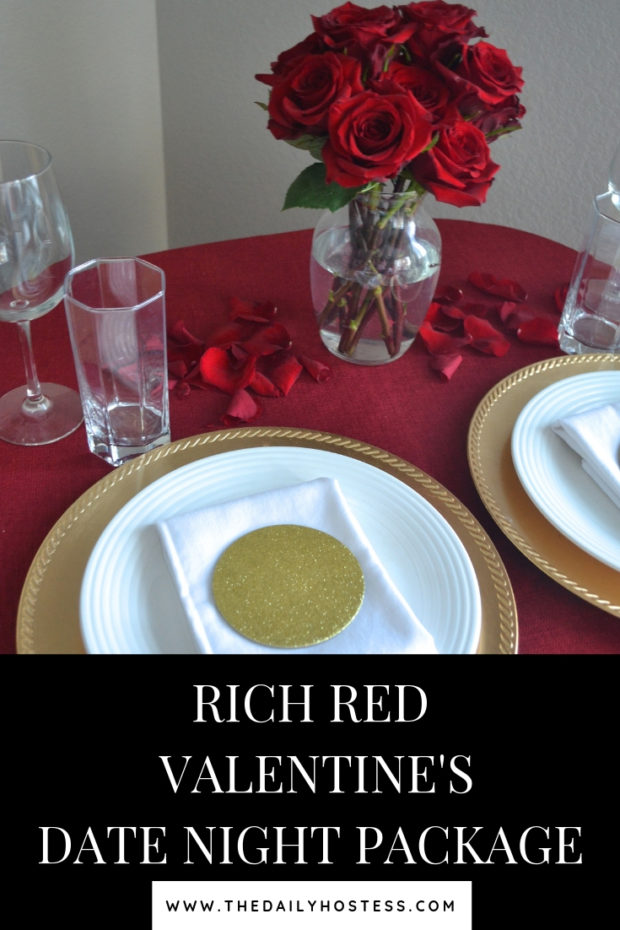 Classic Valentine's Day colors, bring the passion and romance with this red themed date night package.
Get all the red table linens with pops of gold in the centerpieces.  And you can never go wrong with a dozen red roses.
Gold and Glam Valentine's Day Date Night Package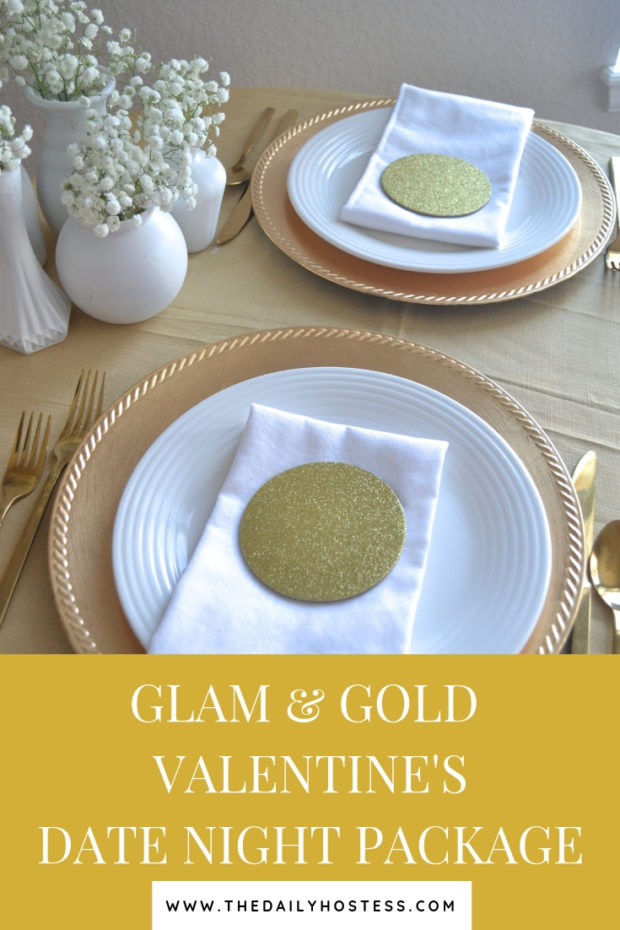 Surprise your spouse with a glam night at home dripping in gold.  Gold table linens, gold place settings, gold candles, and even gold floral* vases.
*floral arrangements may be different at time of purchase.
Kate Spade Inspired Valentine's Day Date Night Package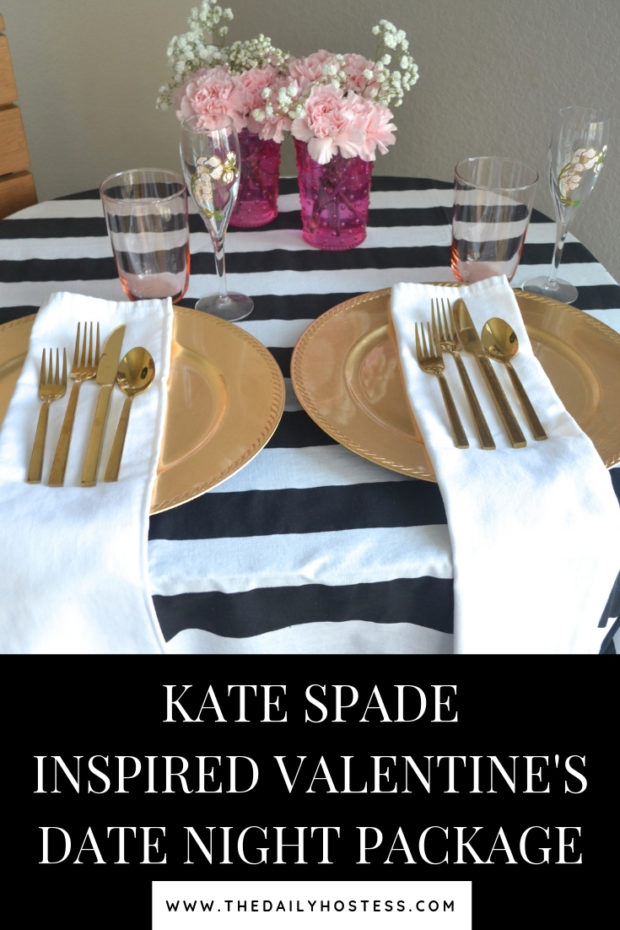 Anyone would love this modern pink, gold, black and white color scheme.  A classic color combo for Kate Spade turned into a beautiful tablescape to celebrate your significant other.
Black and white striped table linens with pops of gold and hot pink are included in this package.
All packages are under $115 and include all of the table linens, decor, flowers, dinner and chocolate covered strawberries.  All you need to do is add the table!
I'll provide you with a diagram showing you how to set up your table.  Super stress free.
Celebrate Valentine's Day in style with any of these packages by emailing thedailyhostess@gmail.com or calling 573-864-1739.