So, news flash!  It's late October, and I know it may seem early, but Christmas will be here before you even blink!  So today I'm helping you get started shopping early.  Hopefully you can knock out a lot of people on your list and be done before Thanksgiving!  Talk about having a stress free holiday season, this is the way to do it!
Since I've started Rodan and Fields, I have a whole new respect for small businesses, direct sales, and especially women entrepreneurs.  I'm sharing four other women who are working hard to support their families and are passing on some great products and specials to you just in time for the holidays.
I recently met my new friend Becky and wanted to share her LuLaRoe business with you.  I've also become a huge fan of LuLaRoe, and all of their super comfy, super cute, clothes.  If you're unfamiliar with LuLaRoe, it's a fashion company that sells through fashion consultants.  Becky carries women's skirts, tops, dresses and leggings in sizes 0-26 and everything is unique. LuLaRoe only makes 2500 items in each print which makes each print rare. They're best known for their buttery soft leggings but all the styles are comfortable and flattering on women of all body types.
I can personally attest that the leggings are so soft, they feel like a second skin basically.  So comfy!  Becky's inventory is always changing so be sure to check her Facebook page for her current inventory.  If you're interested, head to her Facebook page on Thursday's for pop-up shops and to see all the latest and greatest, including Halloween leggings!  She's also offering a "Cyber Monday" sale where you can get some great gifts for yourself, your kids, and even the men in your life at a discount!
To purchase: contact Becky at lulabecky@gmail.com or her Facebook page here.
One of my forever friends is always wearing something meaningful, her jewelry!!  If you haven't heard of Origami Owl, it's unique, personalized, and versatile jewelry.
Origami Owl jewelry isn't just any old jewelry line. It is completely customizable and interchangeable. It tells the story of you, who you are and what your passions are in life. Create your own custom line of jewelry with items you curate based on your personality. Change the pieces out daily to create a custom NEW look, each and every day. You can even tell the story of a loved one. What a better way to celebrate a special someone in your life then with a beautiful piece of jewelry designed with only them in mind!
The Origami Owl Living Locket is a forever evolving piece of jewelry.  It can and will grow with you.  Choose the charms that represent your passions, memories, dreams and the things you love.  Capture them all in your Living Locket.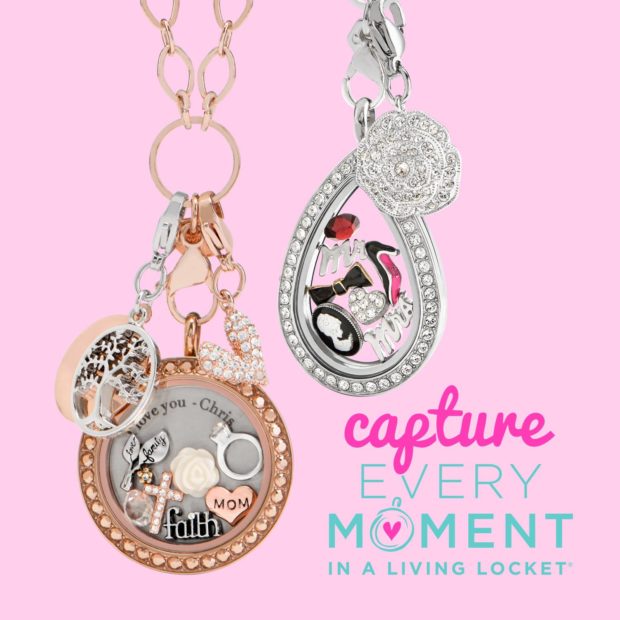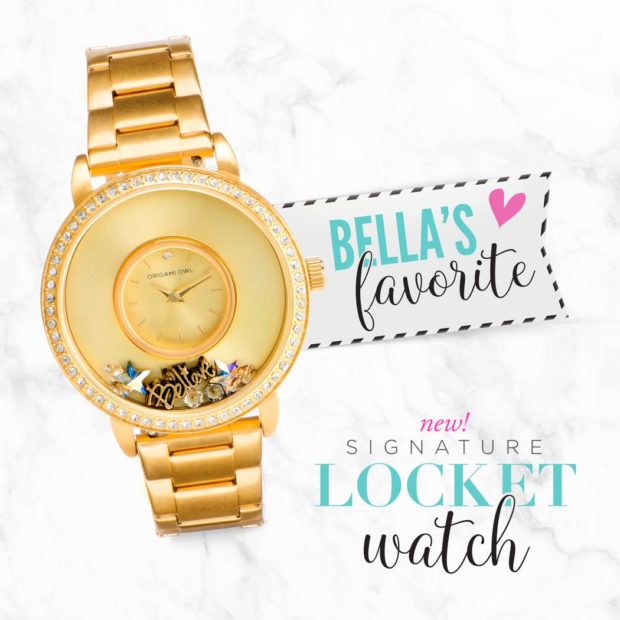 Contact Tiffany and shop her website
here
for your locket or for everyone else on your shopping list.  A personalized gift is just so thoughtful.
If you saw this post of mine, then you've already heard about Premiere Designs and how to host a jewelry party with them.  It was such a fun night!  Their new holiday line just came out and you can view the whole thing here.  I just love how versatile all of their jewelry is.  So many of the pieces can be worn in different ways, flipped around, or changed out to create more than one look.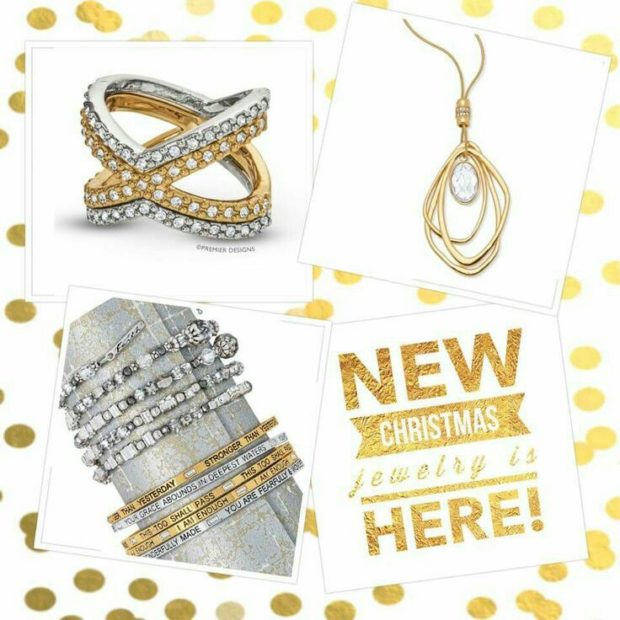 You can earn $200 in free jewelry by hosting a party with Carrie this month.  So if you are local to the Denver area, give her a call  (
269-832-6454)
to schedule your party and earn your jewelry!  It's so much more fun to see the jewelry in person.
Another really great jewelry option for your gift list is Stella & Dot.  I went to one of these parties YEARS ago and still love all of their jewelry and accessories.  I typically check their sales for really good deals too!
The Stella & Dot Holiday Collection just launched and there is gorgeous new jewelry and accessories for every day wear or special occasions.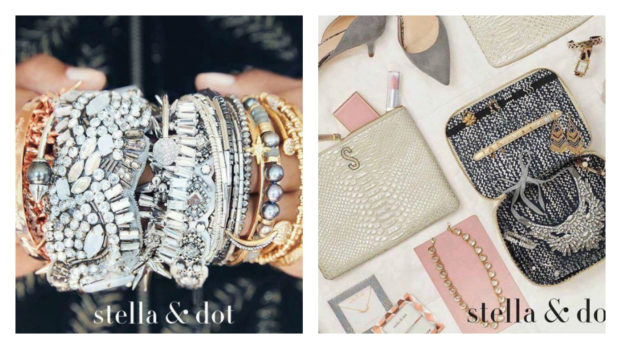 The wonderful stylist that I met at that party years ago is Elisa, and she's offering some really good deals to you all.  She helps women update their look with jewelry and accessories so they look good and feel good when they walk out the door.  She also helps small businesses that are looking to reward employees or VIP customers with special gifts by providing a gifting service.  This gifting service is for those who need help remembering important dates and having a gift when they need it.
Elisa is offering a special "Treats No Tricks" promo good until
October 31st
.   All the details are below.  What a way to get free jewelry!!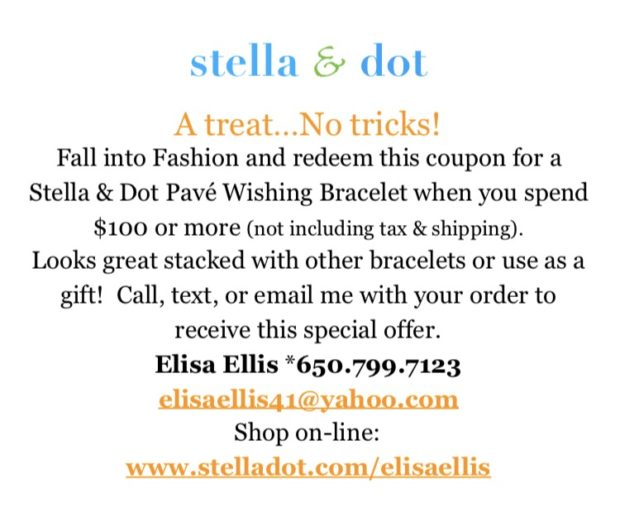 You can shop Elisa's Stella & Dot jewelry
here
.  Or follow her on Instagram
@stylishcurvygirl
or Facebook
here
.  Contact Elisa for the Treats, No Tricks special by calling or texting her using the information above.
Last, but not least, is my other little job.  As a Rodan and Fields Executive Consultant, I help anyone with skin get the best skin of their life.  This life changing skincare is clinically tested and does what it's designed to do.  Everything from fighting acne, getting rid of wrinkles and fine lines, reversing the damage of sun exposure, to soothing sensitive irritated skin. Plus so much more!
Our new, super exciting, life changing product is Lash Boost!  It's a nightly conditioning serum to help give you longer, fuller, and darker looking lashes that are 100% yours!  Who doesn't want longer looking lashes?  I know I do!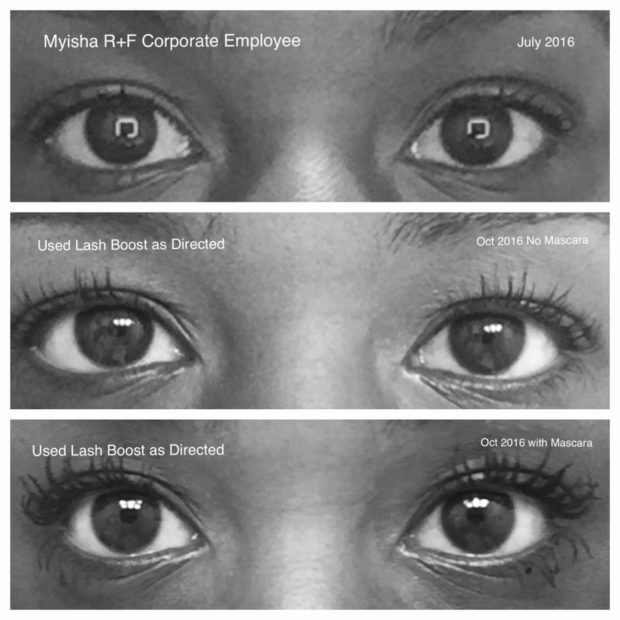 Rodan and Fields is offering a special Holiday Bundle where you can get the Lash Boost serum, a mini eye cream (our best selling product), and a cute cosmetic bag.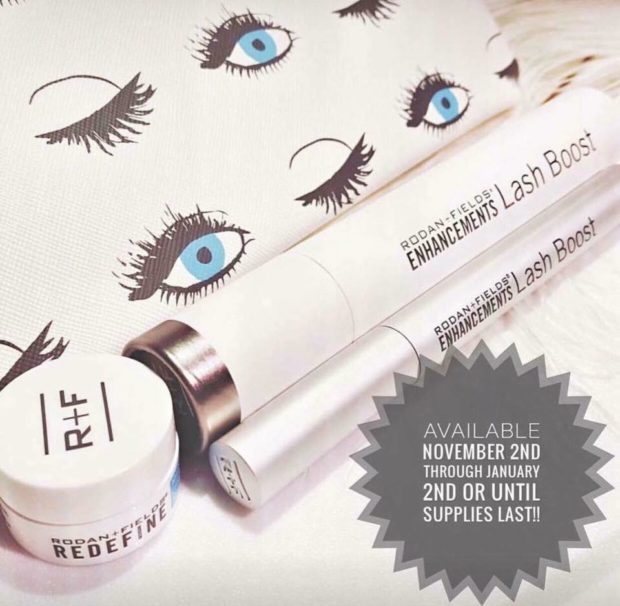 This offer starts on November 2nd, but I'm taking pre-orders now! Plus, if you become a Preferred Customer before November 2nd by purchasing a regimen, you'll get a free gift with purchase!  So many free gifts!!
If you want to get some Lash Boost for yourself or anyone else on your shopping list (moms, sisters, girlfriends) contact me here: amylong@myrandf.com.  Or sign up to become a Preferred Customer here.
I hope these amazing women entrepreneurs have motivated you to start, and hopefully finish, your holiday shopping.  There is literally something for everyone here and most things are so much more personal than your typical holiday gifts.  Try shopping small this holiday season by starting right here and supporting these women and their businesses.
Happy shopping!