We're a week away from my favorite holiday, Thanksgiving!  Is anyone else as excited as I am?  I know some people get really stressed around the holidays though.  They can be stressful because of family, all the cooking, and gift buying, or expectations for everything to go right.  Well I'm here with a great list of ways to host a stress free Thanksgiving this year.
If it's your first time ever hosting Thanksgiving, you're in the right place to calm those nerves!  I've been doing it for almost ten years and while it does get easier with practice, you can have a great holiday even as a novice.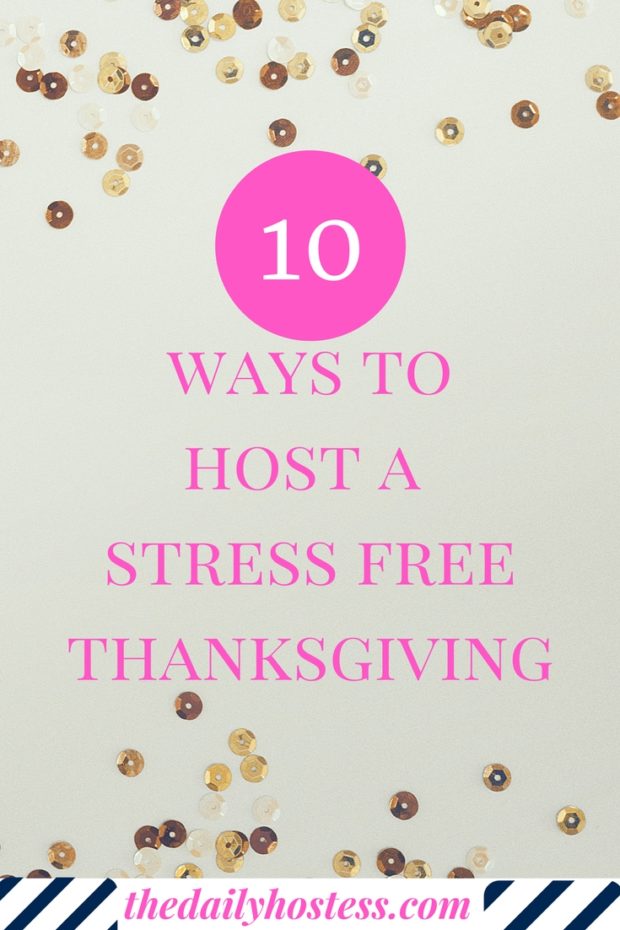 1. Menu plan
If you've never hosted Thanksgiving before, or aren't a very seasoned cook, the menu can be daunting.  Be sure to plan out your menu at least a week in advance.  Go over recipes, make a list of ingredients you'll need and be sure to plan when you'll need to start thawing the turkey.  Making a list is key!  You can get more menu planning tips here, including a great shopping list.
2. Set up oven rotations
Again with all the cooking, planning out what goes in the oven, when, and for how long can be consuming.  If you are like me and only have one oven, it's a juggle all day!  Figure out how long everything needs to cook and at what temperature then you can plan when you'll bake your dishes and in what order.  Try this oven rotation printable to help.  I'm also planning on making another one for you next week, just in time to start planning your oven rotation.
3. Celebrate with a potluck
If all the cooking and planning is just too stressful, then celebrate Thanksgiving with a pot luck!  Make the dish you're most comfortable with, then ask everyone to bring everything else.  Pot lucks work best when there is a theme or assigned dishes for everyone to bring.  Be sure to let your guests know how many people (adults and kids) will be eating so there are enough portions for everyone.
4. Have a separate kids activity area/table
Hosting a variety of people can cause stress too.  If there are a lot of kids attending your Thanksgiving, give them their own space.  Setting a kids table is a great way to get them all in the same area.  Having activities to keep them busy when things are still cooking or after they get done eating will help keep them entertained.  Try having a small craft for them, or some special toys, a group game is a great way to keep them occupied.  Click here for lots of ways to entertain kids at a party.
5. Multiple TV's
My husband and I always jokingly argue on Thanksgiving about who gets the TV.  I love to watch the Thanksgiving day parade, and he loves to watch football.  If you have multiple TVs there won't be any arguing!
6. Exercise!
If you're feeling extra stressed, exercise is a great way to reduce it.  Especially on a day where you'll be consuming extra calories, getting a little exercise in benefits you in multiple ways.  There are so many ways to get in a workout when the gym is closed.  Try to find a Thanksgiving Day 5K, organize a football game, or do a circuit workout with the whole family.
7. Plan the seating chart
If family drama is typical on Thanksgiving, plan for it.  Be sure to sit people next to others that won't start a family argument.  Telling people where to sit reduces the possibility of an argument breaking out and your stress level.
8. Limit alcohol
Sometimes the family drama can be fueled by a few too many glasses of wine, so be sure to limit how much is served.   Buy only enough alcohol for everyone to get a limited quantity.  Another way to limit alcohol is to make a signature drink so you can be sure how much alcohol is in it.  Cut back on how much liquor is in the drink and no one will even know!
9. Stick to a budget
Once you start planning your menu and preparing to serve a lot of people it can be overwhelming to see how much everything costs.  If spending the money is stressing you out, be sure to set a budget you're comfortable with and stick to it.  If there are things that are out of your budget see if you can ask someone else to contribute financially, or get creative with things around the house to diy if necessary.
10. Be realistic
In the end, reduce your holiday stress by being realistic with yourself.  It's ok if everything isn't perfect, in fact, it probably won't be.  And that's ok.  Mishaps make for great memories!  As long as you're with people you want to celebrate with and you can find something to be happy about, then the day is a success.
I hope you have a very Happy Thanksgiving, aren't too stressed, and get to eat lots of turkey and gravy.  Be sure to come back next week for your printable oven rotation sheet.  Happy planning, be sure to use some of the links above to get a head start on your Thanksgiving plans!