It's been a long time since I've done a Tablescape Tuesday.  After the holidays I really enjoy just cleaning off every surface and letting my furniture breath.  Plus we were gearing up to move so my tables have been pretty bare.  In the Tablescape Tuesday series, I show you options to dress up your tables. It could be your dining room table, coffee table, gift table, or buffet table. I think putting a little extra effort into how a table looks and is designed can make your guests', and your experience so much better.  Today is all about a nautical themed console table.
In our new house there was kind of a weird wall next to our couch that needed a little something on it and since our couch is now up against a wall, the console table we previously had behind it didn't work anymore.  Low and behold, the console table was the perfect size for the wall next to the couch!  Now we have a great little spot to put a drink, the remotes, and another place to decorate.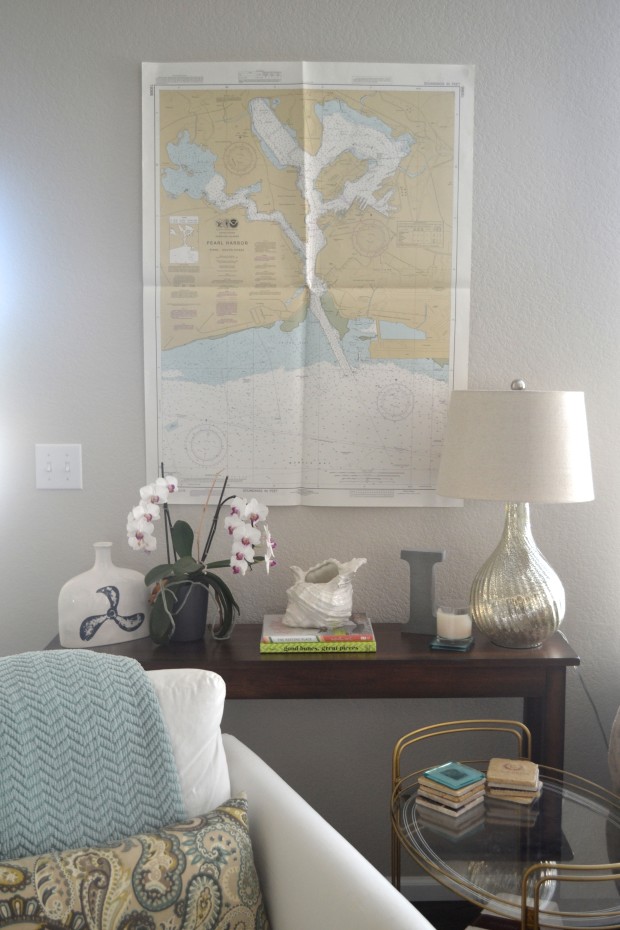 A few days after we moved into the new house we spent a good portion of the day just moving small side tables around the house to see where the best place was for them, and this spot turned out so cute.  I like for our house to have a bit of a nautical/coastal vibe (I blame it on the Navy) and we have these nautical charts of the home ports where we've been stationed, which fit that vibe perfectly.   This one is of Pearl Harbor and I still need to get it framed, but since it's so big I'm dreading how much that's going to cost.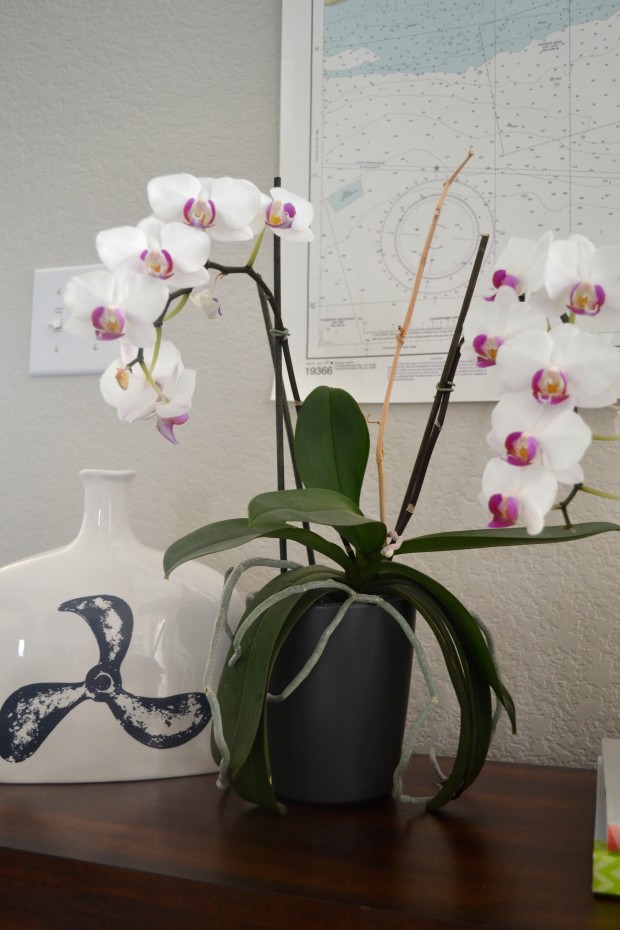 Again with the coastal vibe, there is a decorative vase with rudders.  I was also able to keep my orchid alive through our move so she is proudly displayed on the table as well.  I think it's so funny that I kill succulents (apparently an easy plant to keep alive), but orchids tend to thrive under my care.  I've had this one since Easter 2014!
I have a couple of great decorating books on the table as well.  Click the link above to purchase them on Amazon if you're interested (affiliate link used).  I especially love The Nesting Place because it's all about loving the home you're in and that it doesn't have to be perfect to be beautiful.  As a recovering perfectionist, it's perfect (get it?) for me.
Here is a great blog post on formulas to style a console table.  My general thoughts are that you need little vignettes, usually an odd number of pieces; something with height, like a lamp or plant; and I'm a stickler for symmetry, so I like things to be fairly symmetrical.  A console table like this gives you an opportunity to add some art above it as well.  Use one big piece, like my chart, or do a gallery wall of smaller frames.  If using a gallery wall, I'd tend to keep the items on the table a little more streamlined or the whole area might look a little too busy.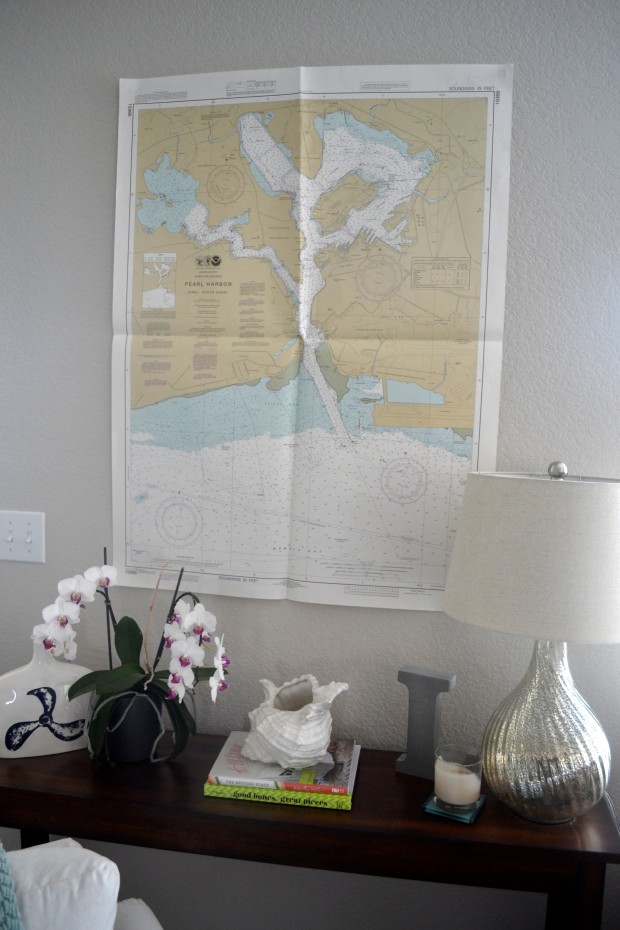 How was today's take on Tablescape Tuesday?  Do you have a spot in your home that you've found the perfect piece for?  I love when that happens, and it's usually because of trial and error, just moving things around until you find the best spot.  I've also linked this post to a great round up of home decor inspiration hosted by Laura at Decor to Adore, be sure to check out a ton of other home related posts every Thursday for Thoughts on Home on Thursday.
I hope your week is off to a great start, be sure to come back on Thursday to see the updates and progress that's been made in my One Room Challenge shared office and playroom.  I've found some great items to incorporate into the room!