In the Tablescape Tuesday series, I show you options to dress up your tables. It could be your dining room table, coffee table, gift table, or buffet table. I think putting a little extra effort into how a table looks and is designed can make your guests' experience so much better. Hopefully every Tuesday you'll be inspired by simple ways to make your tables beautiful.
For this week's installment, I'll be talking about my daughter's first birthday food and favors table. There wasn't a specific theme to her party but I knew that I wanted it to have a gold, pink, and coral color scheme with some crowns thrown in for good measure.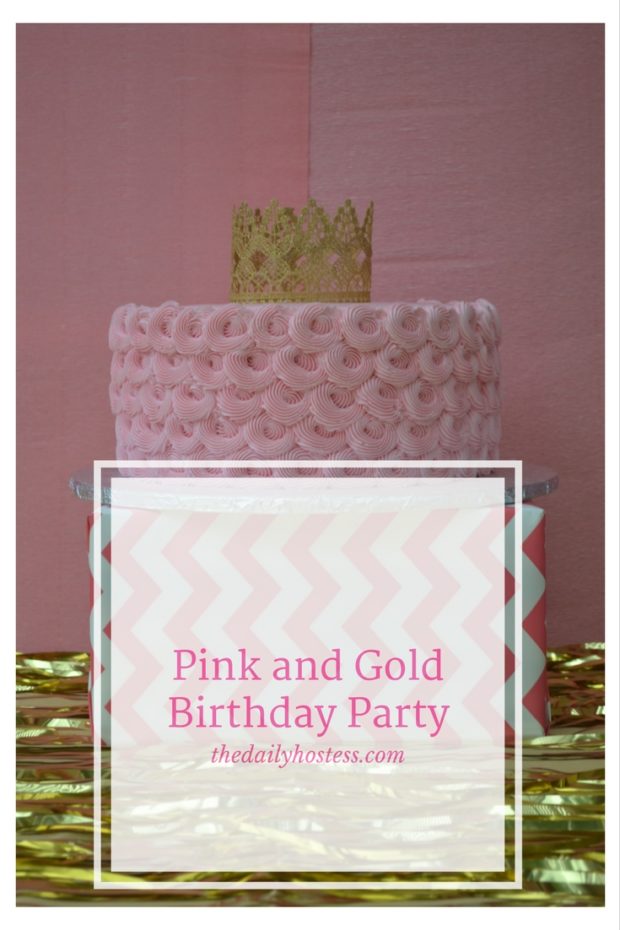 There's also a bonus at the end of the post!  I'm over at my friend Tiffany's facebook blog The Club Mom talking fun Tuesday tips involving a baby item and champagne glasses.  Hmmmmm, wonder what it could be?!  Be sure to check out her blog and like her page for awesome funnies, fails and super deals! Follow Tiffany's family's obsession with shopping club warehouses for products and deals they create a need for!  Plus, Tiffany is so funny so you'll definitely get a giggle anytime you read one of her posts.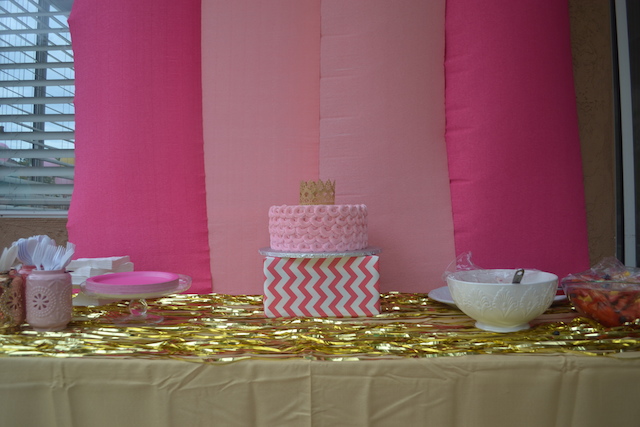 The food and cake table area resembled the theme the most so I made a large backdrop to define that area as the focal point.
For the base of the food and cake table scape I used a gold colored cloth tablecloth from Party City. They have these great tablecloths that are a really good quality, they are pretty much the same quality as renting from a party rental company, and you get to keep them afterwards. I just wish they were long enough to go all the way to the floor, but I guess you can't have your cake and eat it to #seewhatididthere. To ump the gold sequined factor I layered a gold door way curtain on top of the table cloth.
To make the backdrop I bought really inexpensive crepe paper streamers in coordinating colors from Paper Mart online. I just taped them to the top of the pergola behind the food table.   The wide crepe paper streamers are so versatile! You could make really awesome fringed garlands with this tutorial from Oh Happy Day.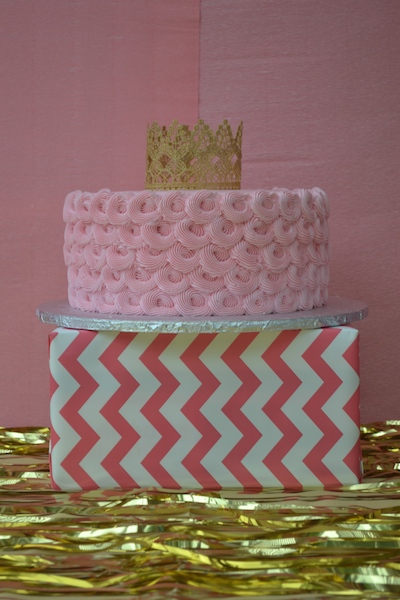 On the table, I made sure to use different levels to display things like plates, napkins, and the cake. To add some height I just wrapped some empty boxes with color coordinating wrapping paper. I set plates and napkins on different height cake stands, and put silver ware in color coordinating lanterns I found at Target's dollar spot. I love the dollar spot, you can find some awesome party décor there that's super cheap.
There are so many ways to add height to a table; empty boxes, stacked books, tiered serving trays, or crates. Get creative and look around your house for things you never would have thought could work for a party, but I bet they will.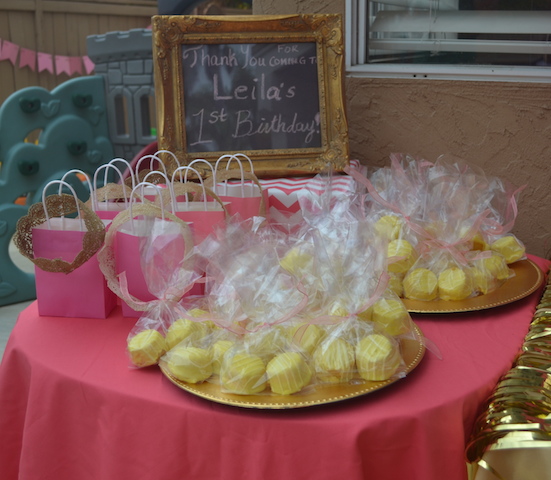 For the favor table I used some leftover coral colored fabric I had on hand that I had previously used for my daughter's crib skirt. Then I put the yummy mini lemon cake favors on some gold chargers that I got at Wal-Mart forever ago to corral them and wrapped them up in some cellophane bags with pink ribbon. I also used a gold picture frame to add a sign to the table welcoming guests and reminding them to take their favors with them. To go along with the crown theme, I made some lace crowns using this tutorial from girl. Inspired. It was kind of a long process to get the lace to stiffen, but they turned out so cute, and our kiddie guests loved them!
And I couldn't resist showing you all a picture of the birthday girl loving her birthday cake!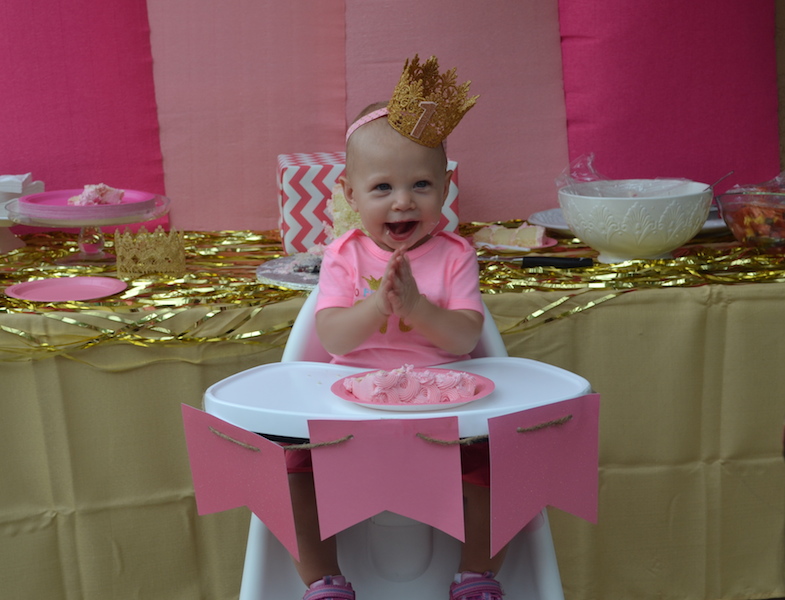 What do you think of the gold and pink tablescapes? How do you add height to your tablescapes?
Don't forget to click here to check out a fun tip using a baby item and champagne glasses over on my friend Tiffany's facebook page.  It's sure to help you clean up from your next celebration!