It's that time of year again!  Thanksgiving and ALLLLLLLL the cooking.
Thanksgiving is my favorite holiday.  I love all the cooking and gathering people around the table to celebrate together.  That's the main reason I love hosting so much.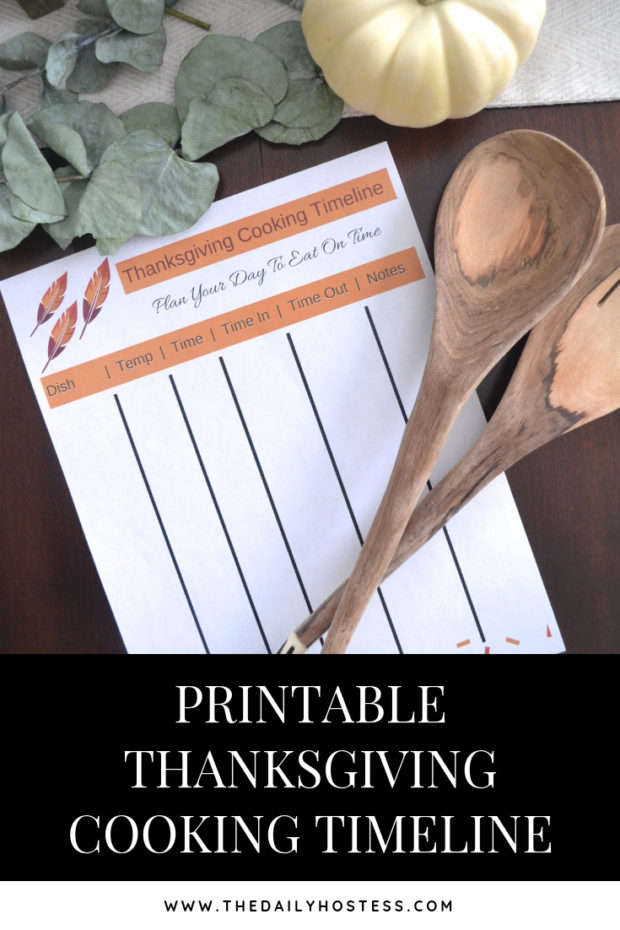 We typically host at our house, but haven't the last couple of years because other friends' have, so I'm excited to do it again this year.
Surprisingly, I haven't put a ton of thought into the day yet, but I have my menu planned out.  I never do Thanksgiving without this sweet potato casserole and this stuffing.
Here's the thing though with cooking so much all in one day.  Your oven is basically on all day.  Plus, it's a delicate dance to figure out when you need to put certain things in the oven, at what temperature they need to be cooked, and how long they need to cook.
So every year, I come up with a fun and super handy Thanksgiving cooking timeline printable.   You can see all the past ones here, here, and here.
And here is this year's cooking timeline!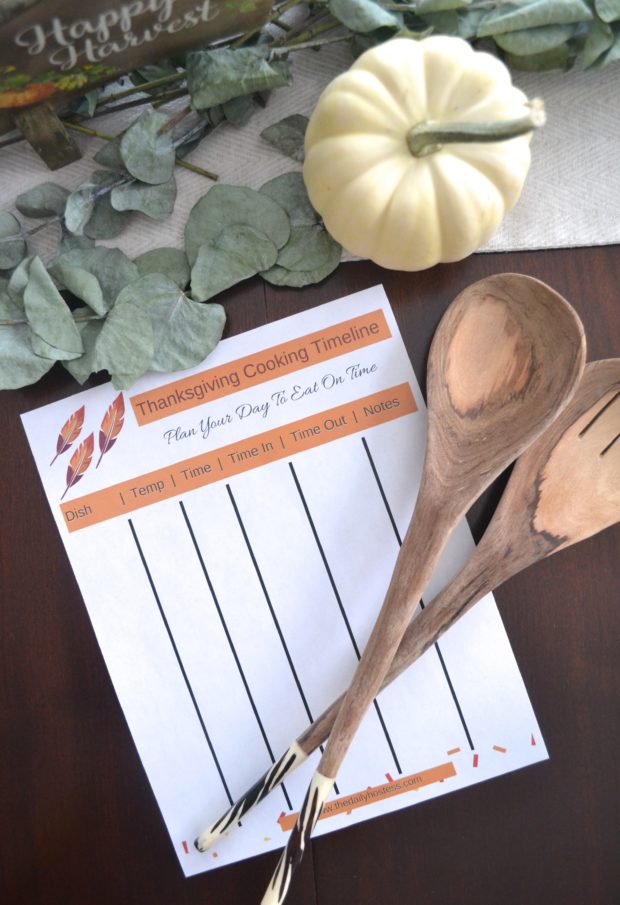 I don't have two ovens, but the one I do have does some heavy lifting on Thanksgiving.  However, everything still has to be ready at the same time.  So, I have to write it all down and figure out what cooking order makes the most sense.
See, delicate dance!
Thanksgiving Oven Rotation Cooking Timeline Printable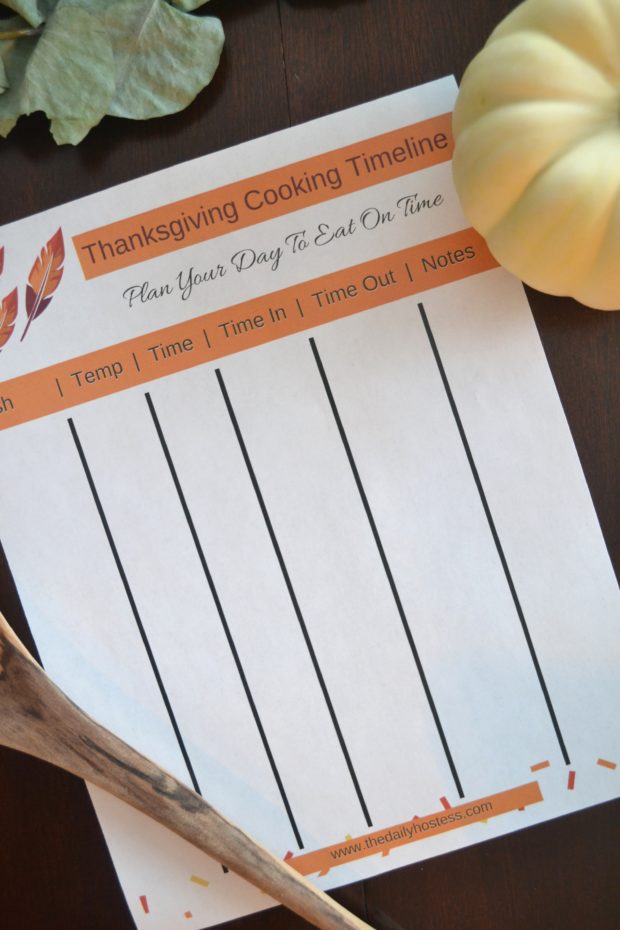 Here's how I use my printable to make sure everything gets cooked and on the table at the same time.
First, I double check all of my recipes to see how long everything needs to be cooked and at what temperature.
I write that all down, then figure out in what order things should be cooked.  I use my tips below to help me figure that out.
Next, I start working backward from the time that I plan on eating and write in the time that each dish should go into the oven and come out of the oven.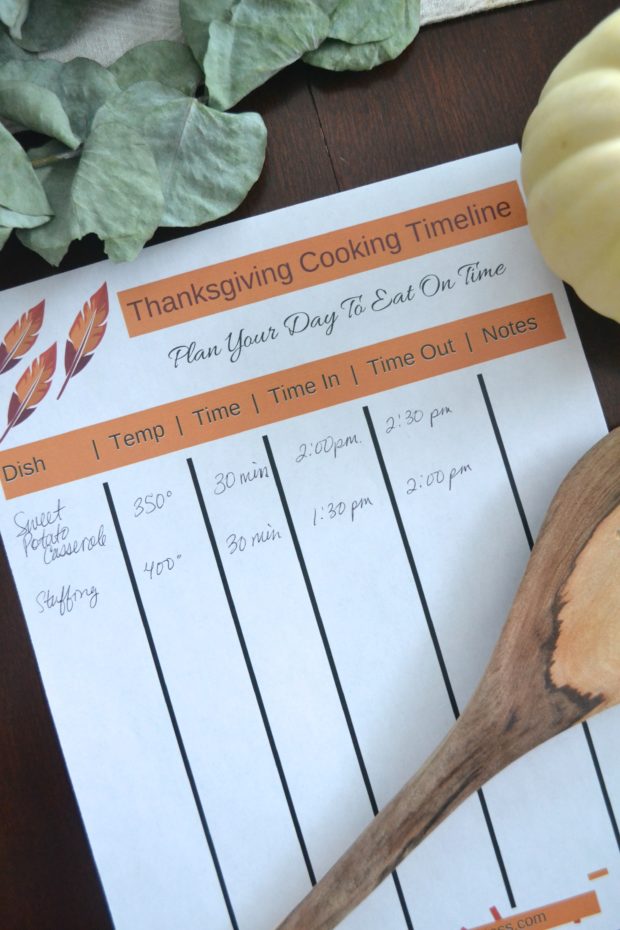 I typically do this a few days before Thanksgiving so that I'm prepared the day of.  More importantly it lets me figure out if there are any parts of the dishes that I can make ahead of time.
Thanksgiving Oven Rotation Tips
To make cooking everything and having it all done around the same time with just one oven easier try some of these tips below.
Cook the dish with the highest temperature first, so all day you're just turning the oven down and not wasting time waiting for the oven to preheat.
Bake as much the day before and just reheat on Thanksgiving.
When the turkey is out and resting, use that time to warm everything back up that you cooked the day before or earlier in the day.
Reduce the number of times you're opening and closing the oven so you don't lose heat.  Just turn on the oven light and check things through the window.
Cook savory things together and sweet things separately so flavors and aromas don't mix.
Thanksgiving Cooking Timeline Printable
Be sure to click here or on the picture below to download your own cooking timeline printable.
What I love about this is that if you have it out in your kitchen, it's pretty enough for your guests to see.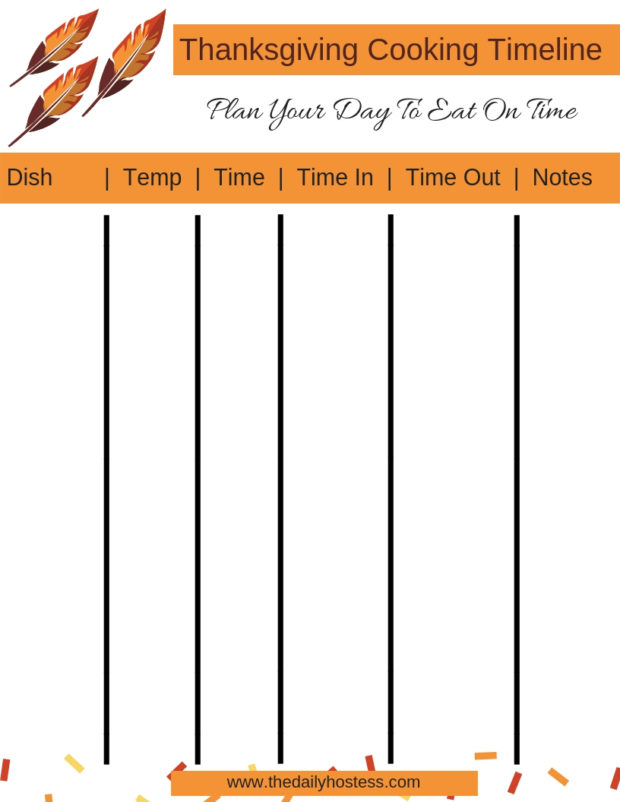 Hosting such a big holiday focused on food can be stressful.  But with a little planning and this printable I hope it can help relieve some stress of the day.