Every year I go on and on about how I don't have double ovens, and then every year I do this post because it's so helpful.  If you only have one oven like me, then you need this oven rotation cooking timeline printable.  It will save your life!  One of these days I'll get double ovens, even if I do only use them on Thanksgiving, ha!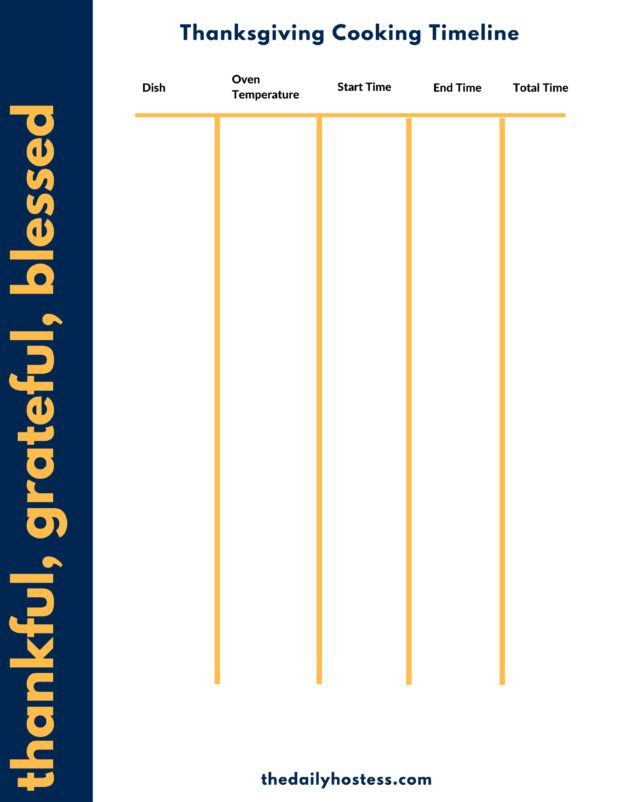 It's so helpful because it allows you to plan out when and how you're going to put things in the oven to make sure everything gets cooked and is still hot when it's time to eat.  Just click here or on the picture above to download and print out your free cooking timeline printable.
You can see the last two years printables here and here. Looking back I think my design skills have improved a ton too!
Tips for Cooking Thanksgiving Dinner
Here are a few of my top tips when it comes to cooking Thanksgiving dinner:
Always cook things with the highest temperature first, so there is less time for the oven to cool down rather than heat up
Be sure to thaw your turkey WELL in advance
Brine your turkey so you can cook everything else while it rests and it won't get dried out (brine recipe I used last year)
Do as much prep work as possible in advance (chop, cut, mix things the day before)
Bake pies a day in advance, they can sit for 24 hours and still be delicious
My favorite Thanksgiving recipes here
Check out last week's post about a stress free Thanksgiving
What are your top tips for cooking Thanksgiving dinner?  Is there a favorite dish you must have? Please share in the comments below, I love seeing what you have to say!
I sincerely hope you have the happiest Thanksgiving surrounding a table full of delicious food that brings back memories and surrounded by those you love and those that love you!  I'll be taking a little blogging break this week to spend time with my family.  I hope you can do the same!