Well folks, Thanksgiving is just around the corner!  Who is excited?  I love the holiday because it's all about the food and just being together.  It's such a cozy holiday with friends and family gathered around the table.  No party decor necessary.  But, I can't let a holiday or get together go by without some sort of decor. Enter an inexpensive bunch of eucalyptus to pull this tablescape together.
Thanksgiving is a great time to put all your effort into the tablescape.   You'll be spending a lot of time eating delicious food around the table anyway.  So today's Tablescape Tuesday is an inspiration for your Thanksgiving table.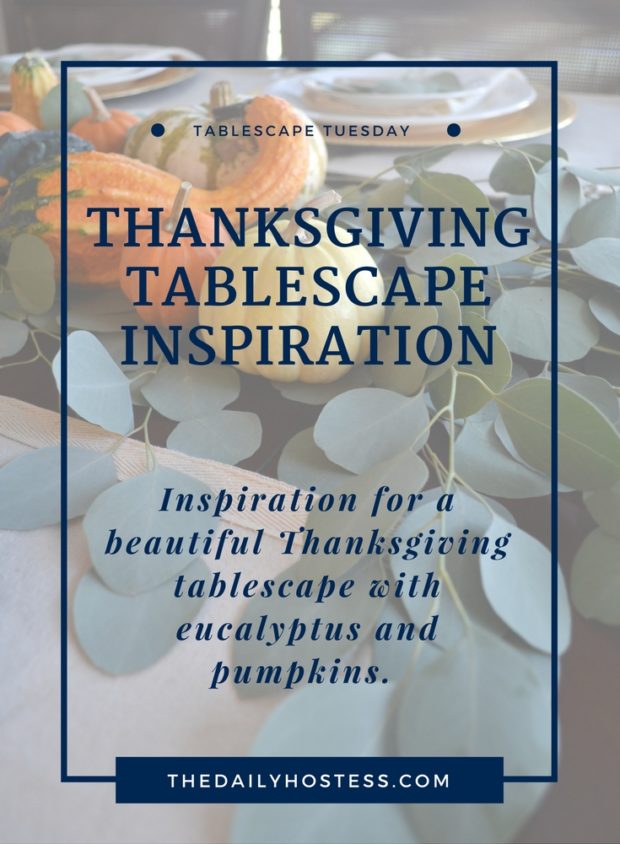 I made this centerpiece for less than $15 and I am completely in love.  I bought the pumpkins and gourds to use as part of my fall front porch several weeks ago.  The bag full was less than $5.  Thank goodness the random hot fall days didn't make them go bad.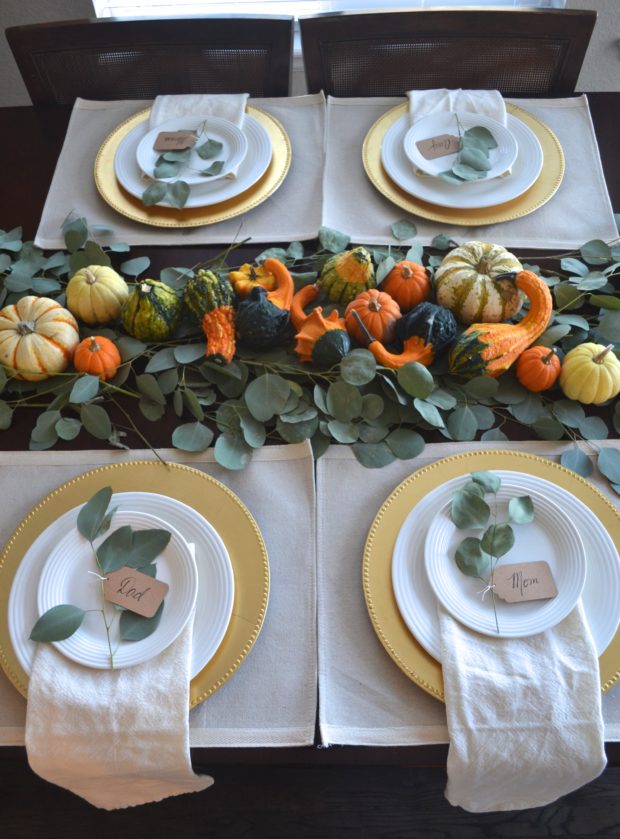 I later got the biggest bunch of eucalyptus from Costco.  You should have seen my face when I saw that they had eucalyptus.  I thought I had won the lottery, because a massive bunch was only $9.99.  Almost every bunch they had came home with me, but I restrained myself a bit.
I used what I needed from the bunch for an event I was planning, then had a lot left over.  So, right before we hopped on a plane for a quick trip to our hometown for my son's baptism, I put this tablescape together.  Nothing like a deadline to make you jump into action.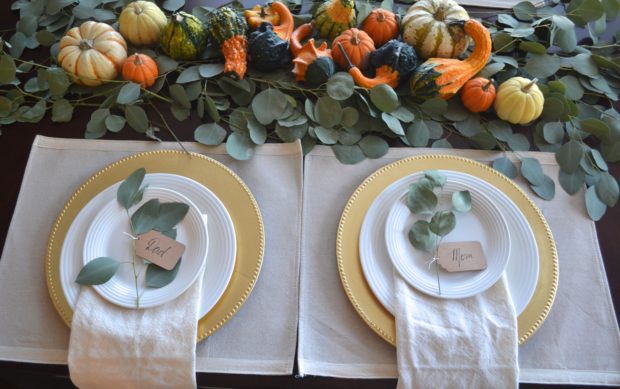 I laid the eucalyptus down the center of the table making sure all the stems were covered with leafy areas.  Then I placed the pumpkins and gourds randomly on top of the eucalyptus.  I wish you could have smelled the centerpiece.  So delightful and refreshing.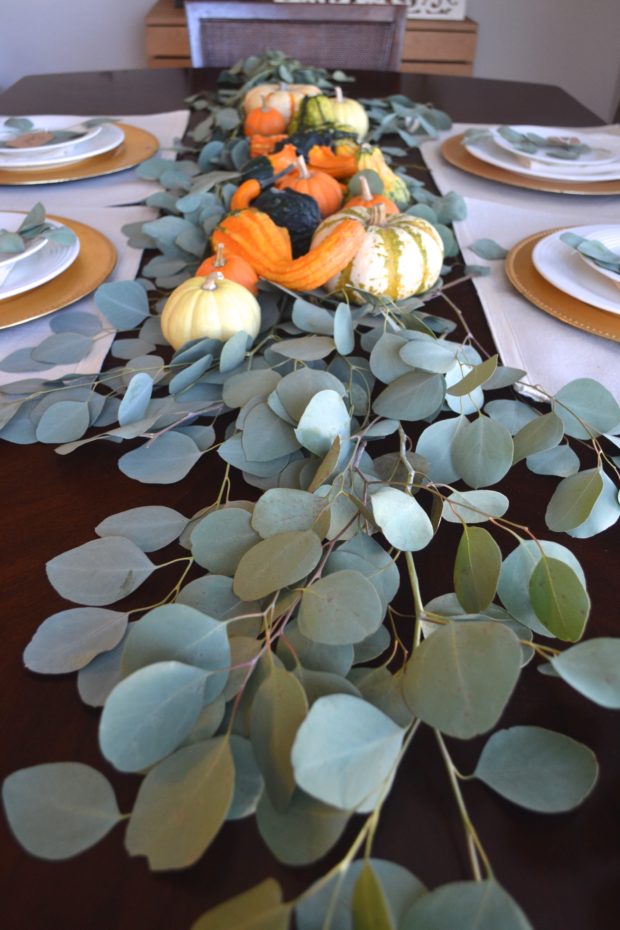 I like that this centerpiece is low so you can still converse with all of your guests.  There is also plenty of room around the eucalyptus to place your favorite Thanksgiving dishes.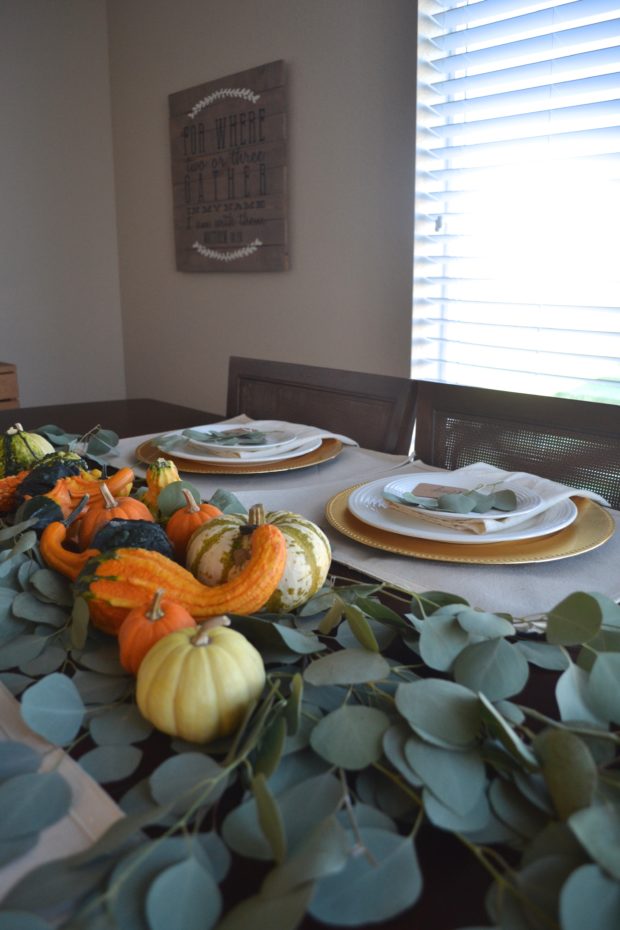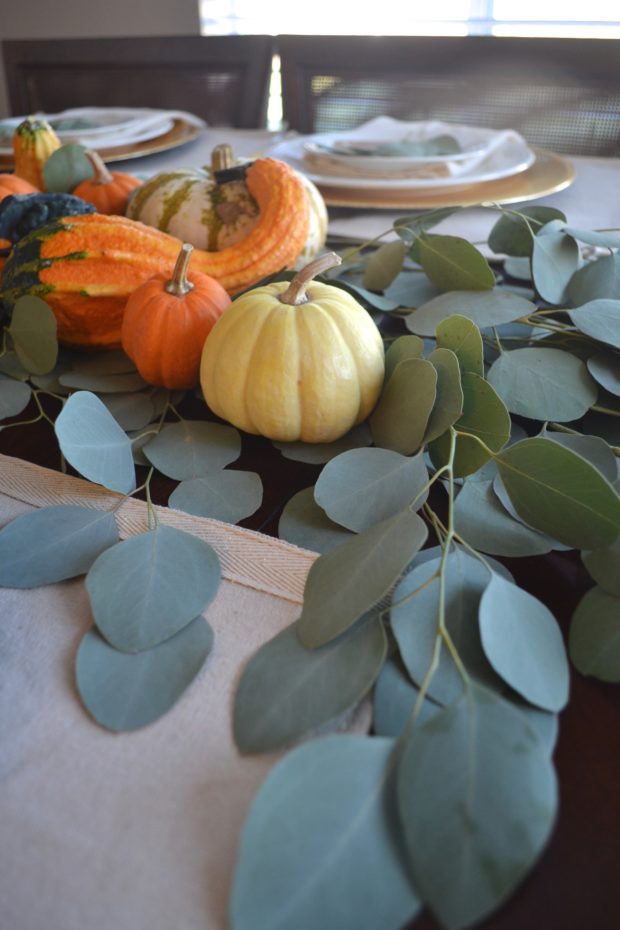 For the place settings, I used my trusty white everyday dishes and some neutral cloth napkins.  Although, looking back at the pictures it would have been a lot nicer had I ironed them first.  But you know, that whole plane to catch thing had me cutting corners.
I loved the touch of tying a name card onto a sprig of eucalyptus.  It ties into the centerpiece, but could also be a cute way to label leftovers for everyone.  Just tuck the stem with the name card into your wrapped up leftovers.  Last year I bought to go containers for Thanksgiving leftovers and they worked so much better than a bunch of paper plates wrapped in aluminum foil.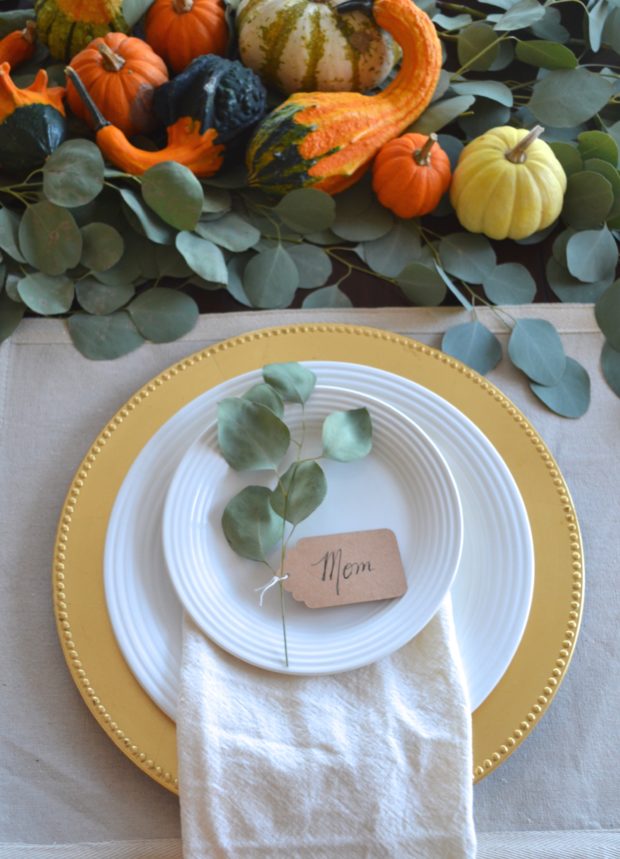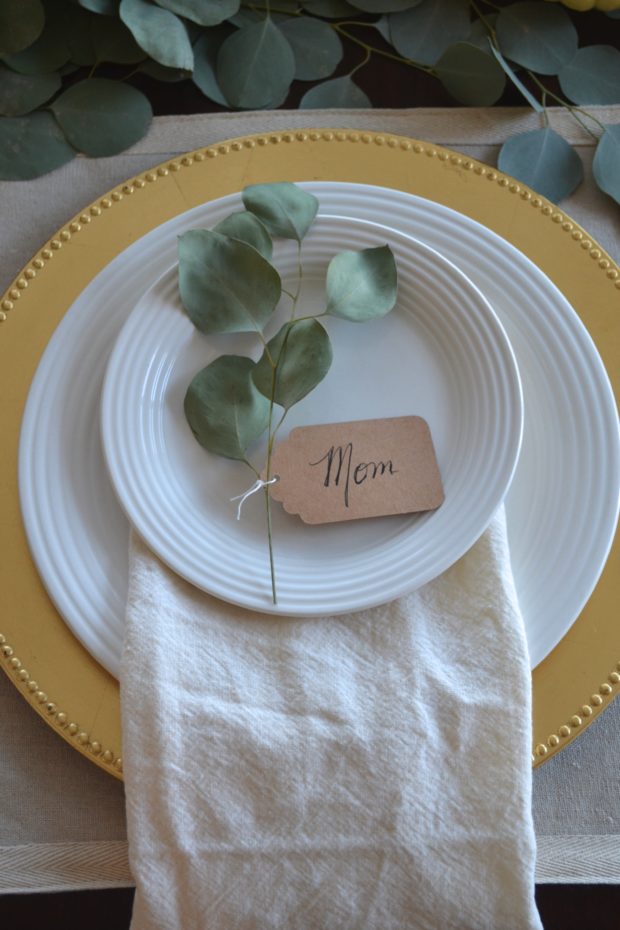 While my husband was loading up our luggage I was feverishly snapping pictures to share this tablescape with all of you.    Does this make you want to run out and buy all the eucalyptus like I do?  I'm probably going back to Costco to see if there is more before Thanksgiving.  My only complaint is that this tablescape doesn't last very long.  If the eucalyptus isn't in water it dries up pretty quickly.
I hope you have a great Tuesday, and be sure to keep your eye out for bargain eucalyptus!