We're 9 days away from Thanksgiving!!!  However, does hosting Thanksgiving stress you out? Well, no fear, I'm here to help you have a smooth, less stressful, and easy Thanksgiving. You can print out everything you need to plan your Thanksgiving festivities.
To get you started print out this great grocery and shopping list. It has categories for everything you will need to buy. I modeled my lists after the amazing paper creation that Emily from Jones Design Company does with her Paperworks subscription.  I use to be a subscriber and her grocery list lay out alone completely changed the way I grocery shop.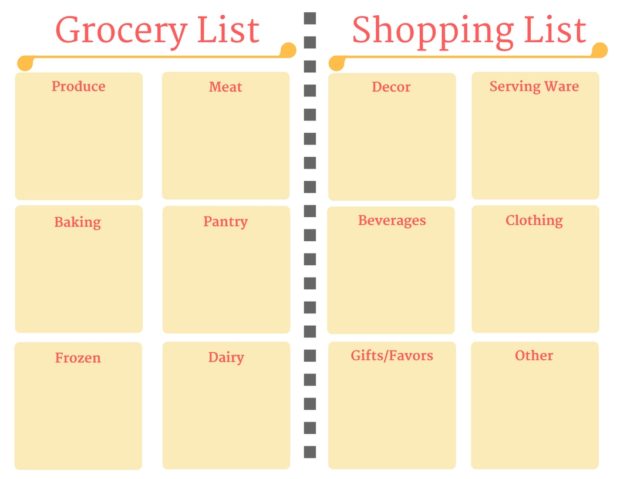 Categorizing your grocery list based on how the grocery store is designed totally reduces the amount of time you'll be in the store. If you find yourself forgetting things or having to go back and forth between aisles, try categorizing your grocery list. You'll be able to just hit one area of the store and get everything you need and won't have to go back for something you forgot. Meat all in one area, baking stuff all in one area, dairy, produce, frozen items all categorized, yippee, in and out of the store quickly!
The shopping list creates a space for all of those other things that you'll need for Thanksgiving. For a great Thanksgiving you'll have to have serving ware, drinks, table décor, and for certain people I know they like to plan out outfits for these kinds of things. If you're like that too, there's a place specifically for clothing. Use it as a list of what to buy, or a list of what you plan to wear.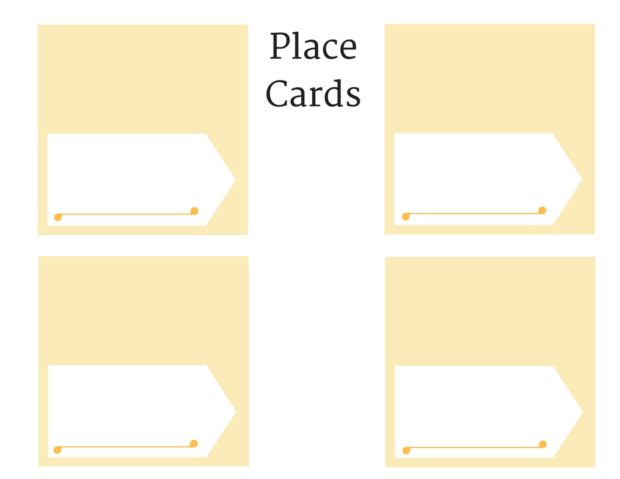 Next in this planning bundle is a set of place cards. What I love about these is that they can be used as name cards, place cards, or even as food labels. If Thanksgiving is more of a buffet style than a family dinner around the table, it's a great way to label all of the food. Use them to include which dishes contain common allergy ingredients like nuts, dairy, or eggs.
To make the place cards, just print them out on a thicker paper like card stock, cut out the orange card, write names in the blank area and fold in half to create a little tent. Easy as 1, 2, 3, 4!
Now, something revolutionary I've started doing in the past few years is using an oven/cooking rotation timeline on Thanksgiving. Our new house is great, and has pretty much everything we could ever want. However, every year when Thanksgiving rolls around, I dream of having double ovens. The dream hasn't come true yet, therefore I need this cooking timeline sheet.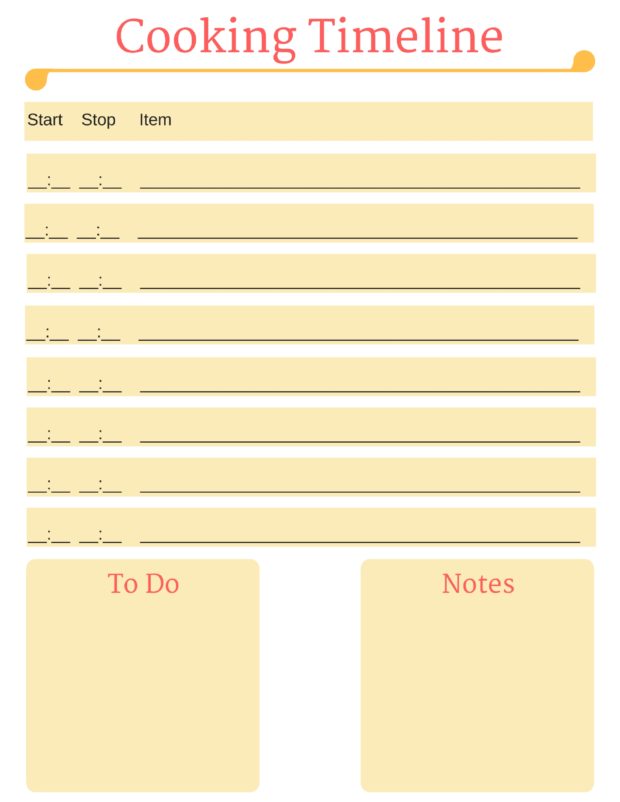 This printable allows you to plan out when each of your favorite Thanksgiving dishes needs to go in the oven and when it needs to come out. Also include what temperature the dish needs to cook at so you can plan your oven temperatures accordingly. I always recommend starting with the dish that requires the highest temperature.  Therefore you won't have to wait for your oven to heat up in between dishes. #gamechanger
Hopefully these fun, easy to use sheets help you make Thanksgiving a smashing success! All it takes is a little planning ahead of time to set you on the path to successful hosting.  Just click on the photos above of the printable to download, print, and start planning.
Happy Thanksgiving planning!!  Reminder…9 days people!