Thanks for all the love on my Easter tablescape earlier this week, friends.  I'm continuing the Easter theme today and giving you lots of different ways to make an Easter basket.
I've always wanted to get my kids these kinds of Easter baskets from Pottery Barn, but man are they expensive.  Maybe one day? Don't you just love how they can be personalized?  I also love that they have the quality to last for several more years of Easter egg hunts.
Maybe I should hop on them now (pun intended) so that my kids can get several uses out of them before they don't want to participate in Easter egg hunts anymore.  At what point do kids stop wanting to hunt for eggs anyway?
Well anyway, if you don't want to spend a small fortune on an Easter basket, try putting one of these ideas to use.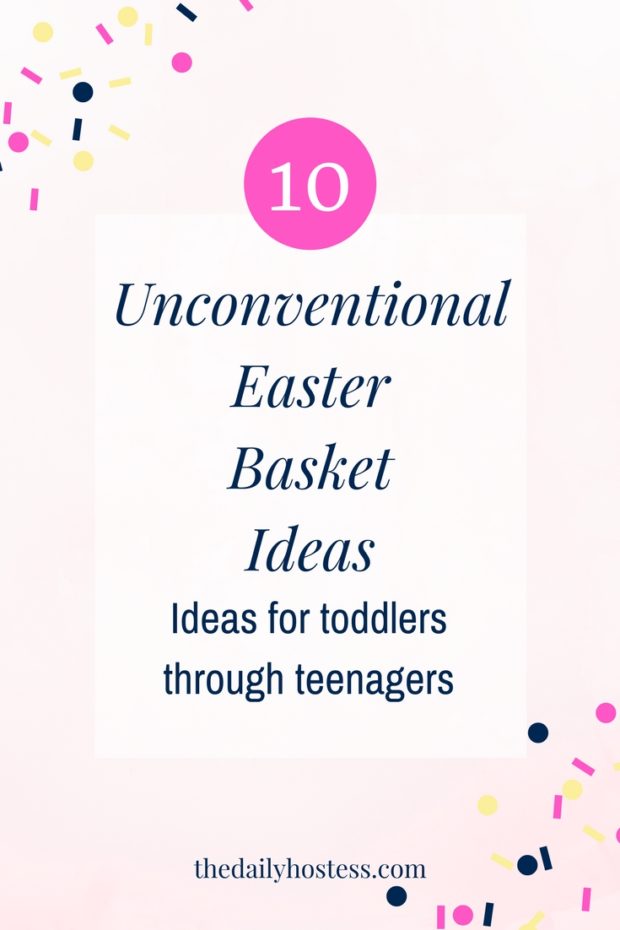 Unconventional Easter Basket Ideas
My thought process is that because you already have to buy things to fill the Easter basket, try incorporating the basket into what you already have to buy anyway.
Here are a few ideas I found from the list below and linked up for you in case you want to give any of these a try.
1. Bike Basket
If you're already buying a bike for an Easter gift, then just fill the bike basket with candy and other Easter treats. My neighbor is actually doing this and I thought it was genius!
2. Umbrella
What better way to get ready for Spring than with an umbrella?  Instead of stuffing the umbrella into a basket just open it up, turn it upside down, and fill with all the Easter goodies.
3. Shopping Cart
Does your toddler love to play store like mine?  I'm not sure if it indicates that we go to the store too much, but she loves to play it.
Instead of an Easter basket, just use a toddler play shopping cart.  It makes perfect sense to fill it up with play food, a cash register, and other store related toys.
4. Stroller
My little girl also loves to play babies, which always involves a stroller.  So if you don't already have a stroller, or you do, fill it up with baby toys for Easter.
5. Truck Bed
Now if you have a little boy, this may be more appropriate because I don't know any little boys that don't like trucks.  Get a larger toy truck for Easter and fill the bed of the truck with candy and other small toys.
6. Kiddie Pool
If you really want to use Easter as a chance to get ready for the summer, then get your kids a small kiddie pool and fill it up with everything you'd normally put in an Easter basket.  They'll get so much use out of the pool in the summer.
7. Back Pack
If your kids are a little older and in school, maybe it's time for a new back pack?  You have to buy the back pack anyway, so just use it to put your Easter stuff in.  Two gifts in one!
8. Hats
If you have a teenage boy, use a hat as his Easter basket.  He probably doesn't want a traditional Easter basket anyway.  So get him a hat with his favorite team logo and add a chocolate bunny inside.  You're never too old for a chocolate bunny!
9. Gardening Bucket
Spring is the time when people are getting outside more and getting the yard and garden ready for summer.  Involve your kids by getting them a gardening bucket with kid appropriate gardening tools for Easter.  You can always add plenty of candy to the bucket too.
10. Purse
I know as a teenage girl, I always wanted more purses and bags.  Now I'm relegated to diaper bags, womp womp.  But if you have a teenage girl using a purse to hold her Easter treats is a great basket alternative.
I hope something on this list gives you an idea for an unconventional Easter basket this year.  I'm sure your kids would love anything to get anything on this list!