Launching today!!!  Valentine's Day at home date night packages!
Do you typically go out to celebrate Valentine's Day?  Or do you usually stay in?
I'm firmly in the stay at home camp.  I'm not all about fighting the crowds trying to get a reservation, trying to find a baby sitter and dealing with prix fix menus.
So if you're like me I've got a great alternative for you today.
I was thinking about all of the table decor I have just sitting around.  You know, tablecloths, napkins, chargers, flatware, vases, etc.  And thought why don't I put it to use?
I have just the right amount to make four beautiful Valentine's Day tablescapes.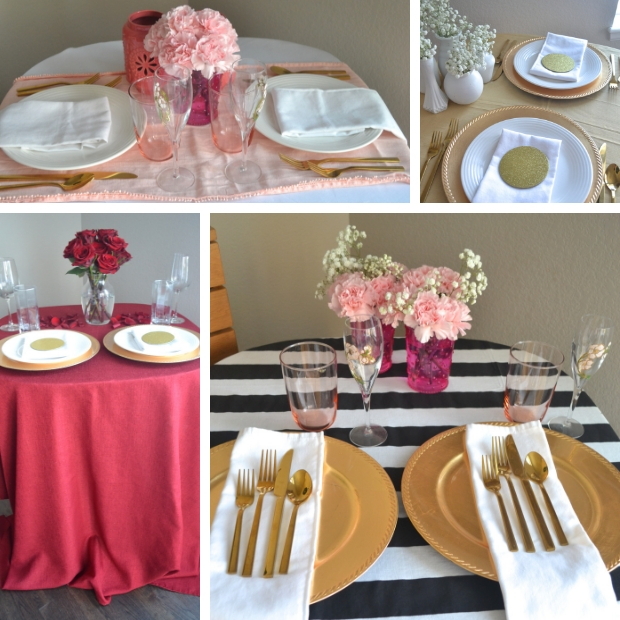 But they aren't for me!  They are for you!
If you're a local reader, then you have the chance to have a beautifully styled Valentine's Day dinner right at home.  I'll bring everything you need right to your door.
Where to get all the details
You can get all the details on these at home date night packages (pricing, what's included, etc.) by going to my Services page on my website.  Just click here to check it all out.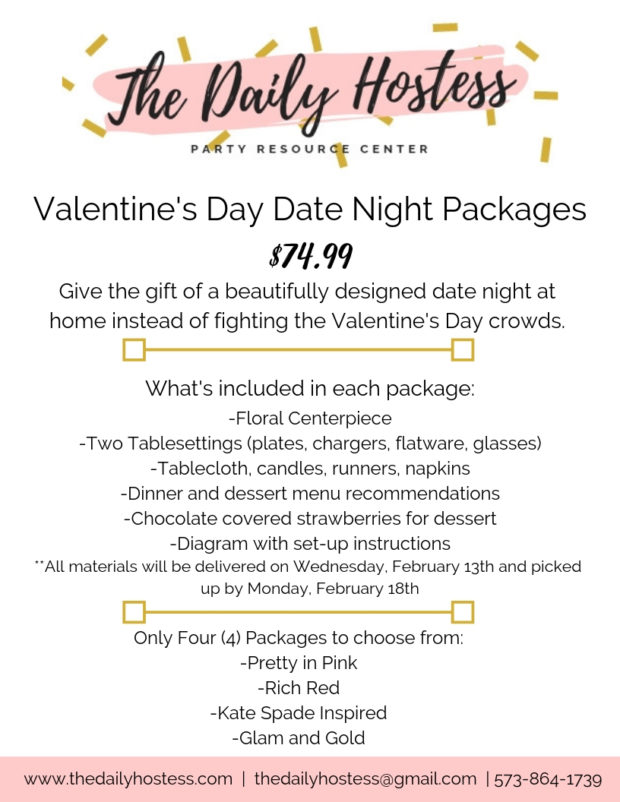 I think this is such a great way to show your spouse or partner that you put a little extra thought into celebrating your love.
I mean you already have to have dinner on Valentine's Day anyway.  Why not spend just a little extra time to make the experience just that, more of an experience?
It's all about putting in a little effort for something you already have to do anyway.
Who are these packages perfect for?
I'm especially thinking this would be a great gift idea for guys who have no clue what to get the woman in their life.  So ladies if you want your man to wine and dine you, send him my way.
Wouldn't it work best if you ask your wife to put the kids to bed a little early. They'll probably need it after the Valentine's Day sugar crash from all the school parties.  Then set up your beautiful, special date night table while she's dealing with the kids.  Once their asleep enjoy a quiet, celebratory dinner just the two of you. She'll be so surprised!
The value is really incredible too.  Most of the time a bouquet of flowers on Valentine's Day averages around $40-$50 for a dozen roses.  Crazy!
So for not much more you're getting the bouquet, chocolate covered strawberries for dessert and everything you need to set a beautiful table.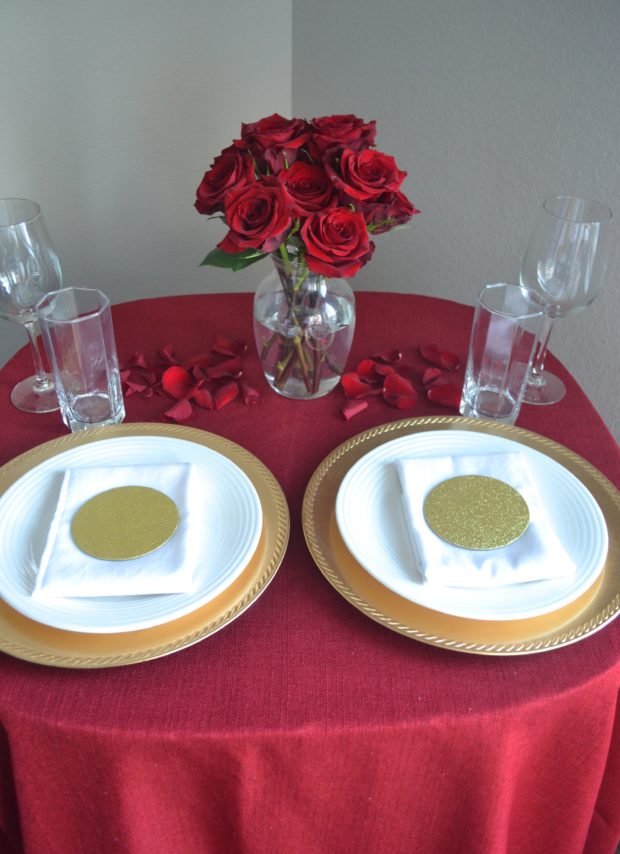 Plus it's all delivered to your door with a no fail diagram of how to set everything up.  You get to keep the flowers and just pack everything back up for pick up within a couple of days.
I think it's a pretty sweet deal.
Want to get your own date night package?  There are only four to choose from and when they're gone, there aren't any others so act quickly.
Go here to get more specifics and email or call me to customize your package today!
Other Date Night Inspiration
If you're not local and able to take advantage of these date night packages, I hope you at least get some inspiration from these designed tablescapes.
Try making a special dinner at home with a more formally set table and your Valentine's Day will be so much more memorable.
You can also take some inspiration from this at home date night post. Just click here.
Happy Valentine's Day!  There is going to be more easy Valentine's Day fun this week so be sure to check back for other simple ways to make this holiday a little more special for everyone in your life!