What's a better reason to celebrate than snacks?!  My daughter is ALL about snacks!  She'd literally eat them all day long and never have a meal if I let her.  What is it about a snack that make kids so happy?
So in honor of snack time and the fact that we won't be around our friends on Valentine's Day I decided to throw a snack themed Valentine's Day party for my daughter.
Here are all the details of what snacks we had, the tablescape, snack buffet, and crafts we made.  It's so easy to celebrate, just invite a few friends over and set out some snacks.  It doesn't have to be elaborate or fancy.  Just spending time with friends is the goal!
Valentine's Day Party Snack Buffet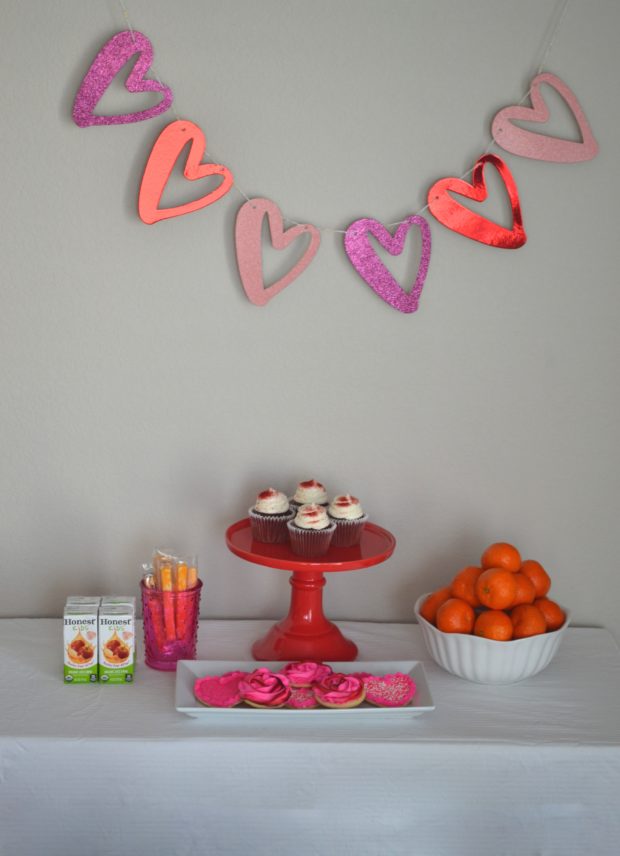 I set up a little snack buffet of goodies all kiddos will love.  Mini oranges, cheese sticks, and Valentine's treats like cookies and cupcakes.  other really good snack options are pretzels, popcorn, carrots, and apple slices.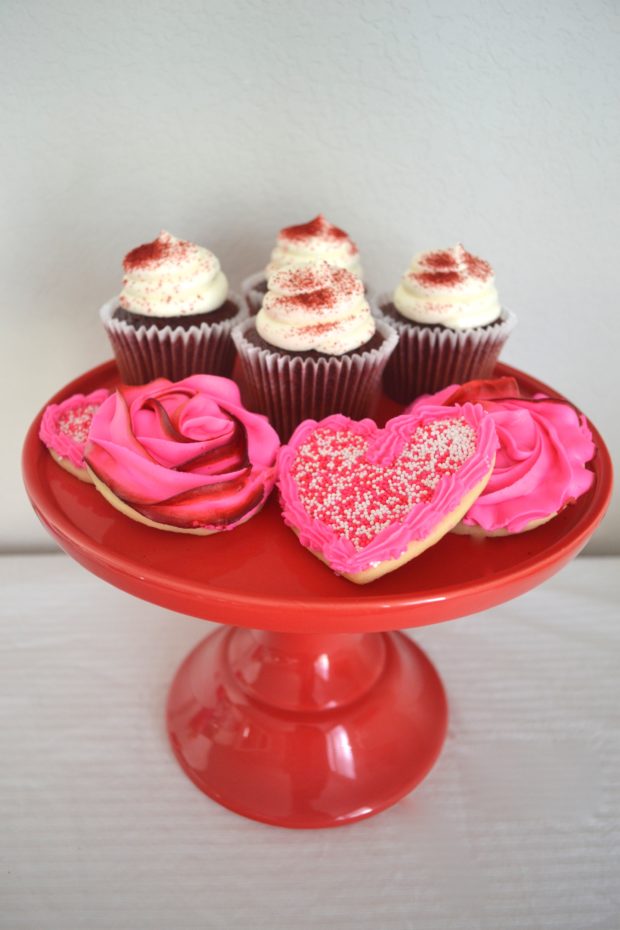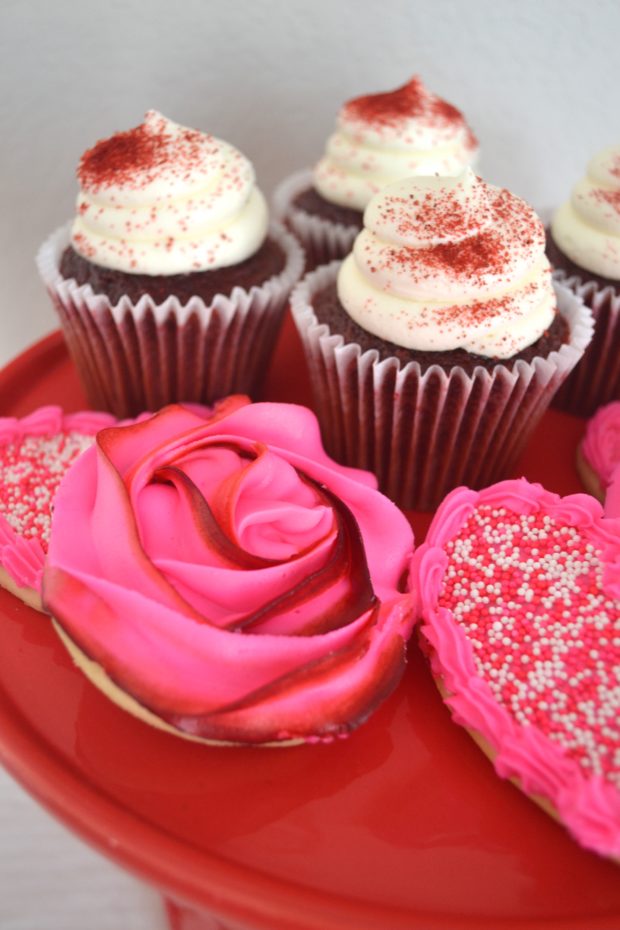 I can not get over how beautiful these sugar cookies are!  I got them from a friend of mine that makes beautiful and delicious cookies.  She owns Cookieliciousness and you can find her on Facebook here.  Go order some NOW!
Valentine's Day Snack Party Tablescape
I set up a fun color scheme table so my daughter and her friends could chow down on these snacks.  I used our DIY valentine's holders as a placemat and as a way to collect the valentines that everyone brought.
A simple piece of wrapping paper covers my table to keep it safe and clean while tying into the theme.  Adding some colored napkins and color themed plates ties the whole table together.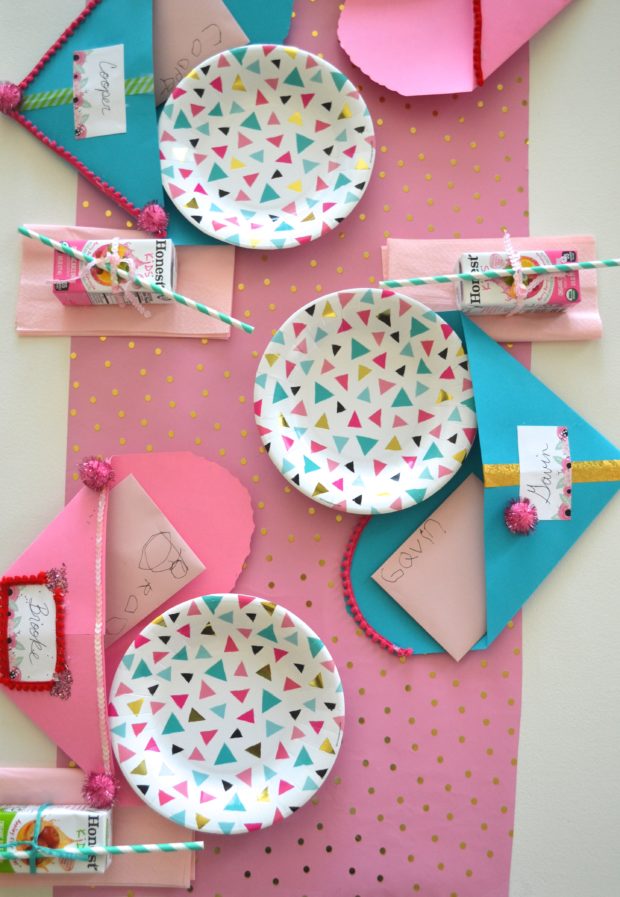 How cute are those handwritten names on the Valentine's?  I'm getting so impressed with how well my daughter is learning to write letters. Thanks preschool 😉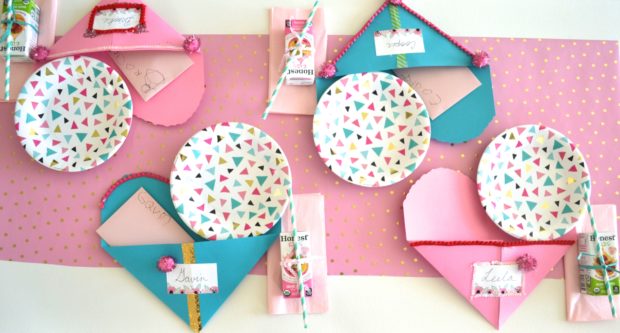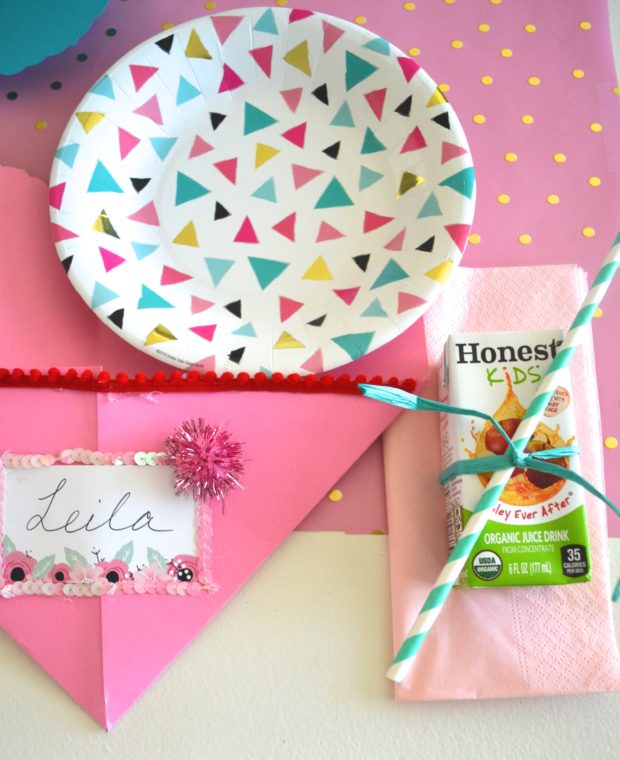 This is one reason why I love party styling.  Tying fun straws to the juice boxes took an extra couple of minutes, but it made the table so much cuter.  Adding a little extra time or effort can really enhance the look of your party, but it doesn't need to be anything over the top.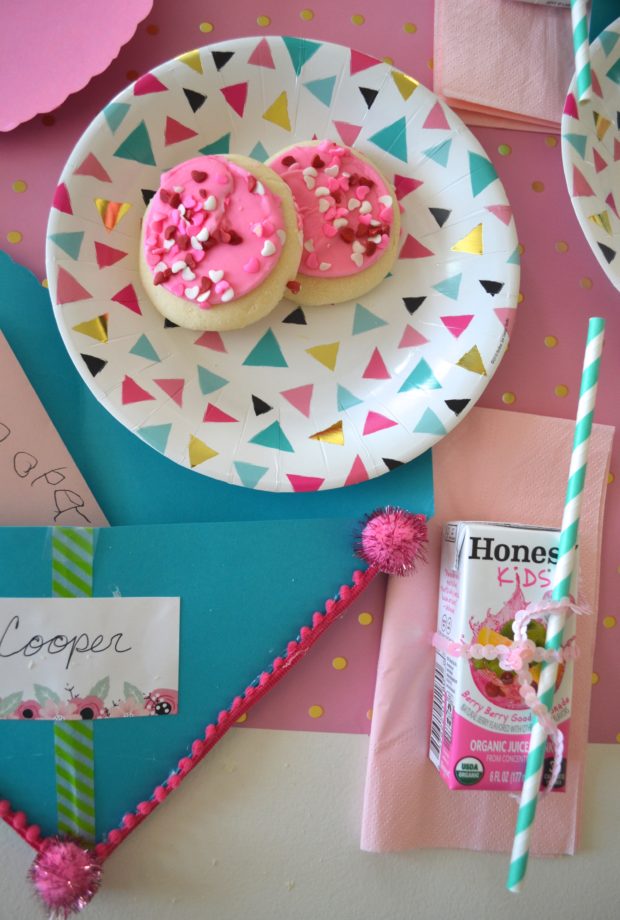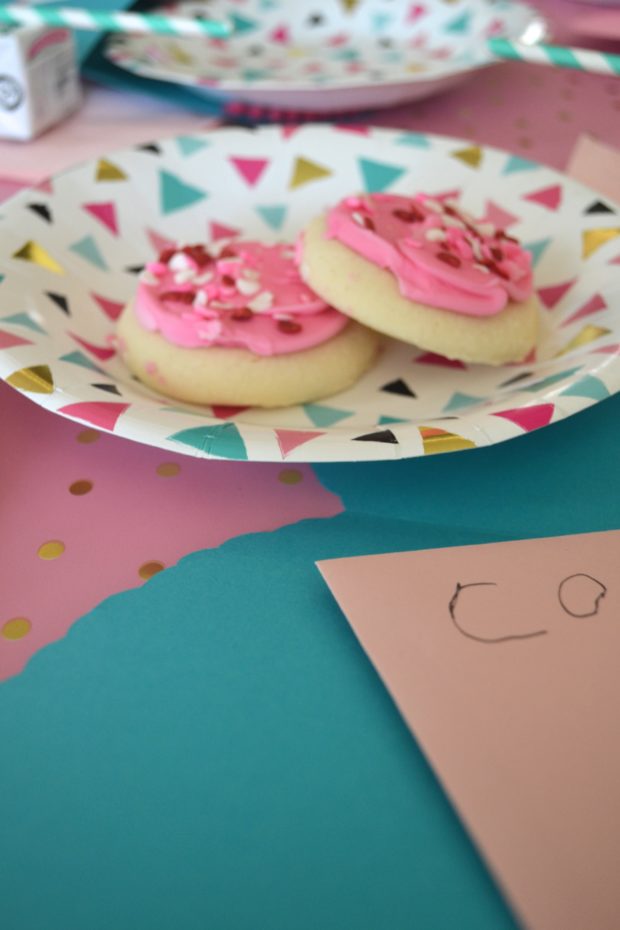 These cookies were a big hit.  Why are these soft sugar cookies so delicious?  I know they are not good for you, but man they are tasty.  This little lady obviously loved them. And she had so much fun playing with her friends after not seeing them for awhile because of being sick.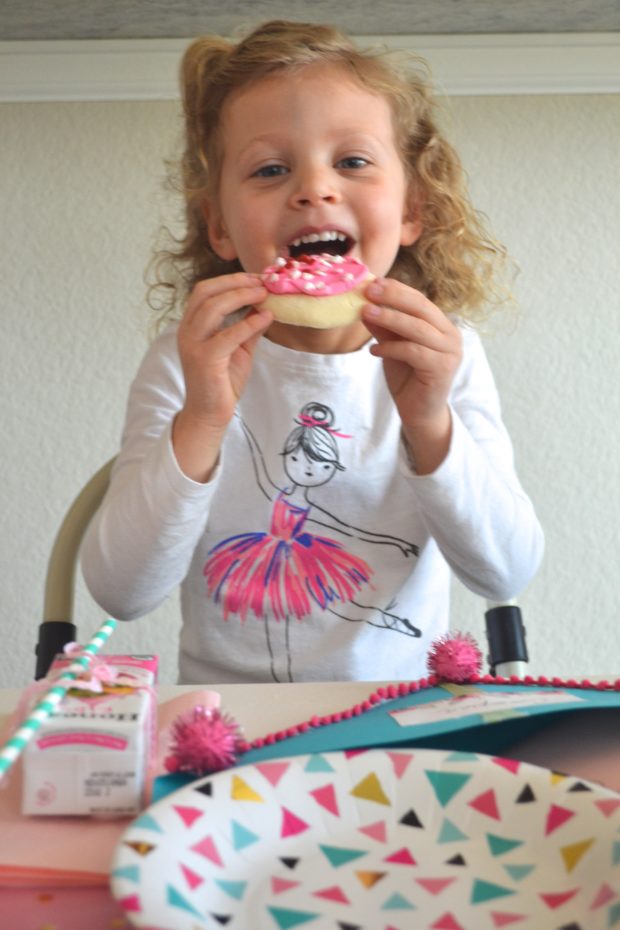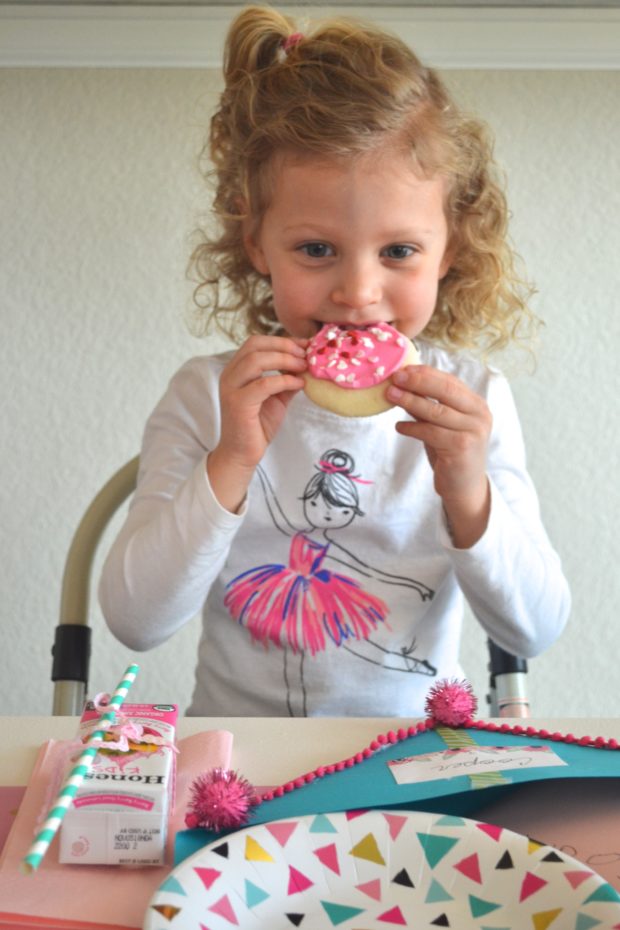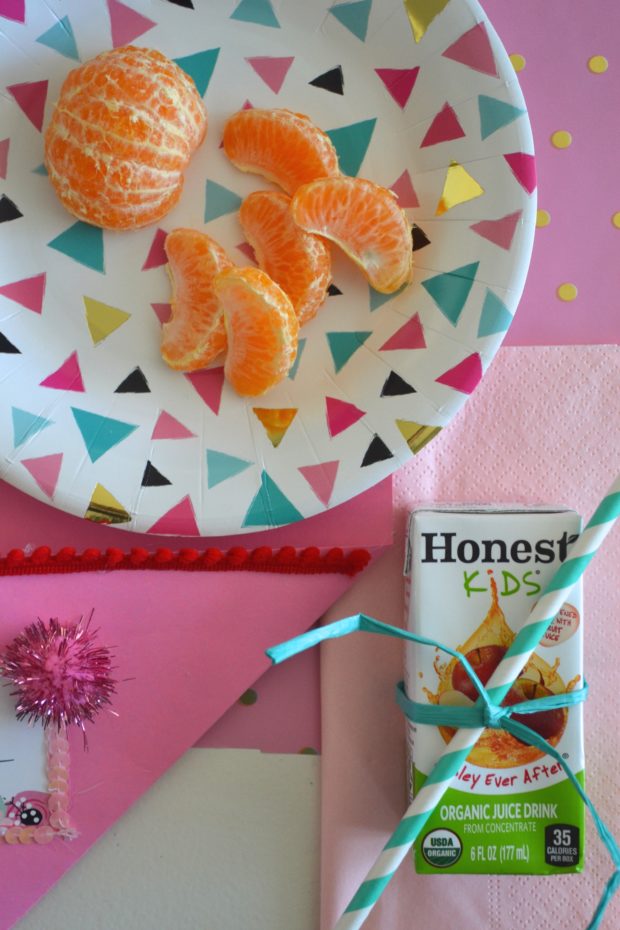 There were oranges offered to so there was a somewhat healthy alternative to cookies.  #balance
This was a really fun way to host a playdate.  It's something anyone could do, just invite friends over and provide snacks.  The kids will love it!