Happy One Month Before Valentine's Day day!  I know it's super early, but I wanted to get a head start on all of the fun things happening for Valentine's Day.  To start, I put together this super pretty little pink and red Valentine's Sweetheart table.  It's such a great way to show someone you love that you don't mind sitting reeeeallly close to them!
My thought in doing a sweetheart table was that it would be kind of romantic to dine with whoever you love in an intimate little setting and the size and closeness of the table help.  I plan on putting this table back out on the patio to celebrate Valentine's day with my husband in about a month (sorry to my husband that won't be surprised at all since he reads the blog!), and making a delicious dinner with no kiddo so we can just enjoy each other.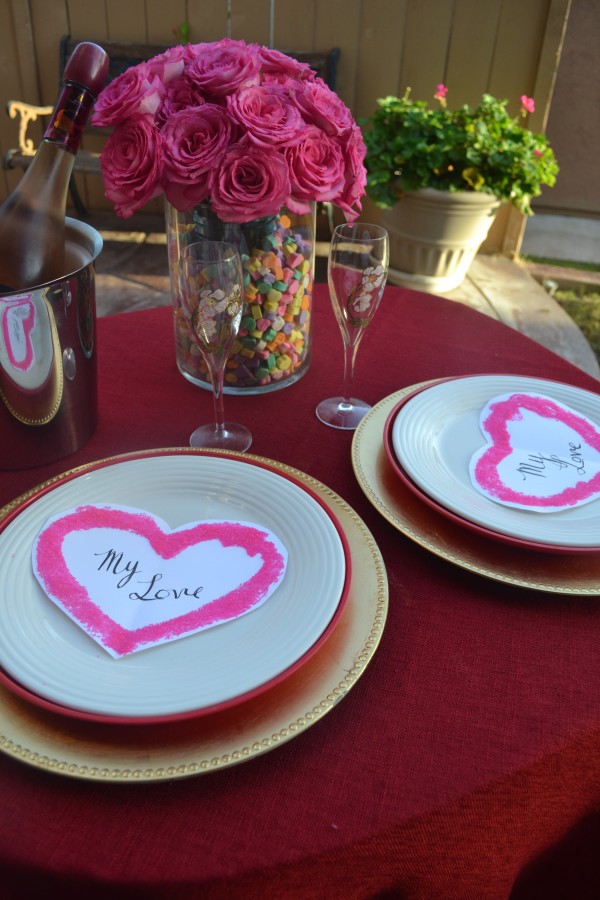 To dress up the table I used a red tablecloth (typically seen around here at Christmas, everything has to work double duty) and made place settings with everything we already had, gold chargers, and our everyday plates layered onto red plastic outdoor plates.  For the place cards, I cut hearts out of card stock then added a border by gluing a layer of pink sprinkles.  It surprisingly didn't take many sprinkles, but they do kind of get everywhere, so be forwarned.
For the centerpiece I finally did something that you can see on Pinterest all the time and put a smaller vase inside a bigger vase and then filled the area between them with candy sweethearts.  It turned out so cute, but I did have to go back to the store to buy more sweethearts.  I severely underestimated how many it would take to fill the space, so my tip to you is to buy waaaaaay more than you think you'll need.  The centerpiece would be nothing without those beautiful pink roses.  I got two dozen at Costco for only $16.99!  They are just gorgeous!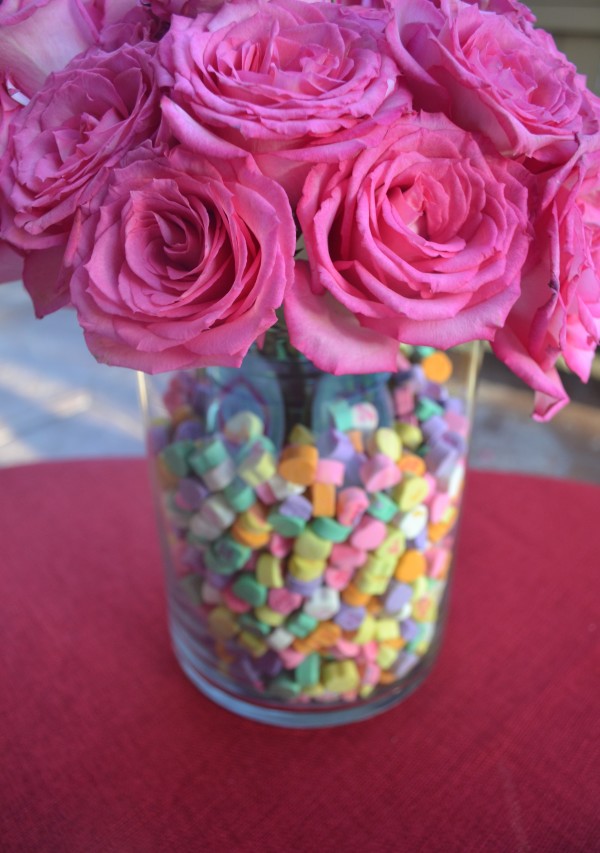 Here's a closer look at the vase.  You can kind of see that blue mason jar holding the flowers and the sweethearts surrounding it in the clear vase.  It really adds a fun factor and a lot of color.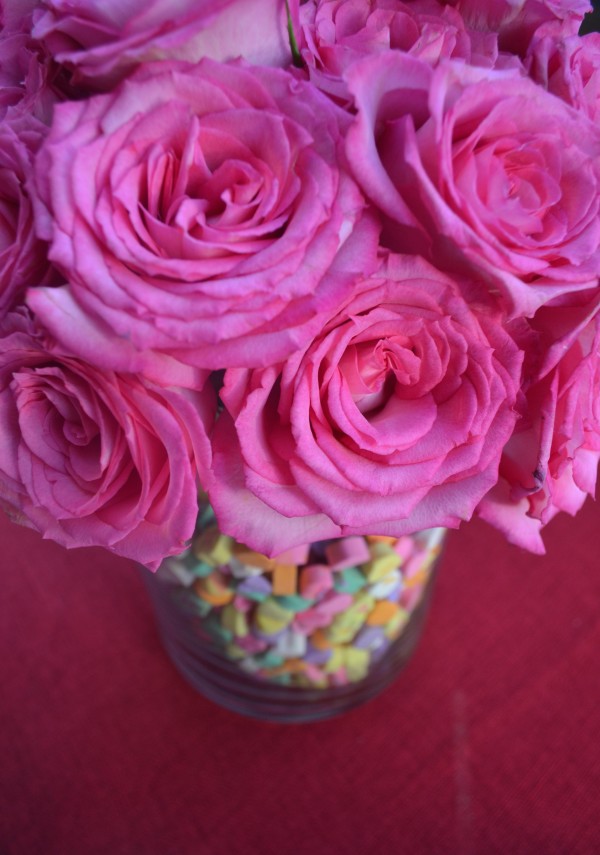 These flowers!  I just can't with how pretty they are!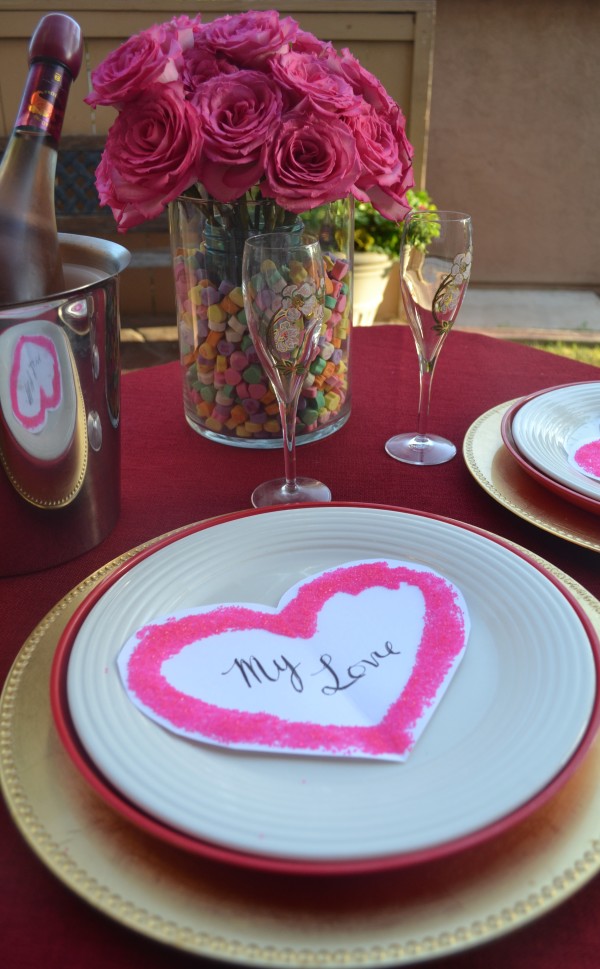 I quickly took a page from Yolanda Foster's book and added a "My Love" label to the place cards.  #namethatreference  You could easily add your names, the menu you'd be serving, or a sweet Valentine's message.  Remember all of those Valentine cards growing up and their corny little sayings?  Try and replicate that on your place cards for some fun!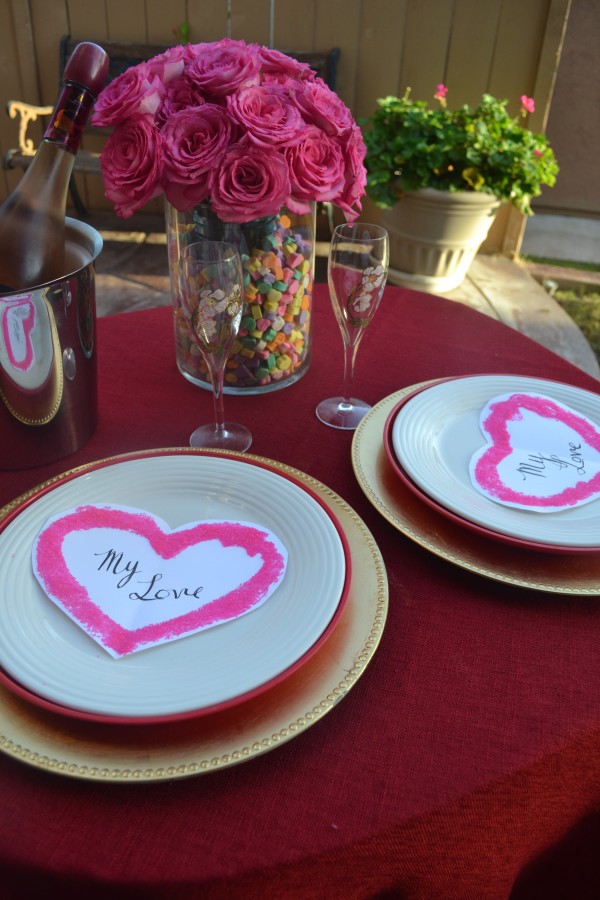 Any party table of mine would not be complete without some champagne. Luckily a friend brought me a bottle of pink champagne which fits perfectly in this setting.  Paired with some floral champagne flutes, it's a perfect way to pop the bubbly and enjoy a cozy night together.  Because we will be dining on the patio in February, and even in Southern California it will be chilly, I plan to add some cozy throw blankets to this sweetheart table along with some candles to light our meal.
I think this sweetheart table is just so pretty, from the flowers to the idea of dining so close to my husband!  I'm looking forward to putting this one to use.  You also don't have to save this just for Valentine's Day, put something like this together for an anniversary or birthday or even a random Tuesday.  I promise it will make your dining experience so much more special.
And here's my little photo bomber "helping" me with this shoot.  Take it in now girl, because you'll be in bed when it's really being put to use!  It's always interesting doing these things with a toddler running around.  It definitely requires strategic picture taking!