Happy Friday!  I'm so excited to share this vintage baseball themed nursery with you today because we are just about a week out from meeting the little guy that's going to occupy this room!  We've been working on pulling this room together over the last few months and I'm happy that it's done before his arrival!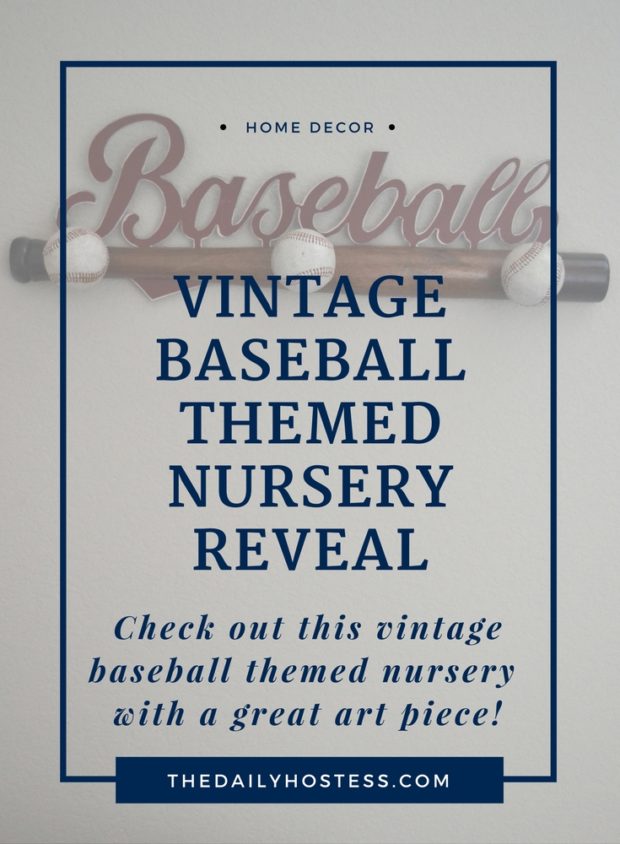 If you know my husband and I, you know that we're kind of crazy baseball fans.  Specifically St. Louis Cardinals baseball, so coming up with this theme for our baby boy was a no brainer.  However, I didn't want the room to scream baseball and be brightly colored, so the vintage or rustic aspect has helped keep that in check.
The lighting when I was taking the pictures isn't the greatest, but you'll get the idea.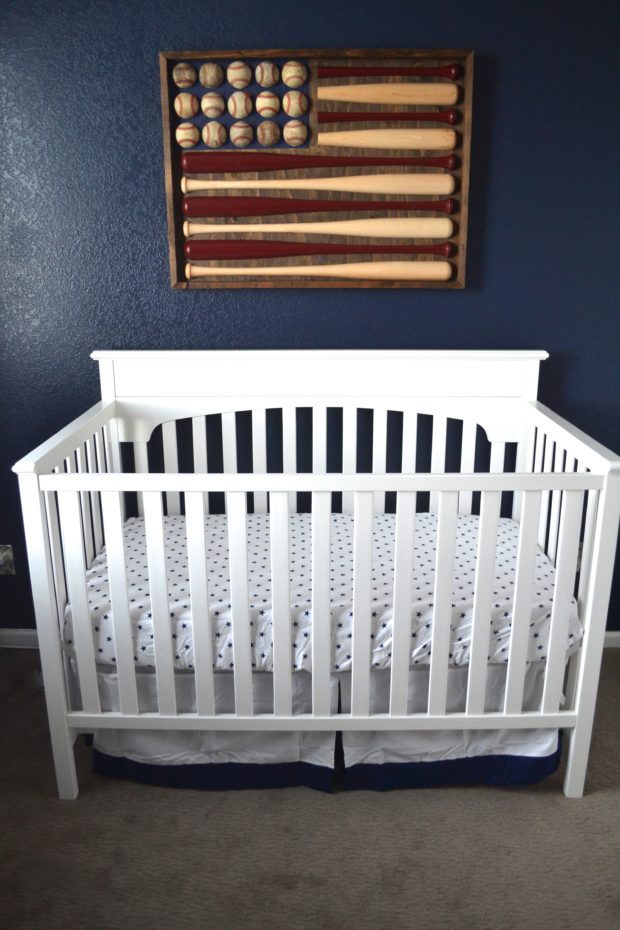 This is literally my favorite view in the entire room.  I'm obsessed with the baseball american flag art!  We purchased it from Etsy after deciding that would be much less of a headache than trying to make it ourselves.  I'm pretty sure it was the best decision we could have made.  It will totally grow with our little boy and can be used in so many other places in our house if he hates it as he grows up.
My husband did a great job of painting the accent wall.  I love how deep the Navy color is.  The paint is a Behr paint from Home Depot, but it was color matched to Sherwin Williams color Naval.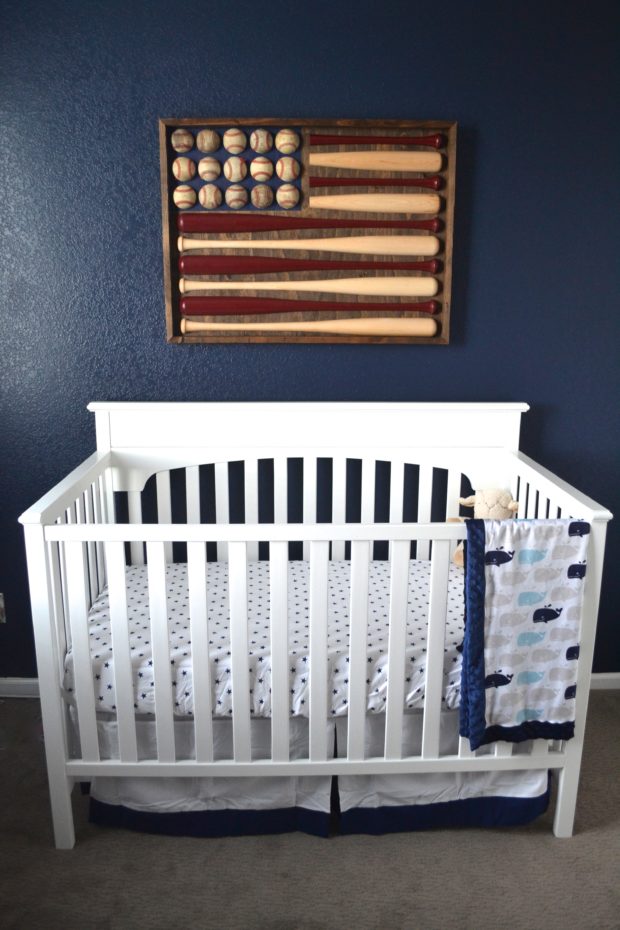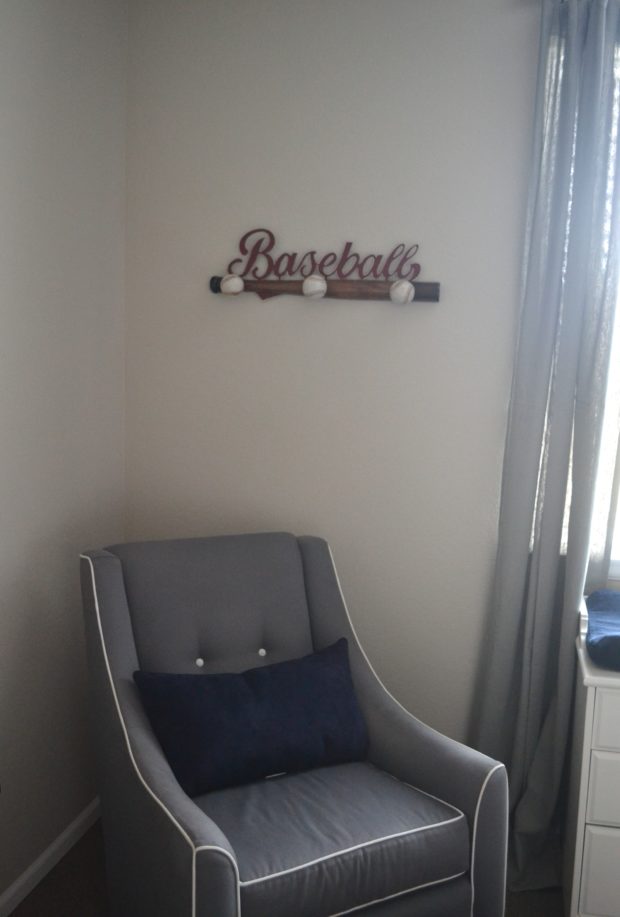 We got this super comfortable chair from a friend that was upgrading her daughter's room to a big girl room.  I love the history it has and that I'll get to use it for years to come with our little guy too.  The baseball hanging art was purchased from Hobby Lobby.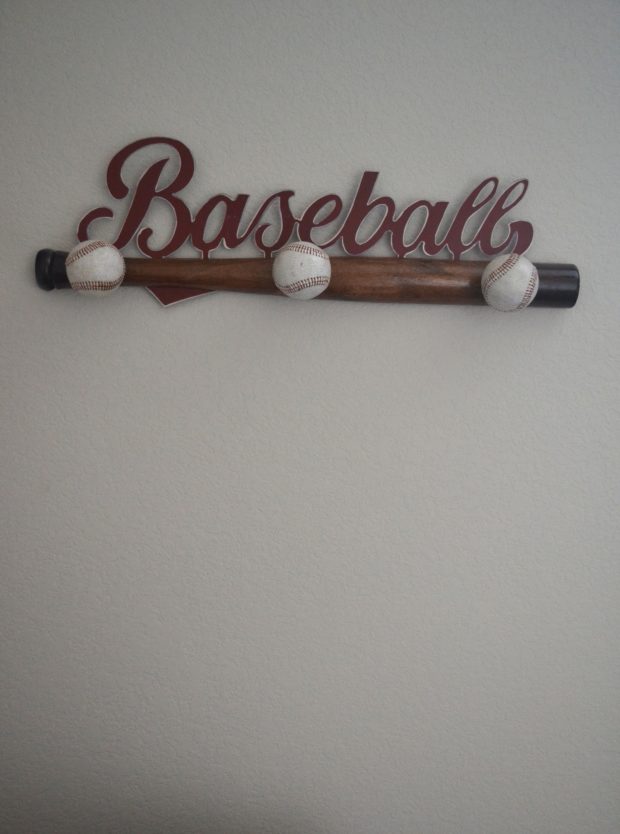 On the opposite side of the room from the crib is a bookshelf and gallery wall.  A significant piece of the gallery wall is missing until after the baby is born.  We don't like to tell names until after the baby is here to avoid receiving any opinions.  So you'll have to check back on Instagram to see the name initial that is supposed to go in that spot.
I'm also thinking that I may add a couple more things to the gallery wall.  We'll see how it evolves over time.  The bookshelf is from World Market here, and it's on super sale right now.  Get it while it's cheaper, it's super versatile and could be used all around your home.
I used some red wire baskets from Hobby Lobby to contain toys and blankets.  I also reused nautical baskets from my daughter's nursery to hold hats and, swaddles, and burp cloths.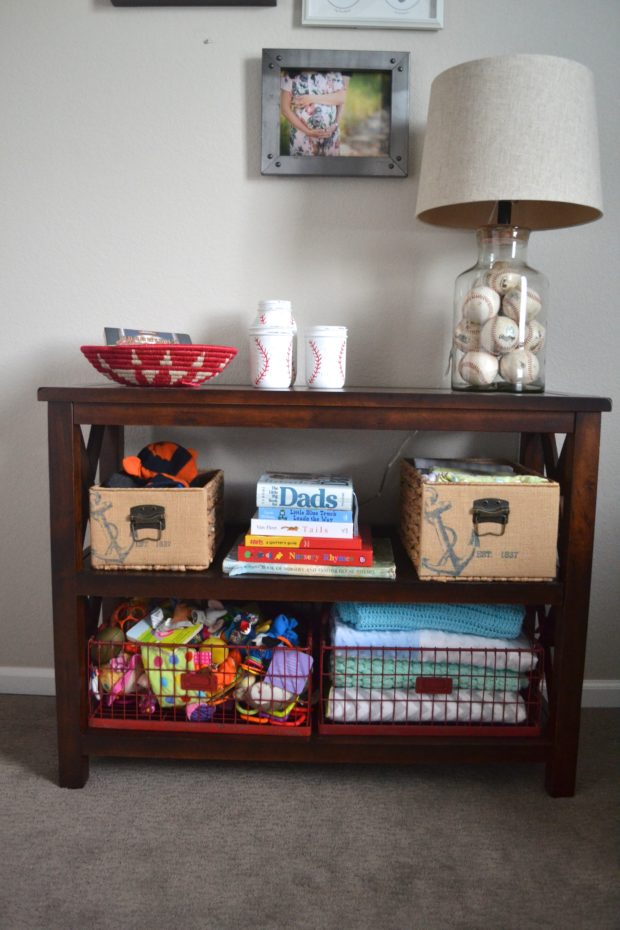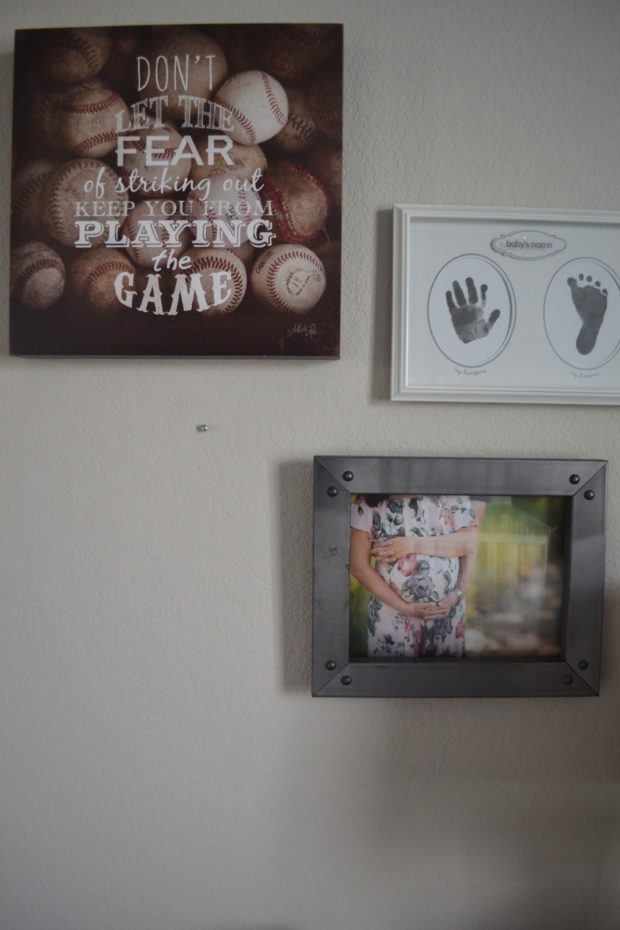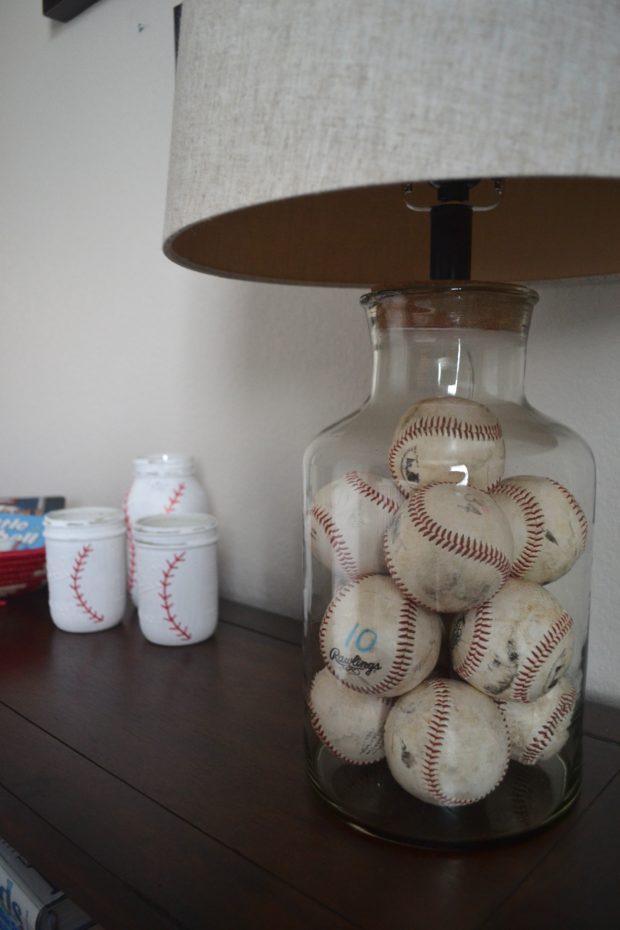 Probably my second favorite thing in the nursery is this lamp.  I found it at Homegoods because I was looking for a large glass container to hold used baseballs.  When I found this lamp and the opening was big enough for baseballs to fit inside, it was a win-win.  I get lighting and the look of baseballs in a glass container.  We were able to get a big bucket of used baseballs off of Craigslist super cheap which was nice.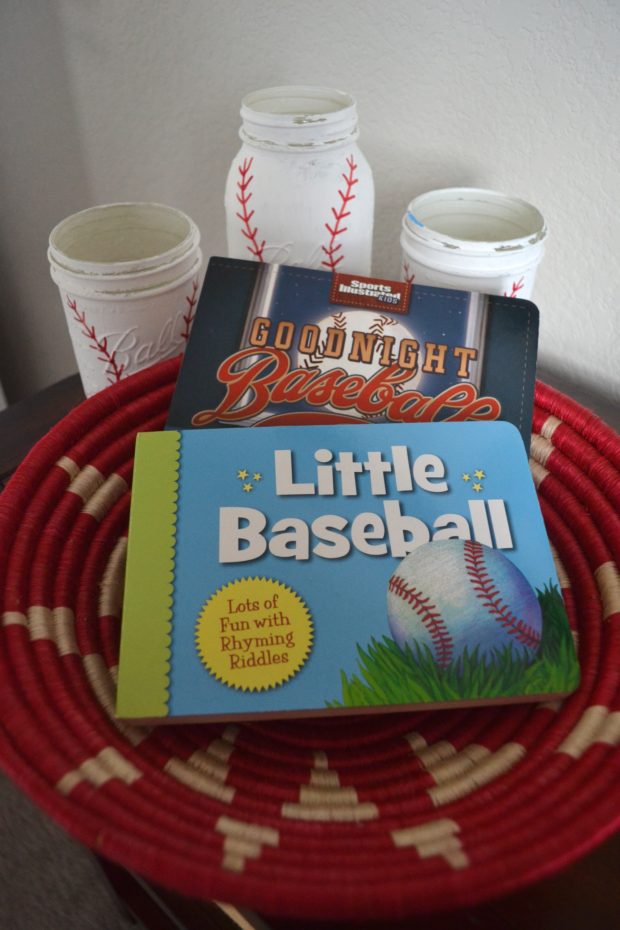 A really amazing friend found baseball books, so those obviously had to go in the nursery.  The painted baseball mason jars are from my baby shower and were diyed by that same amazing friend!  You can get similar handcrafted baskets here if you're interested.  Who doesn't love buying something that's going to give back.  Buying from the Field of Dreams Uganda organization is going to give hope to kids throughout Uganda.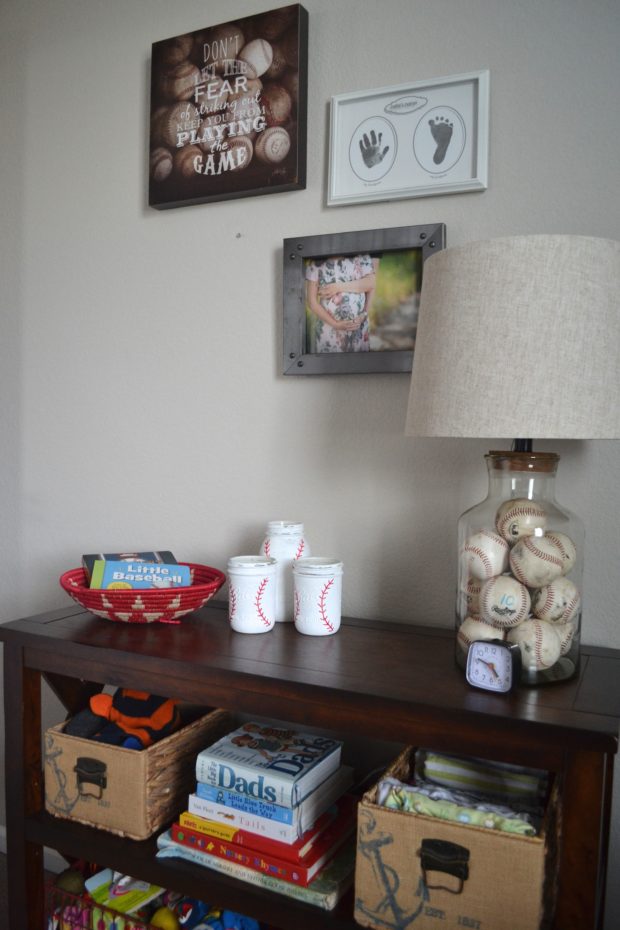 Onto the closet.  We received literally two years worth of hand me downs from a friend.  We have no shortage of clothes around here.  Although we did have a shortage of clothing storage space, so we had to get a little creative in the closet.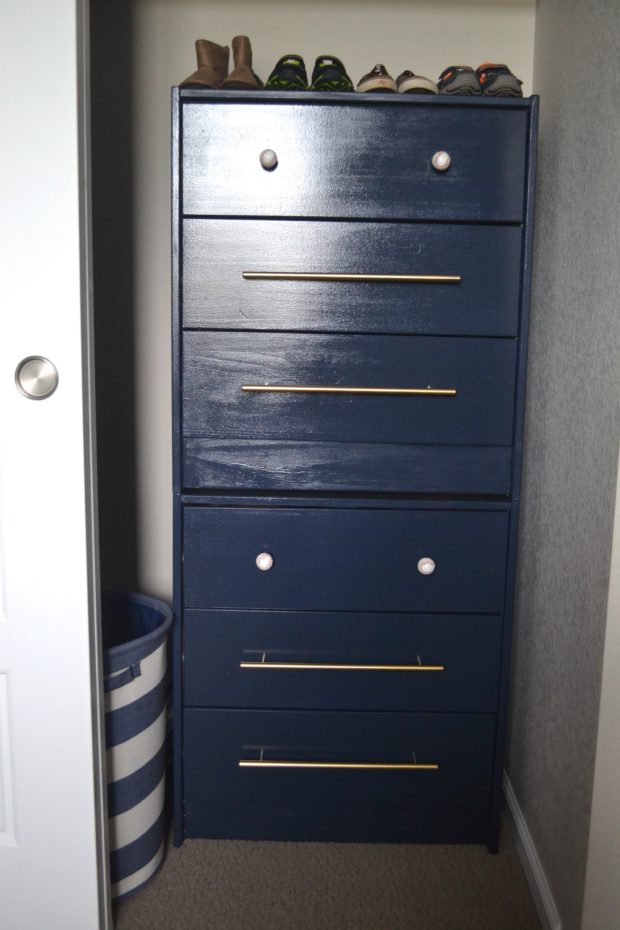 We added two stacked three drawer RAST dressers from Ikea to one side of the closet to hold all of the clothes we have. After a quick paint job and switching out the drawer pulls they are more on theme. The dressers keep all of the clothes tucked away and ready for little guy to grow into.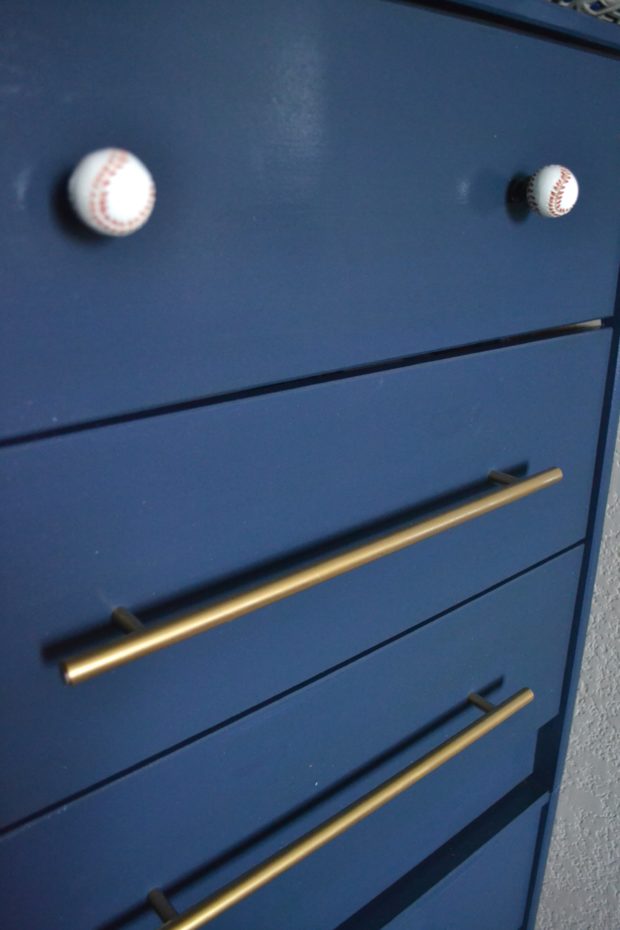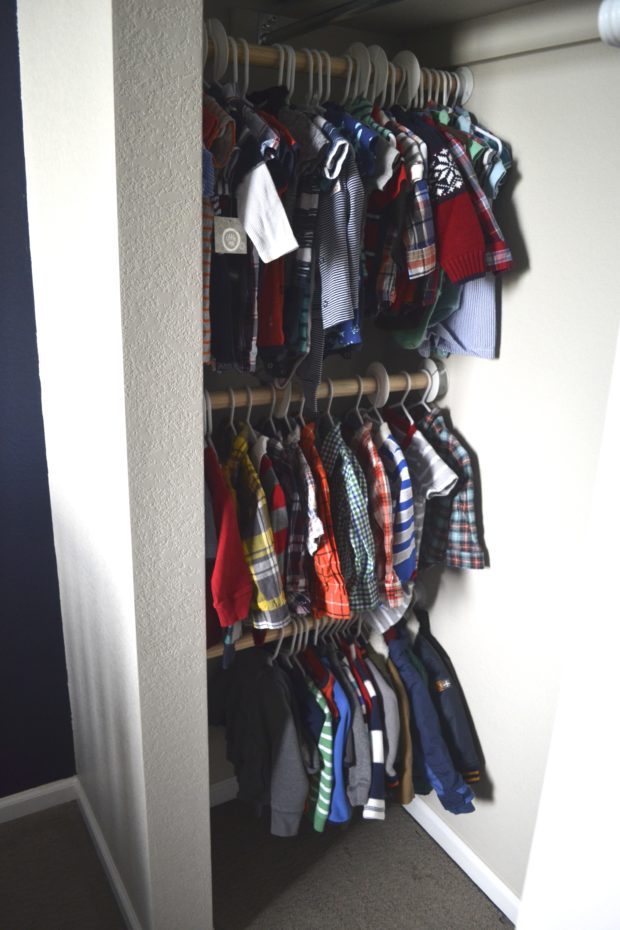 On the other side of the closet we diyed some hanging bars and used the tucked away space on the side as a place to hang any clothes that didn't have to go into drawers.  Doing something like this, especially in a nursery or kids room, is a great way to make use of typically wasted closet space.  We did something similar but with shelves in my daughter's closet and it makes a world of storage difference.
So that's pretty much it for the nursery.  I'm so glad the nursery is done and now it's just waiting for our little guy to come check it out.  Only about a week left and he'll be here!  What's your favorite part of this reveal?
Hopefully soon, you'll also get a reveal of the new big girl room we are working on after moving the crib into the nursery.  It's a pretty fun room!