Is it still bitterly cold where you live?  Here in Colorado we have had a really mild winter.  I think it was in the 50's yesterday, and basically no snow this season.  Normally I'd be just fine with that, but seeing how much my daughter loves to play in the snow makes me wish we were getting more than we have.
After the holidays, it seems like winter really sets in and people are less likely to host parties or gatherings.  Today I'm giving you a few tips to help you host more in the winter because it's all about making a cozy get together.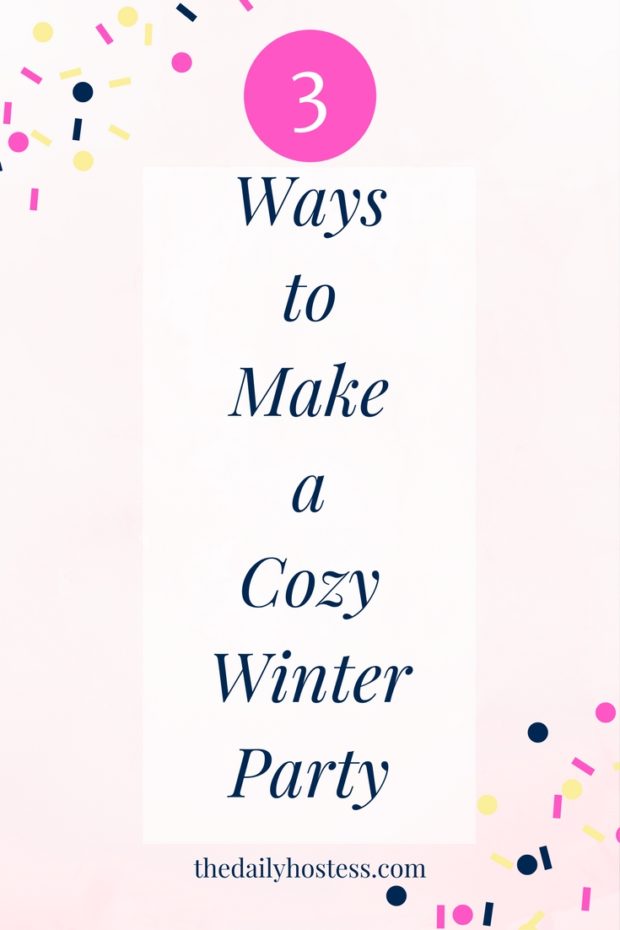 1. Get your House Prepared for a Winter Party
The first thing you want to make sure of is to set up a plan for all of the winter gear that is about to come in your house.  Every guest that comes in is going to have a coat, scarves, hats, gloves, boots, you name it.  Where are you going to put it?  You definitely don't want it all piled up at your front door.
If you have a coat closet, great!  Be sure there are plenty of hangers and that it's cleaned out.  You don't want piles of stuff falling out when you're trying to hang a coat up.  Also be sure to ask to take your guest's coat and let them know  you're putting it in the closet, so they can get it on their way out the door.
If you don't have a coat closet, designate another area to hold coats.  Maybe the bed in your guest room, or set up a coat stand, or even having guests just drape them onto the back of a chair works.
We don't wear shoes in our house, so making sure there is a shoe drop zone is important to us.  At some of our recent winter parties, we've just put down a canvas cloth next to the front door for everyone to place their shoes.  This was a great way to signify to people to remove their shoes, but it also helped us keep all the winter nastiness off our carpet and floors.
2. Entertaining at an Indoor Party
Being stuck inside during the winter doesn't have to limit what you can do at your party.  You may have to use more of your house to either fit everyone or to entertain everyone, but there is still plenty to do.
I recommend setting up zones of things to do throughout your house.  Let's face it everyone ends up in the kitchen or where the food is.  So to alleviate too many cooks in the kitchen, spread your party out a bit.  Set up some board games on the dining room table, or set up a cozy seating area by your fireplace.
Make sure the kids know where they can play, so they have their own space as well.
3. Provide Warmth throughout Your Party
The best thing you can do when hosting a winter party is to provide warmth.  You can do this by making warm, comfort food.  Things like chili, pastas, and warm dips.  You can even provide warm beverages by setting up a hot cocoa bar. Even just offering coffee or tea after everyone has eaten will warm everyone up.
Providing warmth in the atmosphere of your party is just as easy as providing warm food.  If you haven't heard of hygge, it's the perfect way to make your party feel warm and cozy.  Hygge is a Danish word describing a moment or feeling as cozy, charming or special.  The Danes achieve this feeling with lots of candles, fires, and blankets.
Incorporating those things into your party is a great way to make it feel cozy. Light lots of candles around your house. Roll up soft blankets to offer to your guests. Make a seating area next to your fireplace.  Your guests will feel warm and cozy in no time.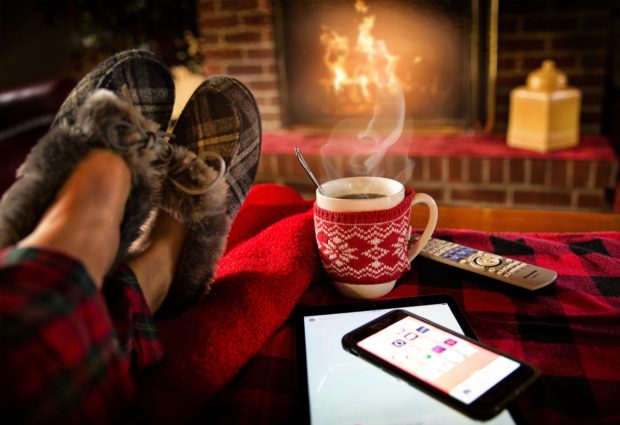 If you make your next party in the winter this cozy and inviting, your guests may not want to leave 😉  Happy Winter everyone!