"Let's Flamingle!" It's Friday!  I'm starting a new series today where I'll be planning a hypothetical party around a color scheme.  Hopefully you'll get some great ideas of how to incorporate food, decor, and activities, using a color scheme to tie them all together.
Here's the fun and flirty color scheme that I think screams flamingos.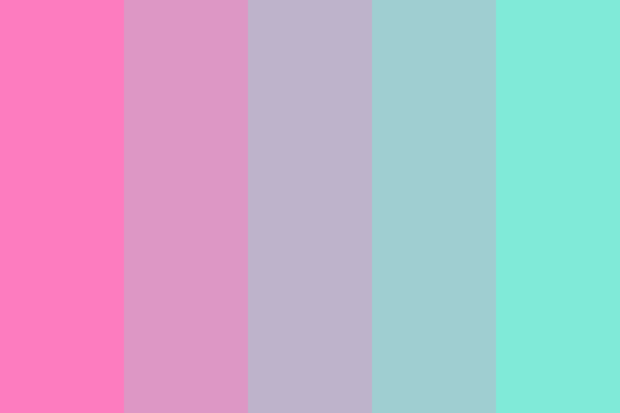 I love the mix of pink and purple with teal blues.  My daughter is obsessed with flamingos right now, so that's the first thing I thought of when I first saw this color scheme.  Why not use it to plan a fun flamingo birthday party?  These are the perfect colors for a little girl or even a grown lady who has a love for those pink birds!
Flamingo Birthday Party Inspiration
Here are a few inspiration pictures to get your creative juices flowing.
I love this fun birthday dessert table and how the balloon arch perfectly incorporates the colors from the color scheme.  The balloon arch has so much more dimension because they aren't all the same size.  The use of the palm leaves also gives quite the tropical flair.
This fun little girls party has a base of the blue from our color scheme with touches of pink throughout.  I love the quirky names of all the food at this party, so click through to read them.  They're pretty funny!
Menu Ideas
To carry the flamingo theme throughout, I'd recommend offering at least one shrimp dish.  I mean that's what gives flamingos their pink color, right?!  How about a grilled shrimp kabob, or a shrimp po'boy sandwich?  Both would be delicious.
I think this kind of party is perfect for the summertime so keeping the menu on the lighter side is a great idea.  Things like pasta salad, fruit salad, grilled corn, or grilled summer vegetables.
For dessert, a cute pink cake with a plastic flamingo cake topper would be perfect.  To round out a dessert table, I'd add pink and purple or blue cotton candy, or "flamingo fluff".  You could also include candies in the coordinating colors, or custom flamingo cookies.  If you want to diy your dessert, make a quick batch of cupcakes from a box and top with pink frosting.  Or use some of these ideas to top store bought cupcakes.
I don't think there is a more perfect drink to go with this flamingo birthday than pink lemonade.  I'm planning on making this recipe this weekend and will let you know how it turns out.  Any sort of pineapple based cocktail is also a great idea.  And flamingo drink stirrers are a must.
Flamingo Party Decor Ideas
Obviously, decor for this flamingo birthday party is going to be done using the colors from our color scheme inspiration.  Things like balloons and streamers are easy to find in these colors.
Other areas to include our color scheme would be on the dessert table, like in our first inspiration photo.  Make sure whatever vessel you use to hold cupcakes, candies, or cookies are pink, purple, or teal.
Don't overlook making a great tablescape either.  How fun would a teal colored tablecloth or table runner be with some plastic pink yard flamingos as the centerpiece be?  Super fun, easy, and probably pretty cheap to do.  You also can't go wrong with a great floral centerpiece.  I'd recommend using pink flowers in a teal blue ball mason jar and then for fun add in some purple or teal colored feathers.
Flamingo Birthday Activities
Coming up with ideas of how to entertain kids and adults at parties can be quite daunting.  I generally follow the rule that people will spend most of their time conversing with each other, so games or activities aren't necessary.
However, there are some great themed activities that would go perfectly with this flamingo birthday party.  I love the idea of using a pink yard flamingo as a game of ring toss.  Just try to get the ring around the flamingo's neck.  Or another option would be to hold a "minute to win it" challenge of balancing on one leg, like a flamingo.
What do you think of this new series?  It's really fun for me to plan a hypothetical party, and I love the color inspiration because it leaves so many options!  Do you want to have a flamingo birthday party now?  I'm pretty sure I do!
Have a great weekend, and don't forget to come back next week to see all about the fun party I'm hosting this weekend!