It's Friday Friday Friday!  Did you sing that too?  Friday's around here usually mean 5 Things!  A random list of 5 Things to help you celebrate better.
Today it's 5 Things to wear on Thanksgiving to stay comfortable while eating the biggest meal of the year.
I did a post like this a few years ago and it's still a highly visited article.  It's all about making sure you have room for turkey.  Read it here.
5 Things To Wear On Thanksgiving To Be Comfortable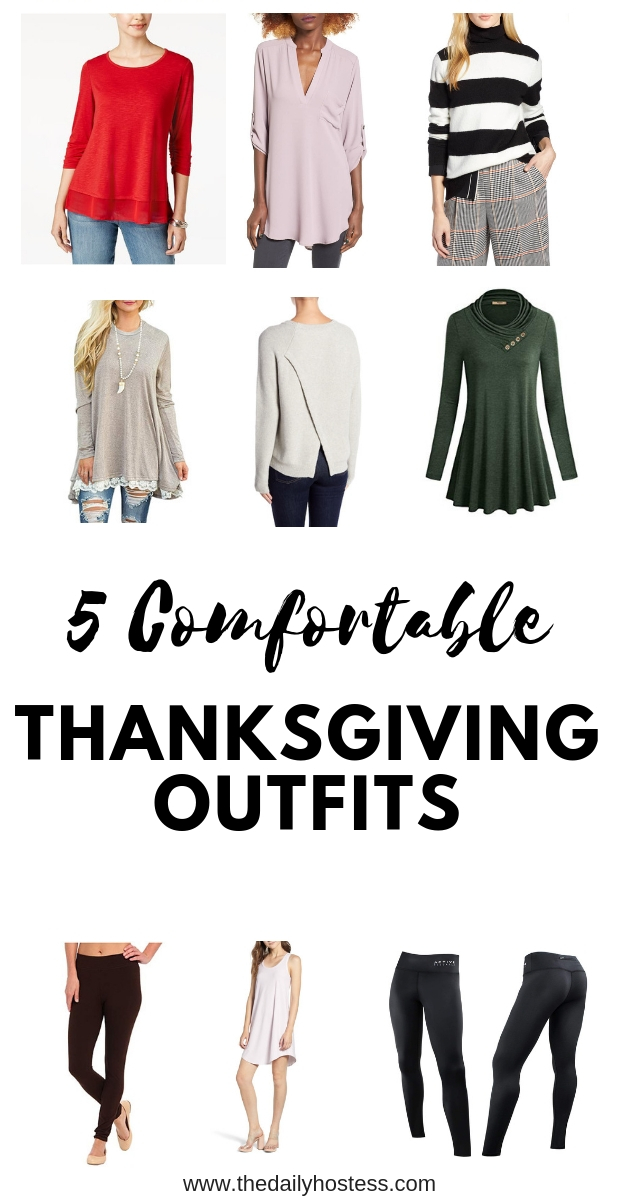 I broke up these five things into categories because there are too many good options out there.
Thanks to a few bloggers like Cassie at Hi SugarPlum, Mallory at Style Your Senses, and Sheaffer at Sheaffer Told Me To, I have insight into some of the best clothing options out there.  They all do a great job sharing super cute, affordable, and comfortable fashion choices.
If you like any of the options below just click on the picture to purchase it.
Sweaters with Room for Turkey and Pie
You can never go wrong with a roomy, fall hued sweater on Thanksgiving.  It's likely to be cold so a sweater will certainly keep you warm.
Just watch out, if you're the one doing all the cooking, opt for another option because that oven heat combined with a sweater will make you so hot.
I remember most Thanksgiving's having to change into something lighter because I was getting so hot.
Dresses with Room for Sweet Potatoes
Sometimes you spend Thanksgiving with people other than family and want to feel a little dressier. These are some great options because they are nicer but still have a very generous cut.
I love that you could add a scarf, cardigan, and boots for a full fall look.
Shirts with Room for That Second Roll
Why do I always feel like I need to get another roll at the end of my Thanksgiving meal?  If you do the same any of these shirts have lots of room to hide that food baby!
Tunics with Room for Mashed Potatoes and Gravy
Tunics are another great option because they are usually fairly flowy and they're longer to cover your tummy and behind.

This one from Amazon is very highly rated, so I'm sure you'll love it too. Pair it over leggings or with your most comfortable jeans.

 I personally own this next tunic and it is perfect for covering your bum in leggings.  I'm fairly short so it's long on me.  But it's a great shirt with lots of room.
Leggings with Room for Your Second Round
And with most Thanksgiving dinners, you'll probably eat an entire second round of food.  This is especially true if you do more of a Thanksgiving lunch.  Then you obviously have more for dinner.
The most comfortable way to eat so much in one day is to wear leggings!  Here are a couple of great options that will keep you totally comfortable.
I own the second pair and love them.  They are completely opaque and don't show any skin through them. I also love the high waist band.
What do you typically wear on Thanksgiving?  I hope these options give you a comfortable choice so that you can enjoy the holiday with family and friends.
Eat lots and not worry about your pants cutting into you or your shirt being too tight!