Last week we talked all about how to incorporate this year's wedding trends into your home parties.  You can see all about how to do living backdrops and potted plants, lucite, and saturated colors .  Another trend I keep seeing is a large over the top hanging floral installation.
But, they seem difficult to do, expensive, and a little impractical for a party at home.  However, today, I made a smaller DIY version and I'm loving it!  It's definitely something anyone can do and still have the same kind of impact of a large floral installation.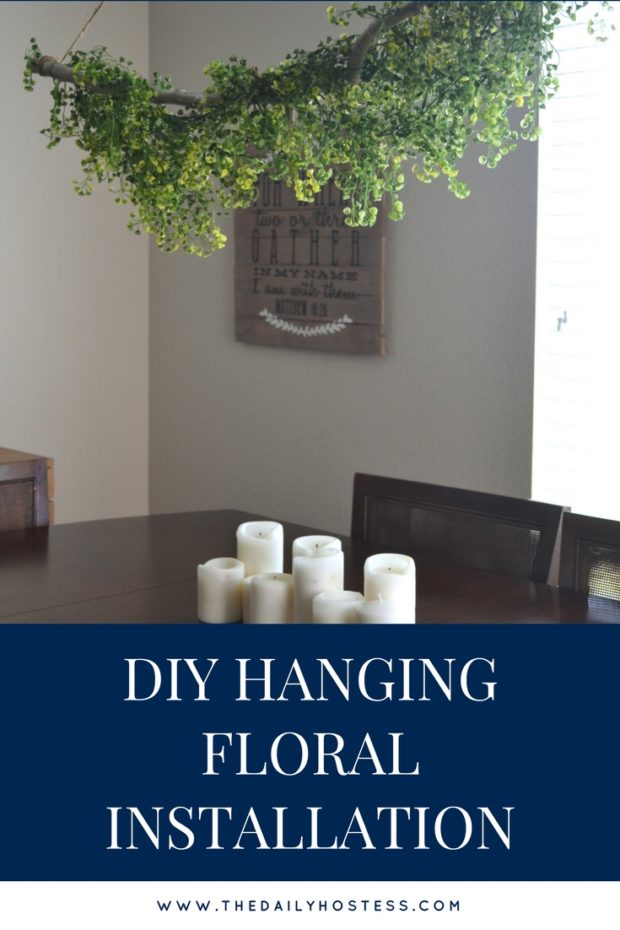 Hanging Floral Installation Inspiration
Here are just a few floral installation inspiration images.  I love how grand they all are and the flowers and greenery are gorgeous.
DIY Hanging Floral Installation Supplies
Without spending a fortune on flowers and a lot of time building something just like the inspiration above, I was able to make my own version.  It's much smaller, but it still gives the same feeling as the larger versions above.
Here's what you'll need to make your own hanging floral installation.
a stick, branch, or dowell rod
flowers, garlands, or greenery
string or twine
floral wire
scissors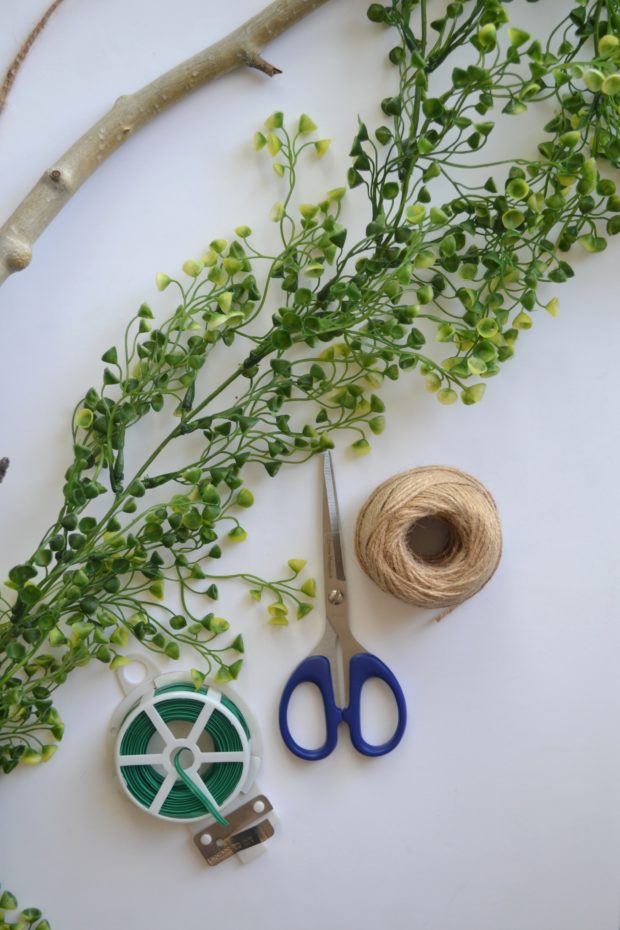 You first have to think about where you're going to hang your installation.  I wanted to have the same feeling of an installation above a table like the pictures above, so I hung mine over the dining room table.  To do this I just hung the twine over our dining room chandelier.
If you want your installation above a table, but don't have a chandelier, there are tons of ways to make that happen.  You can screw a small hook into the ceiling over your table.  Or try tying your string onto a small nail in your ceiling.  If your installation isn't very heavy you could even try to use a 3M Command Hook attached to the ceiling so it would be easy to remove after the party.
DIY Hanging Floral Installation How To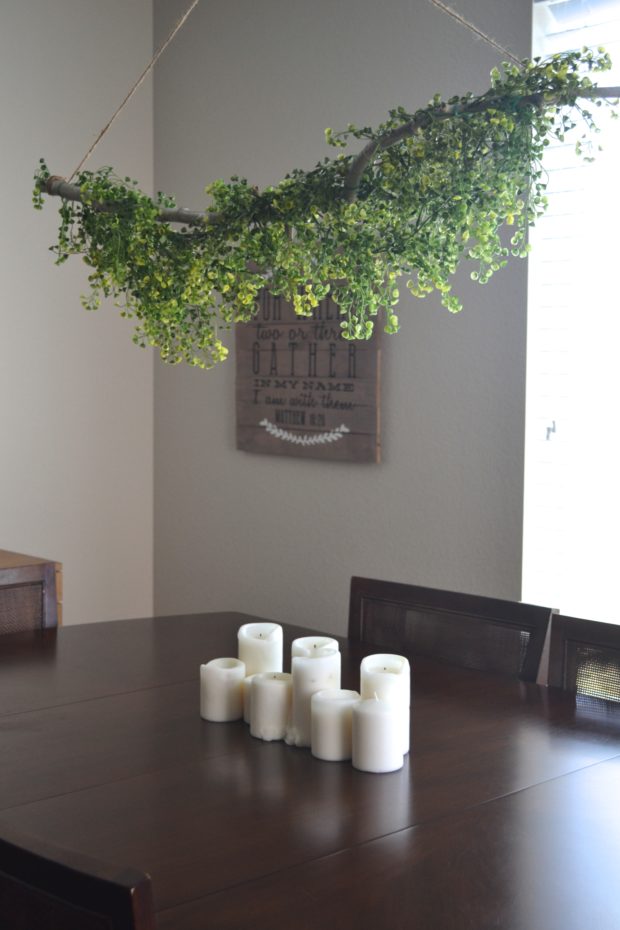 It's not difficult to make this installation at all.  I basically just wrapped the garland around the stick and secured it using floral wire.  As I went I adjusted the garland to get the look I was going for.  To do this I had to stop and hold the garland up to see what it would look like once hung.
You will also have to tie your string or twine to either end of the stick so you are able to hang the installation once it's done.
I was going for a full look with some greenery hanging down from the stick.  Thanks to a 50% off sale at Hobby Lobby, I was able to use two garlands for the price of one to achieve the fullness I was looking for.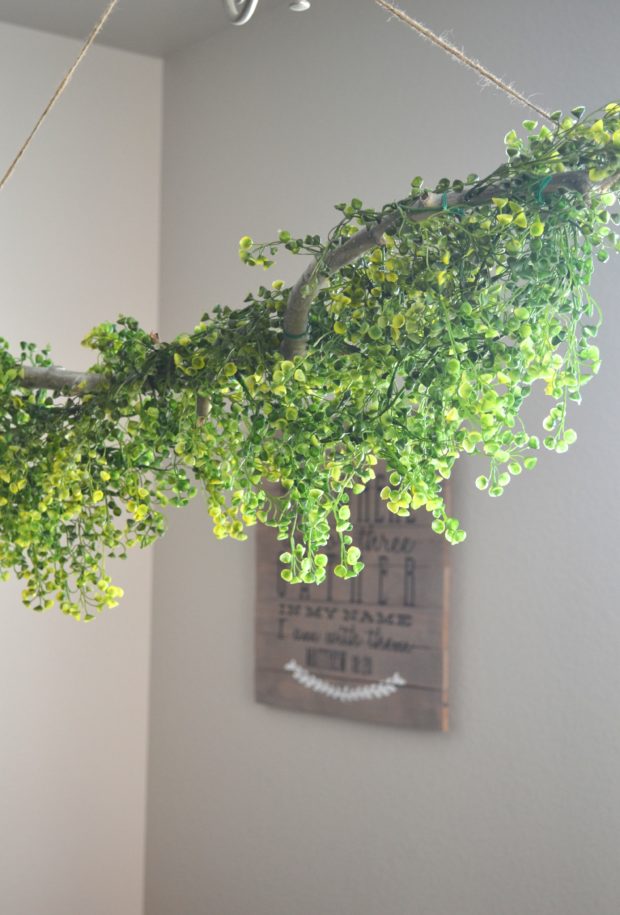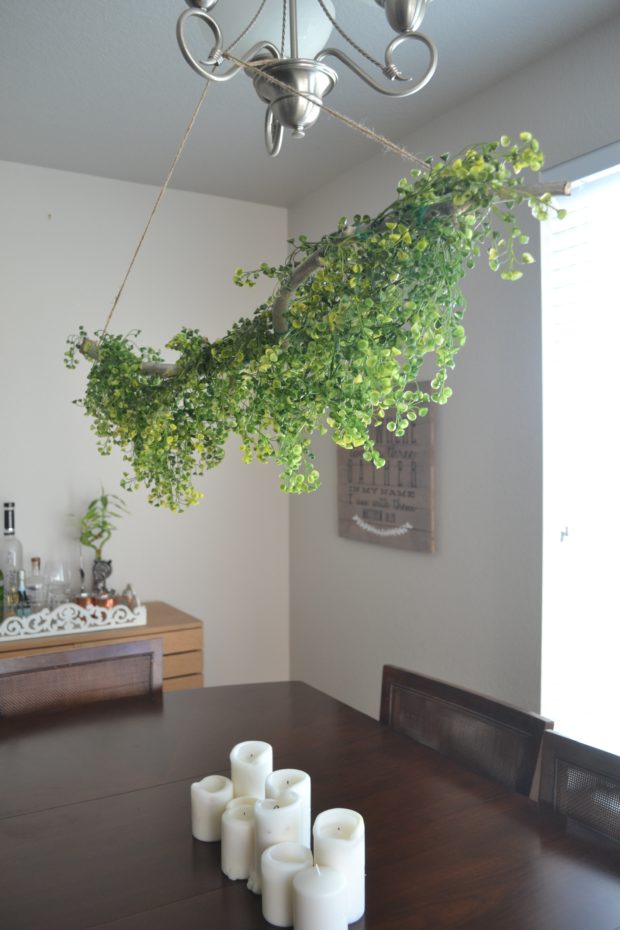 Next I just hung the string over one of the lights of my chandelier.  This installation wasn't extremely heavy so I wasn't worried hanging it on the light.
Another way to hang it would be to tie each end of string or twine to the chandelier individually.  Having the glow of the light above could make the installation look even better at night.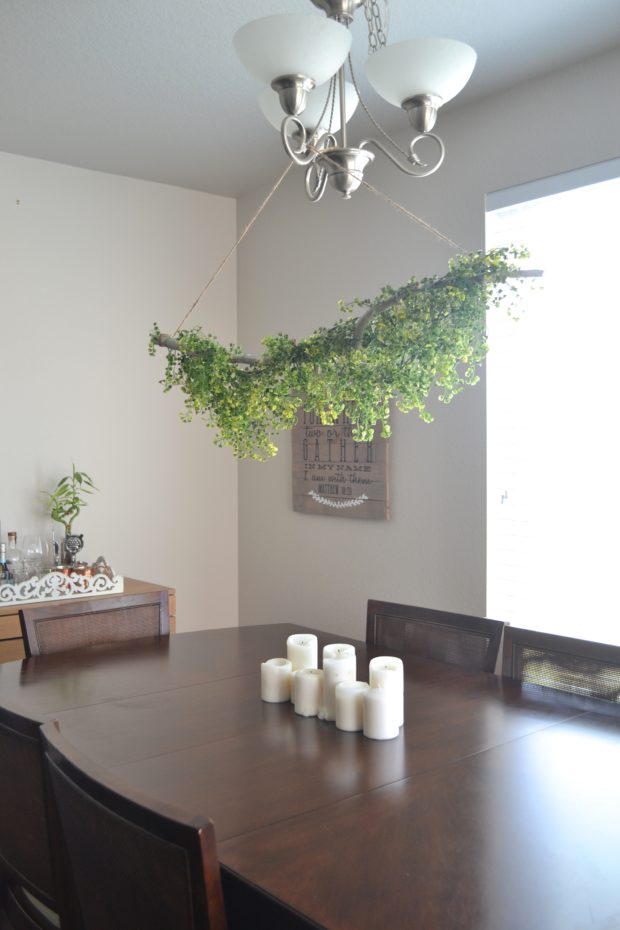 I kept my table centerpiece super simple because of the impact of the hanging installation.  A collection of lit candles would make a very romantic "in the garden" kind of experience.
So what do you think?  Is this something you'd like to try at home?  Do you think it resembles the inspiration at all?  I'm pretty happy with how it turned out.
I was able to make this installation, thanks to that sale, for less than $20!  I also had all the other supplies on hand already.
Plus now I have some great spring decor over our dining room bar!  And it would be really easy to change this up with the seasons by sticking in different flowers or leaves for each season.
Have a great weekend friends!