Last week I showed you the inside of my home all cozied up for fall, and today I'm going to show you my fall front porch.  You can see the last two years here and here.  Welcome, walk on up to our front porch!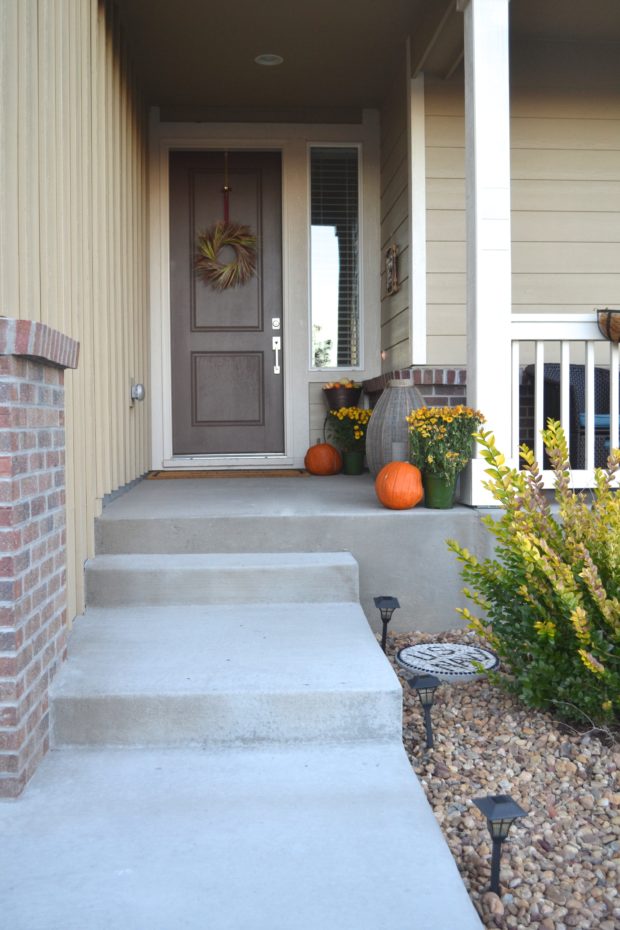 When I took these photos it was a beautiful fall day with perfect weather.  We've since had a quick snow with a few inches and now all of our plants are much more droopy than they were before.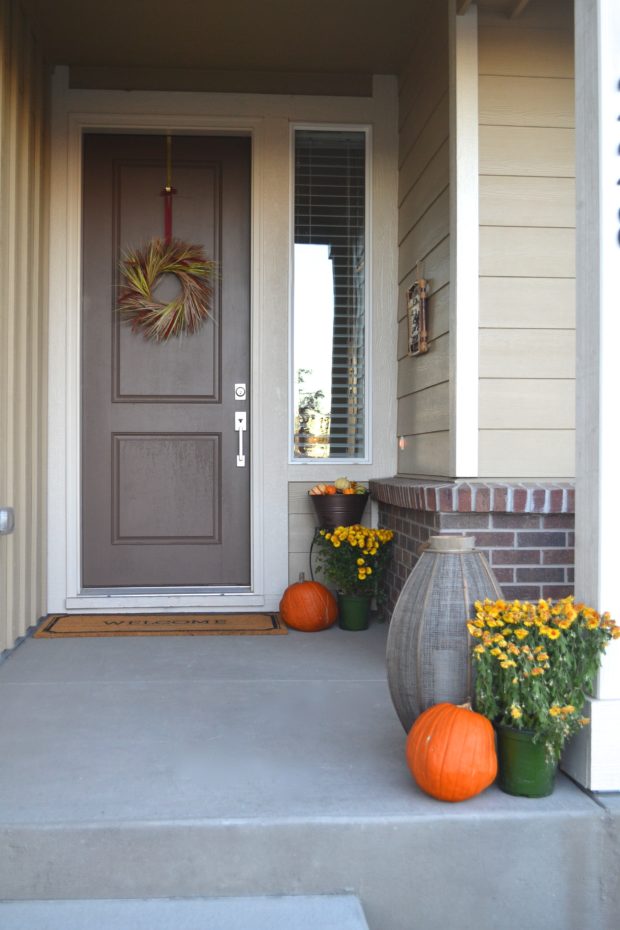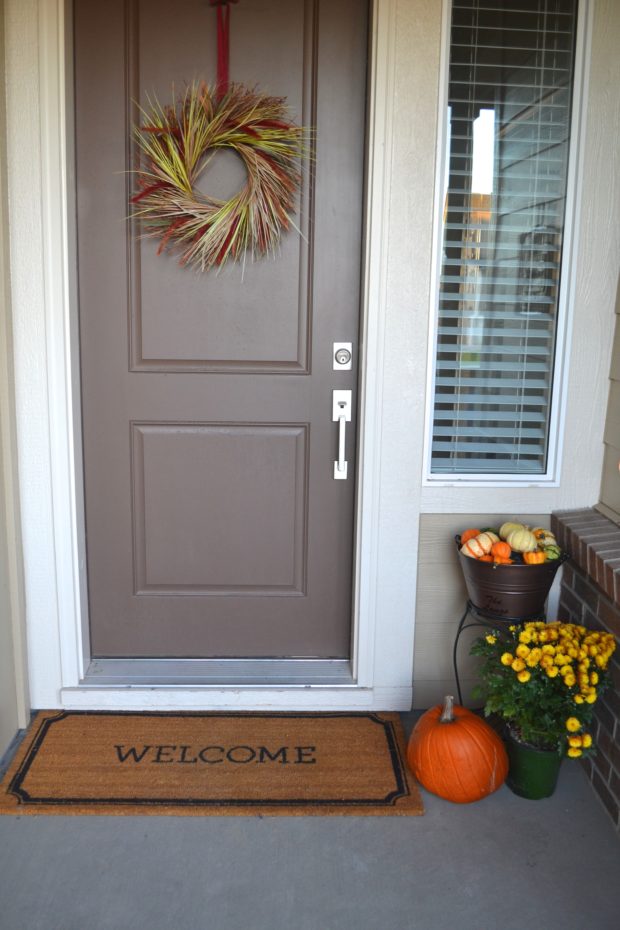 I was really wanting to add some tall corn stalks in the little corner by the window.  However, after searching at least four stores and coming up empty, I let go of that idea.  I do think they would look really fun though.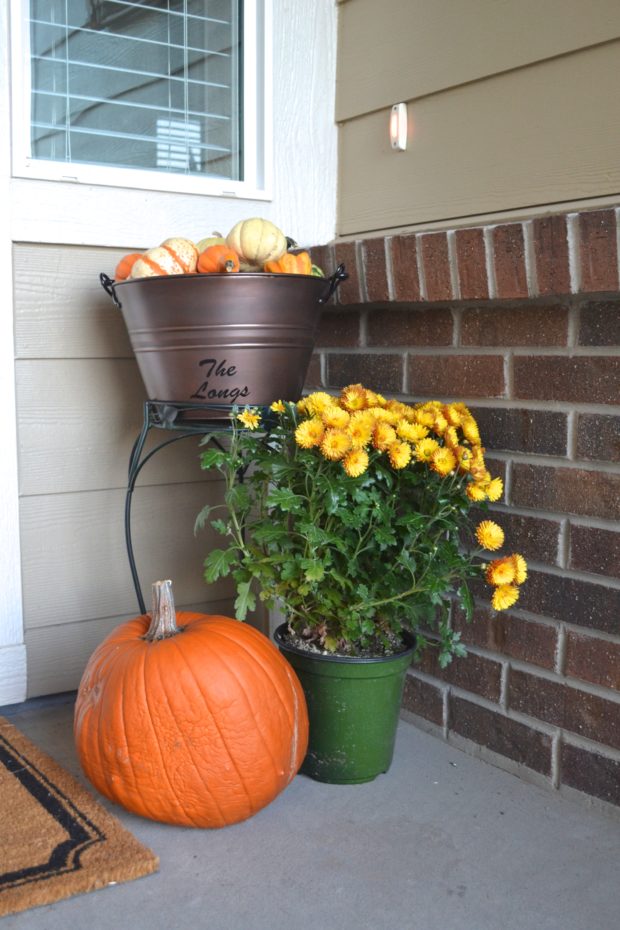 I have a pretty standard formula when it comes to decorating my front porch for fall.  It's simple….
Pumpkin + Mum + Something Extra = Perfect Fall Front Porch Vignette
This year I used my recent anniversary gift and filled that bronze bucket with a bunch of small pumpkins and gourds.  It's my something extra this year.  I also love that it lets you know who lives at our house, with our name on the bucket.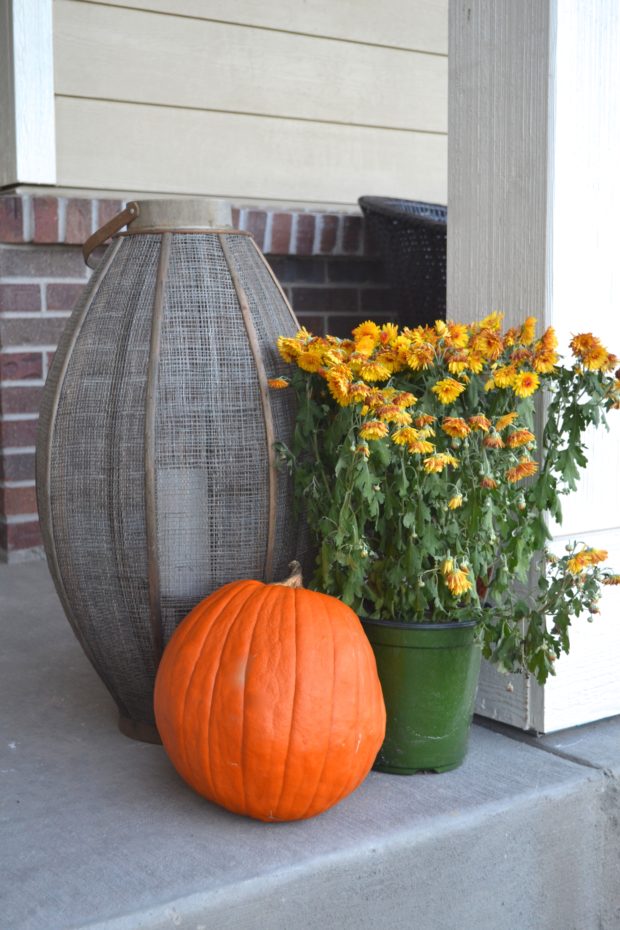 Here my something extra is this outdoor lantern.  There are so many fall things you can use to add a little something fun to your front porch.  Try using typical things like hay bales, corn stalks, or dried corn.  If you want to be a little bit more original, look around your house for things that are a little different.  Use buckets, baskets, rustic boxes, old shutters, metal tubs, signage, or crates to mix it up.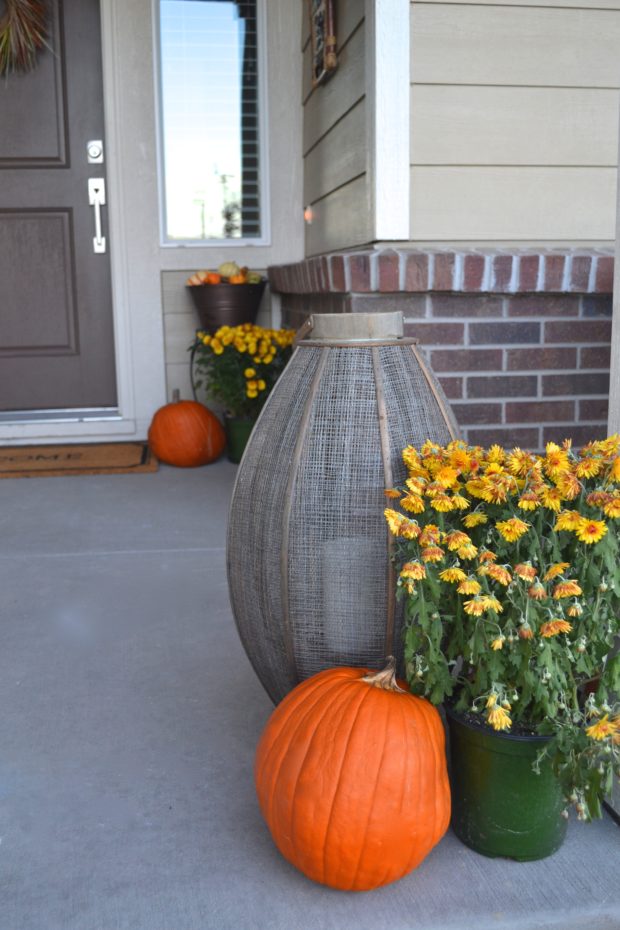 This year I feel like my decorating is so much less planned out or thoughtful.  I think we're just in a season of life, where other things are taking priority.  I totally underestimated how much more time it would take to care for a newborn and a toddler.  It also feels so good to let go of everything and just enjoy snuggling a baby.  I've definitely been trying to give myself more grace on those days where it feels like I should just hold the sleeping baby on my chest.  I mean as everyone always says, the days are long, but the years are short.  It's totally ok to have a less decorated front porch (and other areas of the house) when you're soaking up a new baby and trying to make memories to fill the short 18 years we get with our kiddos.
Anyway, moving on from my deep parental thoughts this morning.  I hope you were inspired to put to use a simple formula for a Fall front porch.  What do you plan to use as your "something extra" in your decorating?