This blog is all about home entertaining and opening your home to celebrate with others. My daughter does a lot of entertaining in this space so today you get to see a little piece of our home.
Today's post has been a long time coming.  It's also taken a long time to get everything together and finish this room. And yet, it's still not 100% finished, but it's so close I had to share it with you.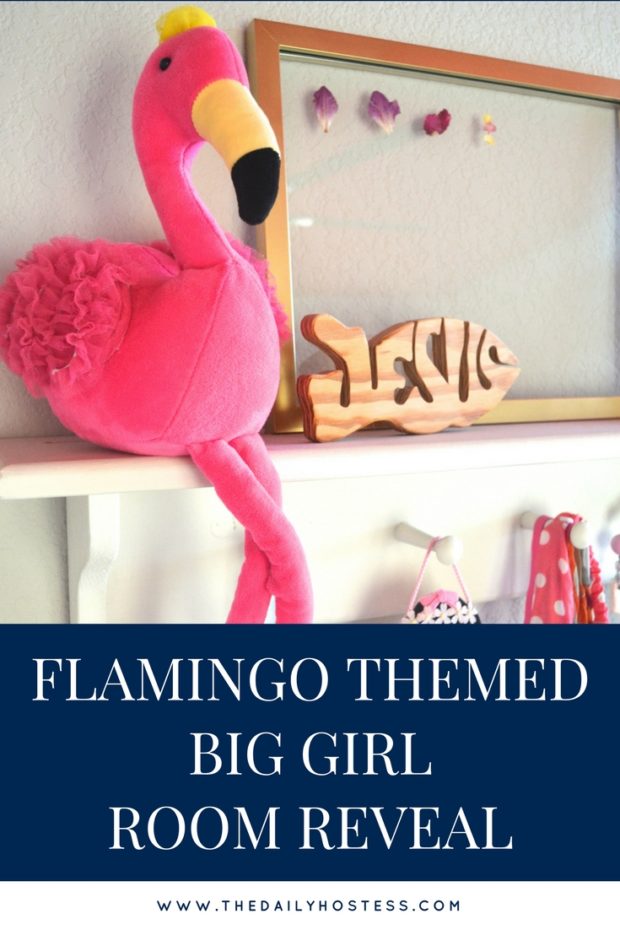 Last summer when we knew our baby boy was only a few months from arriving, we decided to upgrade my daughter's room to a "big girl" room in order to move the crib into the nursery.  Without step she transitioned beautifully and continues to amaze me anytime there is a big transition.  She adjusts so well and never has any issues with big changes.  Such a blessing, and I'm hoping our son will be the same.
She loves all things pink and has a special place in her heart for flamingos, probably because they are pink.  We took those two things and started building her room around them.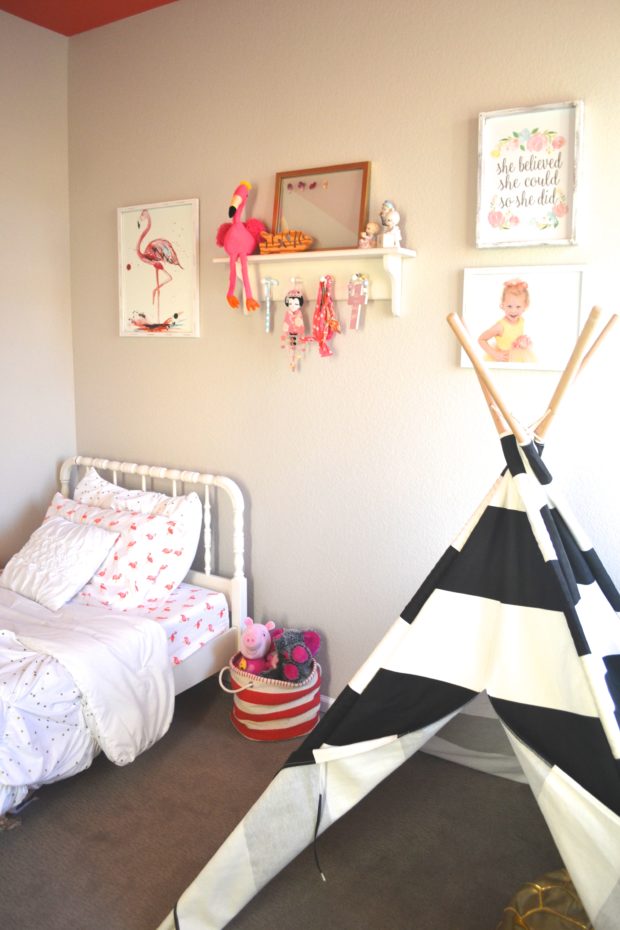 The biggest change was switching out her crib for a big girl bed. I've always loved the Jenny Lind beds from Land of Nod, but couldn't justify spending so much.  So after endless Craigslist searching, I found a very similar bed for a fraction of the cost.  It's antique so we have to be careful to keep it together which means no more monkeys jumping on the bed.
I found the cutest flamingo print sheets at Target, along with a new gold polka dot comforter for her new bed.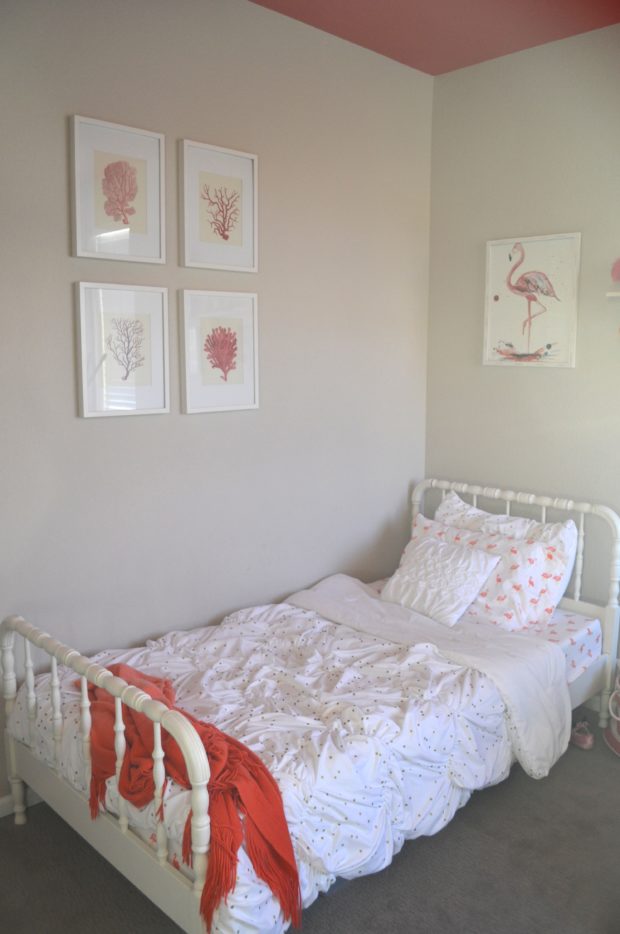 The other big change was painting her ceiling. We chose a not so pink color and went with more of a coral.  It adds such a fun pop of color.  In the afternoons her whole room glows pink with the sun coming in.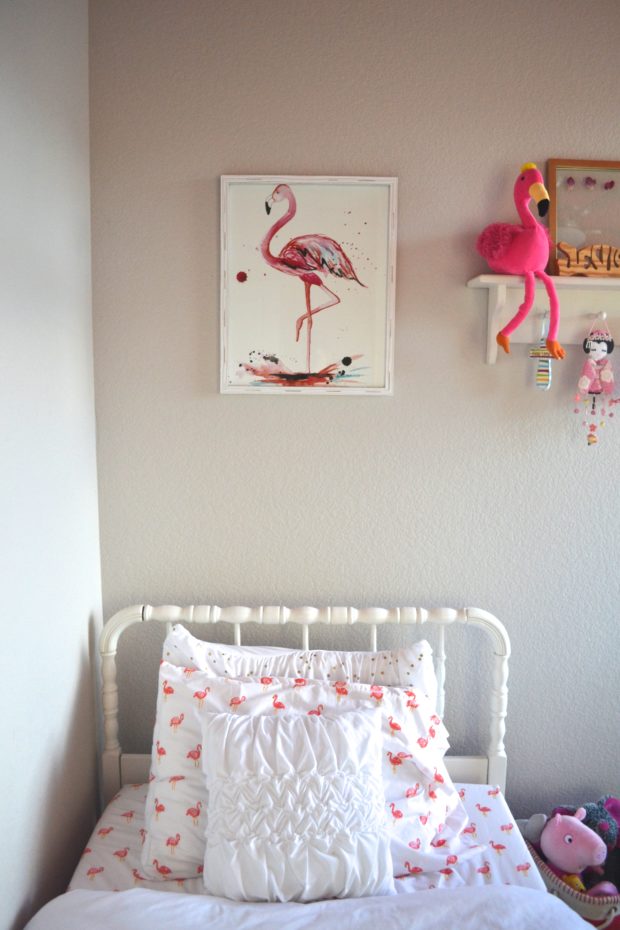 I found a fun flamingo art print on Minted and "Santa" brought it for her for Christmas.  Thanks to Christmas sales I got a good deal on it.
We added several other pictures to this wall to make a gallery wall. A stuffed flamingo from Hobby Lobby perches above her bed. I'll randomly find it in her bed with her though.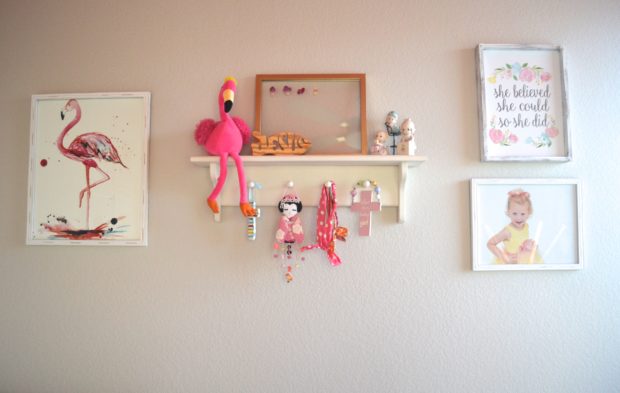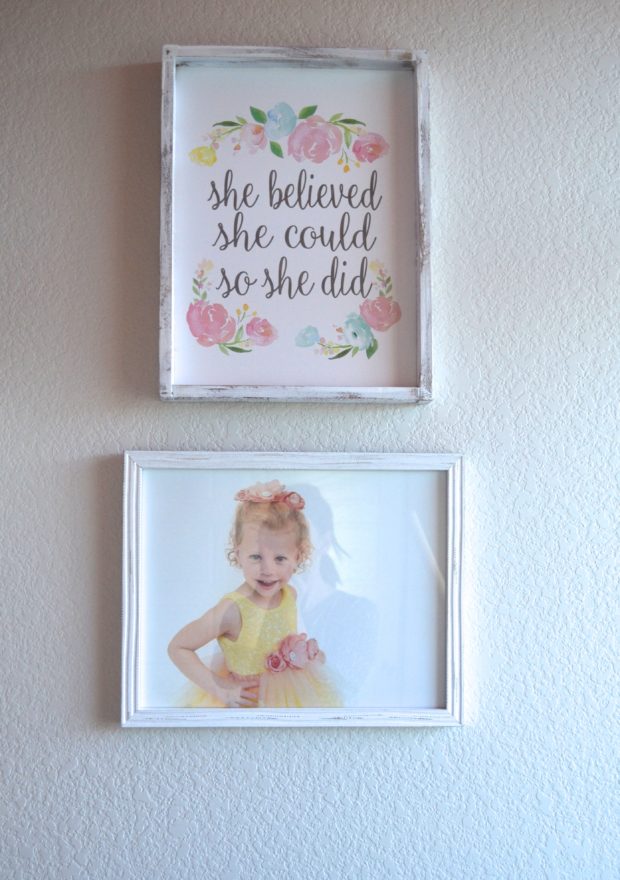 This dance recital picture brought me to tears when I got it last year.  Probably due to pregnancy hormones, but I just couldn't believe how big she looked.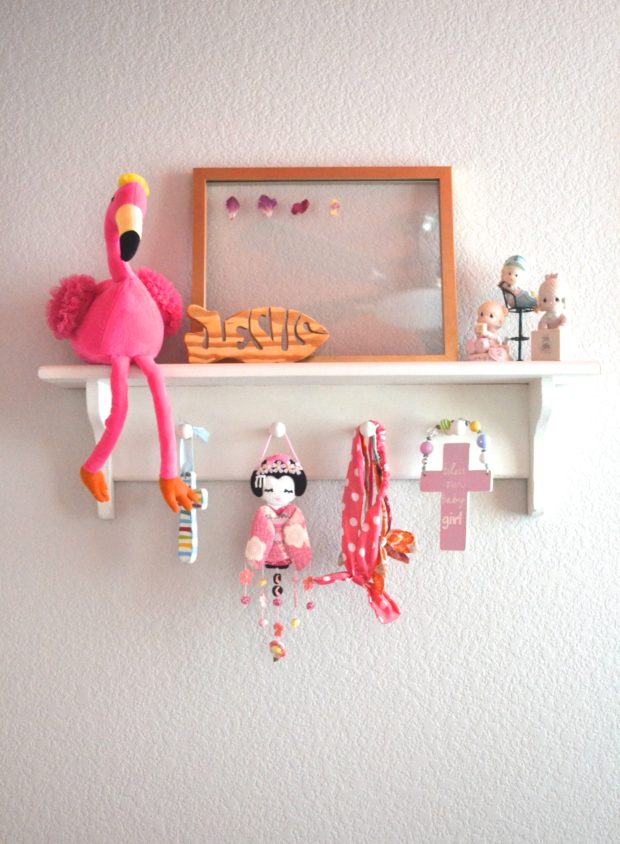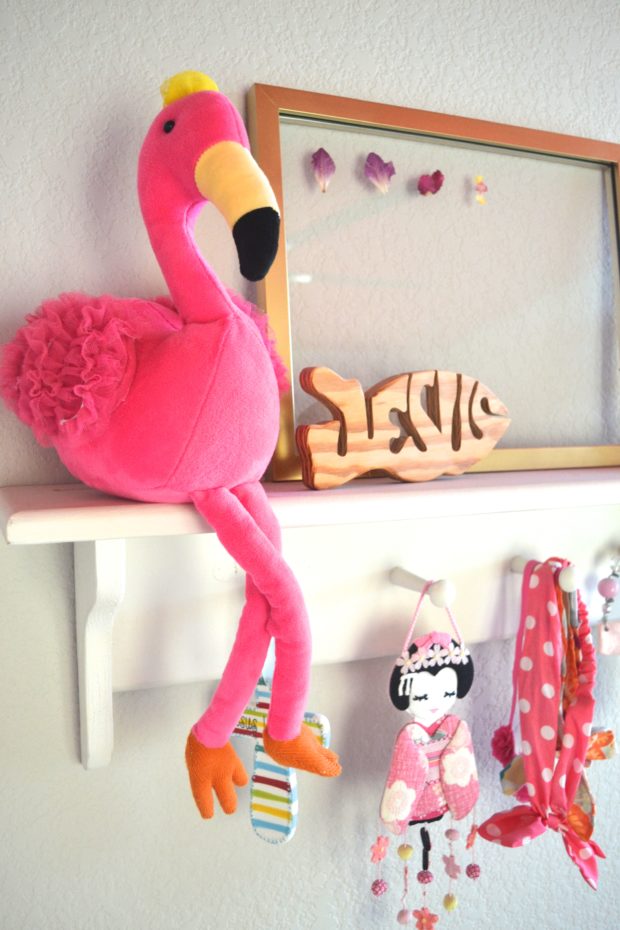 The framed flower petals is one thing I would rescue from our house if it's ever on fire.  #thisisus It holds all the petals from the lei's that my husband gets her every year for her birthday.  I dry a petal from each lei and add it to this collage.  It will be hers once she's 18 and the whole frame is full.  I hope she treasures it all of her life.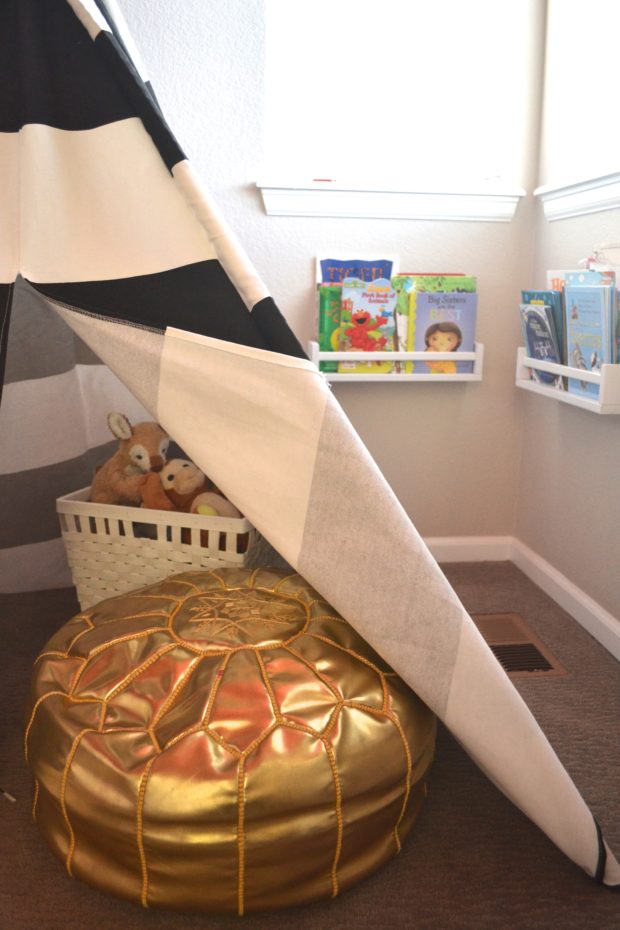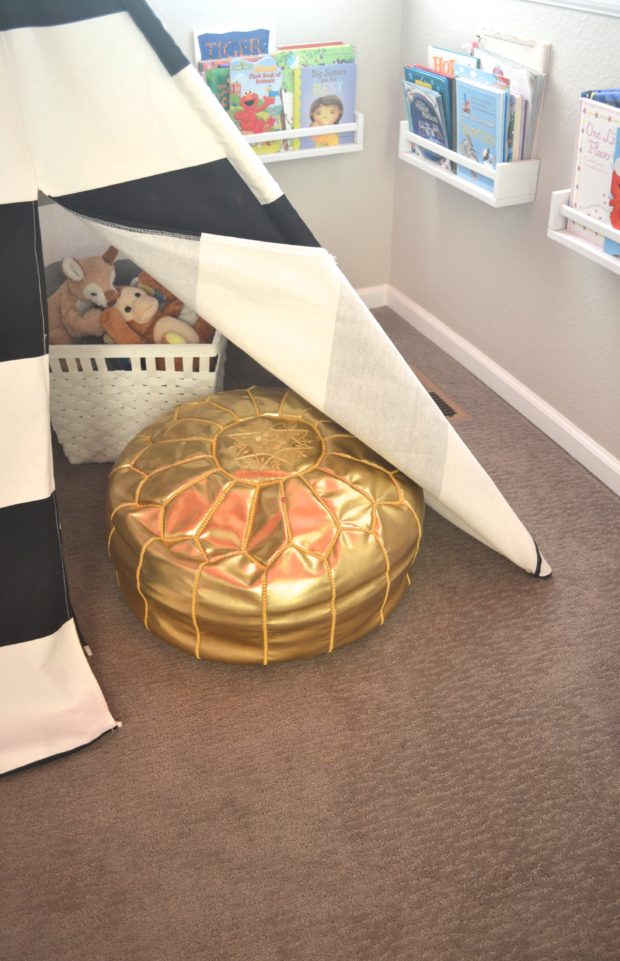 She also got this teepee a year ago for Christmas and I often find her and her friends hiding in it.  It's the best place for a little reading nook.  We added these shelves from Ikea below her windows so they would be at just the right height for her.  They were also in her nursery when she was a baby so it's fun to see her picking books out on her own now.
The other side of her room has her dresser and closet.  It's a fun place to add pictures of family and friends.  Plus, she's obsessed with her "Ok to Wake" alarm clock.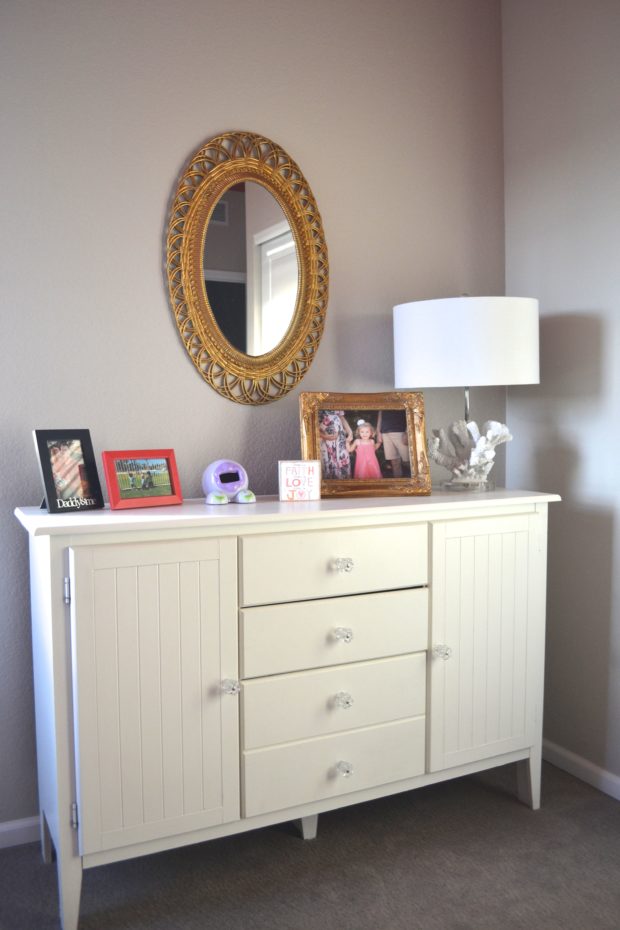 I'm wanting to make something like this to hold head bands and I actually have a wire wreath ready to make this once the weather warms up enough to spray paint.  Adding them to this area will fill out the space a little and be a great place to tame all the curly hair.
Shop This Flamingo Themed Room Below
Feel free to shop some of the items from my daughter's room below by clicking on the picture.  Affiliate links are included so at no cost to you I may receive compensation to keep the blog running if you click or purchase anything from my site.

So what do you think of this big girl room? My daughter loves it which what matters the most, but I'd love to hear your thoughts!  What's your favorite part?