Happy December everyone!  Around here we are in full Christmas celebrating mode.  Decorating, gifting, lights, and baking, it's all happening now that we're 25 days away from Christmas!  Let's all try and make the most out of the season this year and really celebrate it.  To help, I've put together a great list of things to get you in the holiday spirit.  Scroll down to see the 2016 Christmas Bucket List.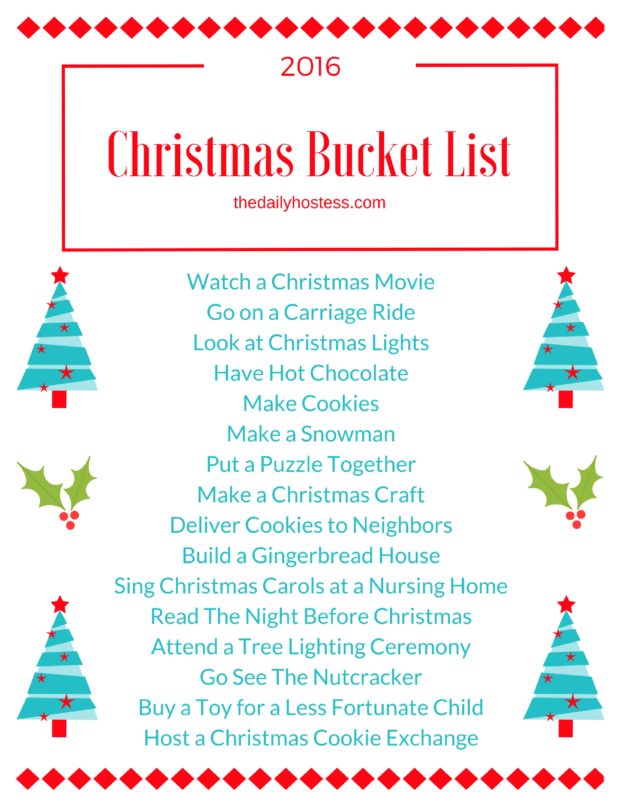 My family has already crossed a few of these fun things off of our list.  Thanks to our cute little town, we've attended a tree lighting ceremony and did a carriage ride down Main Street.  Both were so fun and got our holiday season off to a great start!
This bucket list is a great way to make the season not about the "stuff" but about the experiences and memories for you and your kids.  Sitting around and listening to my husband and his siblings talk about their childhood is one of my favorite things.  It was chock full of memories and experiences, traditions and most of all love.  This is the time of year to make those memories with your own kids.
How great will it be in 10, 15, or 20 years from now to hear your kids talk about how every Christmas your family did X,Y, and Z.  They will love having the tradition and doing the same thing every year.
I hope this bucket list will get you excited for the season and give you ideas of traditions to start with your own family.  There are 16 ideas listed and plenty of time to do them all.  Even if you have to combine a few.  Make hot chocolate, then go around the neighborhood and look at Christmas lights.  Or, put a puzzle together while watching a Christmas movie.  There are a lot of ways to cross all of these off throughout the season.
To download and print out your bucket list, click on the photo above.  What things would you add to your Christmas Bucket List?  What holiday traditions do you have?  Merry Christmas!