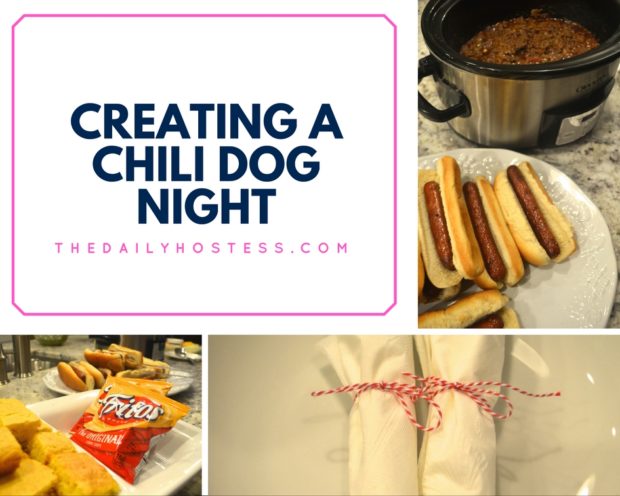 Isn't this the time of year for coziness, soups, and stews?  And also chili!  There are always so many chili cook-offs this time of year and there isn't anything nicer on a chilly day than a warm bowl of chili.  Recently I hosted a little chili night at my house.
I made a big pot of chili with tons of toppings, fixings, and additions then invited the neighbors over and had a great evening.  I used this chili recipe, it's my new go to.  The flavor is so deep and rich, plus while it's simmering you have plenty of time to get everything else ready.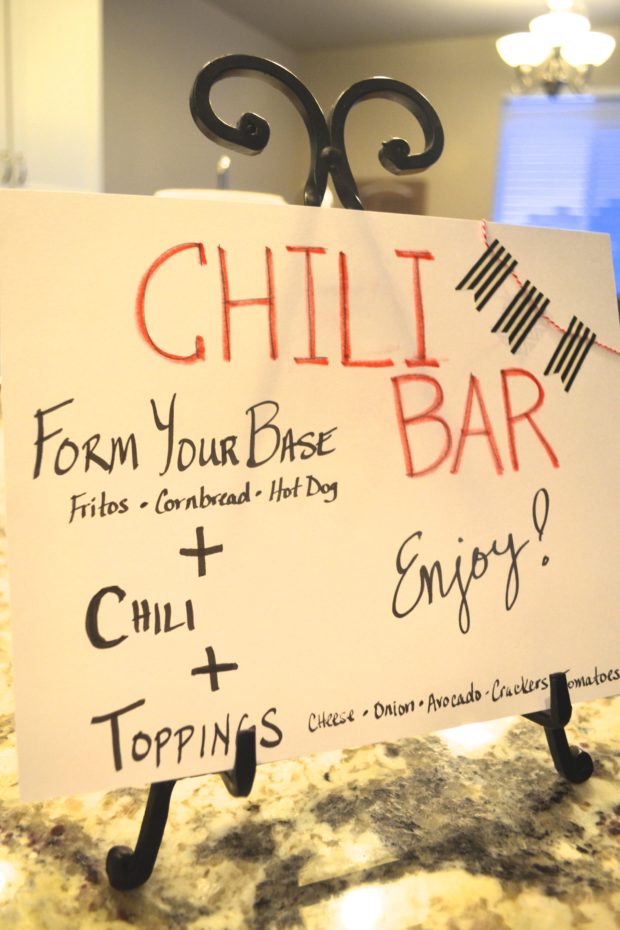 Be sure to have plenty of signs so people knew how to assemble and make the night their own.  I apologize for my dimly lit photos, but it happens when you're too busy enjoying your chili night and not working on taking perfect blog photos.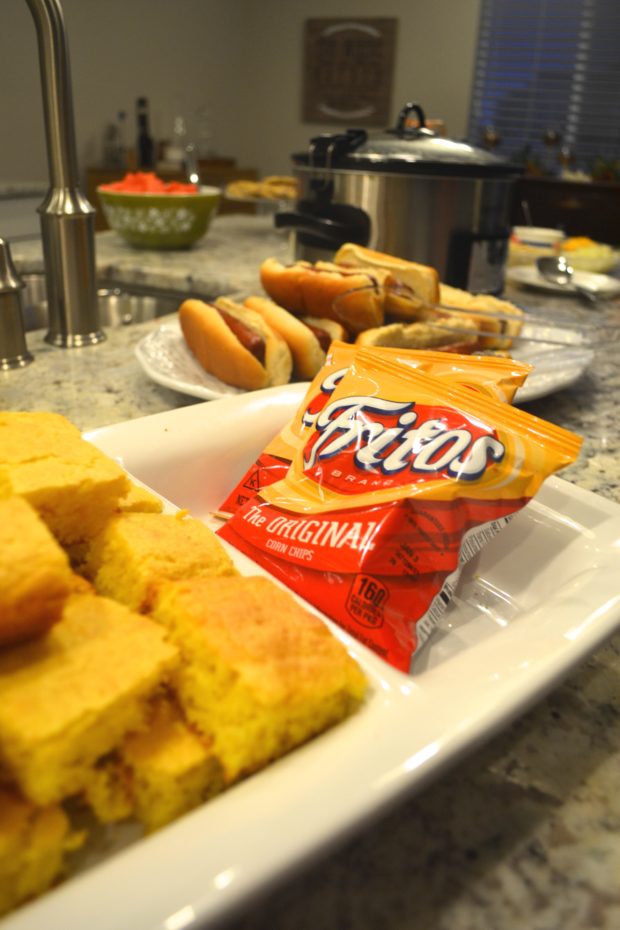 I included plenty of options for a base to the chili like Fritos, cornbread, and hot dogs.  But so many other things could work too like pasta, rice, or even garlic bread.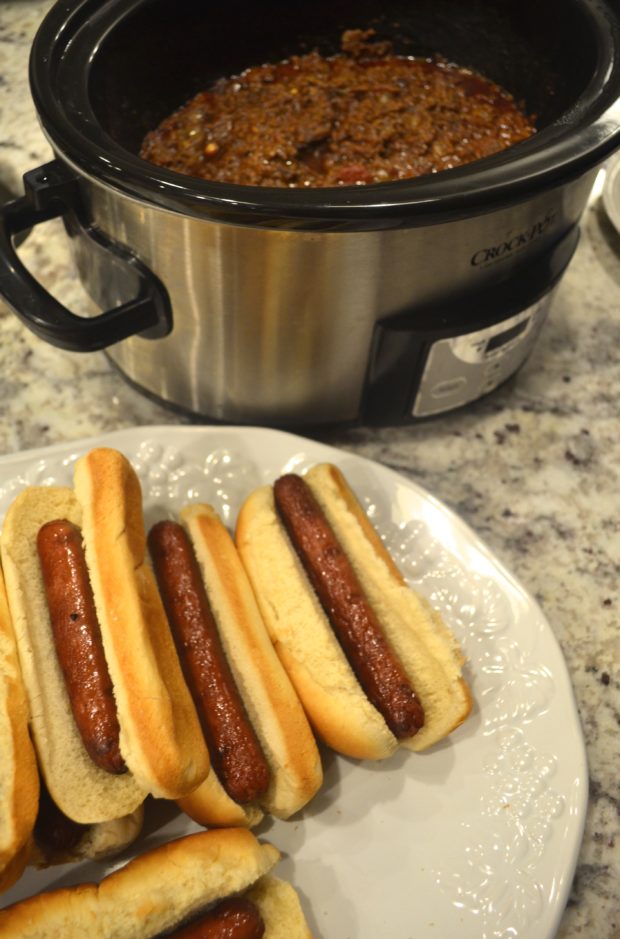 Be sure to put chili or anything else that needs to stay warm in a crockpot or chaffing dish.  I'd also recommend putting hot dogs out for grabs last because it's kind of difficult to keep them warm unless you don't assemble them ahead of time.  In that case just keep the hot dogs in a chaffing dish and make the buns easily accessible.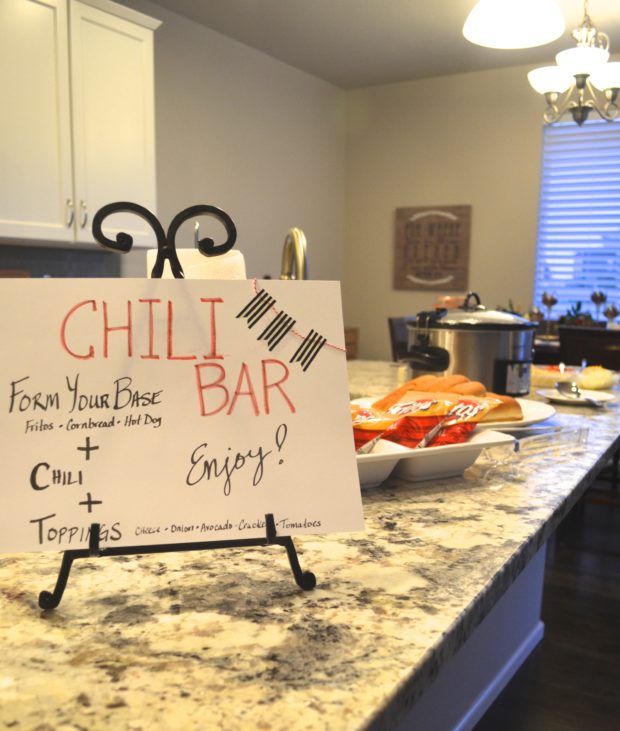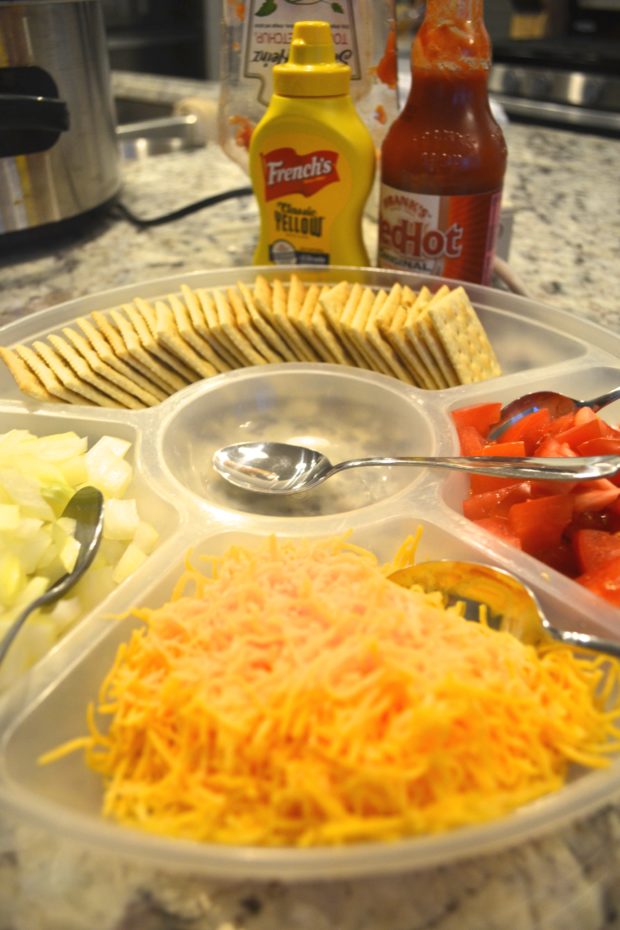 Toppings for chili are a must!  I don't care how much you stand behind your chili recipe, it's always better with fresh ingredients on top.  I used a vegetable tray to display all of our topping options.  We had cheese, onions, crackers, tomato, and sour cream.  Other great ideas are avocado, olives, or salsa.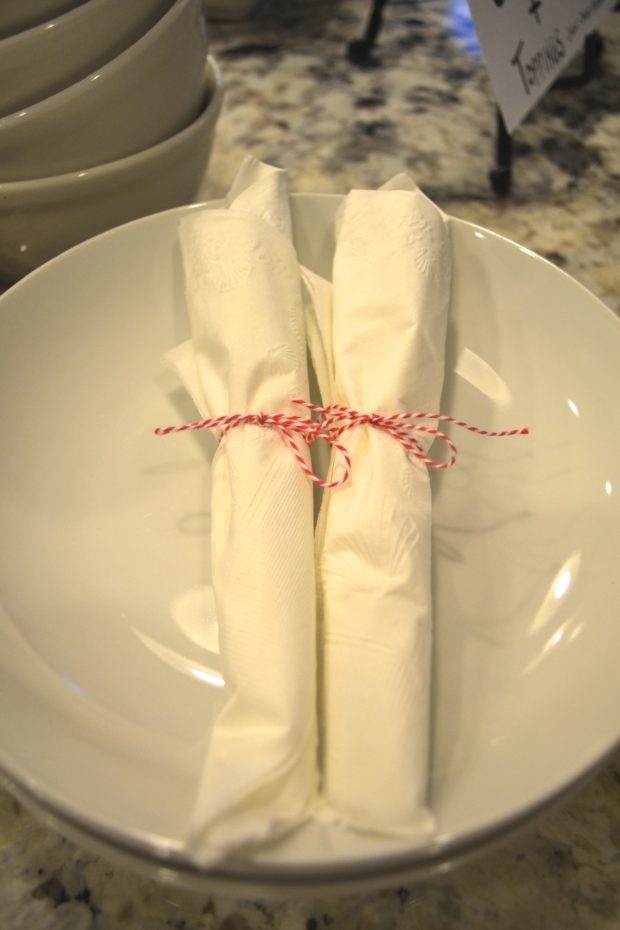 To scoop up all the delicious chili, chili dogs, and cornbread I rolled flatware in napkins and tied it off with red and white baker's twine.  I think baker's twine is a must when it comes to party planning.  There are so many ways to use it, and the red and white color of it coordinated with my black, white, and red themed chili night.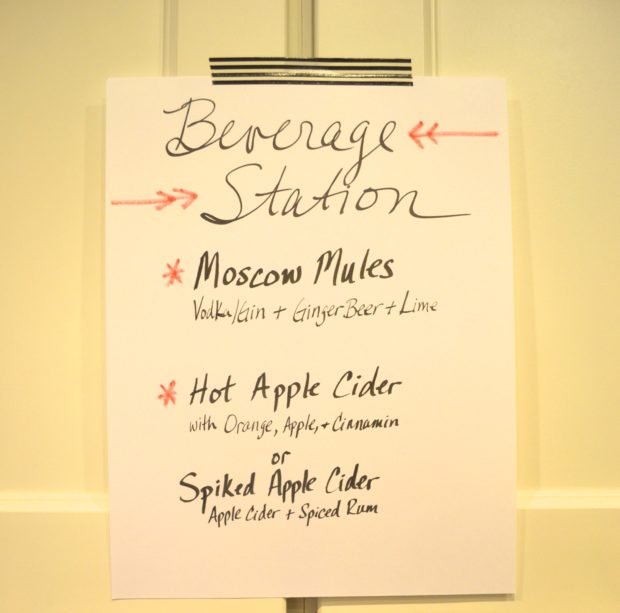 You have to have a great beverage station to wash down your chili, especially if it's spicy!  At my chili night I offered a Moscow mule, hot apple cider and a spiked version of hot apple cider.  I always feel like Moscow mules are a fall drink, but mostly because of the copper mugs.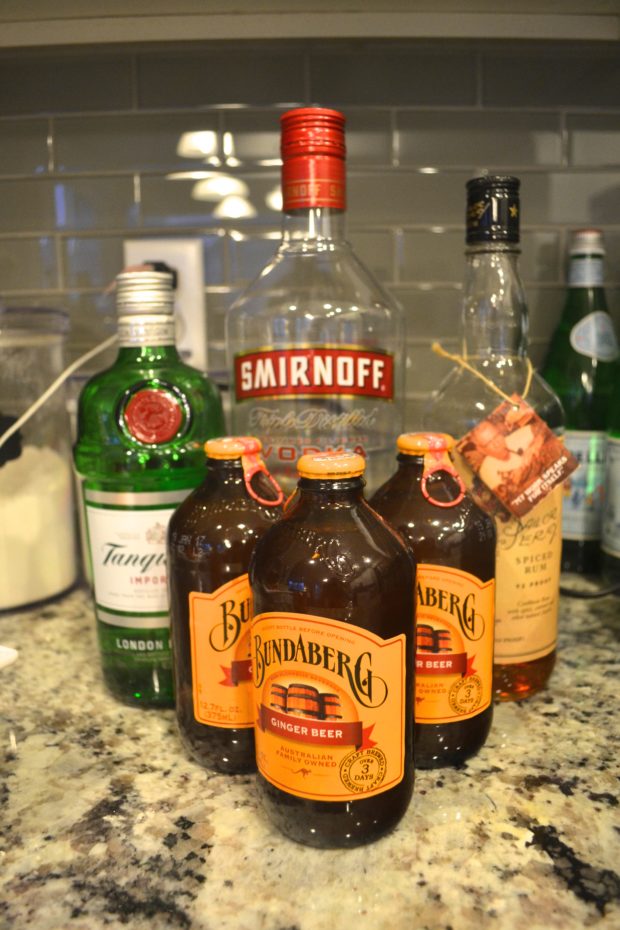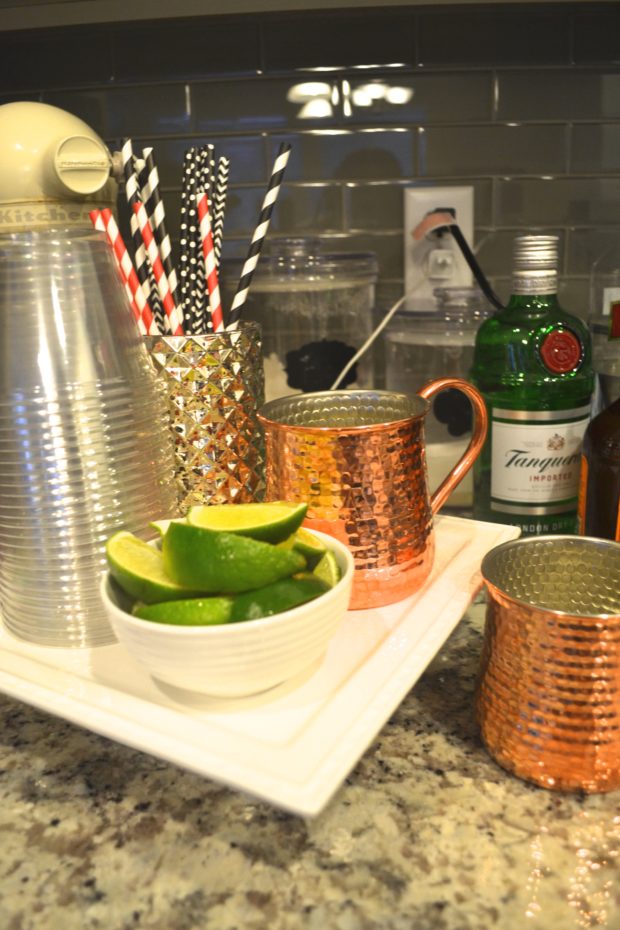 Our friends brought some pumpkin flavored rum that was so delicious in the spiked apple cider.  It really gave it an extra fall flavor.  I also added some cut up apples and oranges to our apple cider and threw in some cinnamon sticks.  All those flavors blended together in the crockpot and made the drink so delicious.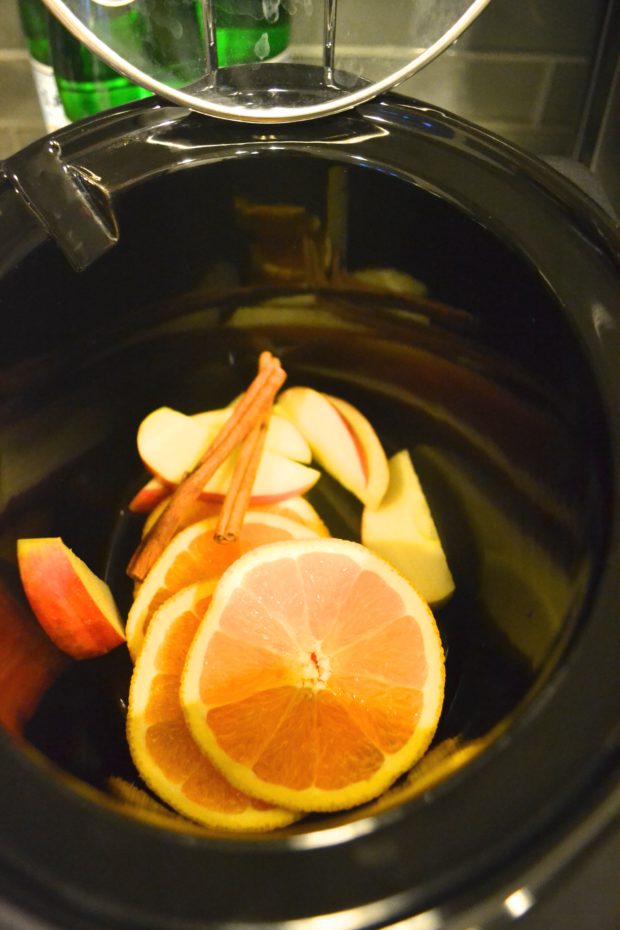 It was a great evening with friends casually hanging out eating delicious chili and drinking fall flavors.  It was so nice to have just a few people over and really get to enjoy our time and conversations with them.  I highly recommend hosting a chili night at your house.
It's a great option for a neighborhood party, a Sunday evening dinner with family, or after your kids soccer game.  So much fun and so delicious!