I'm back again today with another parenting focused party post.  Play dates are pretty much the regular party around here.  If you're in the same boat but feel that hosting a play date can be intimidating I can help.  Play dates may seem difficult to host because you have people in your house, there are lots of kids, and the clean up can be daunting sometimes.
I wanted to give a little advice on ways to make cleaning up from them a lot easier.  As for the other reasons, those have fairly easy solutions too.  Don't invite too many kids, and don't worry about having people over.  The adults will just be thankful to be around other adults and the kids don't care what your house looks like at all.
So back to cleaning up from your play date.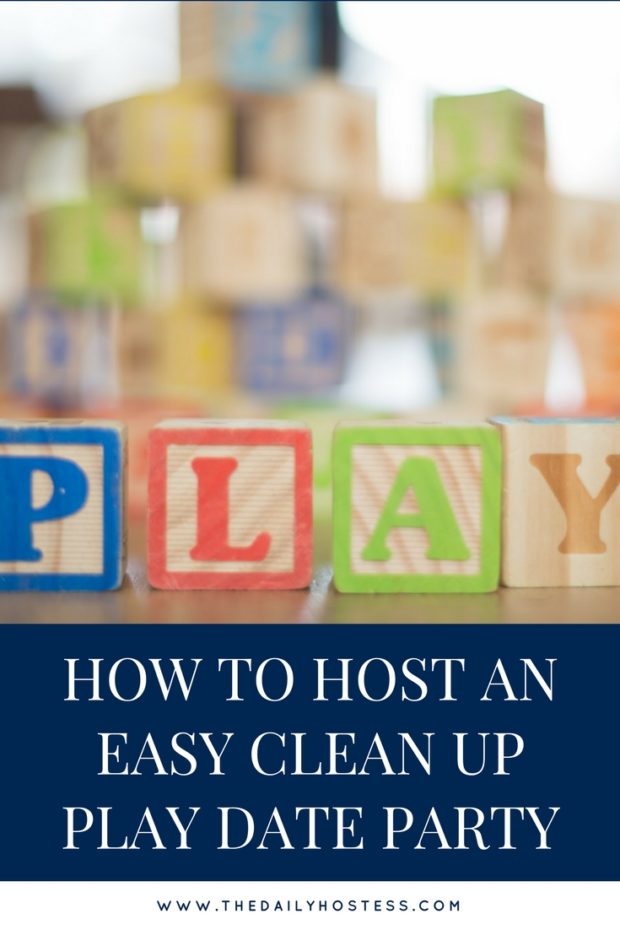 Easy Clean Up Play Date Ideas
1. Use a Baby Gate to Section of a Play Area
Containing the play date is key to a quick clean up.  Block off certain areas of your house with a baby gate, closing doors, or just telling the kids to stay in one area.  This is also great if there are actual babies at your house to keep them safe.
Only having a mess in one area makes clean up a lot faster.
2. Use Paper Table Runners
Plan to do a craft or activity at your play date?  Be sure to get a roll of kraft paper beforehand to cover your table or work space.  Once the craft is done all you have to do is roll up the paper and toss the mess in the trash.  This is also a great way to protect your table for any major spills or messes.
3. Only Use One Play Space
Over the holidays we had several parties where kids played with toys in the living room, the play room, my daughter's room, and the basement.  So, there were toys everywhere, mismatched with where they were supposed to go.  Keeping the play date in one area or room really cuts down on how many places need to be picked up.  Just see number 1 for how to keep kids in one space.
4. Only Use Big Toys
You know what's not fun?  Cleaning up a million tiny little toy pieces.  So that's why I suggest when you host a play date to break out some of the bigger toys.  Things like big blocks, play tables, climbers, and all in one toys are great for play dates.  They may seem cumbersome, but at the end of the play date you won't have to find a bunch of little things everywhere and clean up will be super quick.
5. Corral the  Snack Zone
Providing a snack for the friends at your play date is a very hospitable.  But cleaning up that snack may not be very fun.  The best way to cut down on the mess is to choose a less messy snack.  Things like fresh fruit and veggies are great.  You can also make everyone eat their snack in one spot.  Doing so will keep crumbs and the mess in one area to clean up.
I hope some of these tips encourage you to ask your friends to come over and play.  Well at least your kids' friends.  With a little preparation it will be really easy to clean up after the play date.
If you're still not convinced then just plan to host a play date at a local park.  Super easy clean up and the best part is that it's not in your house 😉
Happy Friday, I hope you have a great weekend!!

*Affiliate links are used in this post, but it doesn't cost you a thing to just click and then do your normal shopping.  Any proceeds are put towards keeping the blog going.  Thanks 🙂