It's been one of the fastest years of my life!  The first year of my son's life has gone by in a blur.  But we were able to celebrate in a big, formal, dapper way with a Mr. Onederful birthday party.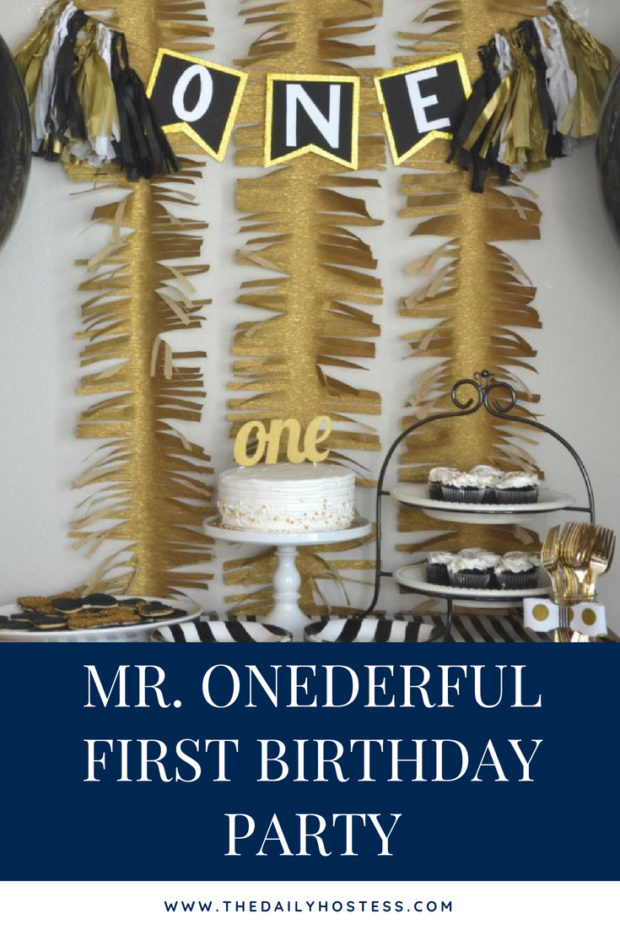 First birthday parties seem to be somewhat controversial because the baby is still so small and won't remember anything anyway.  Even though the party is mostly for the parents, it's still an occasion to celebrate in my opinion.
Since my son was just a couple months old, I have loved putting him in suspenders and bow ties.  He just looks like such a little man, it's so cute.  I wanted to do the same thing for his first birthday.  The theme was based soley around the fact that I wanted him to wear suspenders and a bow tie.  So I went with the Mr. Onederful theme.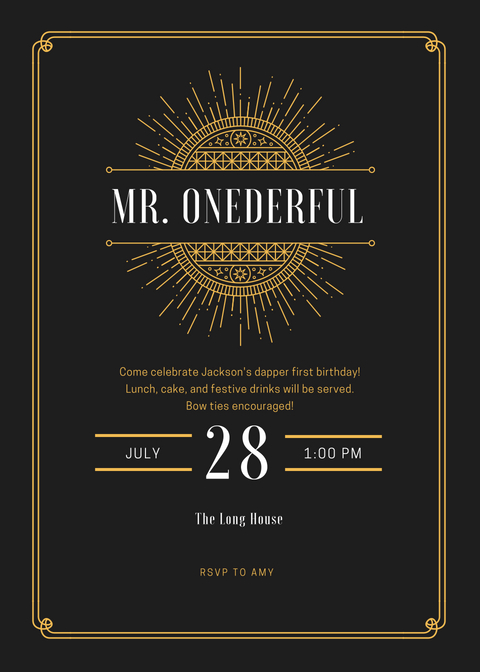 To make the theme carry through I asked our guests to wear bow ties.  It was so cute seeing our little friends showing up with their bow ties on.  It always makes a party more fun when your guests can participate too.
I love the fancy yet simple color scheme of black, white, and gold.  It's such a classic combination that can be used for young birthday parties like this one, or even for a 30th or 50th birthday.
Mr. Onederful Dessert Table Backdrop
I DIYed almost all of the decor in the dessert backdrop bow tie, **link**fringe garland, banners, and tassels.  Please excuse my poor photoshop skills, but I had to get rid of the blue tape that was holding up the fringe garland.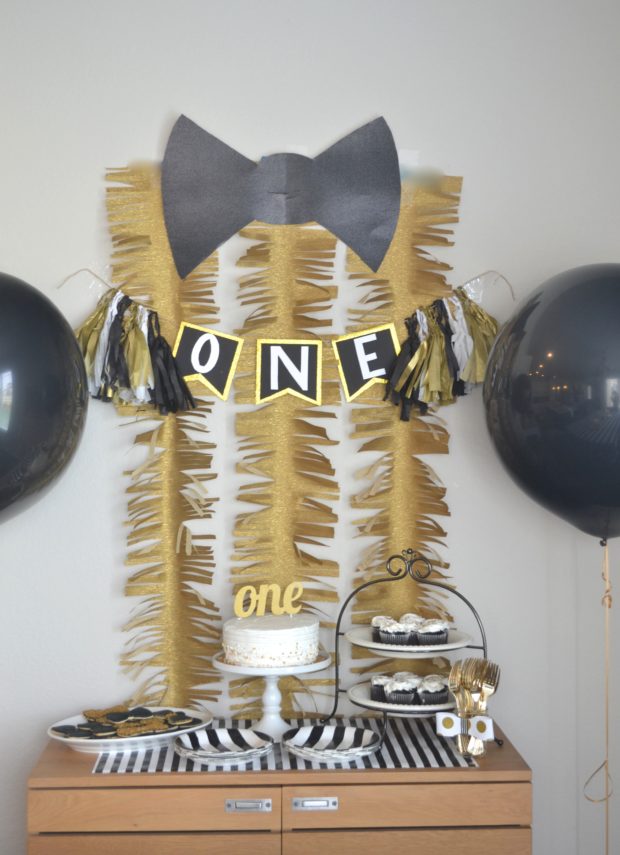 I love having a dessert table at most of my parties because it can be such a focal point of the party.  A place where the theme can really stand out.  See how to put together your own dessert table here.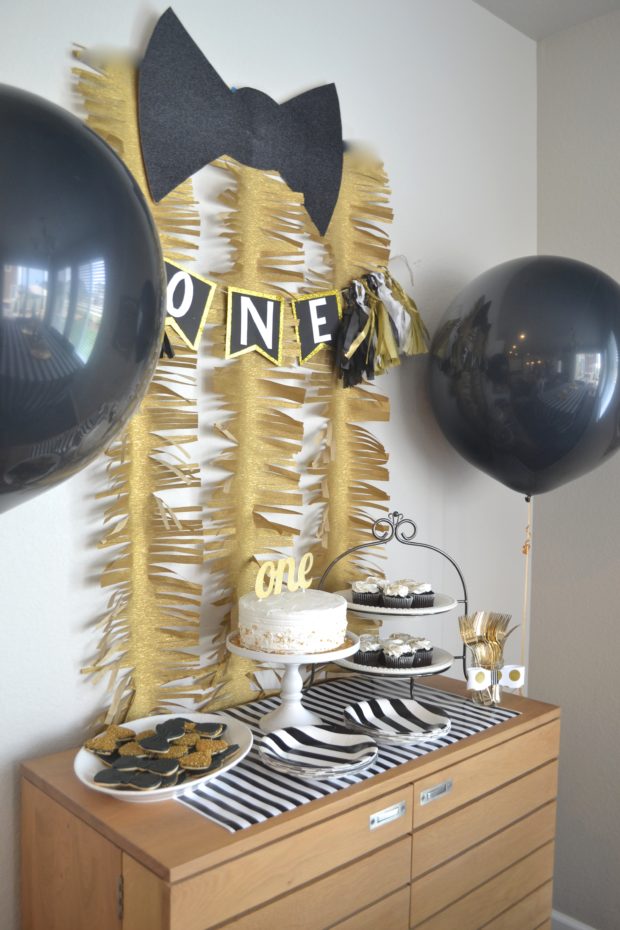 I ordered these huge black balloons to make a big statement next to the dessert table.  Thankfully we didn't run into this party mistake this time around.  I've definitely learned my lesson when giving my husband directions to pick party supplies up.
I went with my standby cake and cupcake place, Safeway.  You just can't beat the price, especially if you're getting a simple cake or cupcake design.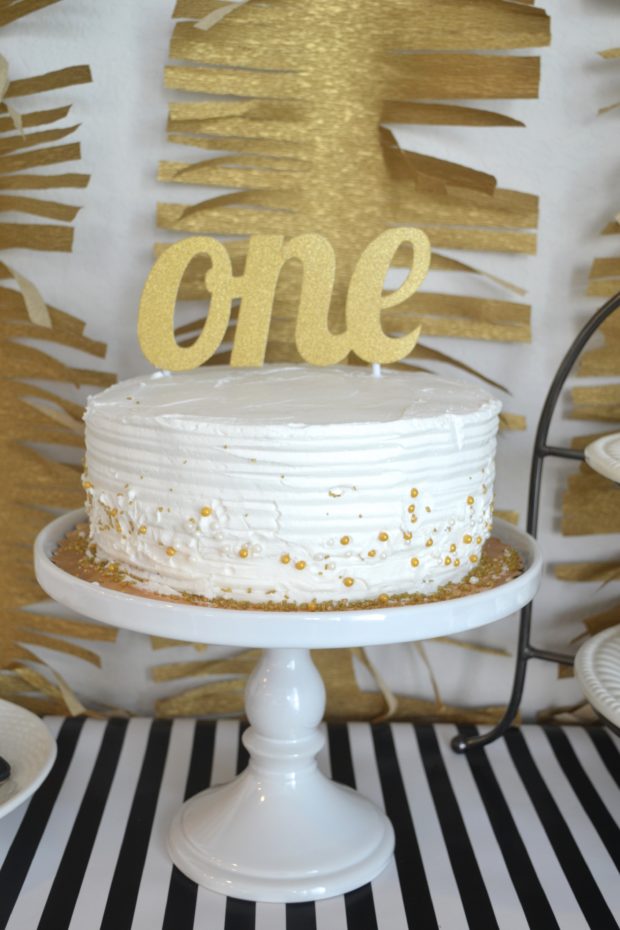 This cake was just a simple white cake until I added fun themed sprinkles and a cake topper.  This is a great tip if you want a more custom cake but don't want to pay designer cake prices.
I added the same sprinkles to the cupcakes as well.  I also realized after having two parties this summer with chocolate cupcakes that I need to order two dozen.  They just go a lot faster than the cake, especially with kids.  They are the perfect size for kids.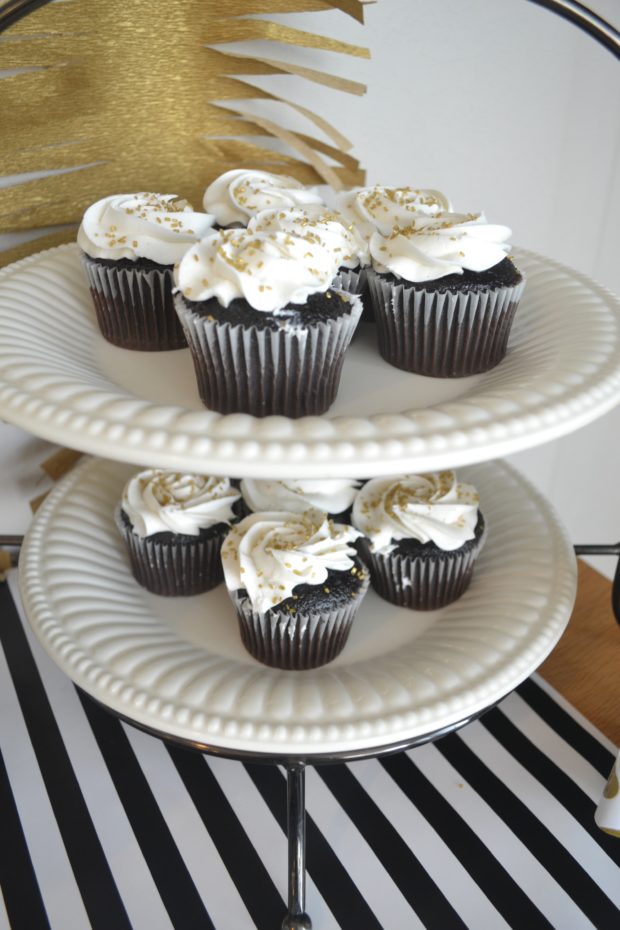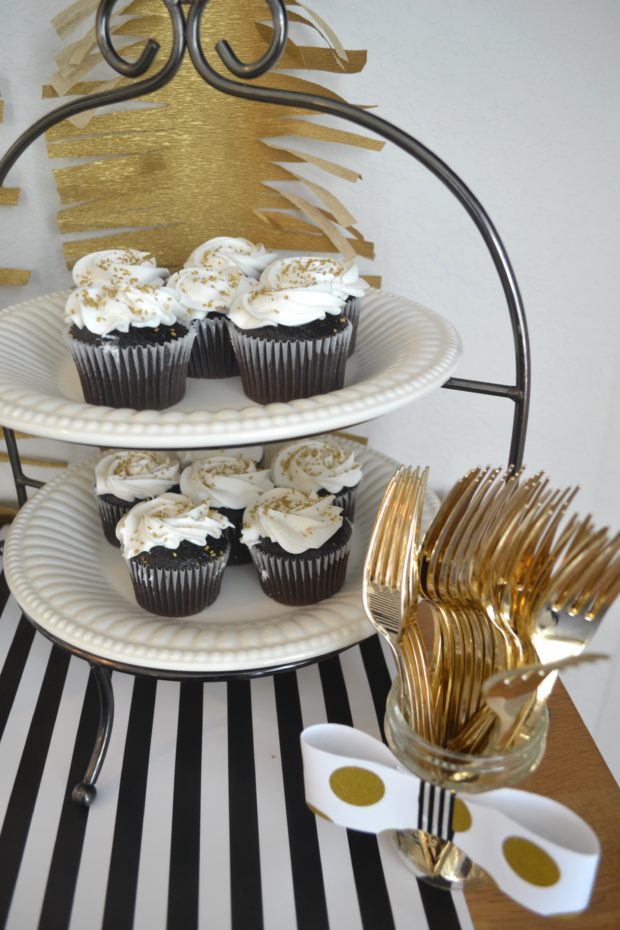 I saved money on the cake and cupcakes so I could splurge a little more and get frosted bowtie sugar cookies from my amazingly talented friend Melissa.  You can order cookies through her Facebook page here.  She'll even ship if you're not local.  She also has a cookie of the month club which is genius!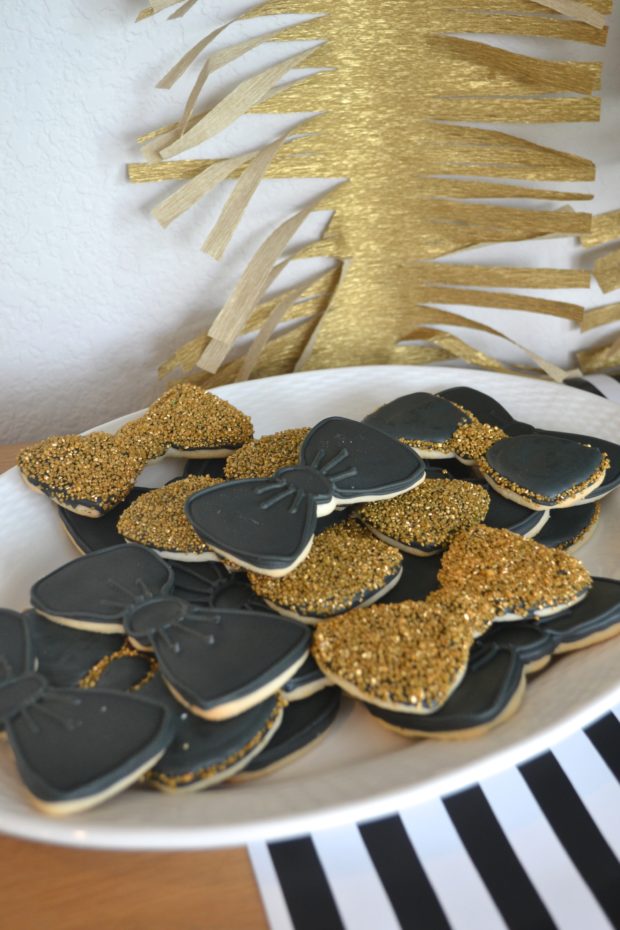 Mr. Onederful Birthday Party Food Buffet
We did serve lunch before the dessert.  I also went the easy route and ordered catering from Chick-fil-a.  Those nugget trays are seriously the best!  One tip I have is to put your catered food onto trays or platters that match your party decor.  It makes your buffet area blend in with your party a lot more.
I wanted to incorporate the theme around the food buffet as well, so I wrapped a few boxes in coordinating wrapping paper to create various levels for the food to sit on.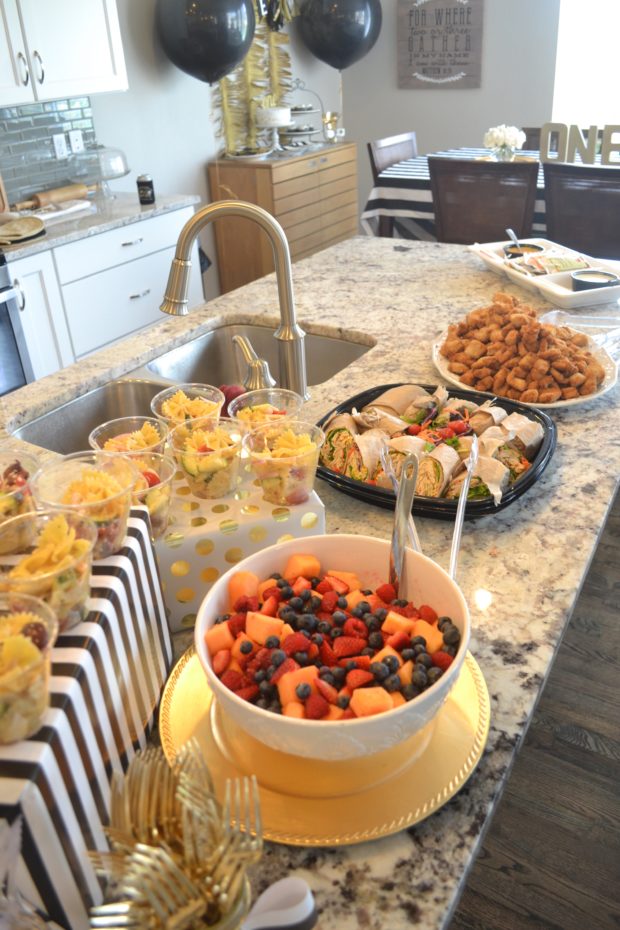 Simple food like like fruit, chicken nuggets, and pasta are great because they are so kid friendly.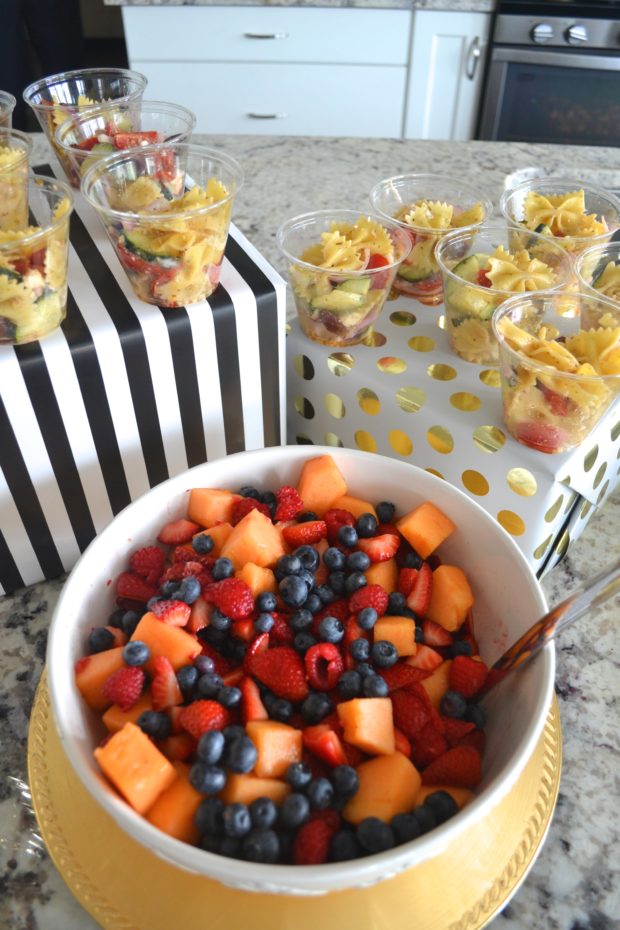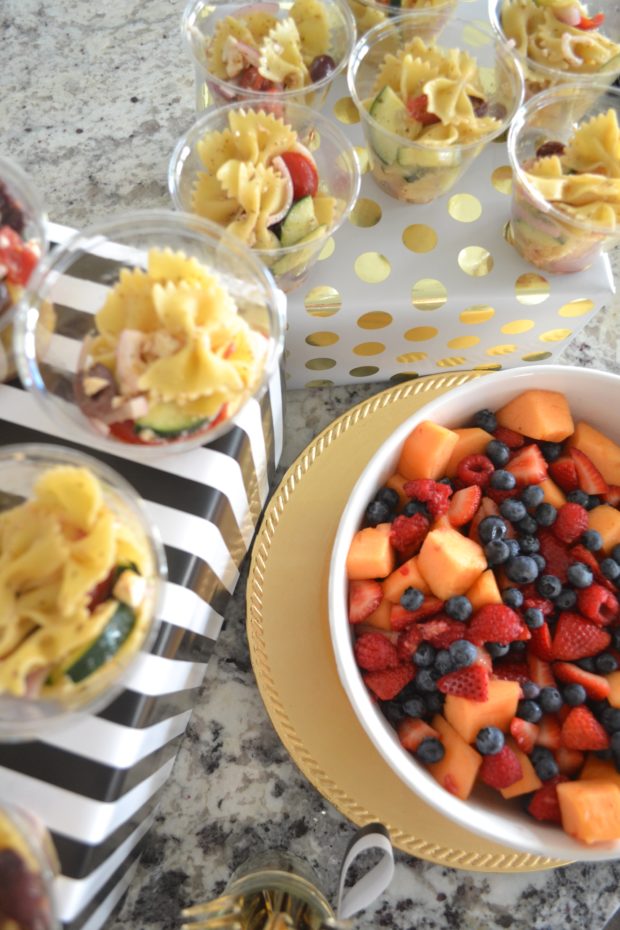 Here is the Mediterranean **pasta recipe** I used.  The olives and dressing made it so delicious.  I also thought putting it in individually sized cups made it look so cute and a little fancier.
Mr. Onederful Birthday Party Tablescape
I used a simple table centerpiece for the party.  These "ONE" letters were reused from my daughter's first birthday and I bought this table cloth off of Amazon.
It's neutral enough that I bought a nicer tablecloth instead of buying a plastic throw away tablecloth because I know I'll use it many more times.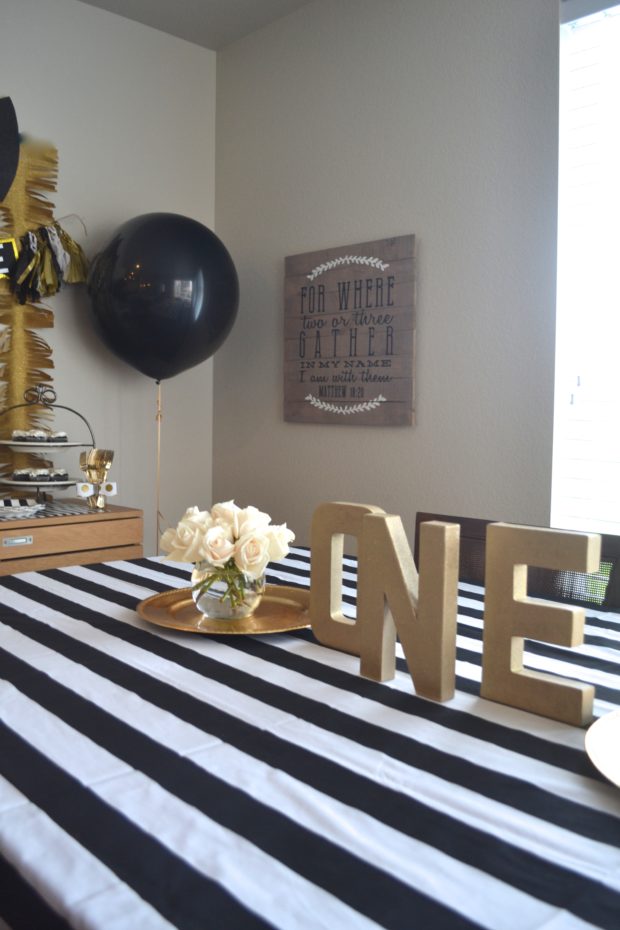 Simple white roses also added to the classic look of this Mr. Onederful party.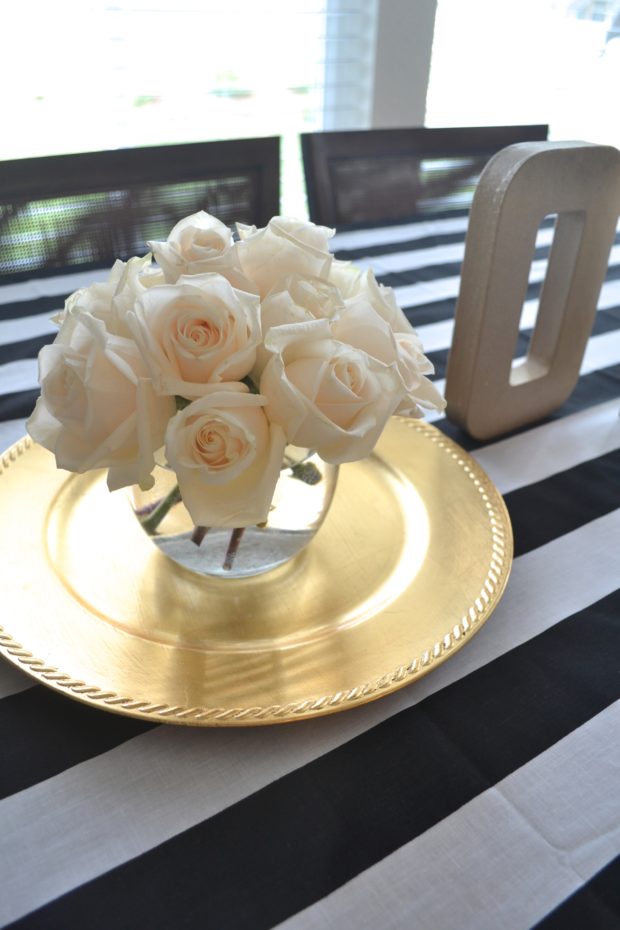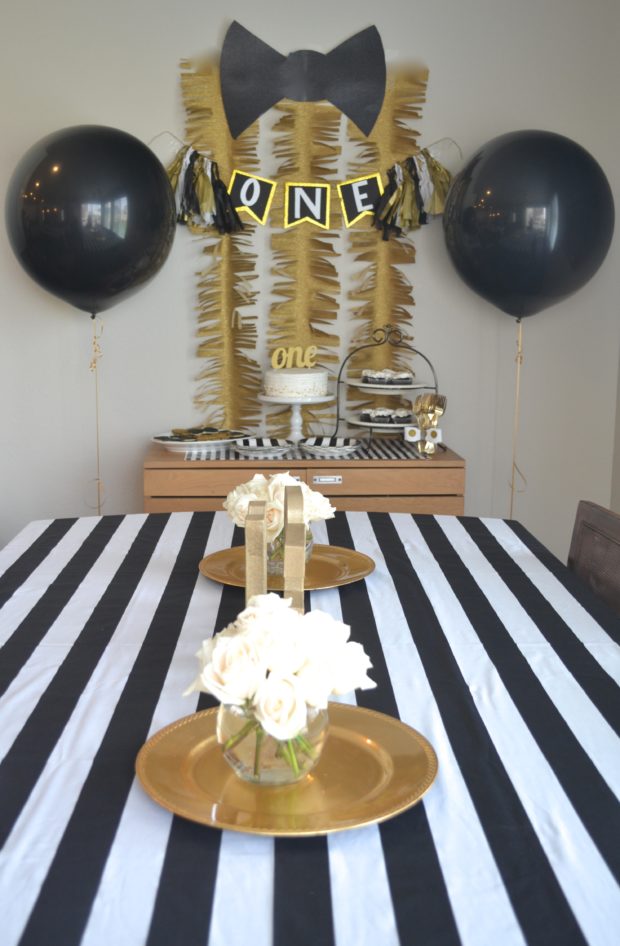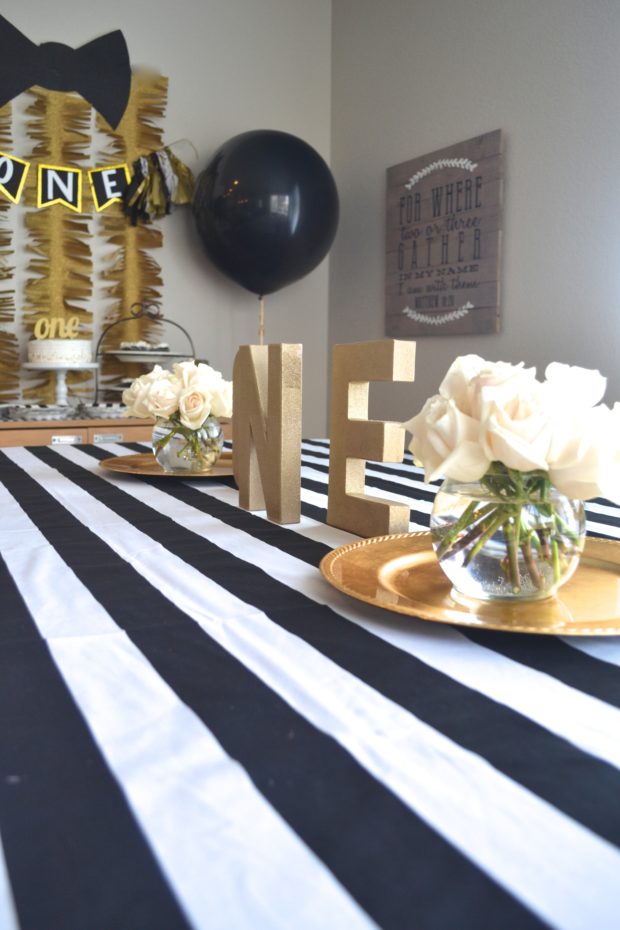 The drink station fit into the theme by adding DIY bowties to the champagne glasses.  I'll have to do a tutorial on how to make them because they turned out so cute!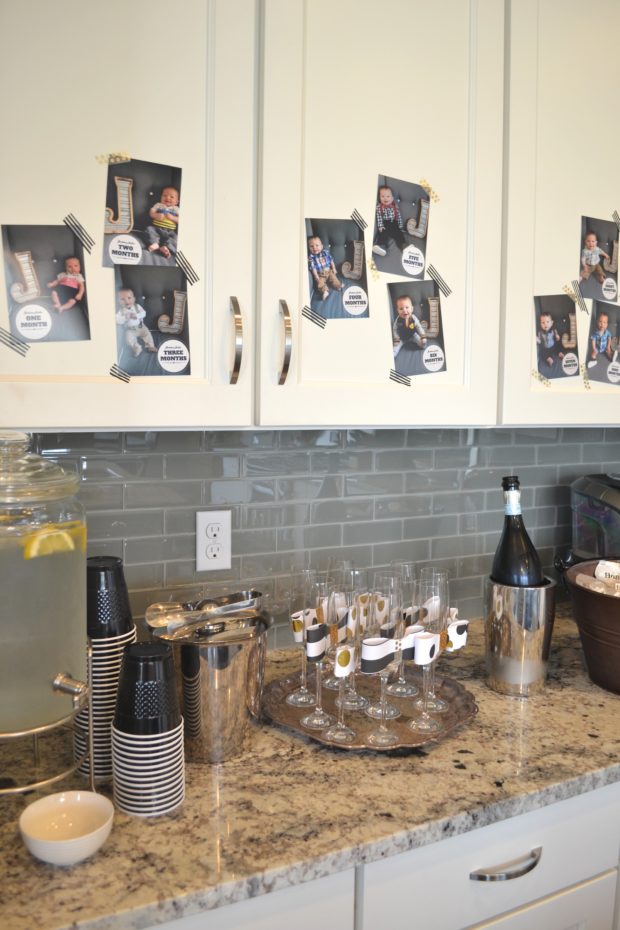 I added my son's monthly photos above this area and it's so fun to see how much he's changed over the last year.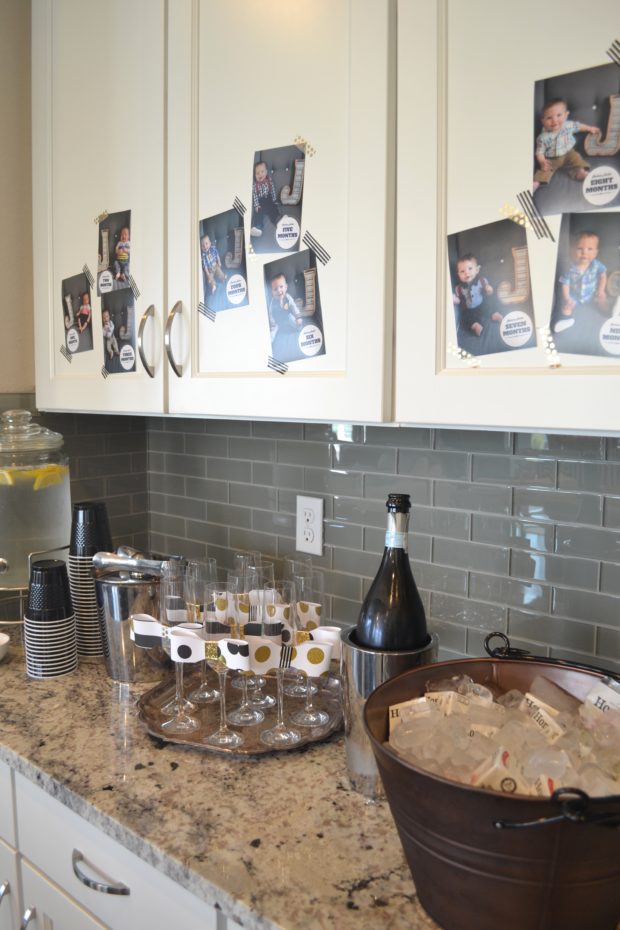 Here's a close up of those drink bow ties.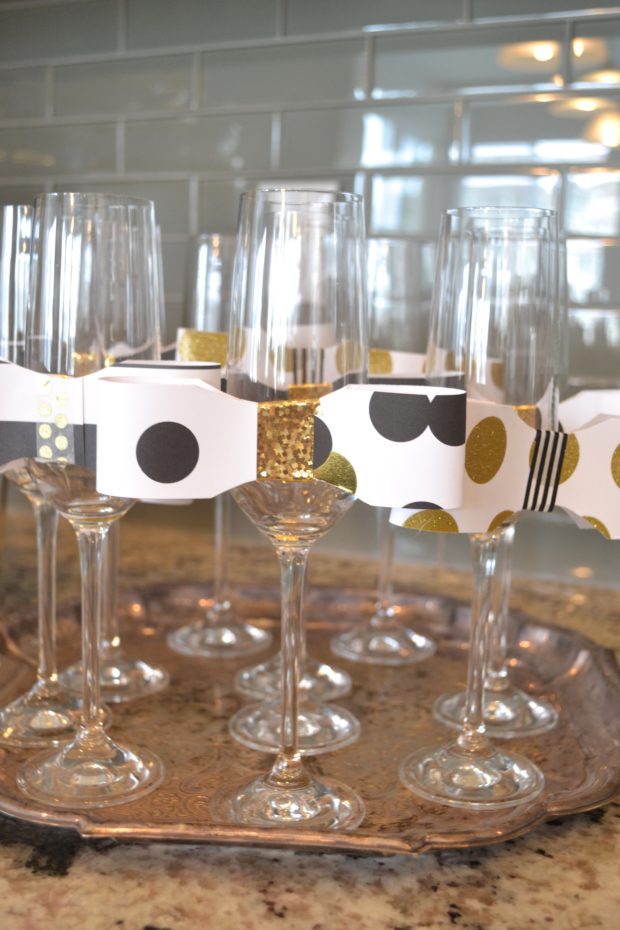 I even added them to the containers holding the forks.  It was an easy way to dress up an otherwise plain mason jar.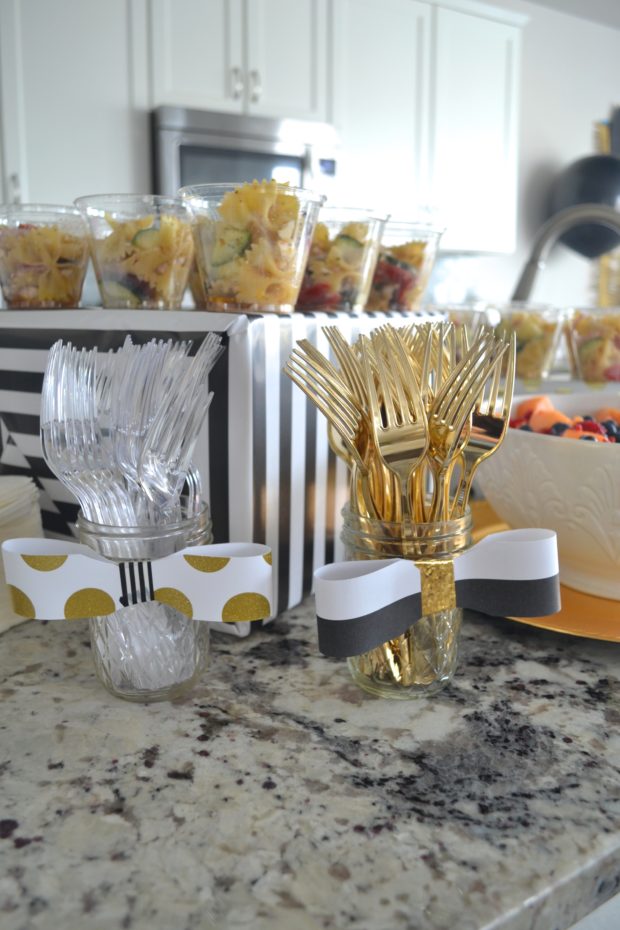 I couldn't leave out the birthday boy when decorating for the party, so I dressed up his highchair too.  A DIY fabric garland and #1 banner made the high chair extra special.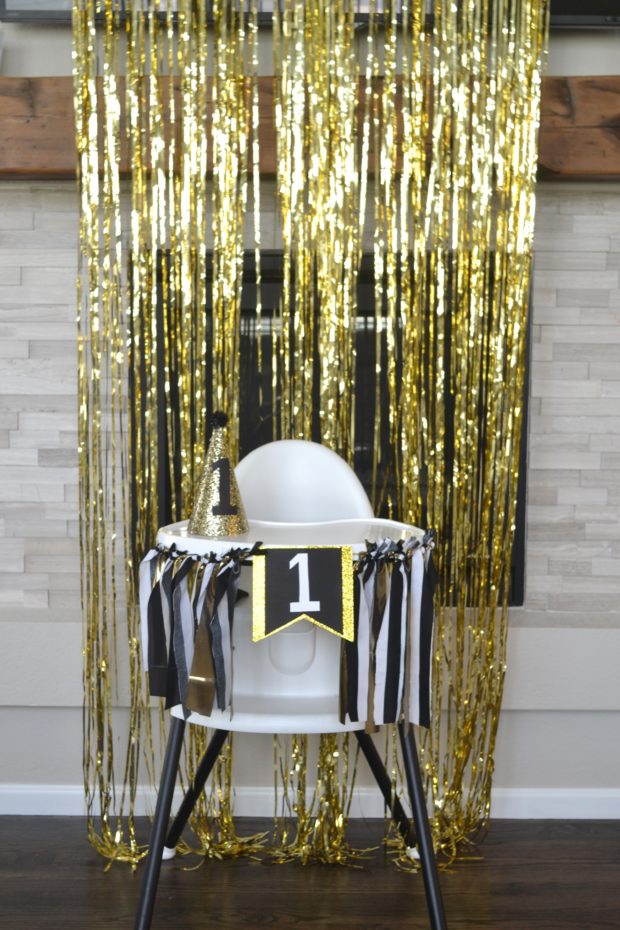 I also made his party hat with some scrapbook paper, pom poms, elastic cord, and a #1 cut out.  All the kiddos got DIY party hats as well. They all turned out so cute.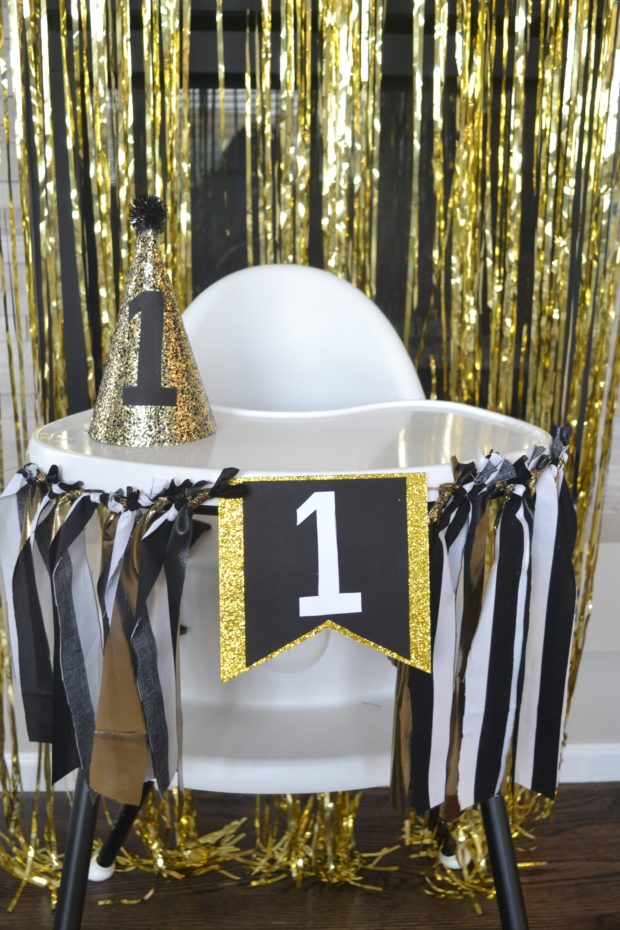 I changed out our mantle decor for some one year cake smash photos of my son and another themed box.  It was nice having a dedicated spot for him to enjoy his birthday cupcake with a cute backdrop for pictures.
Here's a picture of him enjoying cake during his cake smash.  I can't even with how cute he looks in his suspenders and bow tie!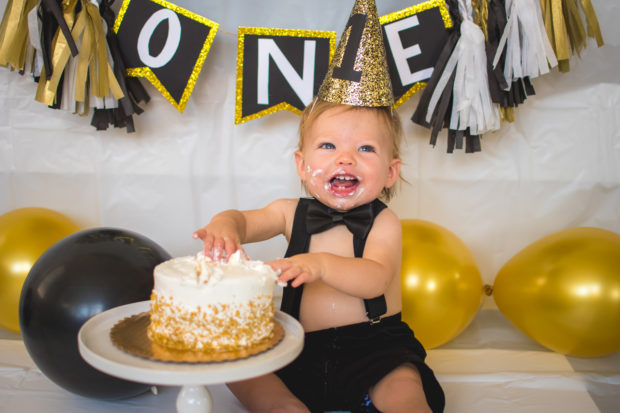 Whew, that was a long recap of a little boy's birthday, but I hope you enjoyed it!  It was a lot of fun to make so much of the Mr. Onederful party decor.  What was your favorite part?