Sorry it's been a bit longer since I posted last, but I've been dealing with a sick toddler 🙁 It's not fun taking care of your baby when they have a fever and don't feel good, although, I do secretly like all of the extra cuddles we've been getting.  Hopefully, she'll be back to her active, happy self soon and we can both get back into our regular routine.
Today's post is all about the planning process.  This is the part that I love about entertaining!  If you don't love to do this, or don't know how to plan for a party, I'm confident my 5 step party planning process will give you the start you need.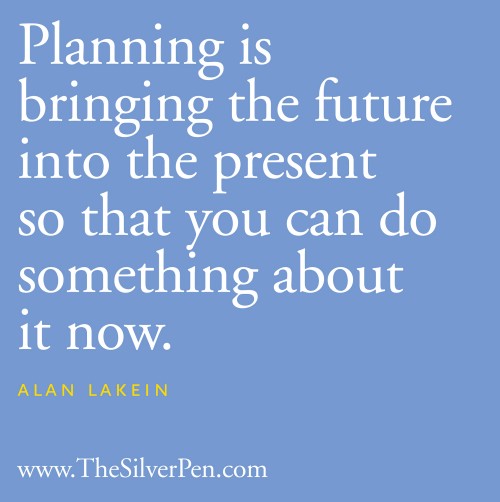 How true is this quote when it comes to party planning?  So true, right?  You want to have a party or get together or invite people over for dinner so you have to do something about it now.  That's planning.  Now, everyone talks about party planning, how they love to do it, but what does it actually entail?  There are a lot of ways to go about planning for an event, but these 5 easy steps are the main things that have to be done to "bring the future into the present."
One major part of the process is to make lists or to have a central place to write down things or gather thoughts and information about what you're planning for.  I've made a great printable to help you do that.  All you have to do to get it is to subscribe here.  Once you do that, the printable you see in this post will be emailed right to you so you can get started planning your Halloween party, or if you are way ahead of the game start planning for Thanksgiving or a Christmas party.
The Daily Hostesses 5 Step Party Planning Process:
1. Select Theme/Date/Time/Location
The first thing I always do when planning a party is decide what kind of party it is, then when and where it's going to be.  Are you throwing a house warming party, a kid's birthday, a holiday party, or a game night?  It helps to know the general theme of your party so you can plan everything else to be cohesive with your theme.  You also need dates and times so you have a goal to work towards.  I was planning for my blog launch party on the printable included in the post below.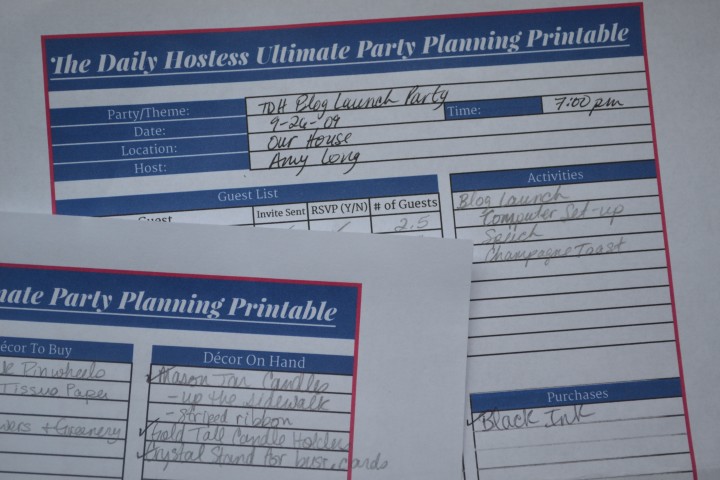 2. Figure out guest list and potential number of people
The next step in the process is to make a guest list and get a general idea of how many people are going to be attending.  The people attending make the party fun so that's why this step is pretty high on the list of things to do!  It also helps to determine how many people will potentially be attending because you can't adequately do the next step without having some solid numbers to prepare for.  Remember when you got married and your caterer or venue was constantly hounding you about how many people were coming and finalizing your guest list?  It's because you can't buy food, drinks, or figure out how many chairs you need unless you know how many mouths and behinds will be there.
I like to be specific when making my guest list, writing out each guest's name and how many will be attending in their party.  The printable also has a spot to check off if you've sent an invitation and what the guest's RSVP is, so you can keep track of exactly who is going to be attending.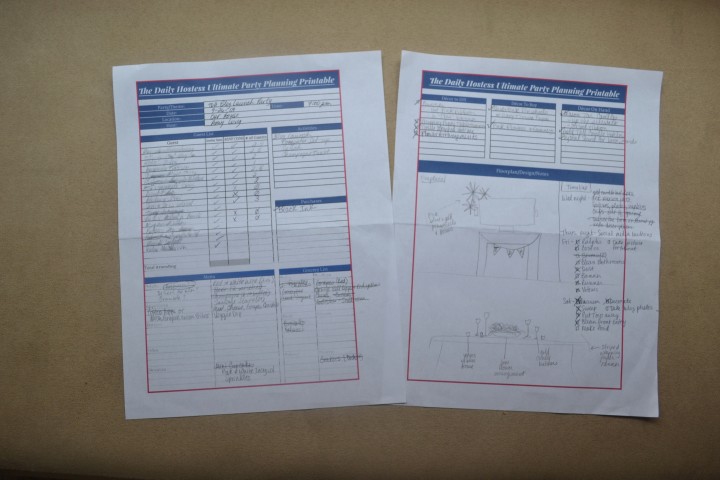 3. Make a menu and grocery list
Let's be honest, food is a pretty big part of any gathering you're hosting, even if the event isn't centered around food.  No matter what the event is, most guests will appreciate some sort of something to eat or nibble on.  My general rule is to make/buy/order more food than you think you will need.  Who doesn't love leftovers?  If you don't, send everything home with your guests.  It will help with your clean up and your guests will get an extra parting gift.  There was a birthday after-party at my house a few years ago, and I didn't adequately plan that fairly intoxicated people would be hungry late at night so I ended up making grilled cheese sandwiches at 3:00 in the morning because that's all we had on hand.  I hope you don't ever have to do that, so be sure to get more food than you'd think was necessary.
When it comes to food, if you are making the dishes make sure it's something you are comfortable making, possibly a recipe you're familiar with and have made before.  That way you'll be less stressed preparing for your gathering.  If you are purchasing food or getting catering ensure you ask a lot of questions and are thorough in knowing what is included.  If you're having a taco bar for example, are hard and soft taco shells included?  What about all the toppings, cheese, guacamole, tomatoes, salsa, etc.?
There is also an area on the printable to make a short grocery list that's divided up into various categories like produce, meat, dairy, and frozen so you'll be in and out of the store in a breeze.
4. Make a party design and figure out what needs to be DIYed and what needs to be bought
This next step of the process is where your creative juices can really start flowing.  Decorating or designing your party may not seem like a very important part of the party, but more often than not guests will appreciate how the party looks just as much as how much fun they're having.  Once again, try to stay consistent with your theme so everything from the food to the decor flows.  I like to draw up plans of how the table will look, or where the flowers will go.  This has helped tremendously when getting ready for a party because I can just hand my husband the plan and he can easily see where to hang things or how to arrange furniture while I'm working on something else.  My biggest tip when it comes to decorating or designing a party is to have a main focal point.  One large focal point will clearly identify what you're party theme is and it makes more of an impact than small items strewn about here and there.  It also makes it easy to put all of your efforts and energy preparing for your party into one large area to decorate or design.
You can see below how I drew a rough sketch of where I wanted decor around our TV for the blog launch party and how I wanted the table to look.  Please don't judge, I'm obviously not an artist!  I also include an area to list out decor to DIY, to buy, and any decor you already have on the printable.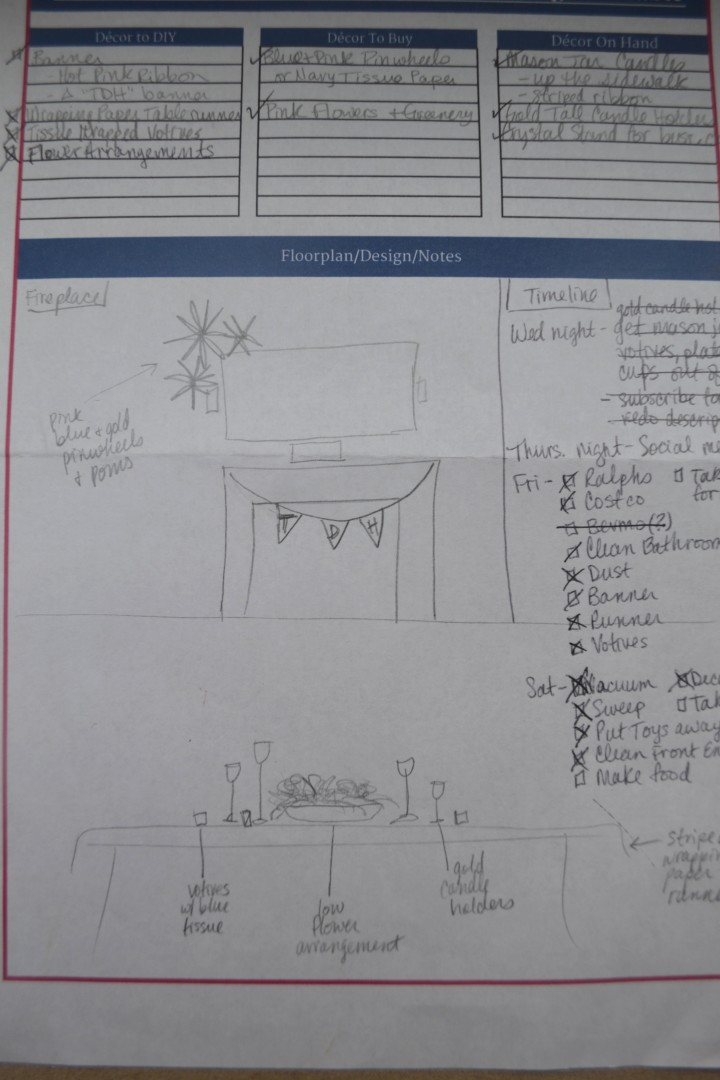 5. Make a timeline to prepare for the party
You can do all of the planning process, but if you don't set some goals of when you plan to accomplish tasks, you'll be stuck scrambling to get everything done.  Making a timeline can seriously ease your party planning stress.  I like to do a few things everyday leading up to the event that way it's spread out and not overwhelming as the event date gets closer.  If you plan to make any decor yourself, make sure you allot yourself enough time to get those things done, especially if it's something you've never done before.  My typical timeline includes diying decor a week or two before the event, purchasing food (unless you are using catering, that requires more lead time) the week of the event so everything is fresh, and a day or two before the event cleaning the house or space that will be used.  You can even break your timeline down more specifically for the day of the event.  For example, decorate by noon, get all food prepared by 3:00, set out drinks by 5:00, then all you have to do is wait for your guests to arrive because everything is done.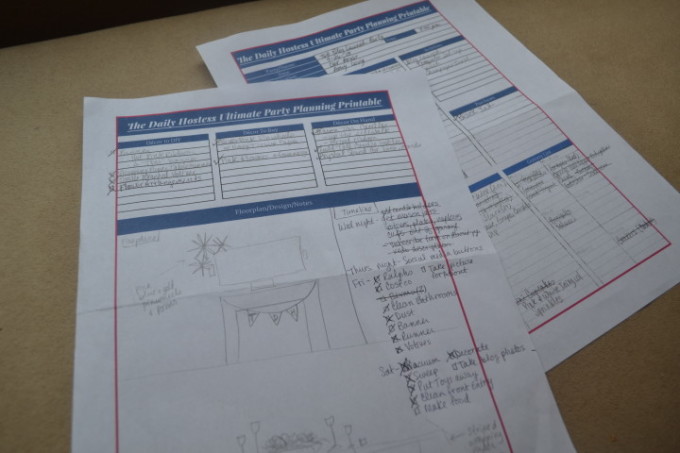 So that's the process.  What do you think, is it manageable?  Do you do any of these steps already?  Do you think this printable will be helpful when planning your next event?  If so, don't forget to go here, scroll down and subscribe to the blog to receive the printable free.