Well, the days have started turning more crisp and you can feel fall in the air here.  It's such a nice change from hot weather, but I'm not looking forward to what comes next. Good thing I've got an area to keep winter out of my house.  To celebrate fall I created this fun party plan checklist to host a neighborhood fall festival.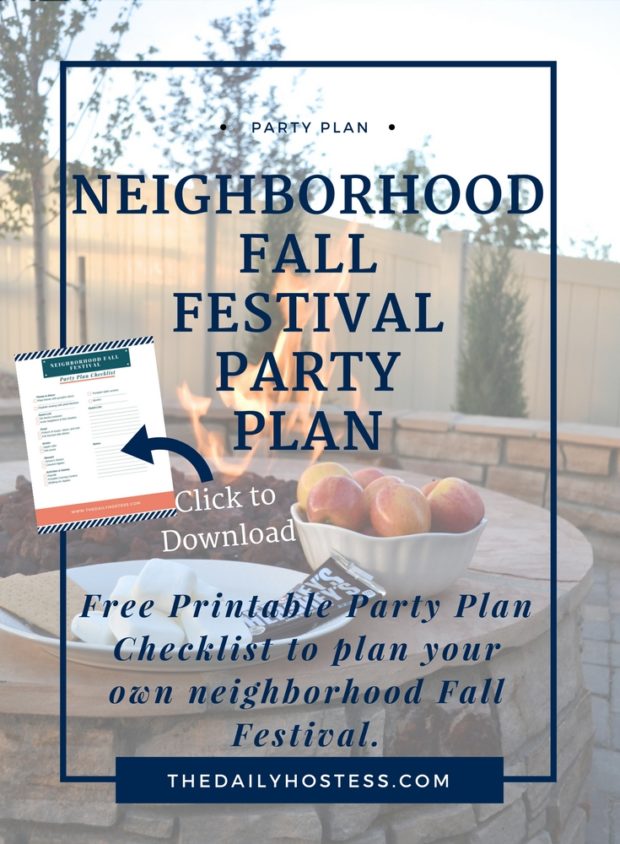 We have a pretty active neighborhood and have started having neighborhood gatherings a few times a year.  Fall is a great time to get together and celebrate. Use this party plan as inspiration and to gather your neighbors and celebrate the cooler weather. Just click on the picture and download the checklist to start planning your party today!
Party Theme and Decor
For your party you first need a theme.  There is nothing more synonymous with fall than plaid and pumpkins. Let those things be your guide for your party theme and decor.  Use plaid blankets as tablecloths and over hay bales for a fun seating area.  Set hay bales up in the street around a fire pit or bonfire to help you stay warm during chilly evenings.
Decorate the party with multi-colored mums and pumpkins. Create table runners from pumpkins for the dining area. The best part is that it will be heavy enough to hold down the tablecloths.
Guest List
Be sure to design an on theme invitation to send to all of your neighbors with all the details of the party. You can easily make one yourself with these tips and it's free.  Walk them door to door or send them out via email. Because you're inviting your neighbors there is no need to stamp an envelope.
Food and Drinks
Feeding a large group of people is hard, so don't take on the task yourself.  Plan the neighborhood party as a pot luck.  I highly recommend assigning people a different dish or having categories that people sign up to bring.  Doing so assures that a full menu is covered and that there will be enough for everyone.
A delicious and on theme menu for any fall party revolves around soups, chili's, and stews.  Start with that and then expand to include fall themed sides dishes.  Things like cornbread, stuffing, vegetable casseroles, and fall salads.  Check out my Pinterest board for lots of inspiration.
For dessert, you can't go wrong with smore's, especially if your party is set up around a fire pit or bonfire.  Another on theme dessert would be caramel apples.  You could make these ahead of time or set up a buffet station where guests could dip their own apples and cover them with a variety of toppings like nuts, chocolate, sprinkles, or crushed cookies.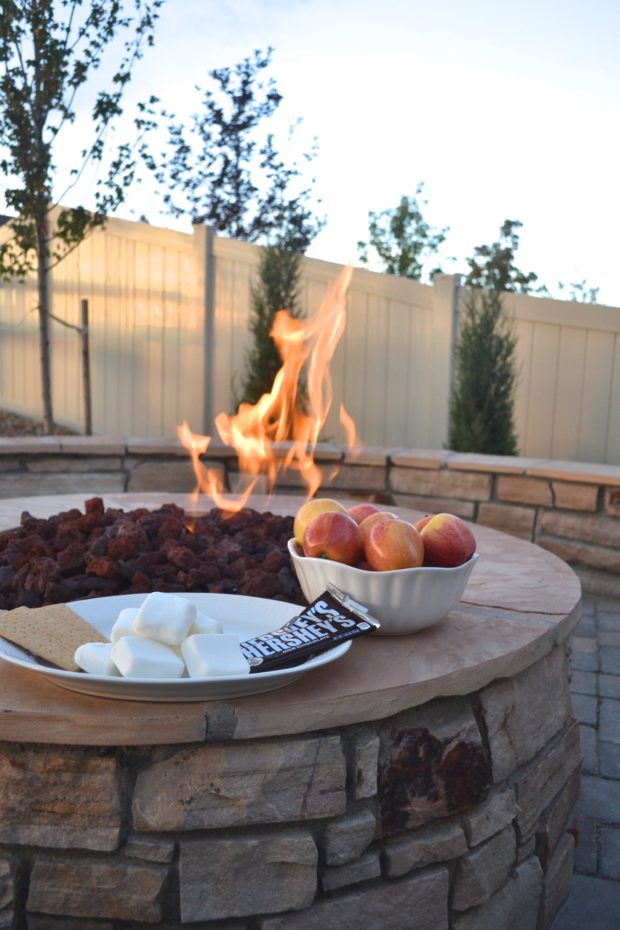 Drinking apple cider is kind of a must at this time of year so offering an alcoholic and non-alcoholic version will allow everyone to enjoy it.  You could also offer hot cocoa or mulled cider.
Activities and Games
If your neighborhood is like mine and full of kiddos, you'll need some activities to keep the kids occupied so the adults can enjoy conversation and a bowl of chili.
There are so many fall themed activities you could include at your festival.  A pumpkin carving contest is a great way to get people excited even before the party since they'll have to carve their pumpkin beforehand and then have it judged at the party.  You oculd elect judges or just do a simple voting system for the best pumpkin.
Bobbing for apples is a great game for the kids. Just be sure to regularly change out the water or have individual buckets for bobbing to keep things a little more hygienic.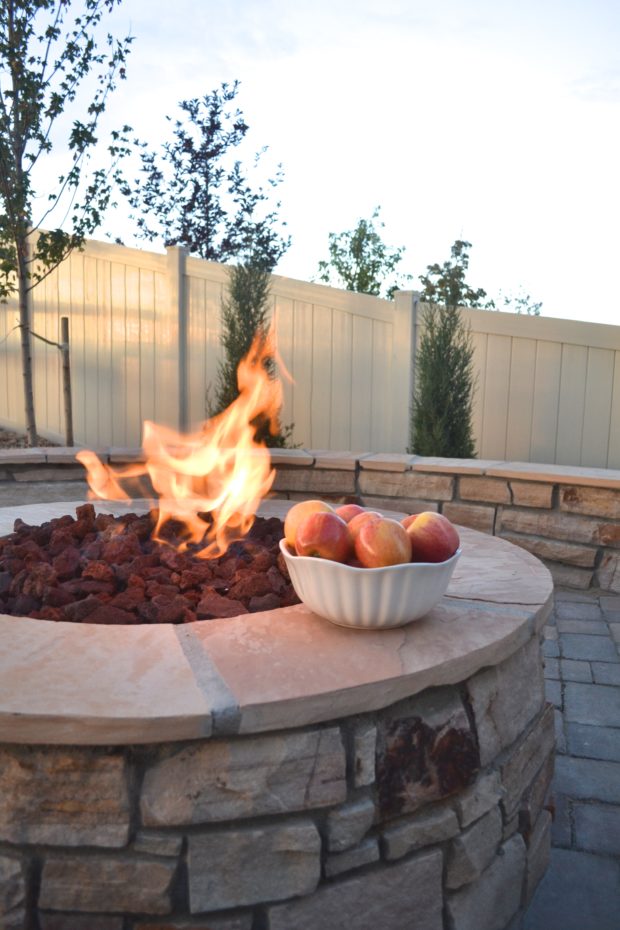 Organizing a neighborhood hayride would be so fun.  If you don't have a tractor and trailer, try making hayrides in wagons for the little kids or the back of a pick up truck for the older kids.
Other go to party activities would be to have someone talented do face painting or organize a fall themed neighborhood scavenger hunt.  Bike races for the kids are fun, and what toddler doesn't love a bounce house?
Be sure to click the here or the image below to download and print your own Neighborhood Fall Festival Party Plan Checklist to start planning your party.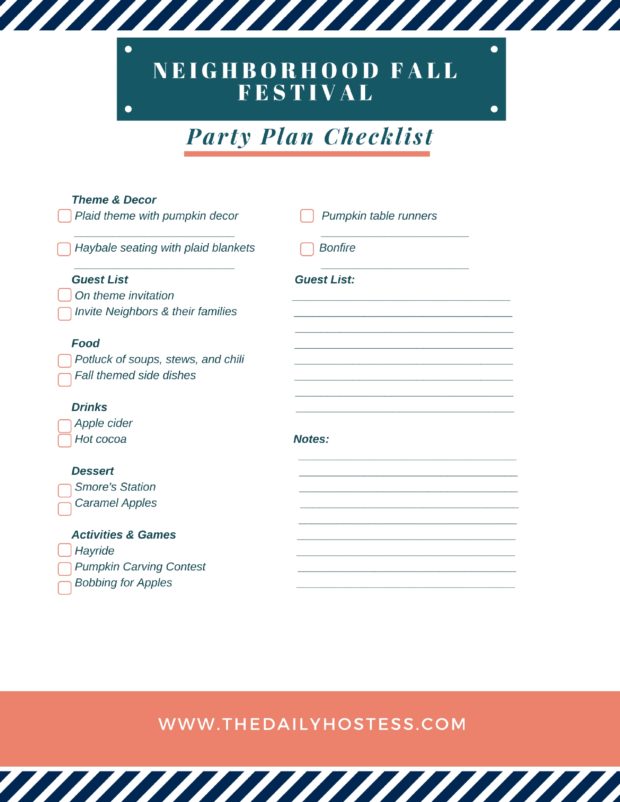 A neighborhood party is such a great way to get to know your neighbors.  It helps to break from the monotony of just waving hello when you see your neighbors out.  It forces you to work together to put the party on, and get to know each other over a bowl of chili.  Who knows what you might find you have in common or what kind of friendship can be built.
Happy Fall Y'all!